No West Side Story this time, I swear.

71 images. Blood, Swearing, Bad Humor.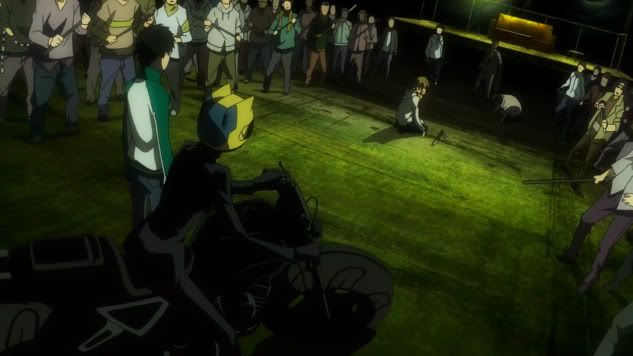 KITTY BIKER: So you guys have... knives... sticks... and... wait, that guy on the left... does he have a string of garlic?



Durarara!! Episode 24: ONE WITH HEAVEN, OUT WITH SELF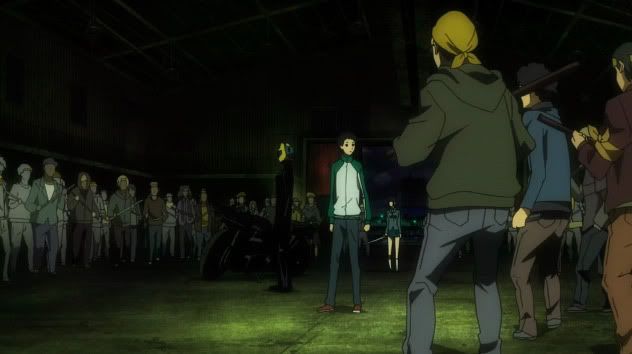 Yellow Loser 1845: Hey! This is our turf! You guys have no place here!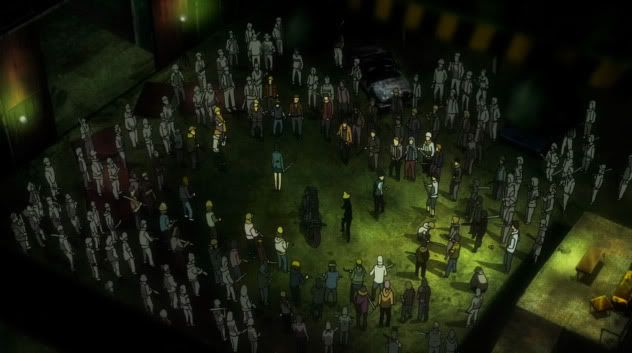 Yellow Loser 139451703: Yeah! Only losers here in the Yellow Scarves' Grotto of Sticks and Stones!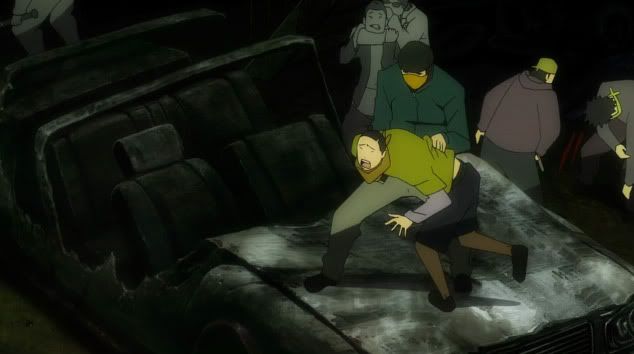 Kyohei: OR SO YOU THINK!
Yellow Loser q340-8: WAAAAHHH MY ARM!!! Let go, you brute!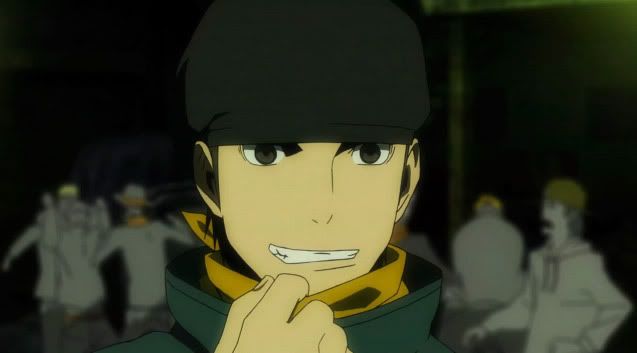 Kyohei: A real hero arrives in a pinch!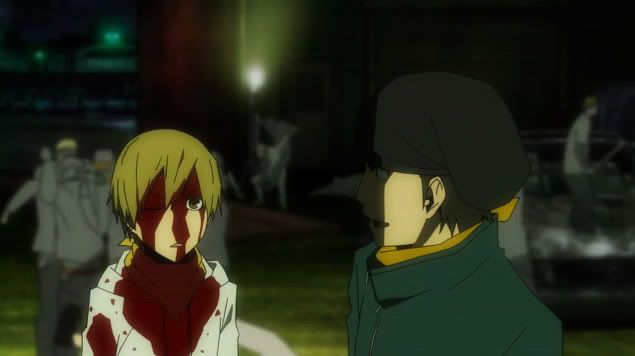 Kida: Dude. Where were you when I was getting the shit beat out of me?
Kyohei: Hey, you should wash that sweatshirt out soon or the blood will stain.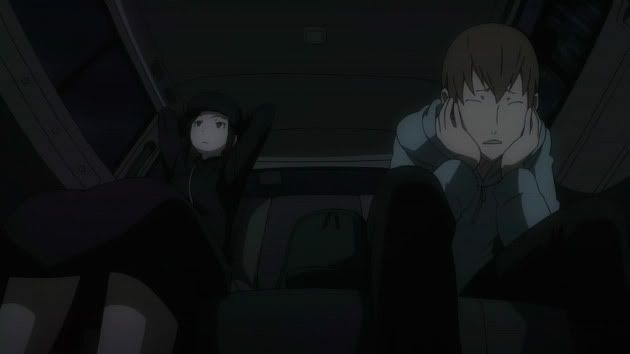 Walker: I'm bored. Why didn't Dotachin let us join in?
Erika: He said he didn't want you to light our friends on fire.
Walker: I said I'd be careful this time!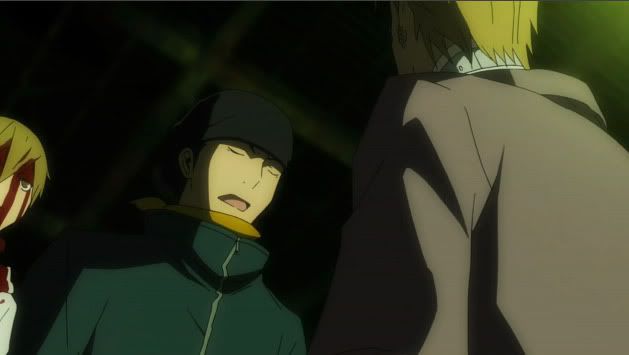 Kyohei: Yellow Loser, look, your supporters are being overpowered and outnumbered.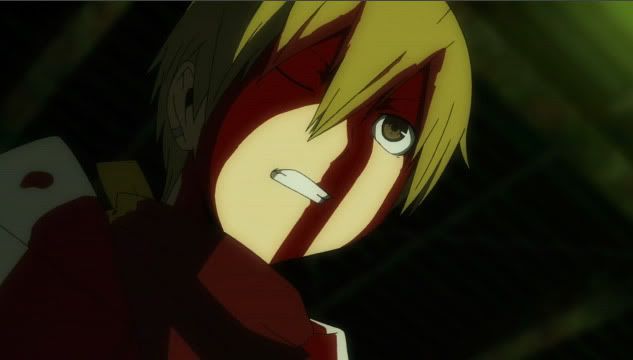 Kida: Yeah! And if you don't leave, I'm going to bleed on you!
Yellow Loser: S-screw you guys! I'm out of here!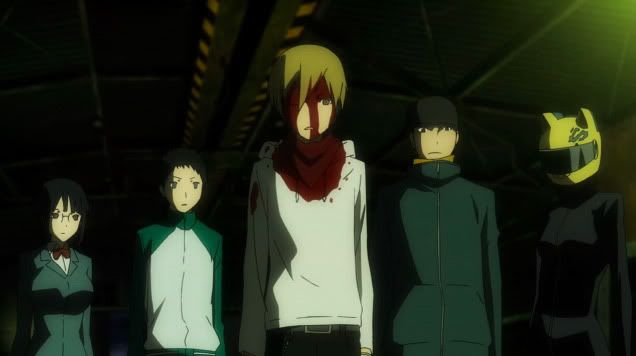 Kida: That... was a lot easier than I think it should have been.
Mikado: It IS the last TV-aired episode. We have to wrap up a bunch in this episode.
Anri: We should do something that shows what awesome friends we still are.
Kida: Gotcha! Check this out! *le swoon!*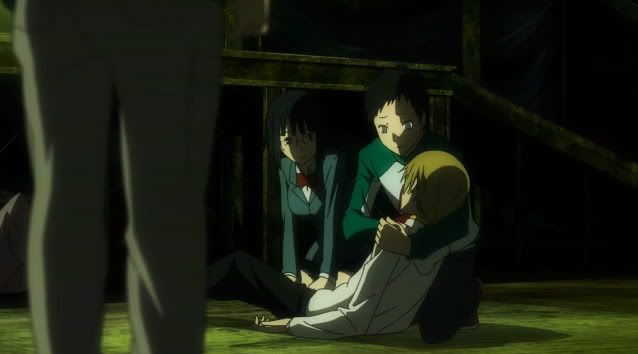 Mikado: KIDA! KIDAAAA! ARE YOU OKAY?
Kida: I... I'm sorry, Mikado... Anri... Are we still friends?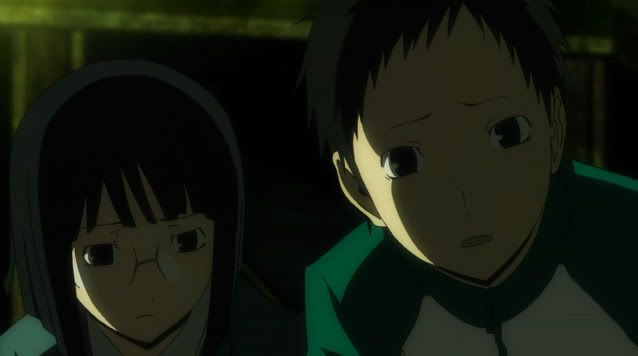 Mikado: Kida, you'll always be my BFF.
Anri: Yeah, we're friends.



Mikado: I... I love you, man.
Kida: Ahahaha, I knew you like gu—
Mikado: NOT THAT KIND OF LOVE.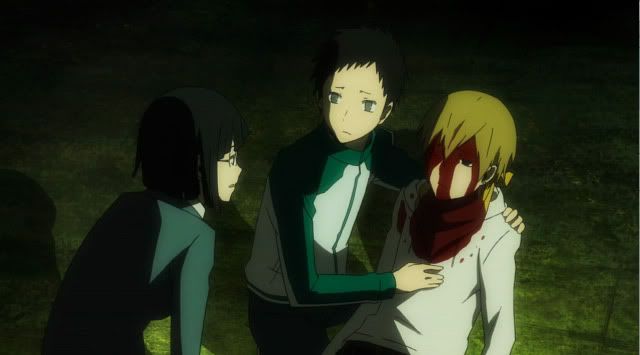 Anri: Maybe we should get him to a hospital now.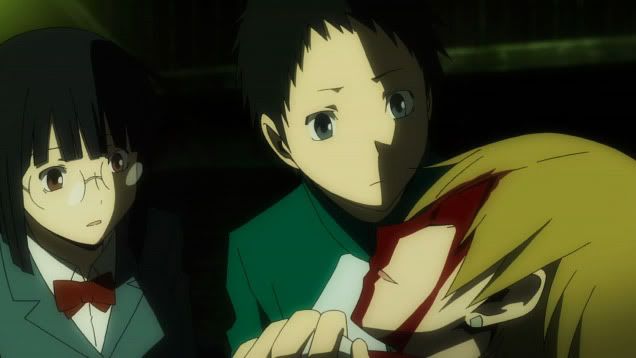 Kida: No, I'm coo— *grrrrkkk*
Anri: Did he just die?
Mikado: Hmm.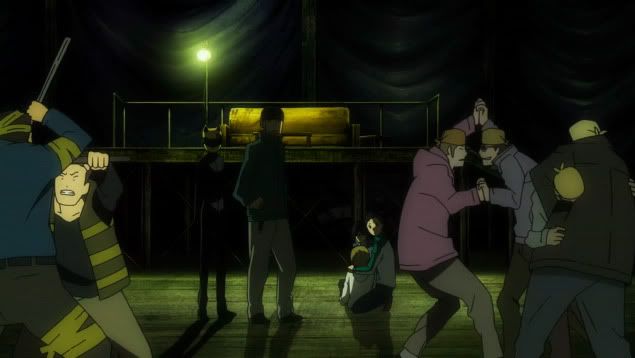 Kyohei: I can't believe they're still fighting. What's the point of fighting now that one leader is gone and the other is bleeding out on the floor here?
KITTY BIKER: They fight for their PRIDE.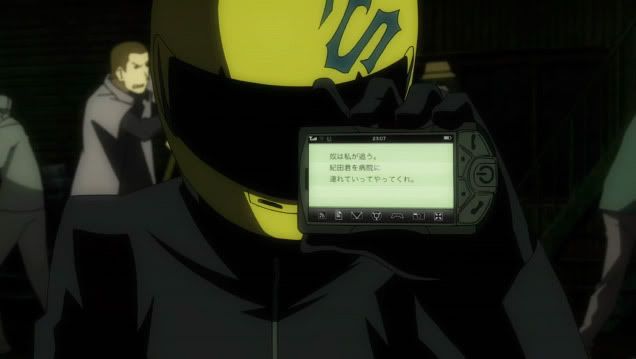 KITTY BIKER: I don't like that Yellow Loser getting off pretty much scott-free, so I'm going to go give him a little bit of what he deserves.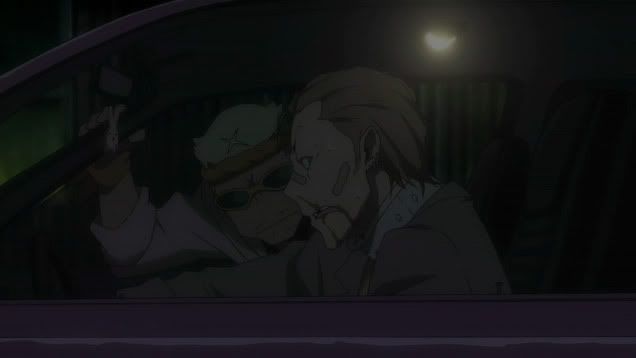 Yellow Loser 3: Come on man!
Yellow Loser: The car isn't starting!
KITTY BIKER: HELLO CHILDREN!
Yellow Loser: OH HOLY SHIT! GO CAR GO!
Car: Pshaw, 'kay.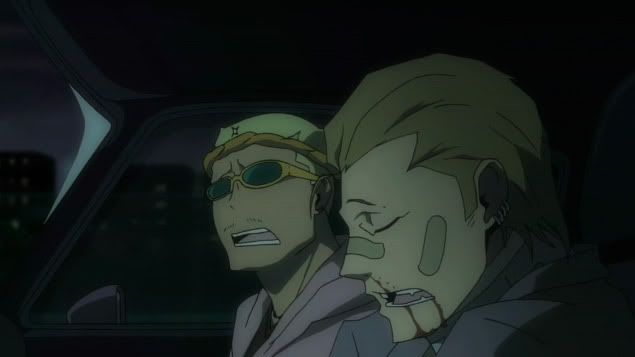 Yellow Loser 3: I think we lost her.
Yellow Loser: Oh thank god.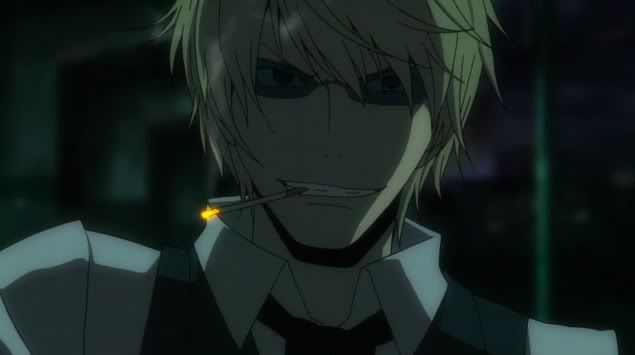 Shizuo: Welcome to my town, gentlemen. I have a little something to give you.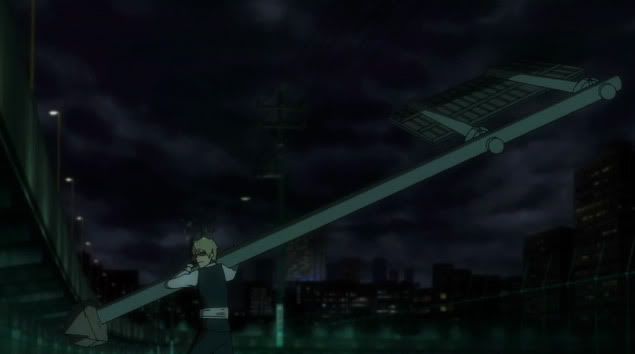 Shizuo: Consider this repayment for those lovely bullets you gave me!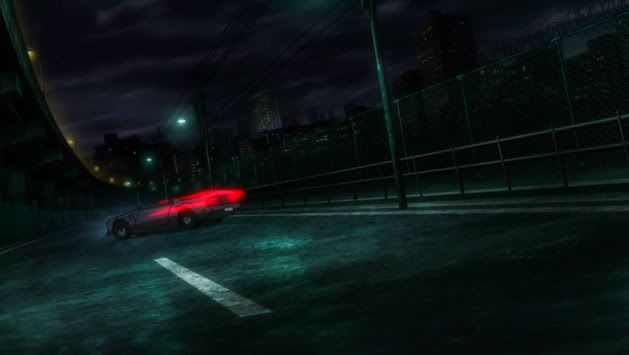 Yellow Losers: AAAHHHHHH THE CAR ROOF!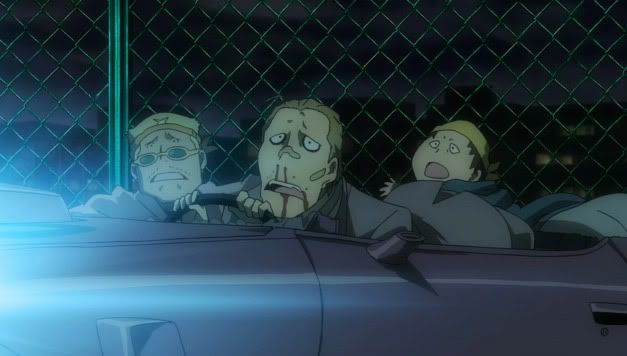 Yellow Loser: But... but we're alive!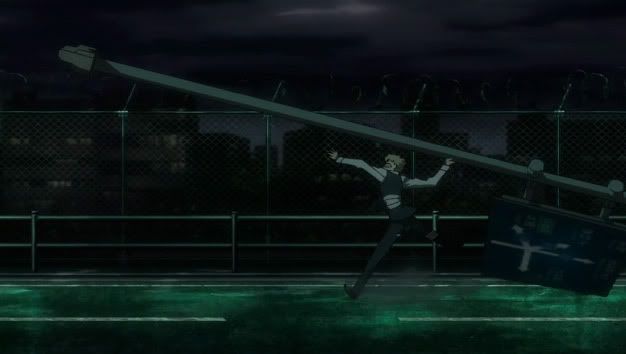 Shizuo: I'm a champion javelin thrower!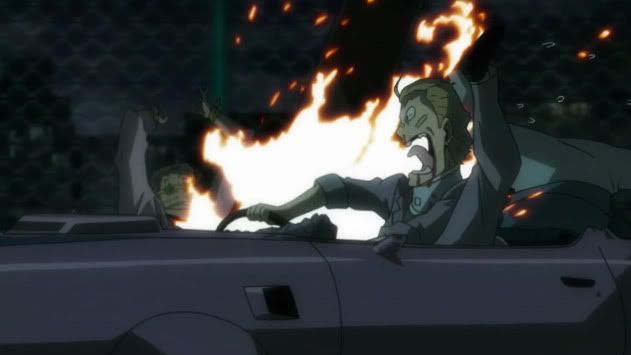 Yellow: WE'RE GONNA DIE!

------>Somehow, I think this image sums up this show. I'm not sure why.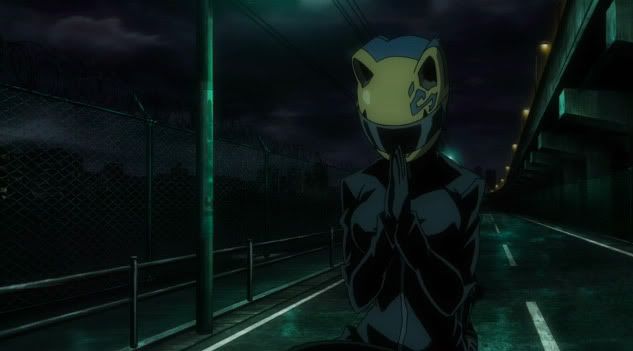 KITTY BIKER: Rest in pieces. Little charred pieces.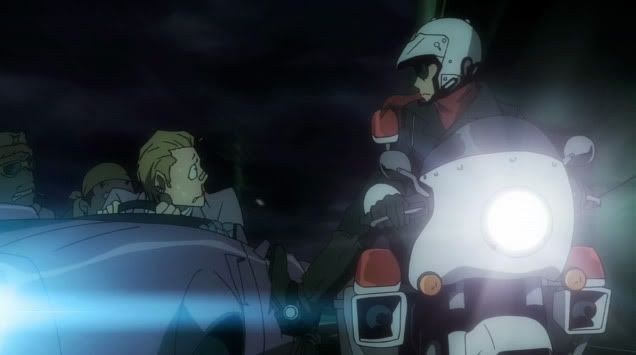 Kuzuhara: Excuse me, driving a flaming car is illegal. Please pull over.



Kuzuhara: Failure to comply will result in mandatory jail time.
Yellow Loser: GAAAHHHH~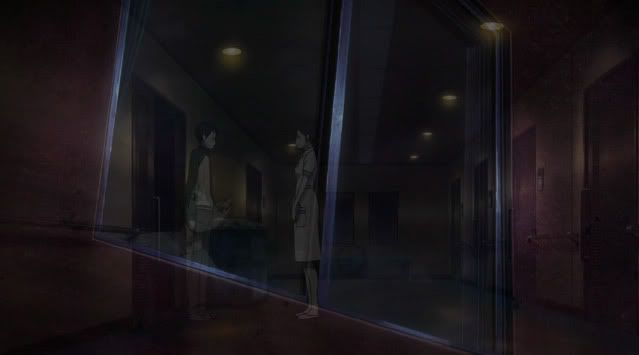 Mikado: Whoa, it's like we're in some sort of trippy optical illusion.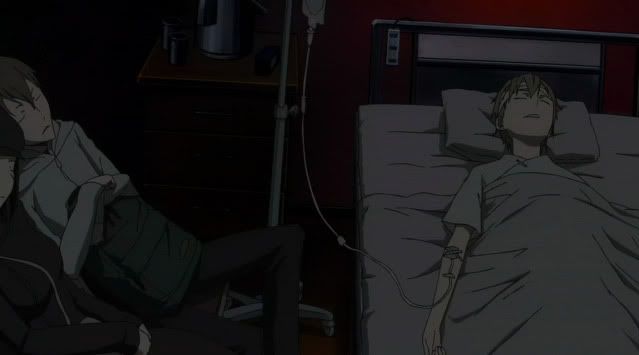 Erika and Walker are getting erally good at taking people to the hospital.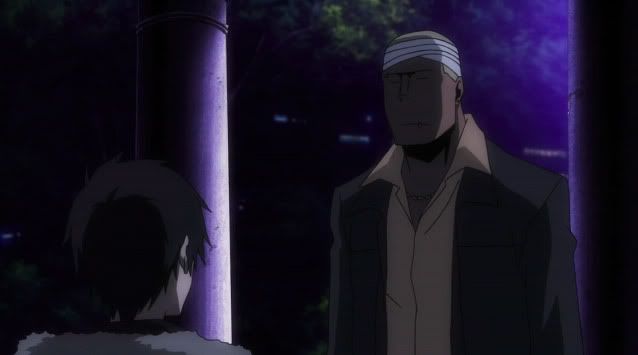 Yellow Loser Some Number: Here's what you wanted, man. Ya sick creep.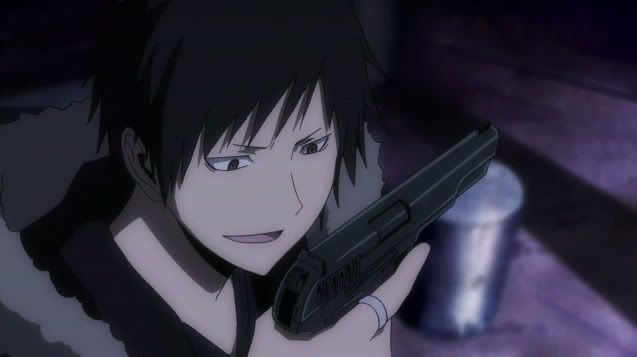 Izaya: The prop gun used in High School Health Freaks 6! Delicious. Not only is it a wealth of health facts, but it involves my second favorite sport: High School Student Watching!
*Health facts in High School Health Freaks 6 should never be applied to real life. They are included in the movie for parody purposes only.*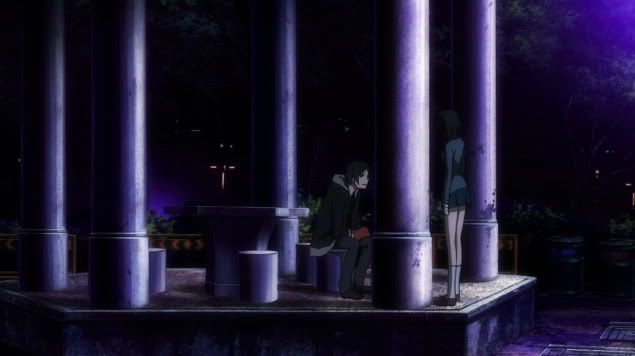 Izaya: Oh, slasher girl! Anri! What can I do for you?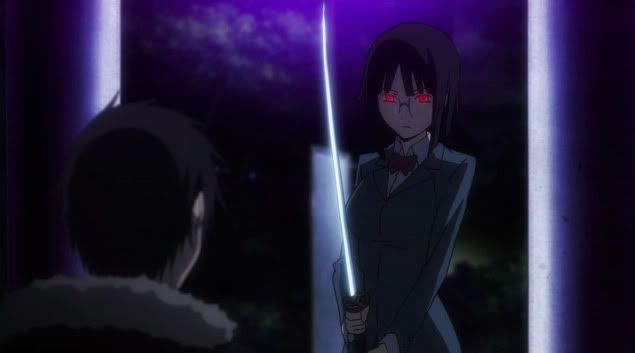 Anri: Please stop watching high school students. It's really creepy and makes you look like a pedophile or something.
Izaya: How about... no?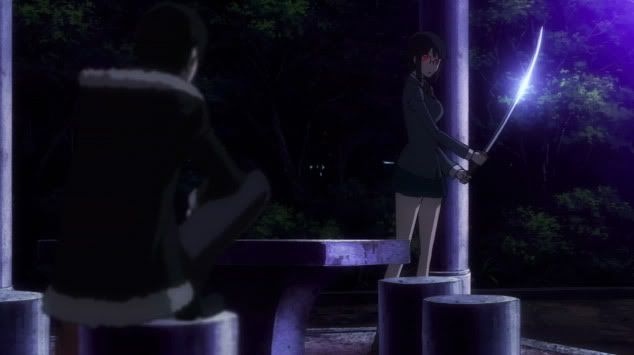 Anri: Please don't make me use this.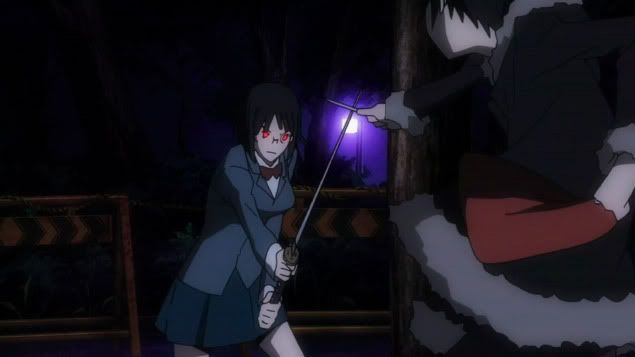 Izaya: Hey hey, I've got a blade of my own!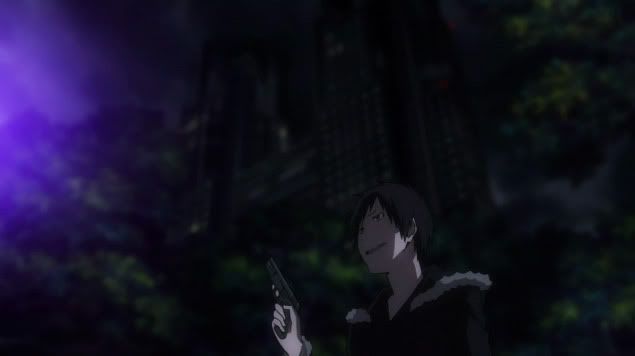 Izaya: Or I could use this gun... and kill you!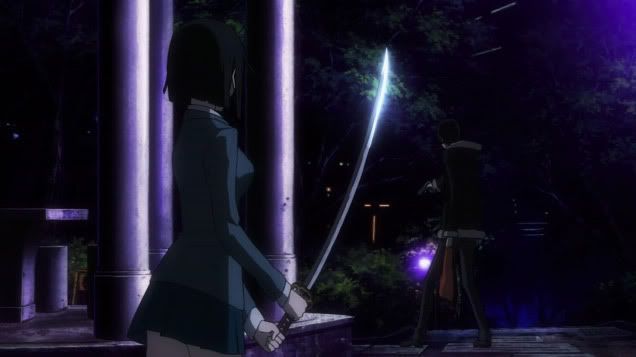 Izaya: Just kidding. Guns are illegal here. This is just a prop.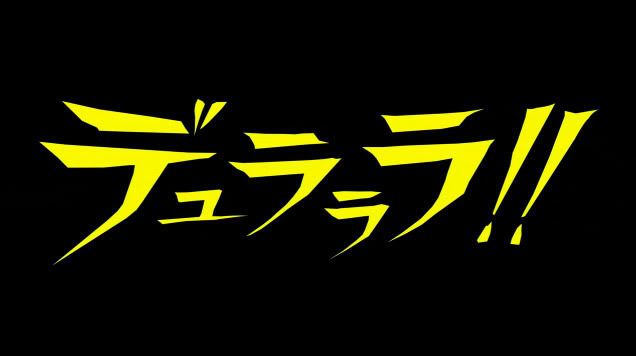 DURARARA!!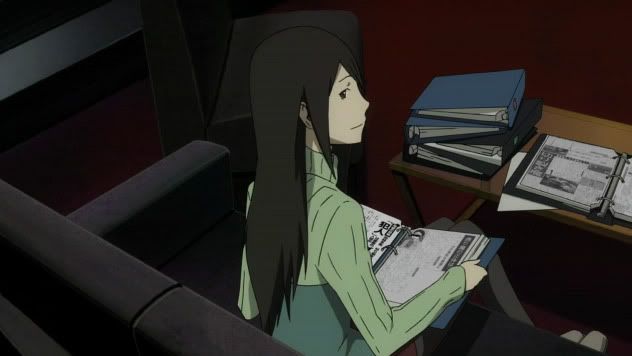 Namie: Welcome back, asshole! Looking good!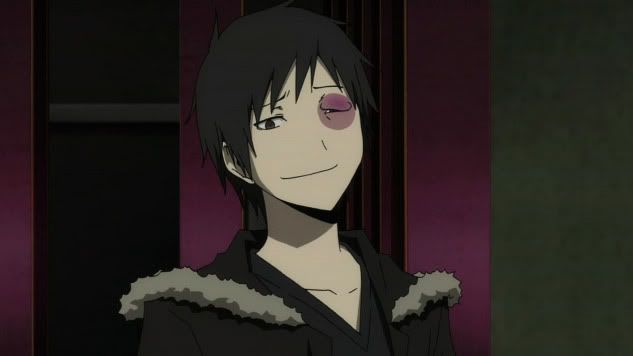 Izaya: Ha ha, very funny.
Namie: What happened, did you get hit by a girl?
Izaya: No...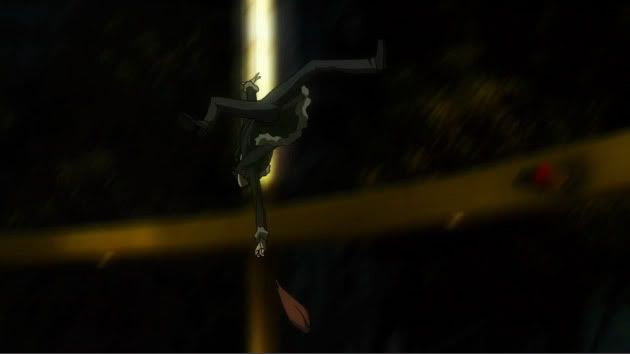 Izaya: I got hit by a very large Russian.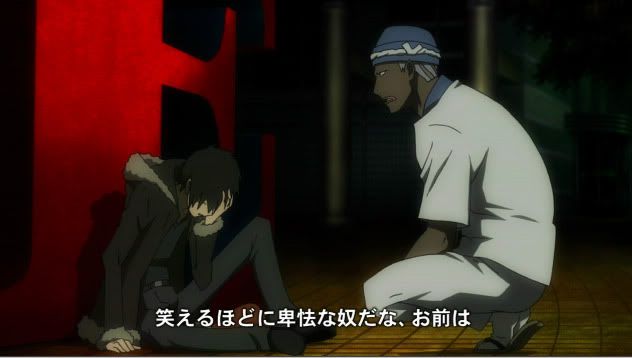 Simon: DO YOU UNDERSTAND?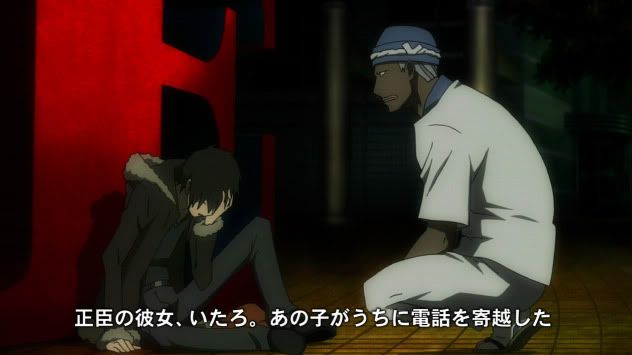 Simon: LEADING PEOPLE TO FIGHTS IS NOT GOOD.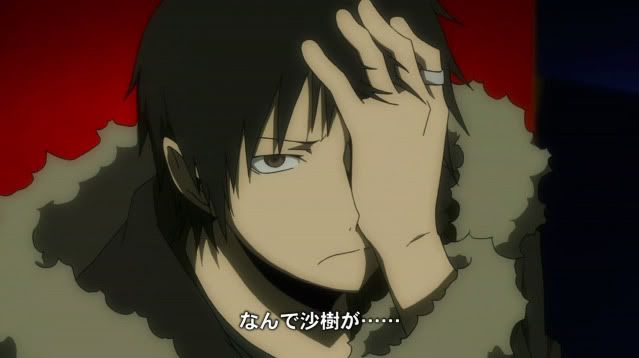 Izaya: But... where will I get my amusement from?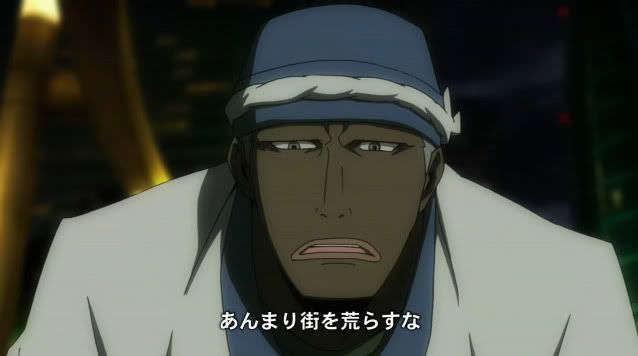 Simon: YOU MY FRIEND ARE A LITTLE DISGUSTING.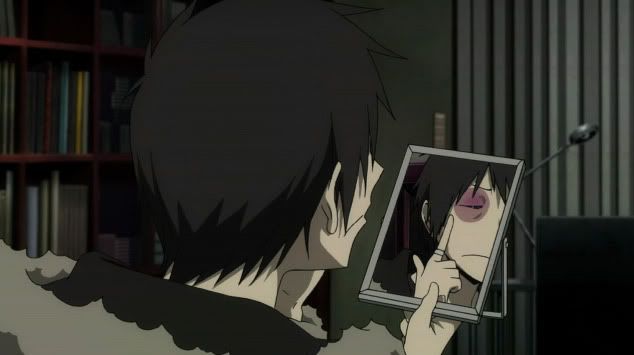 Izaya: On the upside, I think I can play Zuko in an Avatar movie.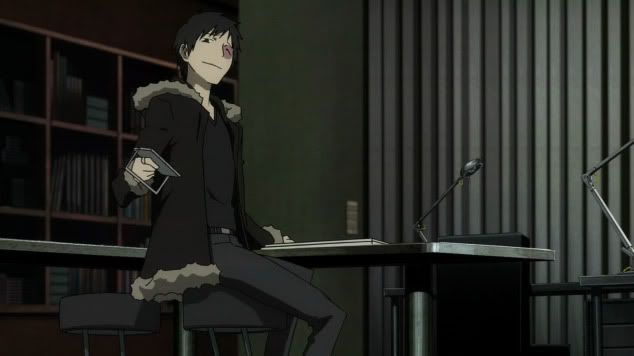 Izaya: What do you think?
Namie: Early Zuko, sure, but you'll have to shave your head, I think.
Izaya: BLAST IT ALL!



Izaya: Chegogi, you're my only frien— !!!!!! WHO WRECKED MY CHEGOGI GAME?
Namie: ..................=D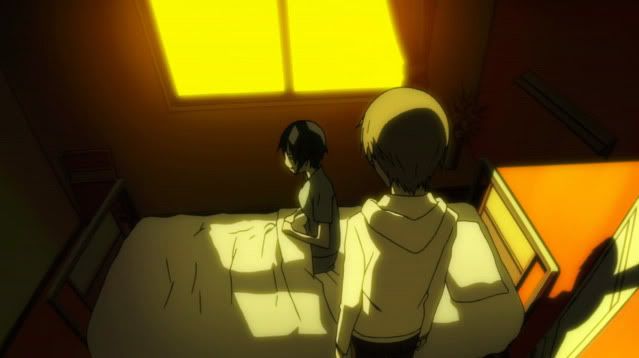 Kida: Whoa, what's with the colors? It's like a dream sequence!
Saki: It's not a dream. Now make love to me, you sexy beast!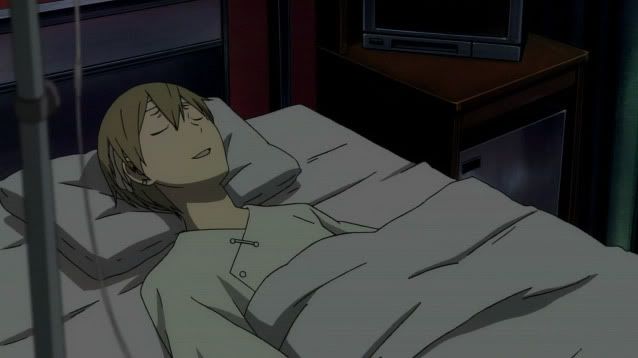 Kida: Oh yeah! Oh baby, yeah, right there, yeaaah! That's it!



Saki: .........



Kida: Nnh? Ah!! Saki! What are you doing here?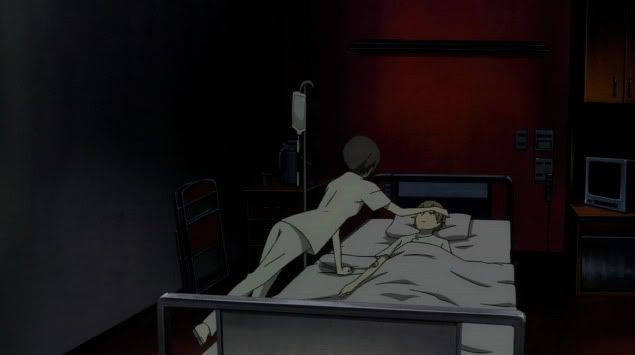 Saki: I just... wanted to check on you.
Kida: Let's go on a trip together. Just the two of us.
Saki: Sounds cool to me.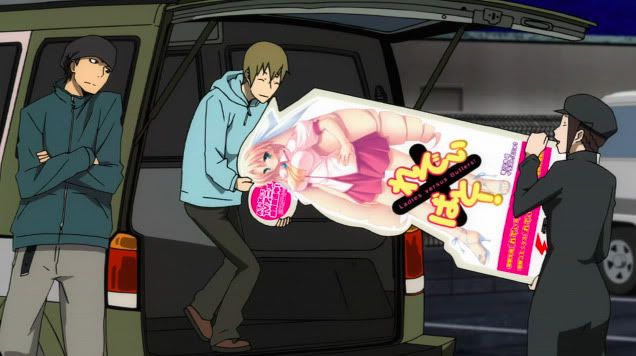 Kyohei: Honestly, what do you guys do with all of these?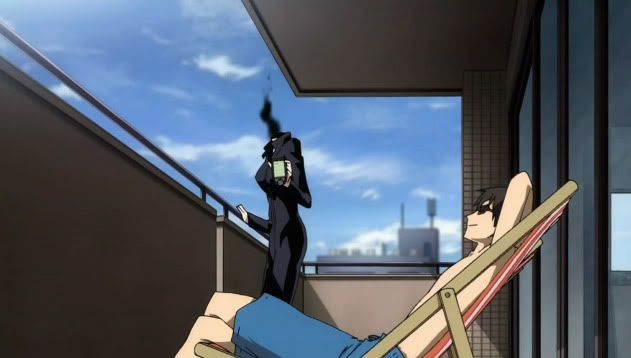 KITTY BIKER: Hey Shinra. What are you doing?
Shinra: Sunbathing.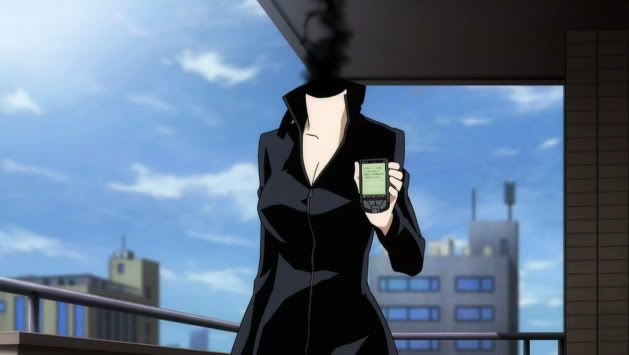 KITTY BIKER: Does it feel good?
Shinra: It feels GREAT.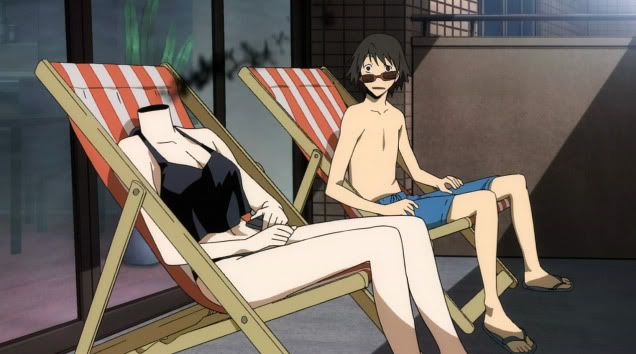 KITTY BIKER: Then I'll join in.
Shinra: Guhhhhhhhhh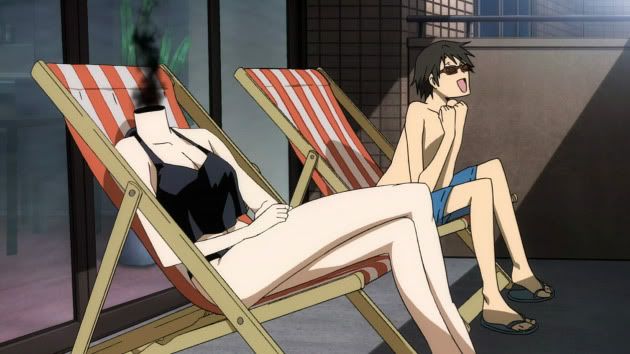 Shinra: KYAAAAAA CELTY YOU'RE SO ADORABLE! (And very sexy!)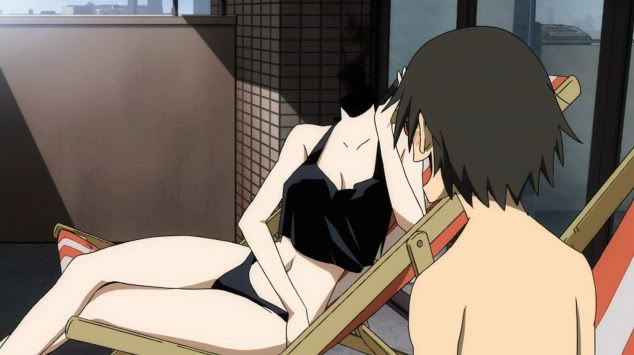 KITTY BIKER: You think so? Maybe I should sunbathe more then.
Shinra: You are my goddess forever and ever!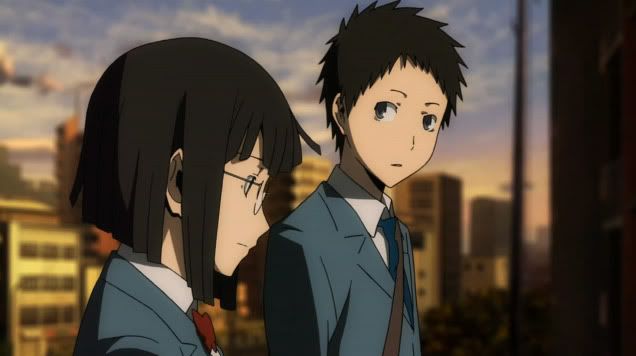 Mikado: Hey you want to go see a movie together or something?
Anri: Sure. What's playing at the Cine Sun?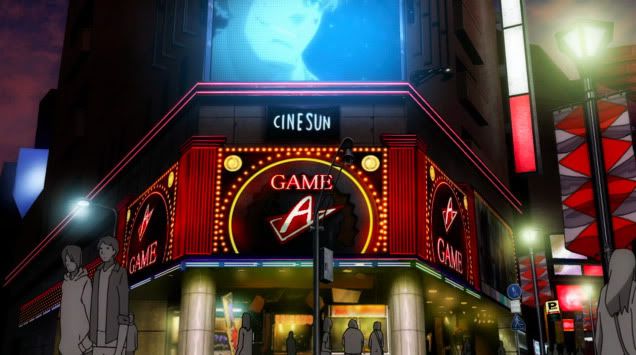 Mikado: Baccano! is playing.
Anri: Again? I swear that's the only thing they show.
Mikado: They don't need to show anything else. They only show the best.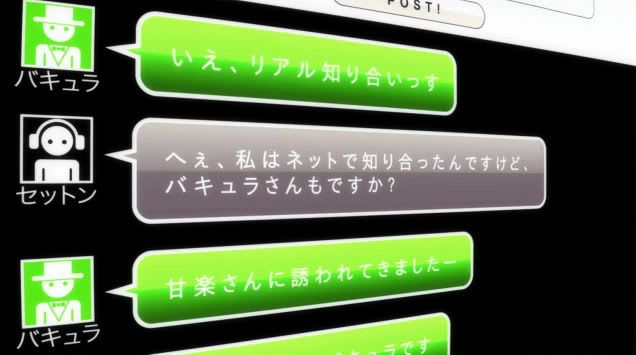 Bakyura: Hey guys! I'm new here.
Setton: Welcome!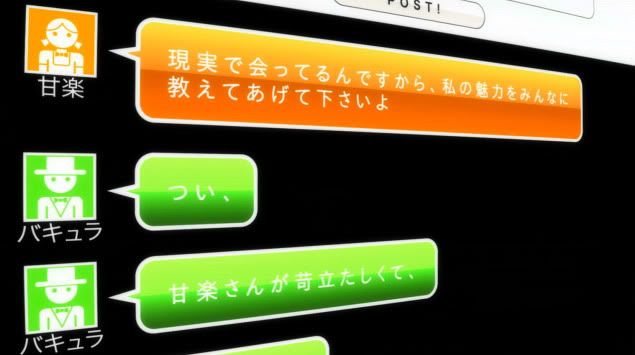 Whatever Izaya's SN Is: LOL I WONDER WHO THIS IS.
Bakyura: You're a fun-killer, you know?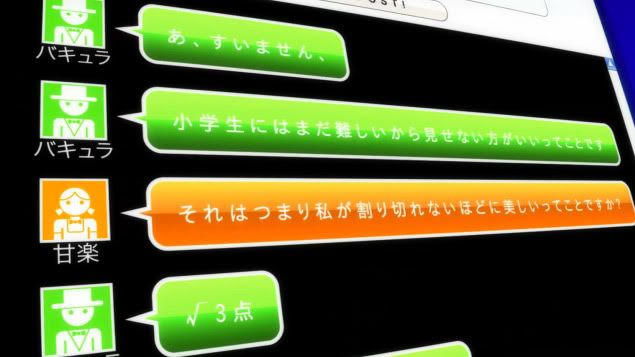 Whatever Izaya's SN Is: LOLOLOLOLOLOL
Bakyura: Okay, I'm going to hang out with my girlfriend. See you guys later!
Whatever Izaya's SN Is: .....=(

KIDA'S DEFENSE AGAINST IZAYA: LEVEL UP!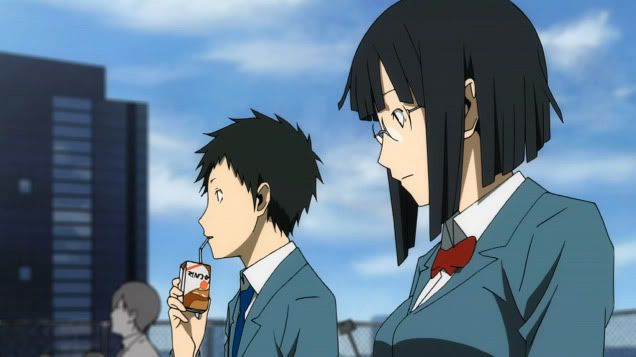 Mikado: So I think I'm going to restart Dollars.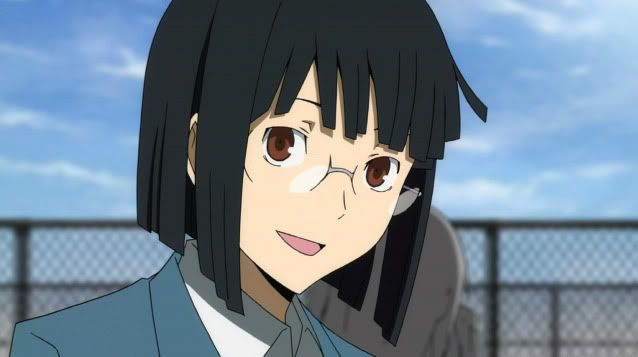 Anri: Do you need a swordswoman? Can I join you?
Mikado: I would love it if you joined us.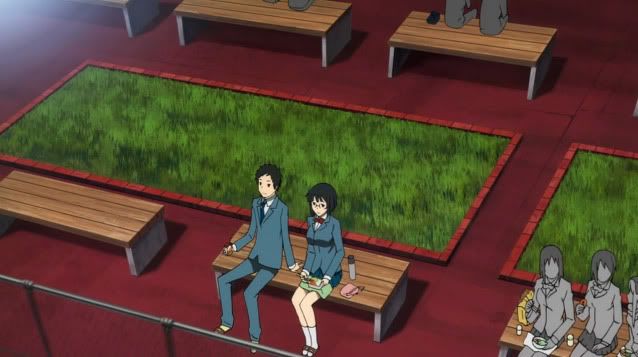 Mikado: It's a nice day.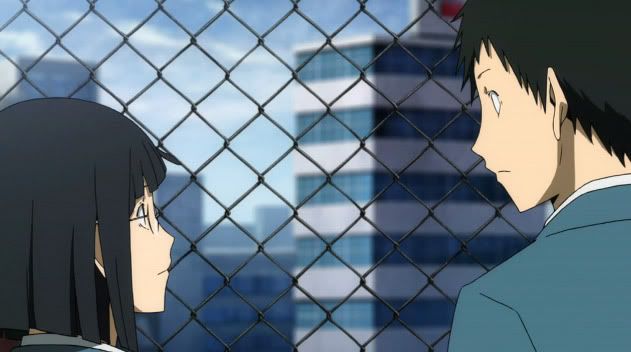 Anri: Wait, Kida's missed how much class now? Isn't he going to get held back?
Mikado: !!!!!!!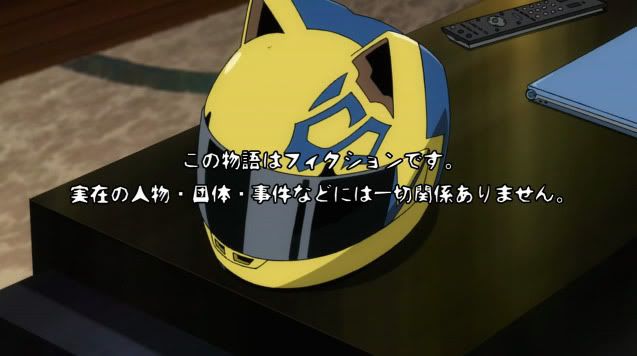 Durarara!! TV Anime: THE END!

Thanks for reading these things, everyone! I'll do the two extra episodes when they come out, so I hope you'll join me for those as well!