Every time the Yellow Scarves/Bandannas/Those People are on screen, I want to sing West Side Story songs. Every. Freaking. Time.

55 images. Blood, swearing, showtunes. And stuff.

Anri: Man. Shinra's just standing there. He's been standing there for like twenty minutes. This is getting awkward...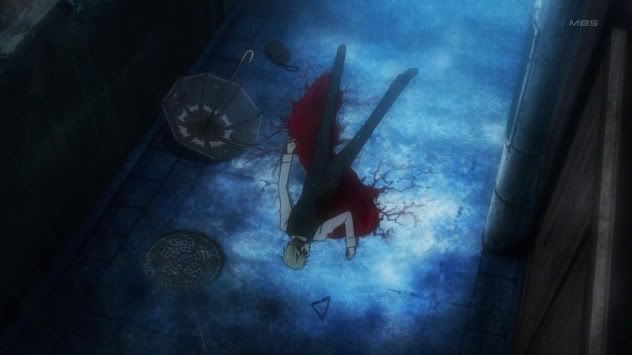 Shizuo: Jesus fucking christ, my cell phone's out of batteries. Seriously? NOW had to be the time for it die? Dammit.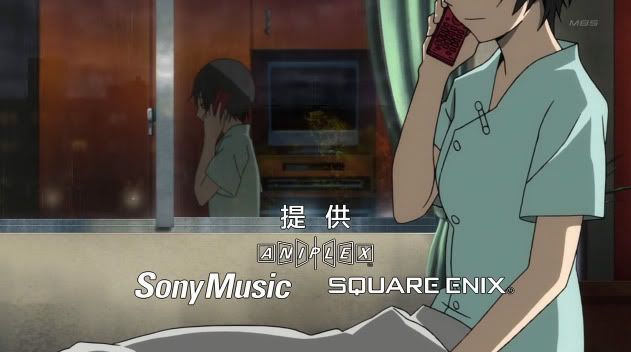 Saki: ...is your refrigerator running? GO CATCH IT! AHAHAHAHAH!
Russian Sushi KGB Killer Crazy Awesome Guy: What the hell?
Saki: AHAHAHAH! *click* Oh god, I'm so freaking hilarious.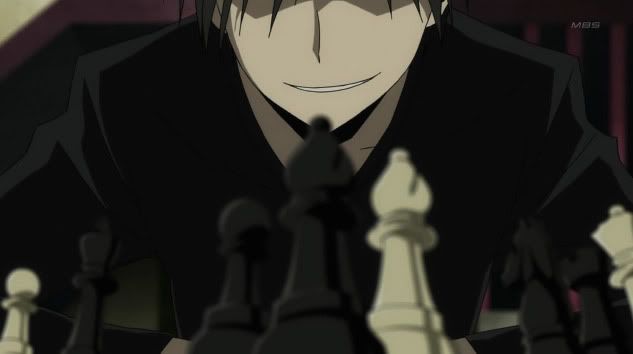 Izaya: THIS IS THE GREATEST CHEGOGI MOVE EVER. I AM SUCH A GENIUS. H-hey Namie! Did you see tha—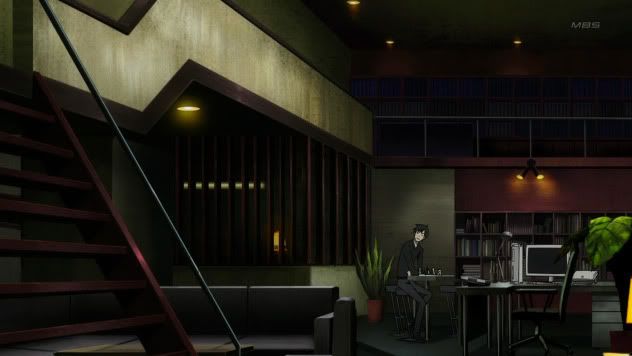 Izaya: ...oh... she's not here...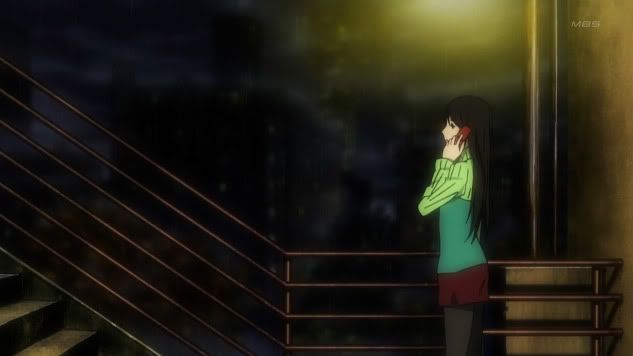 Namie: What am I?
SexyChat: You're one dirty birdy!
Namie: Oh YESSSS Good god it feels good to have my SexyChat back.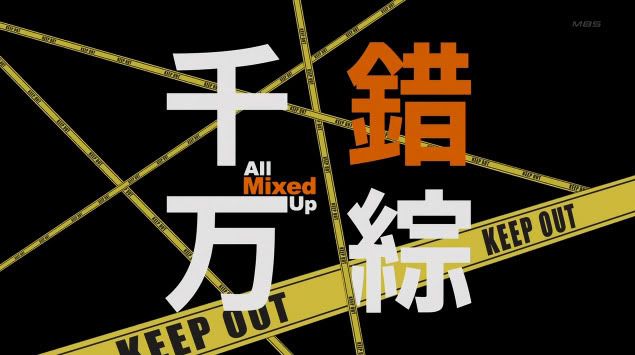 Durarara!! Episode 23: COMPLICATIONS AND CONFUSIONS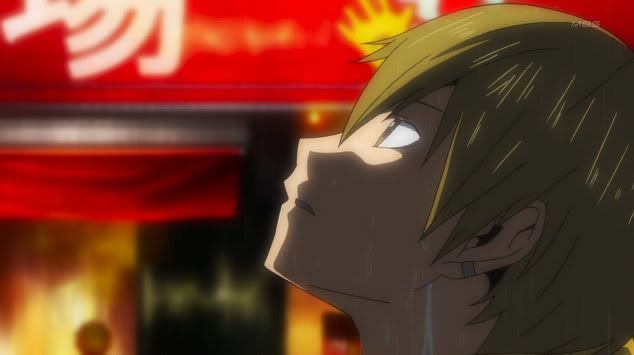 Kida: I can't believe I forgot my umbrella. Sheesh, now I'm getting freaking soaked. Should I go back? Ehh...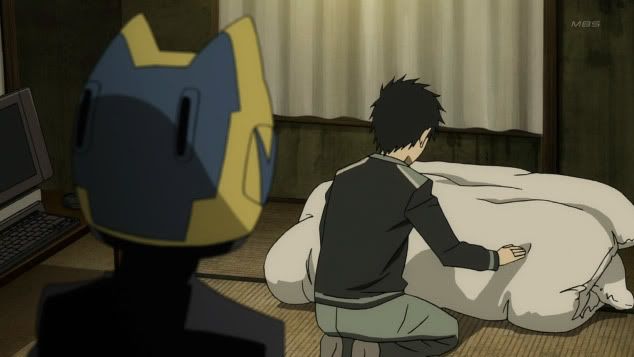 Mikado: I'm so tired... the last few days have been— Whoa! Kitty Biker! When did you get here?
KITTY BIKER: ...you just let me in...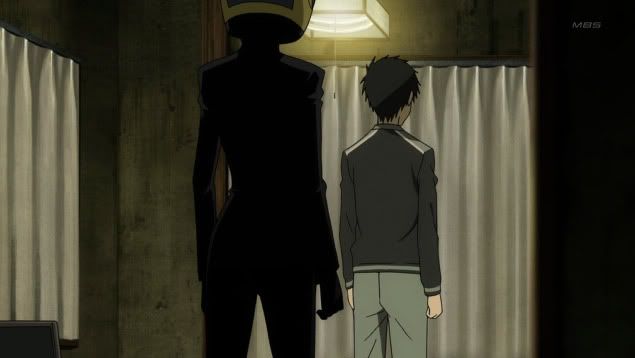 Mikado: Really? I must be even more tired than I remember.



Phone: I'm sorry, the number you are trying to reach is currently out of service.
Kida: Goddammit. I just want to see if I left my umbrella back there. Pick up your damn phone, guys.
KIDA IS NOT AMUSED.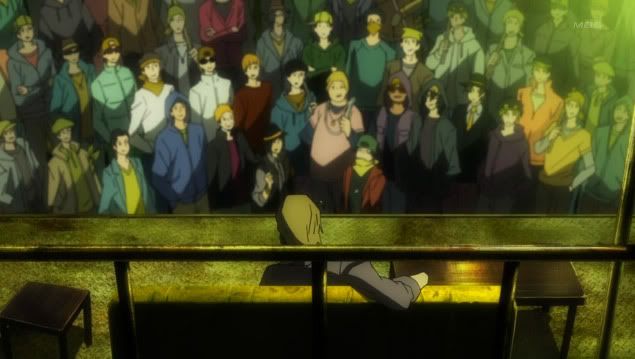 Yellow Loser: The Jets Scarves are gonna have their way, toniiiiight!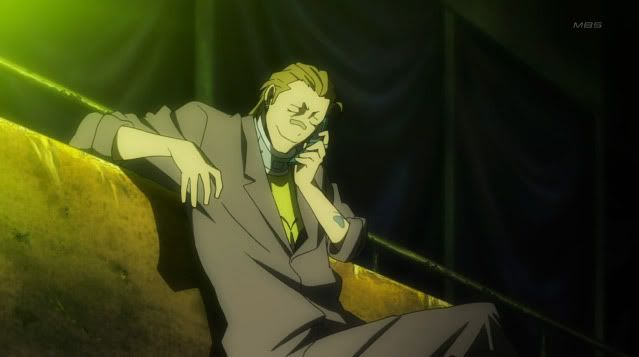 Yellow Loser: Our Shogun Kida grumbles, NO FIGHTS! But when Dollars start a rumble, we'll rumble them riiiiiight!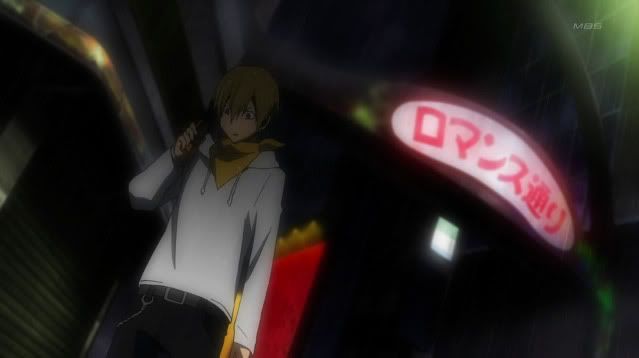 Yellow Loser: We're gonna hand ya a surprise, toniiiiiight!
Kida: I'm guessing it's NOT going to be my umbrella, is it?
Yellow Loser: We're gonna cut ya down to size, toniiiiight!
Kida: Hmmm. Maybe I should just go home.

*Ding-Dong!*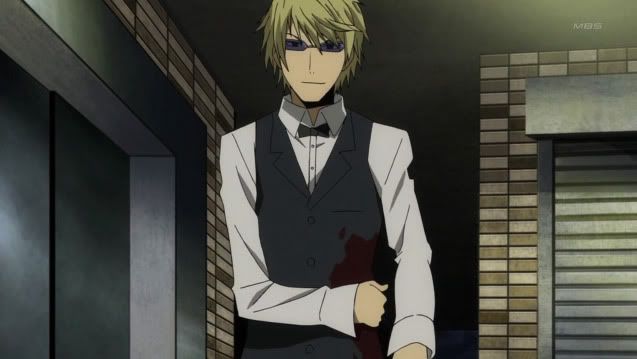 Shizuo: Hi Shinra. I think I need a band-aid.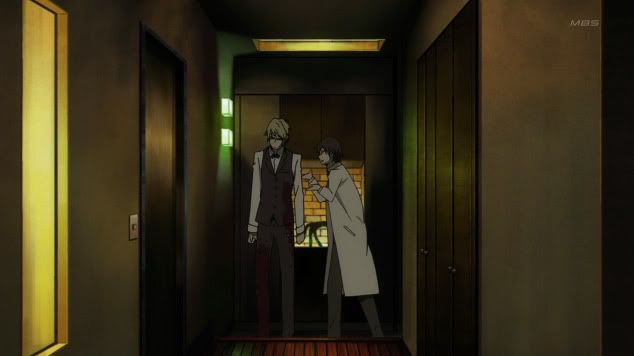 Shira: Shizuo! You look horrible! How did this happen? ...but I'm sorry, man, this is embarrassing... but... I'm all out of band-aids. Do you think you can live with paper towels and tape?
Shizuo: Whatever.
Shinra: Can I pretend to support you, like in all those buddy movies?
Shizuo: Yeah, fine, whatever, just help me get patched up.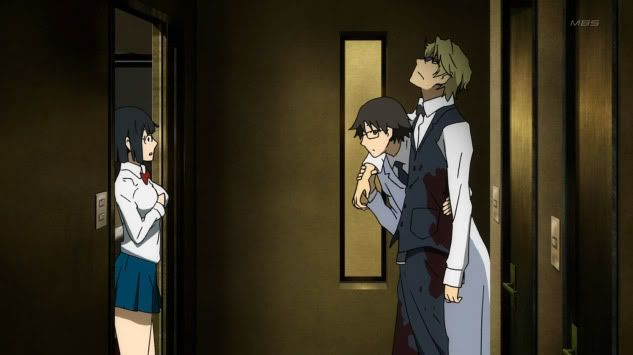 Anri: Holy shit! How did tha— SHINRA! Are you grabbing him at his wound?
Shinra: I'm just... uh... looking for the bullet?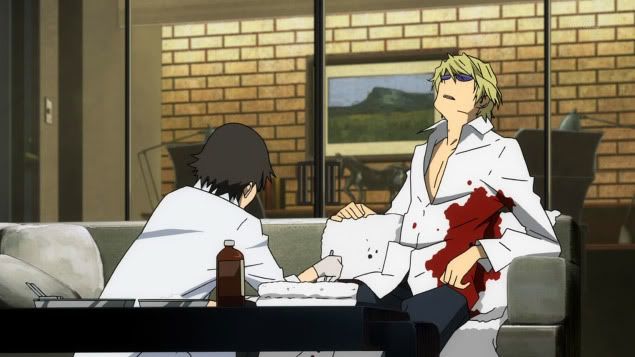 Shinra: Real operations are so much easier than that operation game. If i hit the edges here, nothing goes BZZZZ!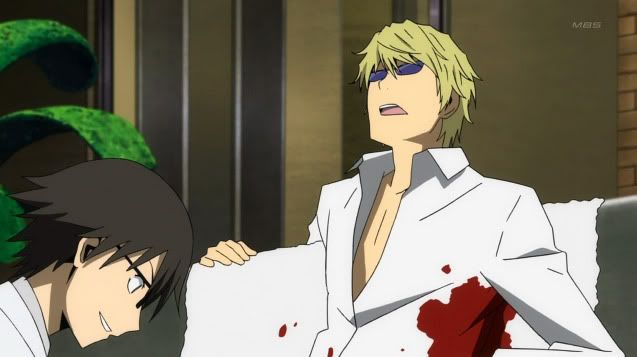 Shizuo: Are the bullets out yet?
Shinra: Huh? What?

SHINRA YOU ARE ENJOYING THIS WAY TOO MUCH.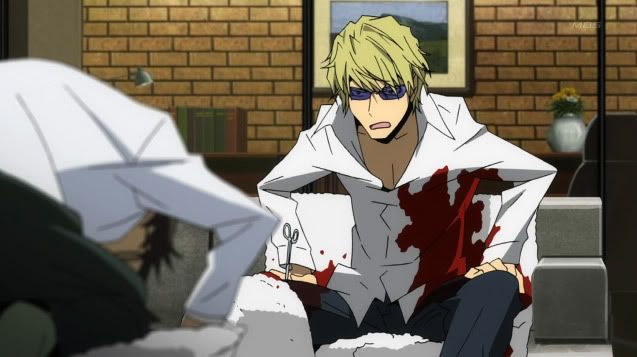 Shizuo: The bullets! THE GODDAMN BULLETS.
Shinra: AH AH AH YEAH SORRY ALMOST DONE.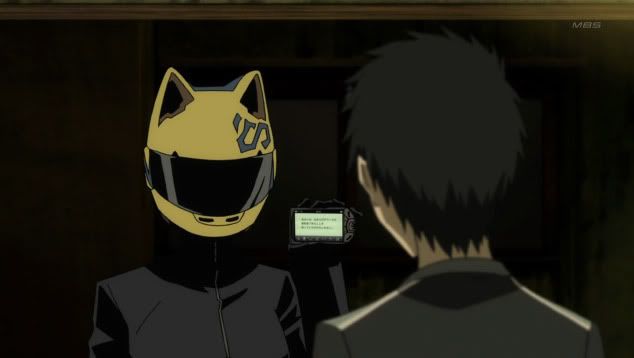 KITTY BIKER: I hate to be the one to break this to you, but your friends all have dark secrets. Like your secret.
Mikado: That I dream about Bruce Campbell in tight shorts on a regular basis?
KITTY BIKER: .............................no.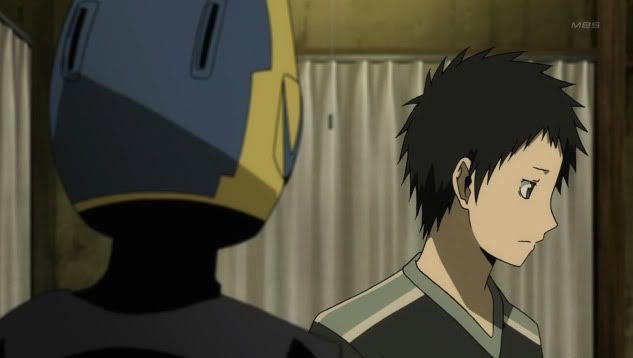 Mikado: ....Oh.



KITTY BIKER: Wait... did you see a picture of Bruce Campbell in tight shorts or something some time?
Mikado: Yeah, once...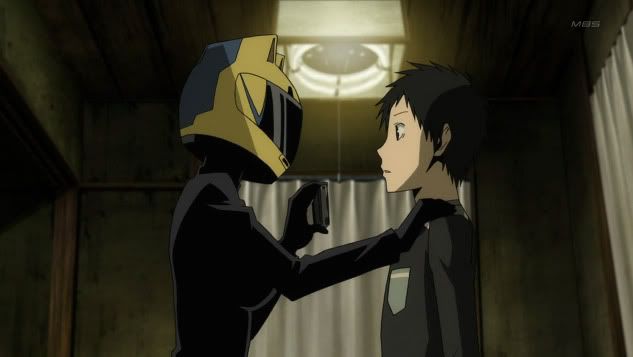 KITTY BIKER: Do you have it? Did you save it?
Mikado: I... maybe? I don't really remember, I don't go looking at it all the time, it just sorta pops into my head. I don't like guys or anything.
KITTY BIKER: MIKADO. WE'RE FRIENDS, RIGHT? YOU'D SHARE THAT PICTURE WITH ME, RIGHT?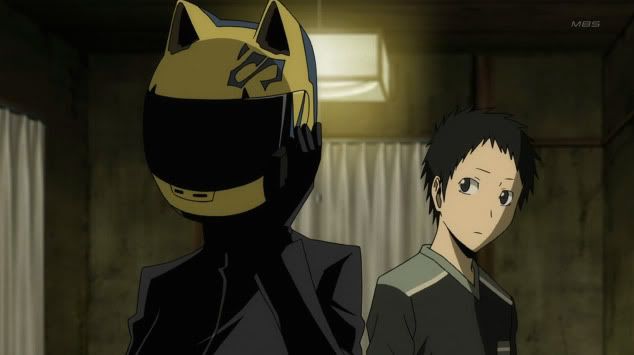 KITTY BIKER: Oh, hold that thought, my phone is ringing. Yeah? Oh, hey Shinra. Wait, what?
Mikado: What's going on?
KITTY BIKER: Anri got disgusted by Shinra have too good a time fixing up injuries Shizuo came in with or something and ran off!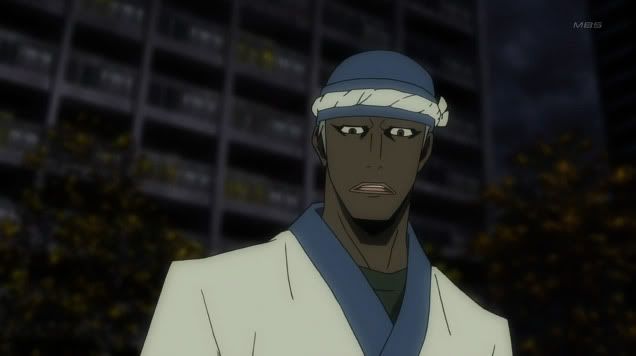 Simon: HEY BOY,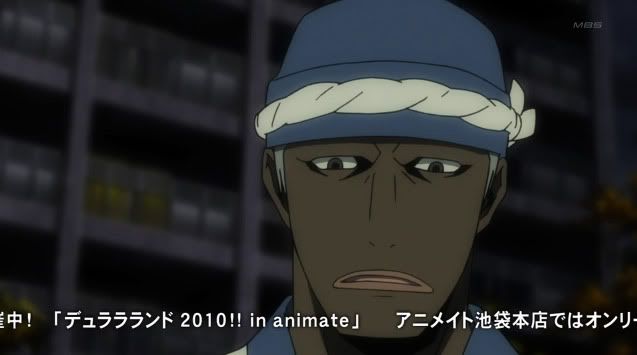 Simon: LOOKING FOR YOUR SOUL?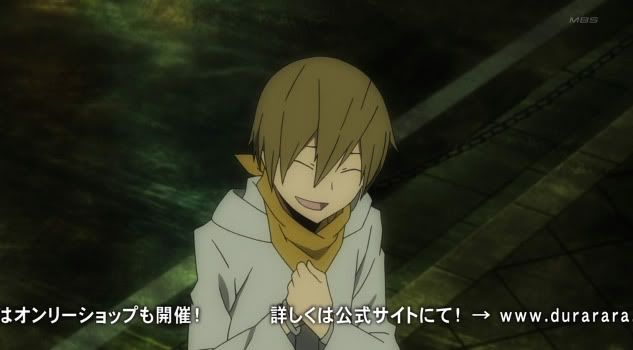 Kida: AHH!!! Oh... oh... Hahahaha, Simon! You always appear out of nowhere! Like a ninja! A Russian ninja!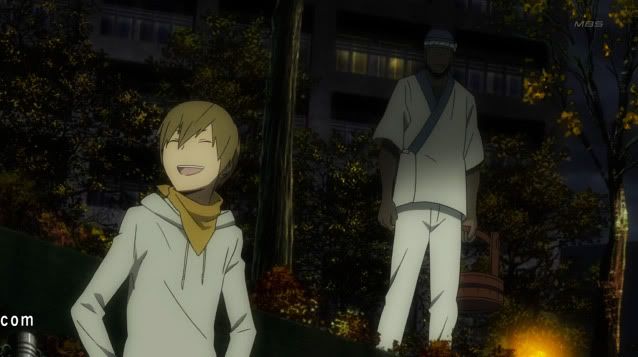 Kida: Oh wow, you really scared the shit out of me! Hahahaha!
Simon: YOU MUST KEEP THIS WAY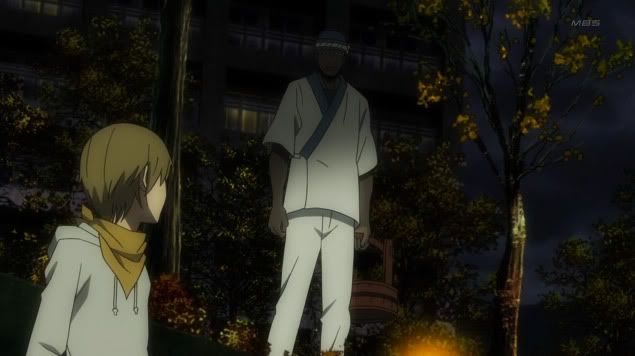 Kida: What... is that supposed to mean?
Simon: I'M GOING TO THE OVERGROUND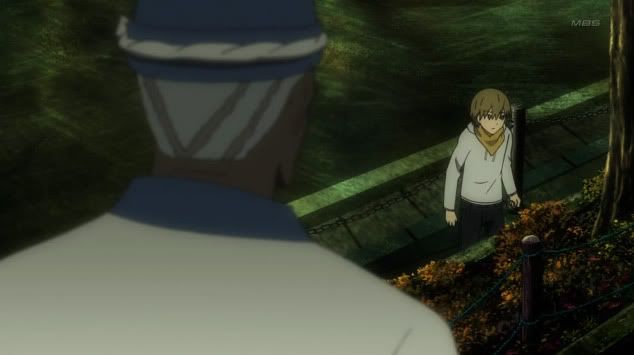 Kida: I'm... leaving now.
Simon: NO! YOU DON'T BE AFRAID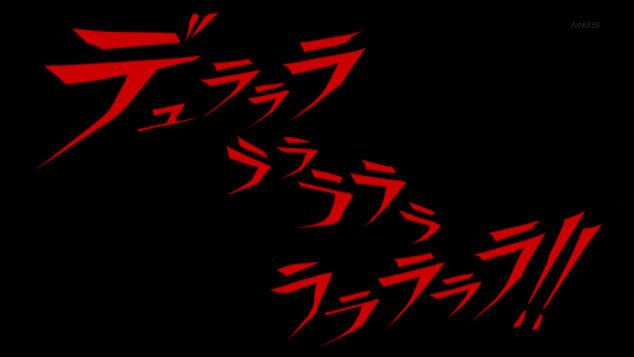 DURARARA RARARARARA RARARARARA!!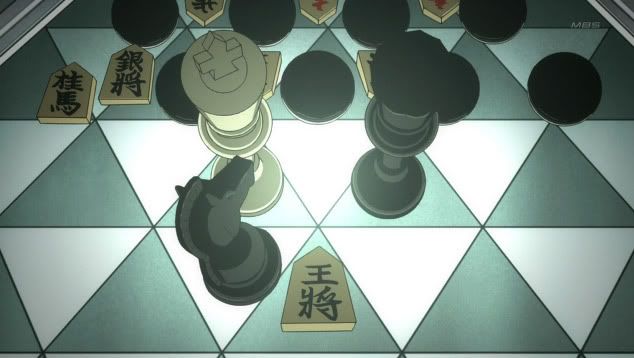 Izaya: Ah! I've done it! I've surpassed myself! This is incredible! Namie! Namie!!! Do you see? This is the third final striking move in Chegogi! The Wild Horse Corner Shot!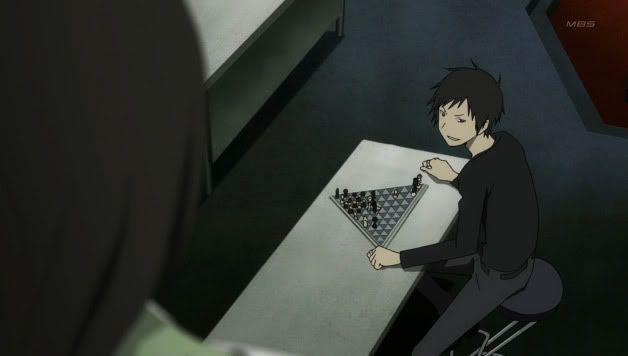 Izaya: I don't totally remember how I go these piece all over here, but nonetheless here they are! In perfect position!
Namie: Yeah, sorry, I was movie stuff around and knocked the board over. I just kinda stuck pieces where ever.
Izaya: Hahahahaha! You're such a kidder! ...you are joking, right?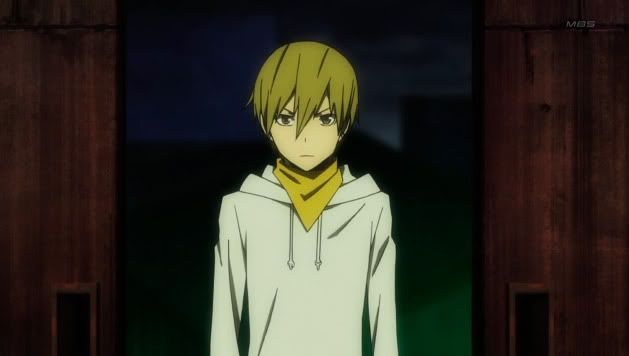 Kida: Hey guys, I'm just here for my umbrella.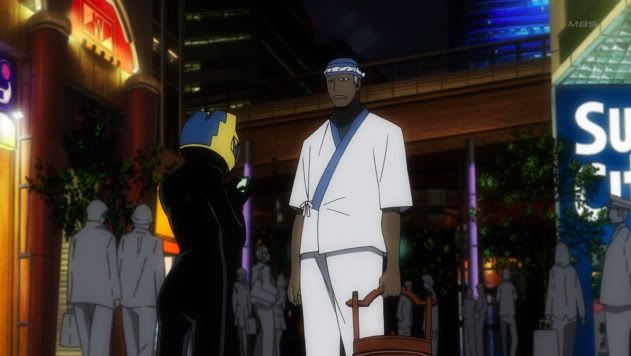 KITTY BIKER: Hey Simon, you see a girl with big boobs and maybe a katana running around here?
Simon: NO. BUT I DID SEE KIDA. I THINK HE FORGOT HIS UMBRELLA SOMEPLACE.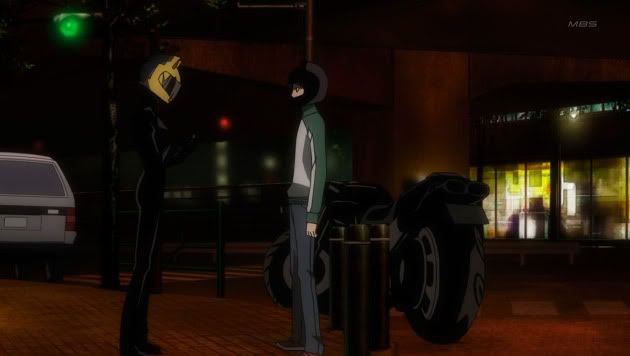 KITTY BIKER: Kida passed by here. Maybe Anri is following him? Let's go find them.
Mikado: Hey, Kitty Biker? Why do you put kitty ears on the helmets you make? I mean, it IS pretty adorable, but...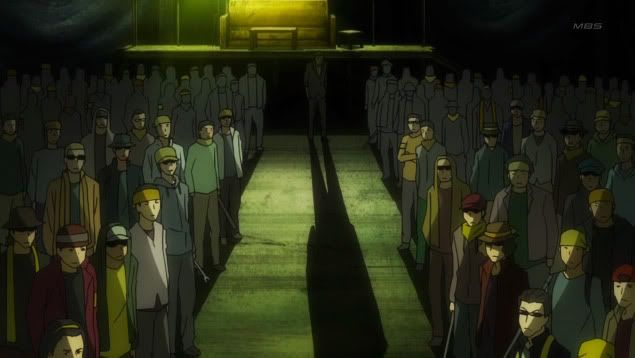 Kida: You know, just in case you jump me, I'm ready to mix. Tonight!!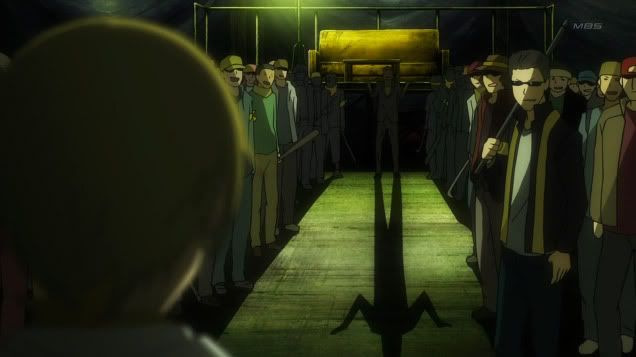 Yellow Loser: We're gonna rock it tonight! We're gonna jazz it up and have us a ball!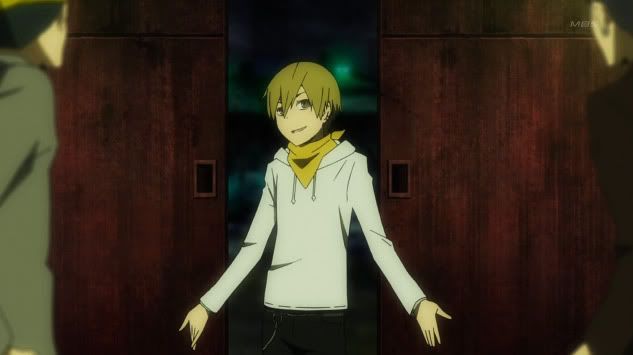 Kida: You're gonna get it tonight! The more you turn it on, the harder you'll fall!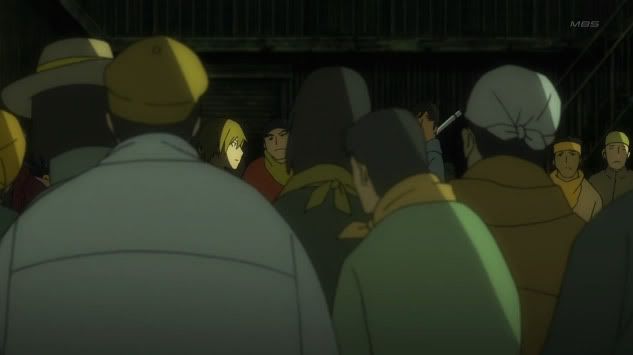 Yellow Loser 2: Well you began it!
Yellow Loser 3: Yeah you began it!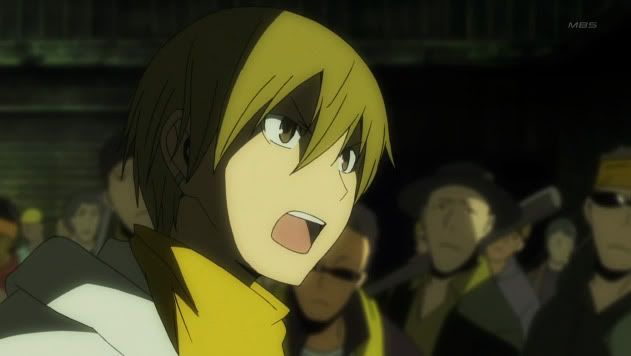 Kida: So I'm the one that'll stop ya once and for all, tonight!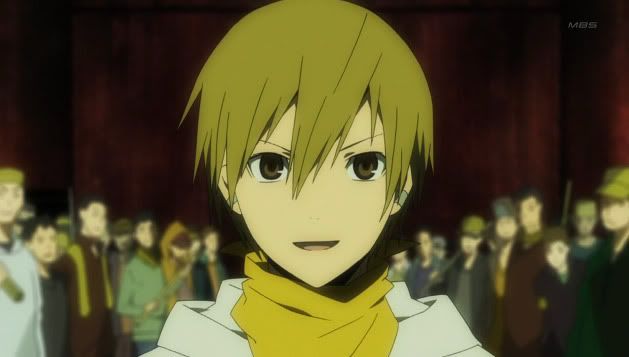 Kida: But anyway, really, I'd rather just take my umbrella and leave.
Yellow Loser: I'LL GIVE YOU YOUR UMBRELLA! *KADONK!*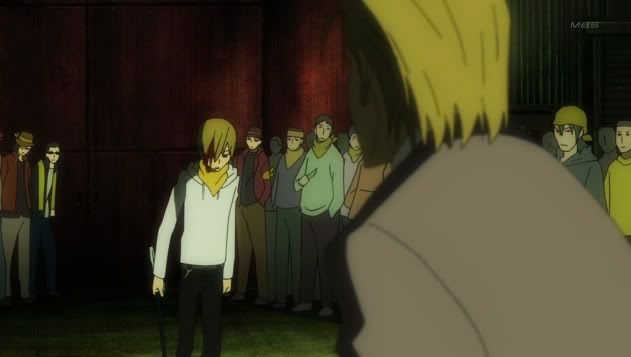 Kida: This? This is not my umbrella. This is a crowbar. Why did you hit me with a crowbar?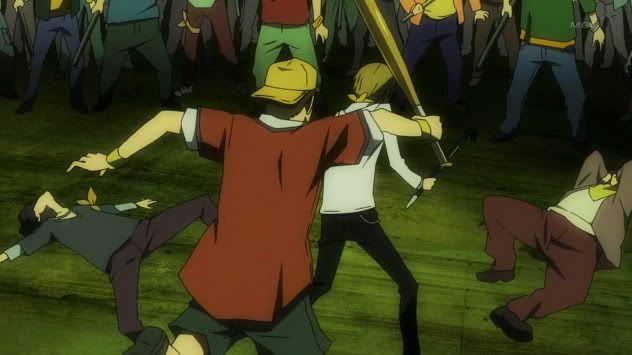 Yellow Loser 4: The Jets Scarves are coming out on top, toniiiight! We're gonna watch Kida drop, toniiiiight!
Yellow Loser 5: That derpy lil kid'll go down! And when he's hollerin' "uncle," we'll tear up the town!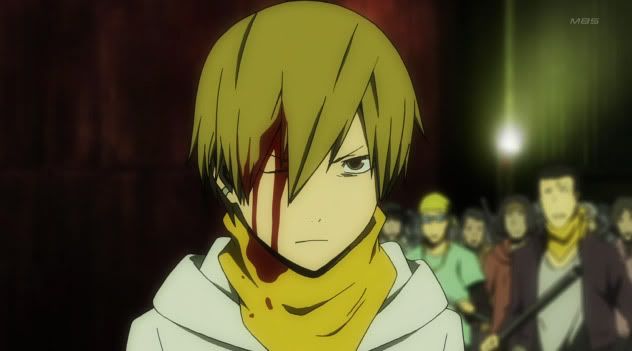 Kida: Yeah, if you can make me go down.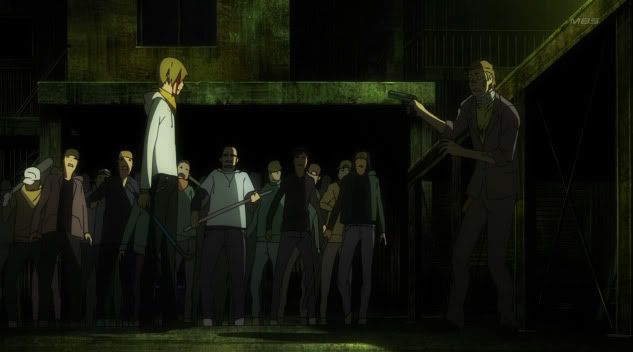 Yellow Loser 2: We'll be backin' you boy, a'ight!
Yellow Loser: Alright!
Yellow Loser 3: You're gonna flatten him good!
Yellow Loser: Right!!
Kida: Honestly, a gun? That's not cool man.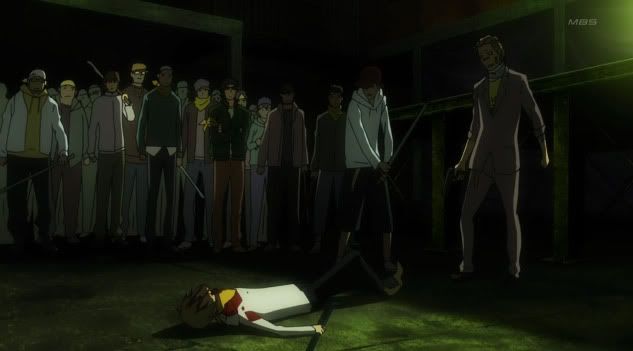 Yellow Loser 6: WE'RE GONNA ROCK IT TONIGHT!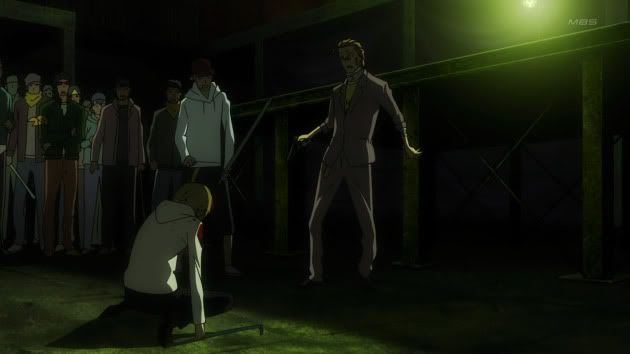 Kida: OH GOD JUST SHUT UP. SERIOUSLY SHUT THE FUCK UP. HOW SPORTING IS THIS? WHAT, FIFTY AGAINST ONE? FUCK YOU GUYS. FUCK YOU AND YOUR GODDAMN CROWBARS AND BASEBALL BATS AND FUCKING GUNS. FUCK YOU.
Yellow Loser: Hey... stop getting back up...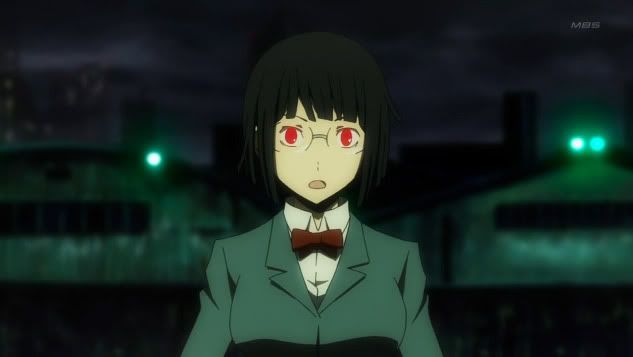 Anri: Whoa, talk about an unfair fight. Hey Kida, don't worry, you have my katana!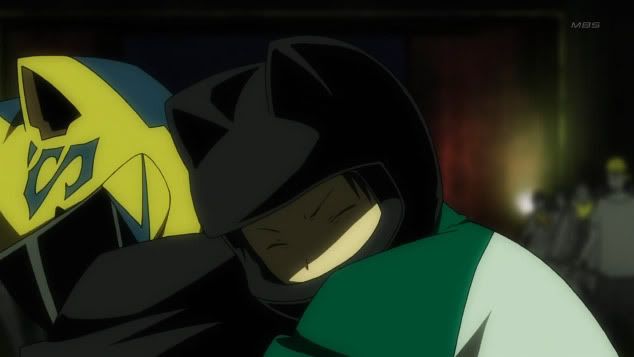 KITTY BIKER: AND MY SCYTHE!
Mikado: And my... cell phone?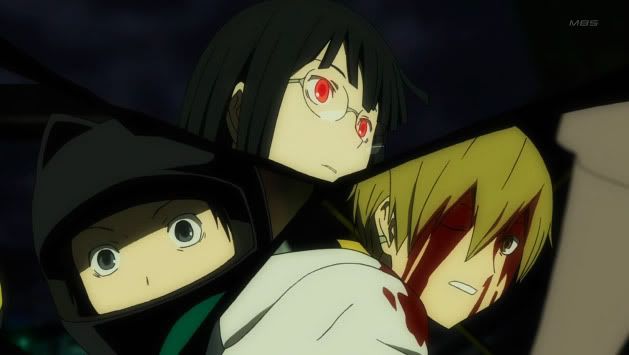 Mikado: WAIT A SECOND! Now that we're all here, we can do a mythical TRINITY ATTACK! I saw this on Kingdom Hearts!
Kida: What? My eyesights getting blurry, I think I have a concussion... or two... oh god it hurts...

Next Time, On Durarara!!: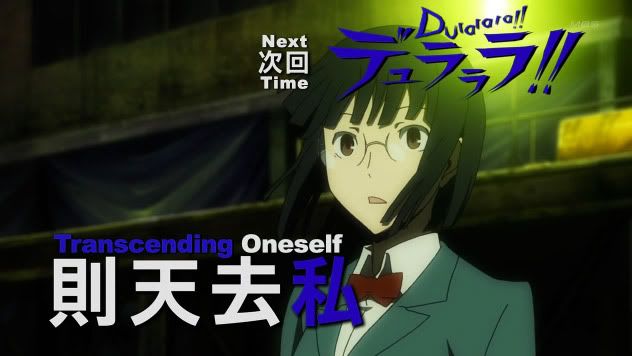 Shock!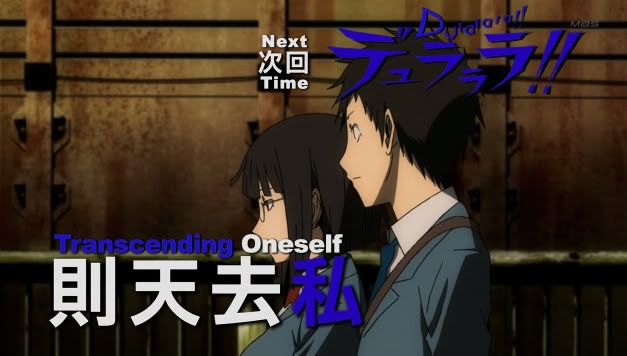 Peace!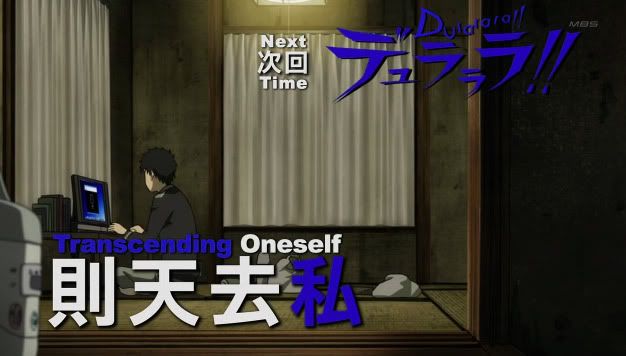 Computers!

All this and more on the next and final TV-broadcasted episode of Durarara!!


You cannot believe the strength it took to not do this entire episode in lyrics. But I had SO MUCH FUN working on this one. Soooo much fun!