It's only three weeks late. That's cool, right guys?

114 Pictures. Warnings: spoilers through episode 11, swearing, nearly everyone being ooc, horrible humor, and failing to drop the Doctor Who sub plot thing.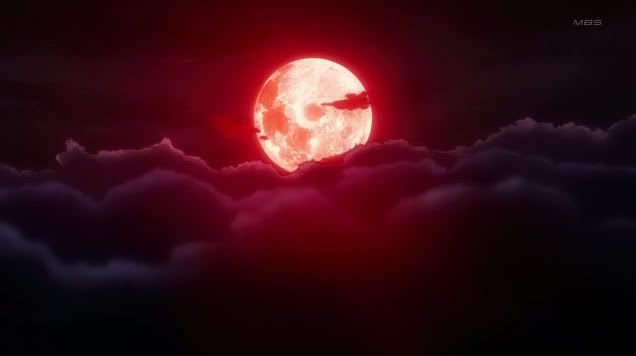 RED SKY AT NIGHT, SAILOR'S DELIGHT! ...wait, does that count for moons too?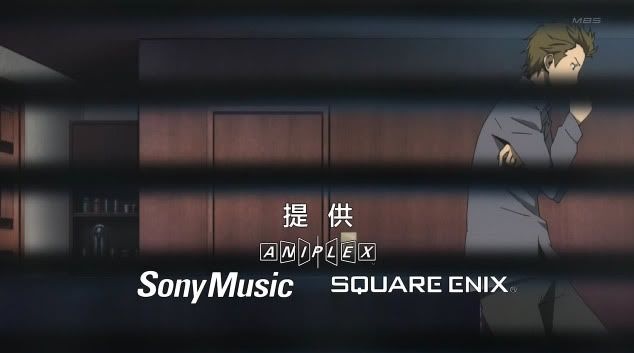 Seiji: *hfff* *hfff* W-where's my Amy? WHERE IS SHE?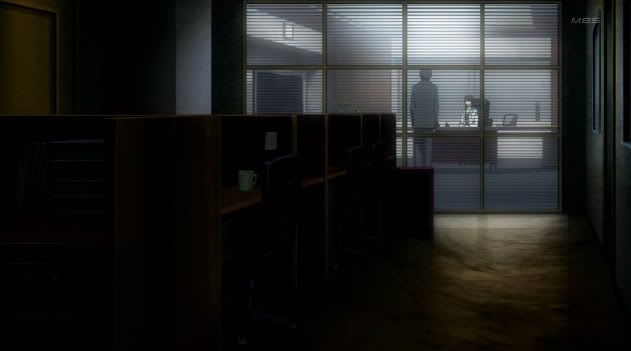 Namie: What is it?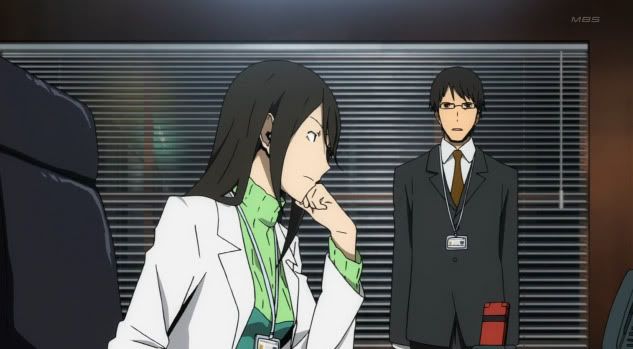 Scientist John: It's your brother. I think he's... going crazy.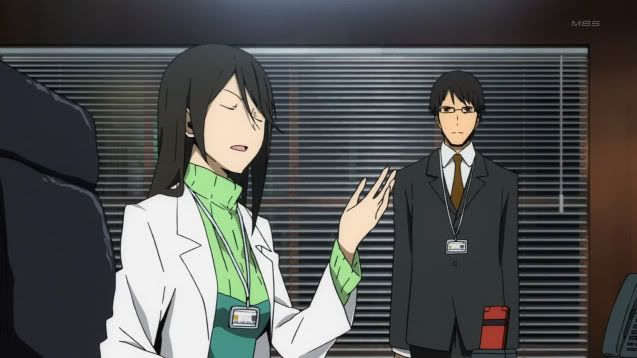 Namie: He's my brother. He IS crazy. Have you seen his "Things that remind me of Doctor Who" blog? That boy is 100% insane. But I still love him.
Phone: *ringringring*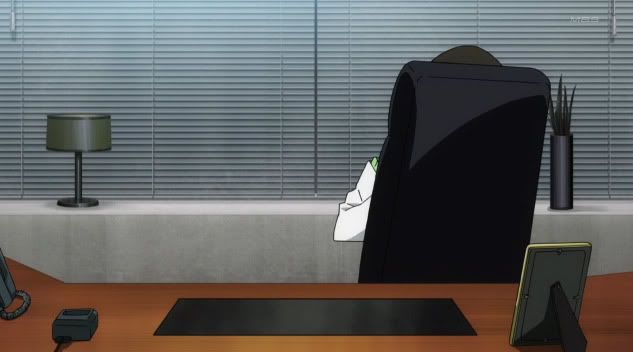 Namie: SEXY CHAT? HAVE YOU REINSTATED MY ACCOUNT?
Mikado: Uhhhhhhh... no?
Namie: Damn.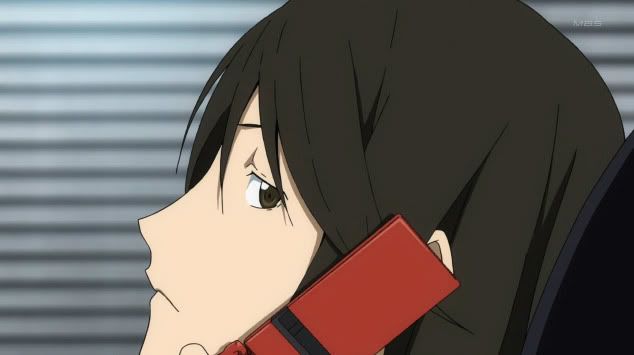 Mikado: This is Ryuugamine Mikado. And I propose a trade. Meet me at Sunshine City.



DURARARA!! EPISODE 11: STORM AND STRESS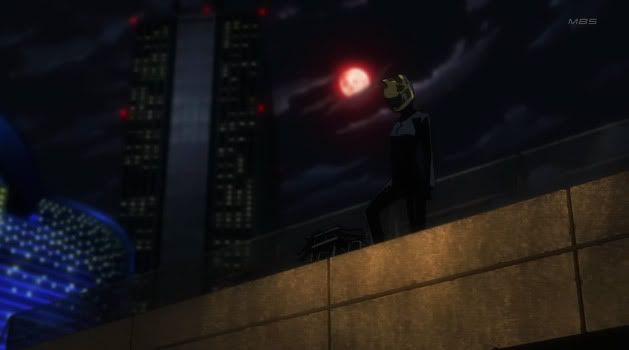 KITTY BIKER: Sitting on this fence really isn't that comfortable.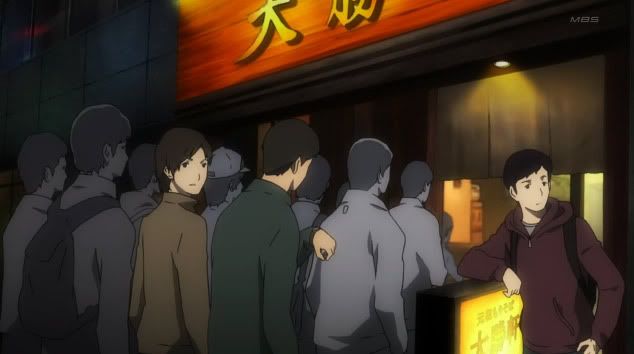 Man in Line: I hope they hurry up. I have important shows to watch on TV tonight.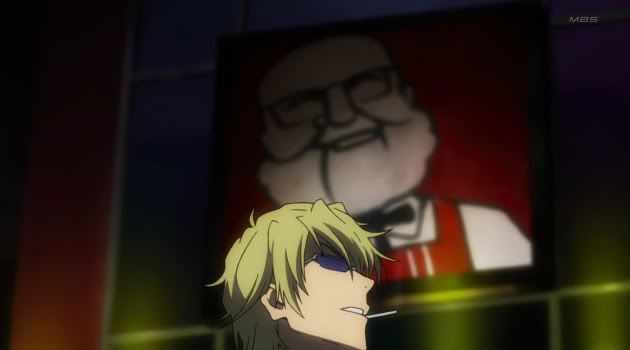 Shizuo: So then she says to me, "Shizu-chan, I'm sorry, I just can't deal with your perverted infatuation with Izaya-san anymore."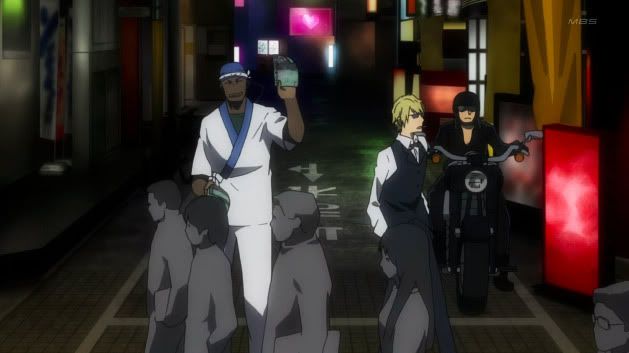 Shizuo: PERVERTED INFATUATION? ALL I WANT TO DO IS STRANGLE THE TWERP FOR CAUSING ME SO MUCH STRESS AND PAIN. Hey, Simon, are you even listening to me?
Simon: Noooope!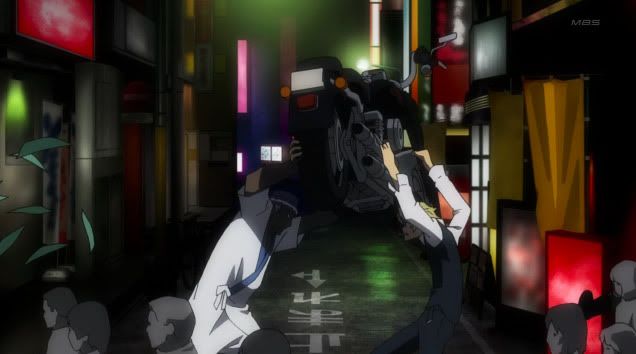 Shizuo: GODDAMN YOU!
Simon: Fighting with other's property is not good!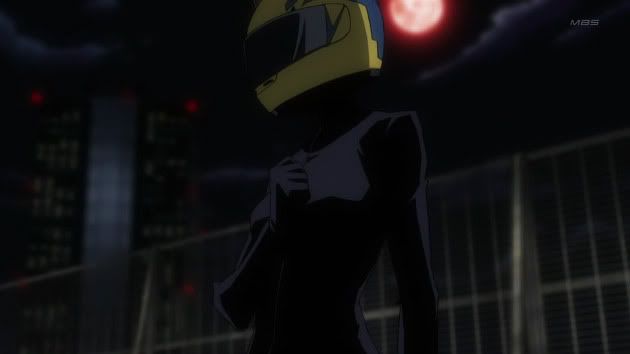 KITTY BIKER: I hope this goes smoothly. I'm nervous as a schoolgirl on her first day of class!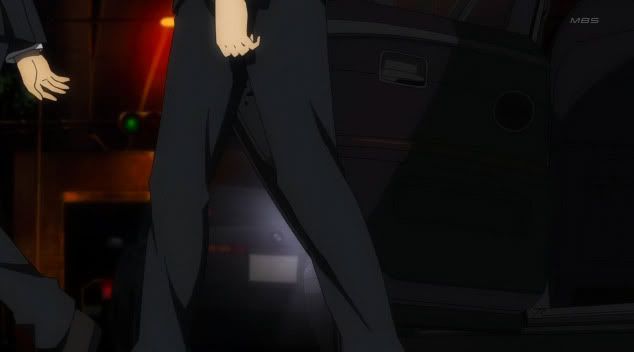 ~Here come the Men In Black! Galaxy Defenders~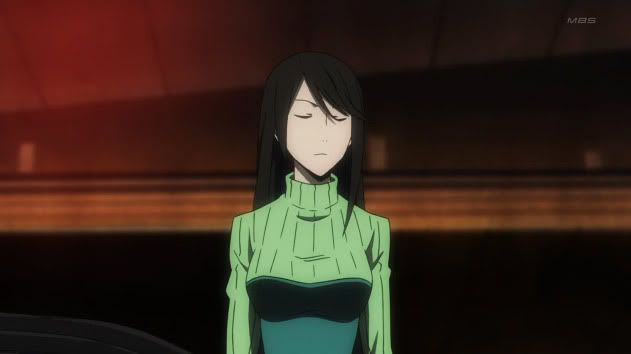 Namie: Okay, I'm here. What do you want?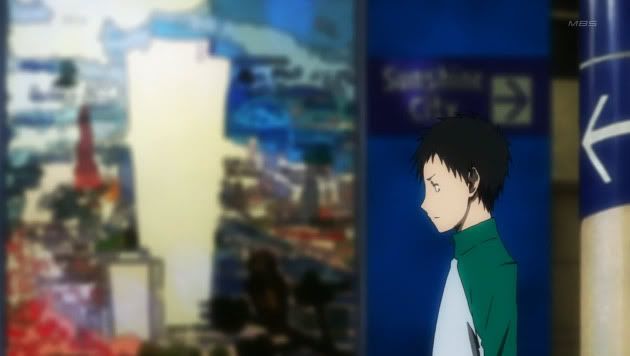 Mikado: I'll tell you where Choppy Neck is in exchange for the truth... your company is doing some shady things, and I want to know about them.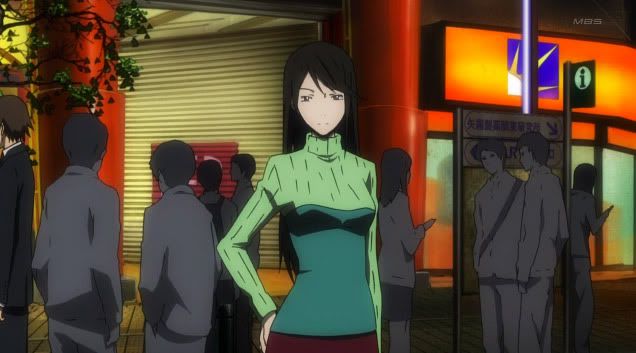 Namie: Honestly? That's a HORRIBLE deal.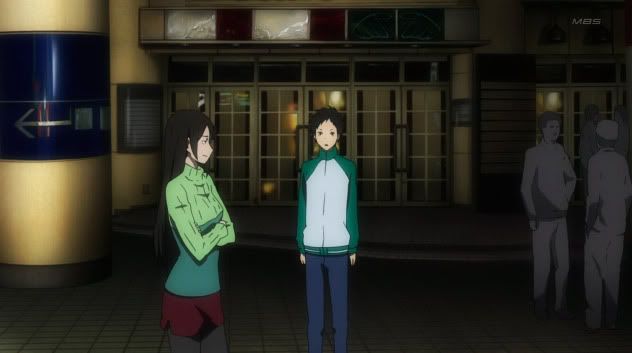 Mikado: But you DO want Choppy Neck back, right?
Namie: It would be nice, but I don't particularly need her.
Mikado: True, but your brother does, right?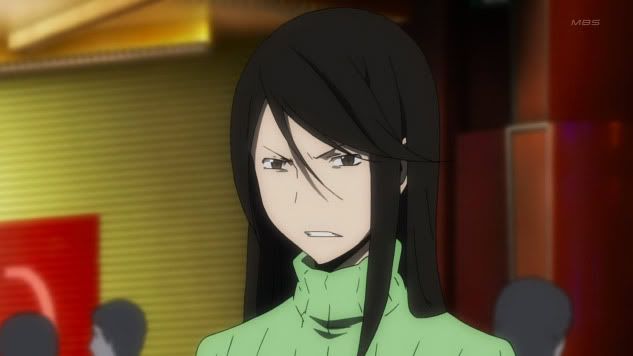 Namie: HSSSSS!!!!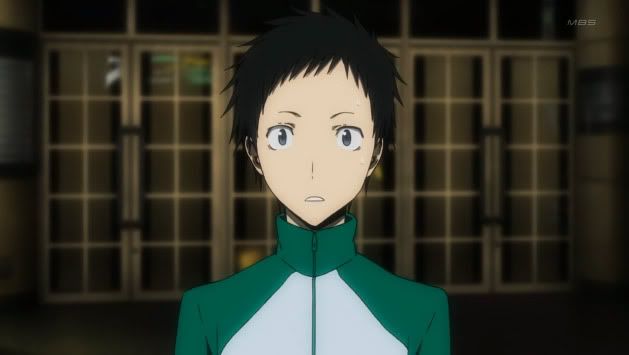 Mikado: WHOA I said the wrong thing.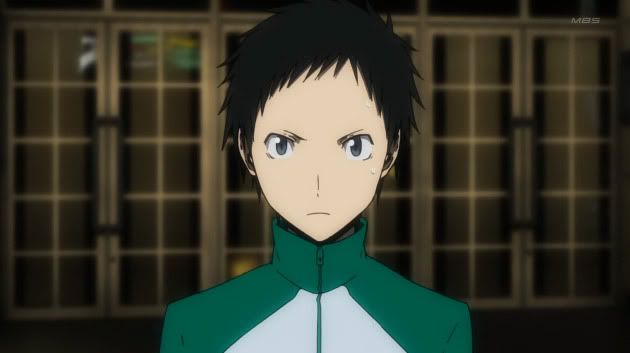 Mikado: But this is good, I can work this angle.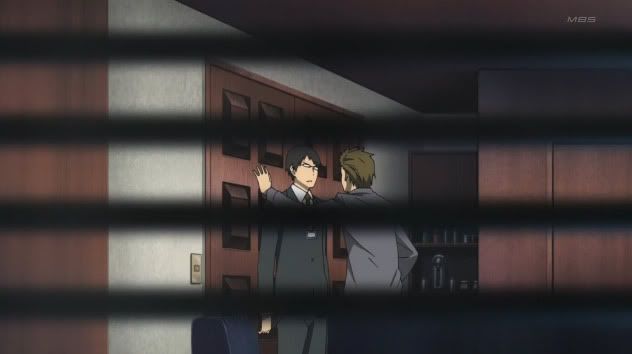 Seiji: Hey Scientist John. You're looking good tonight. And you look awfully familiar... were you ever in an episode of Doctor Who?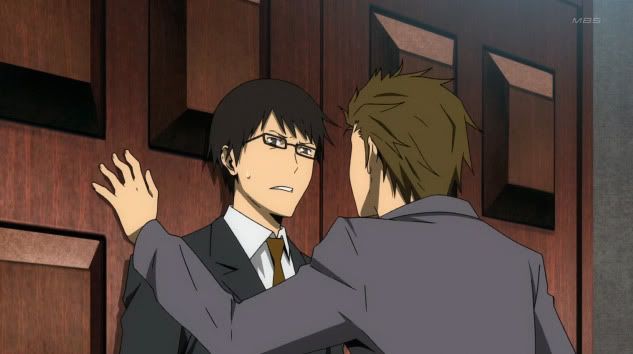 Scientist John: Please sir, I don't feel comfortable with this.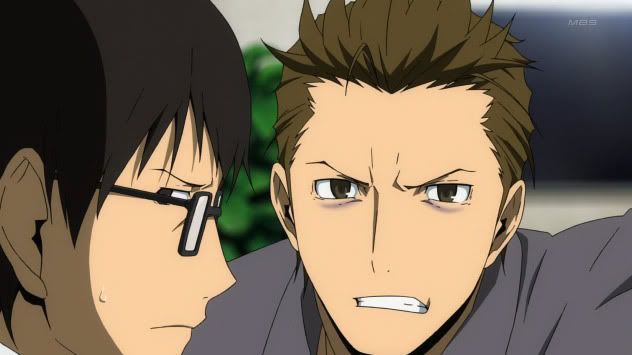 Seiji: ANSWER ME!
Scientist John: ....it was only a little part...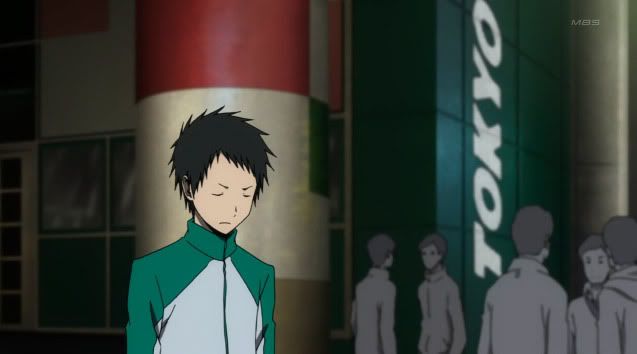 Mikado: Okay, I just need to calm down and breathe. I can do this.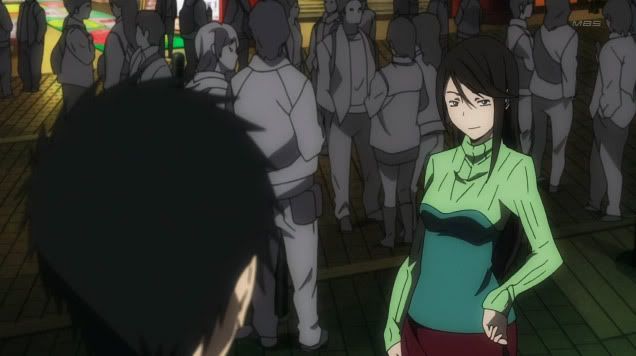 Namie: I don't need to make any bargains with you. My people have you surrounded. I'll just force Choppy Neck's location out of you!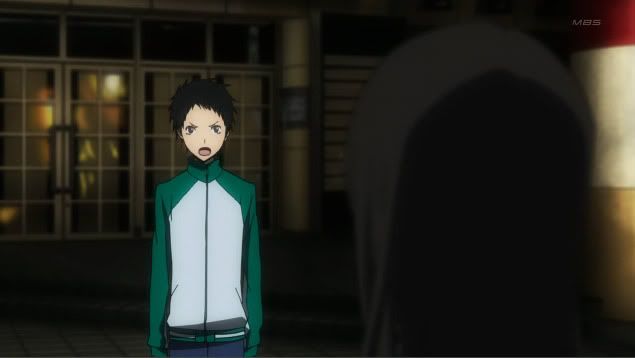 Mikado: You may have me surrounded, but I have backup of my own!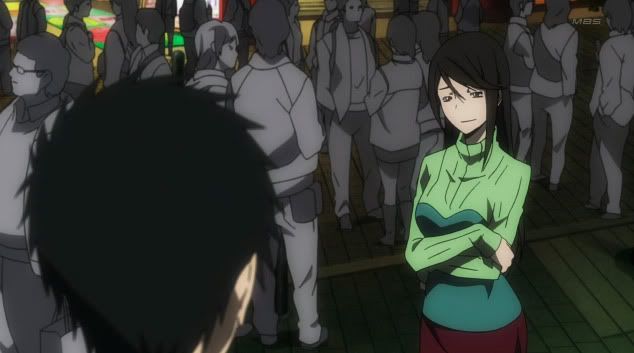 Namie: Oh really?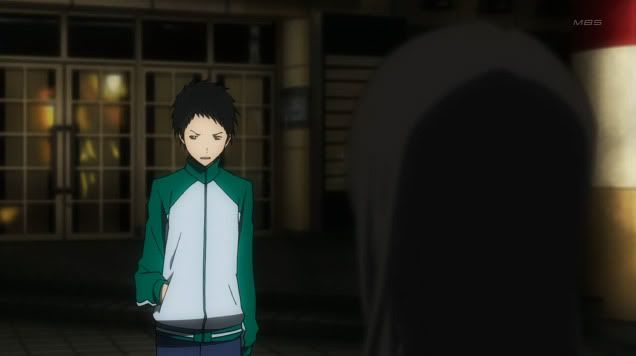 Mikado: Y-yeah!! Hopefully.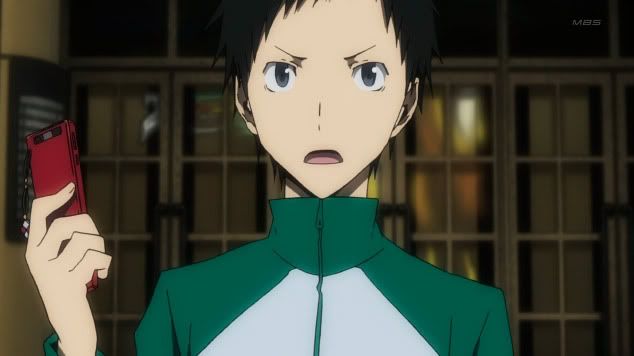 Mikado: I push one button on this, and they're here in a flash.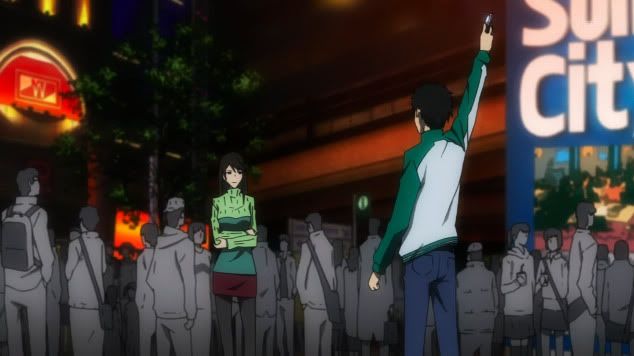 Namie: I'd like to see you try.
Mikado: Well then, I WILL! *boop*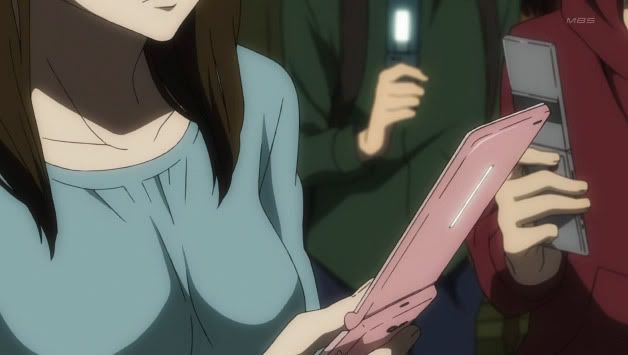 Crowd: Oh, I got mail!
Crowd: Me too!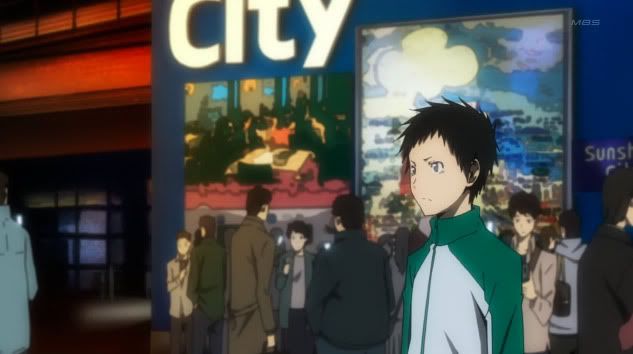 Crowd: Hey, check out the message I got!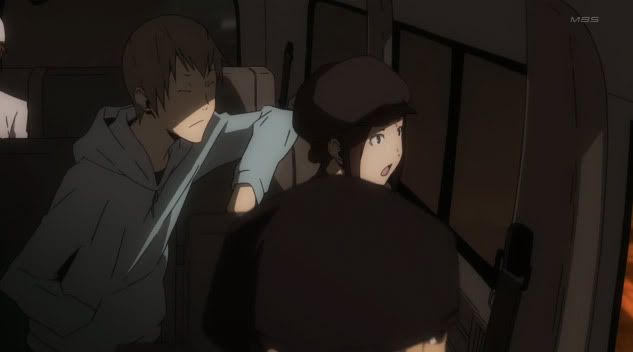 Erika: UWAAAHHH!!! Look at the reaction!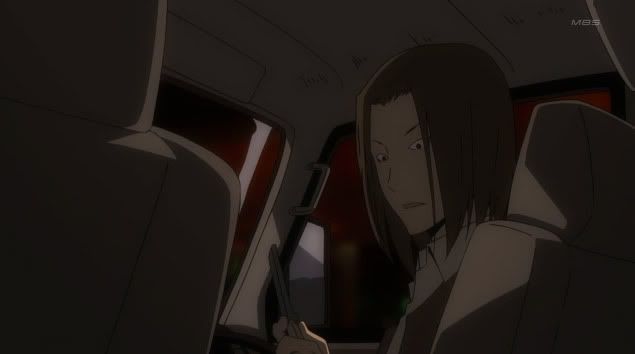 Saburo: Oh hey, we got them too.
(Great ringtones, guys!)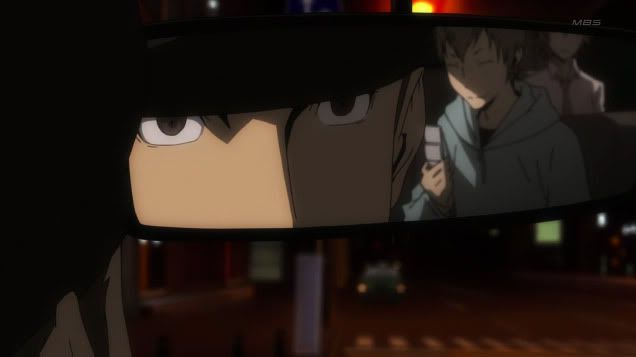 Kyohei: Time for us to do our job.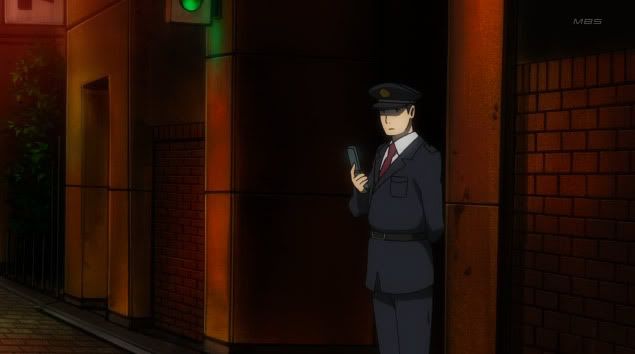 Policeman: I sure hope this isn't a prank call again...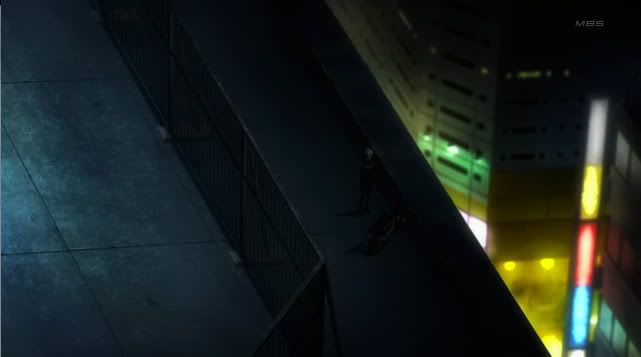 KITTY BIKER: How did he get my number...?
Kyohei: KITTY BIKER!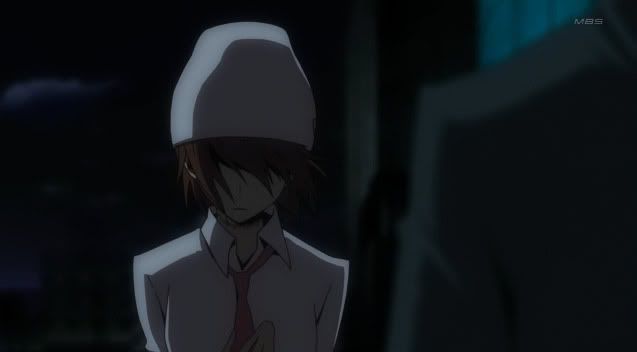 Kyohei: I've brought who you've been looking for.
Choppy Neck:...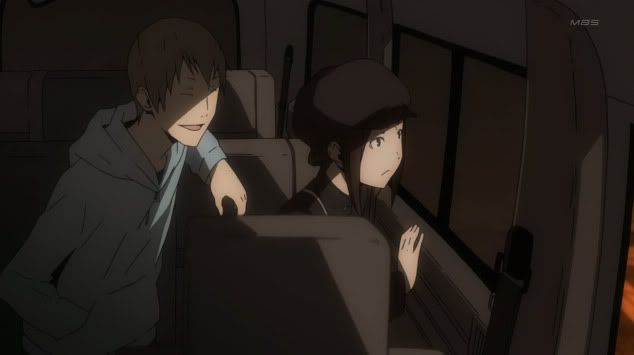 Walker: Whoever set this up is good.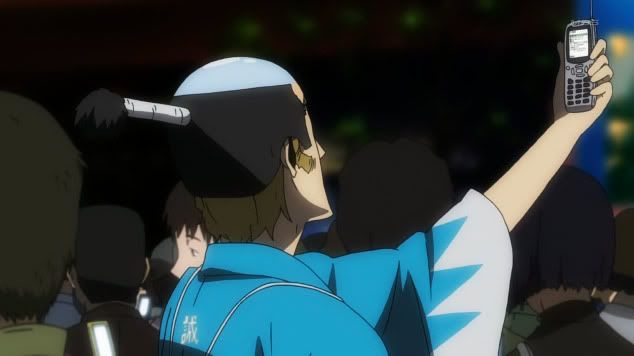 Issac: NE, MIRIA! Look what I got!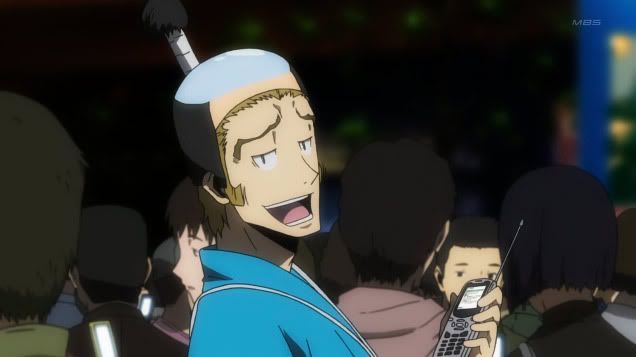 Issac: It's a special message!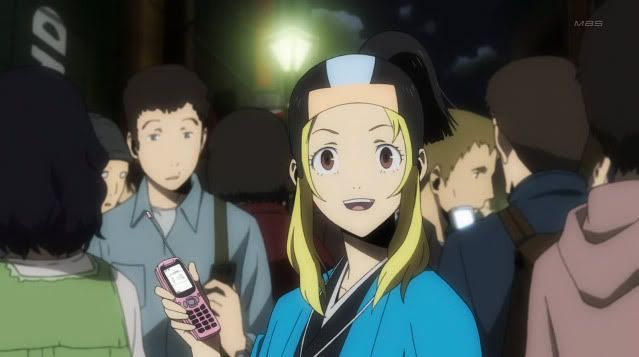 Miria: ME TOO!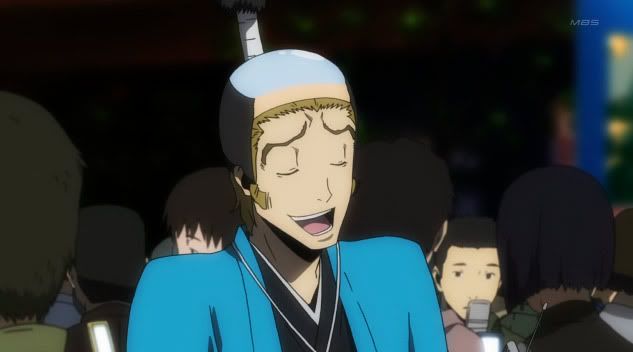 Issac: I guess we're just very special people!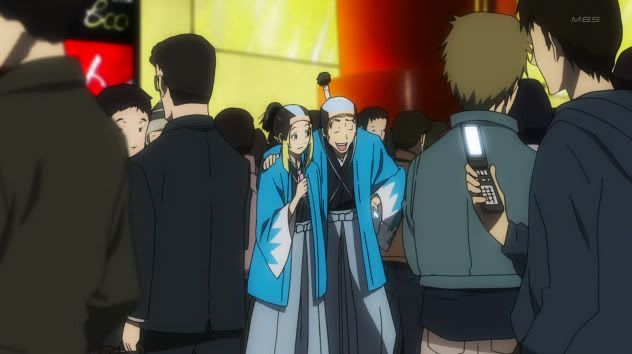 Issac: Perhaps the Japanese have accepted us as one of their own!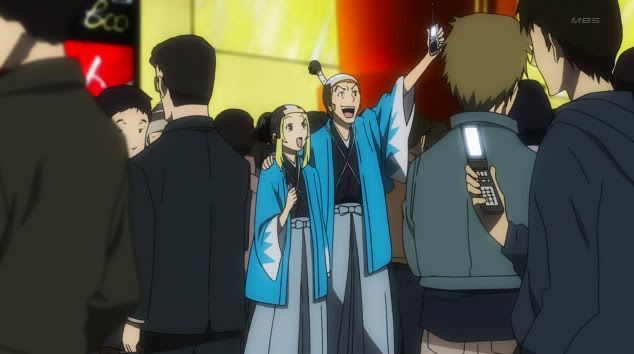 Issac: BANZAI!
Miria: BANZAI!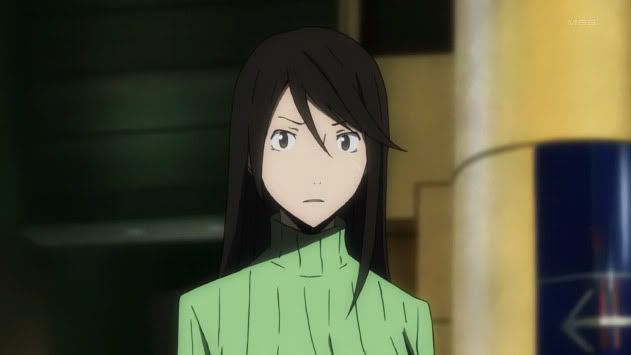 Namie: What the hell? I swear I've seen those two before...



Namie: ARRGHHH! IT'S KILLING ME! WHERE DO I KNOW THEM FROM?
Miria: Japan is amazing! And everyone here is so nice!!



Miria: SUGOI!!! ~oi! ~oi!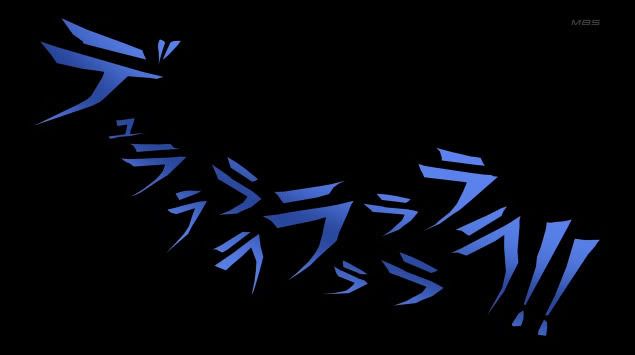 DURARARARARARARARARARA!!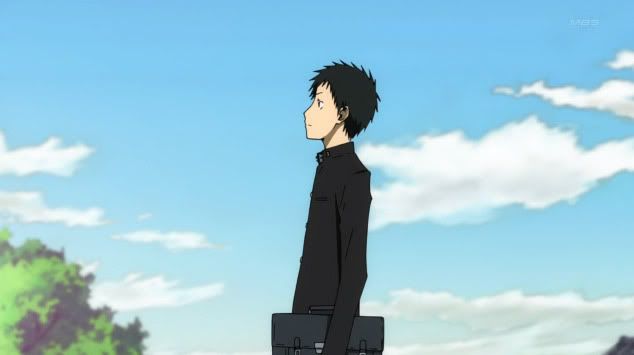 Mikado: I always wanted to do something big. Important. Special.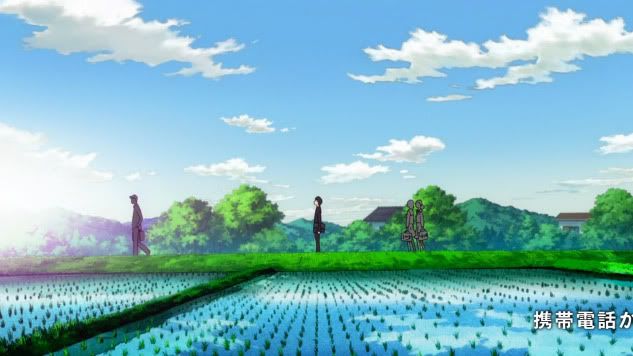 Mikado: But I lived in a tiny village in the middle of nowhere.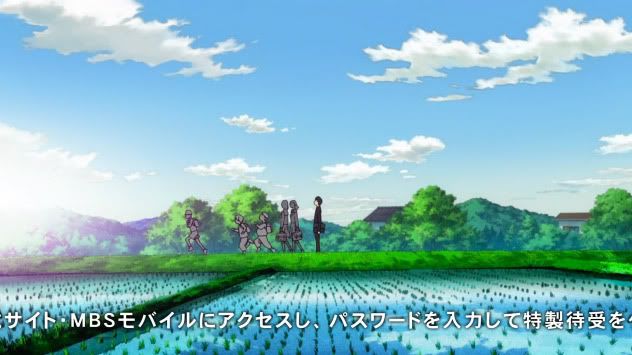 Mikado: Honestly, it was so small, we were taught in one-room school. Sad times.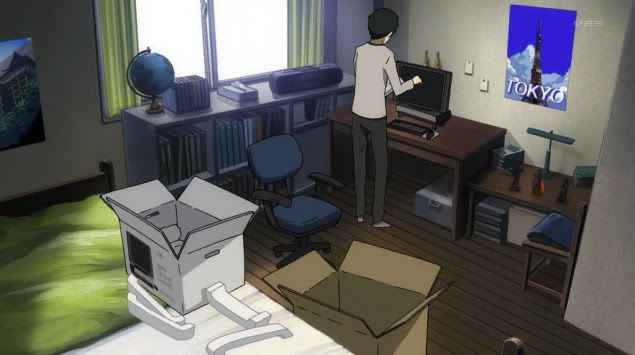 Mikado: But then I discovered... THE INTERNET.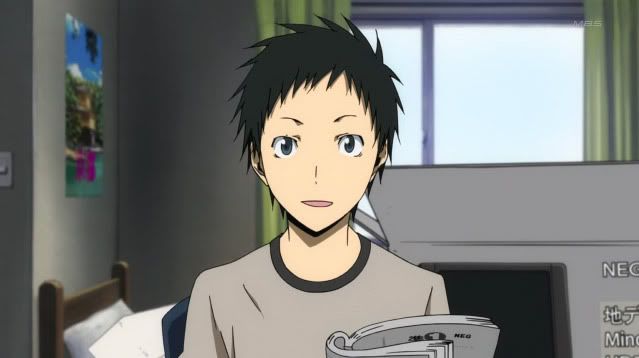 Mikado: Wow, this internet thing is amazing!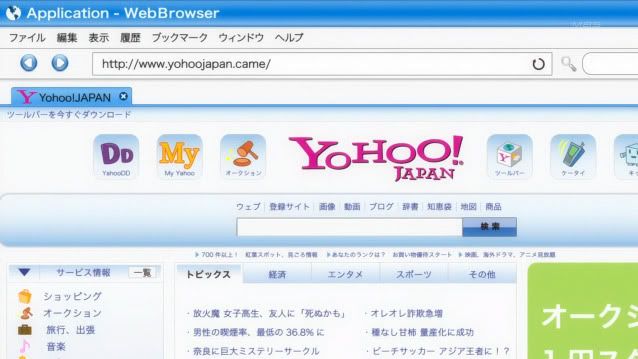 Mikado: I can go anywhere!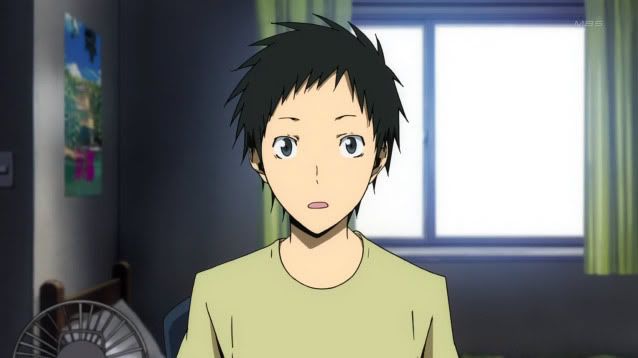 Mikado: This is the greatest thing ever. God bless the internet.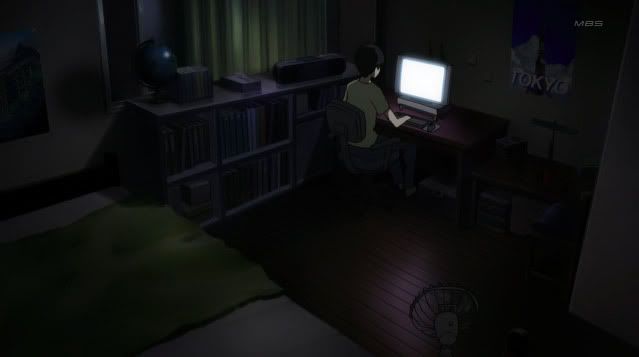 Mikado: The only downside is that I never left my room.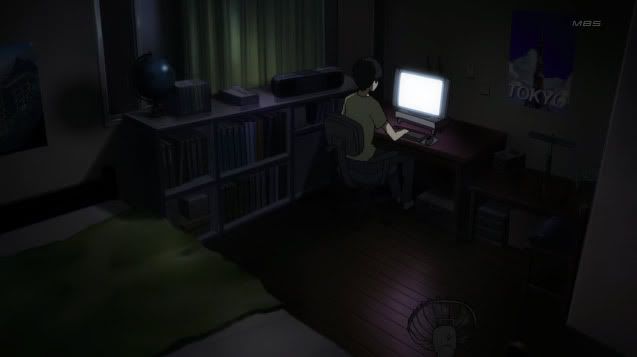 Mikado: MUST EXPLORE MORE INTERNET!!!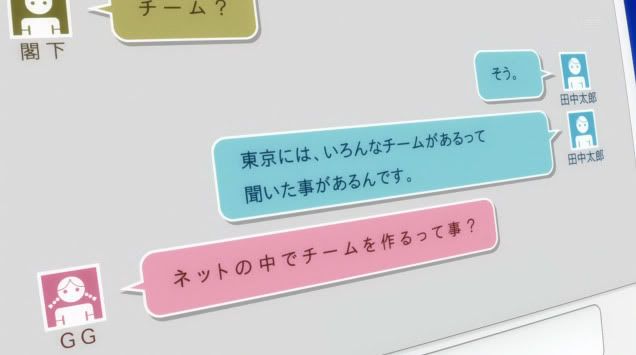 Mikado: I quickly made friends in chatrooms. It was great!
Mikado: Hey guys, let's make a club... for doing good things!
GG: Uhhhhhh... that's sorta lame, but I'm pretty bored, so okay.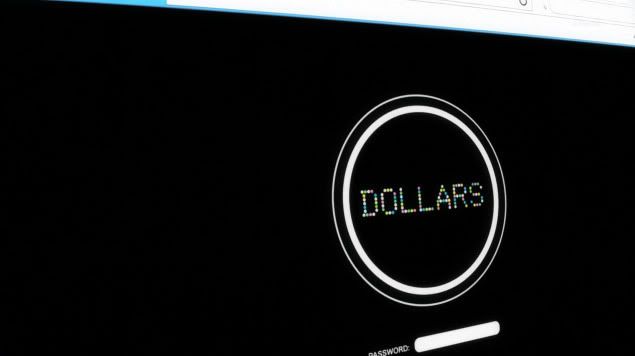 Mikado: So I created Dollars.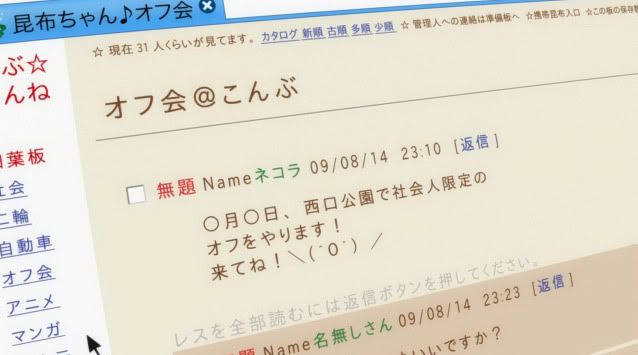 Mikado: It was great! Everyone got along and we had lots of fun.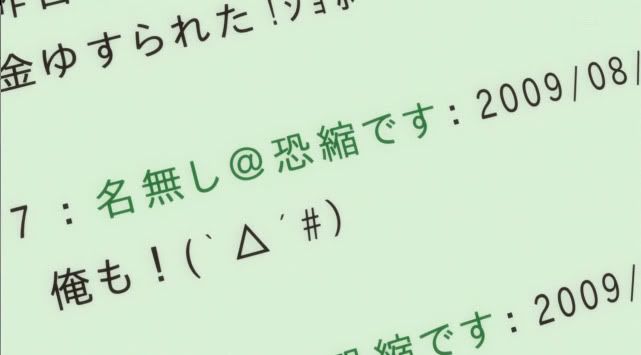 Mikado: But then the Dollars name started being used for a line of clothing! CLOTHING! How did it go from doing good things to making clothing? The members revolted and caused small scale chaos. I tried to keep control, but no one listened. Everyone left. Mikado: I just wanted people to do good things again. It was then that I experienced the loneliest time in my life. My chatrooms were empty.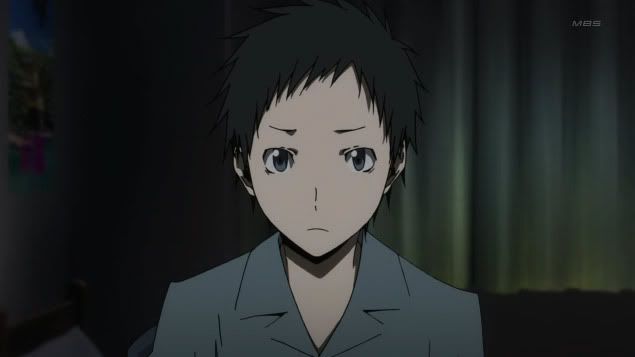 Mikado: With my interest friends gone, I realized I really didn't have any friends. Well, except maybe for Kida, but that's just Kida. But then...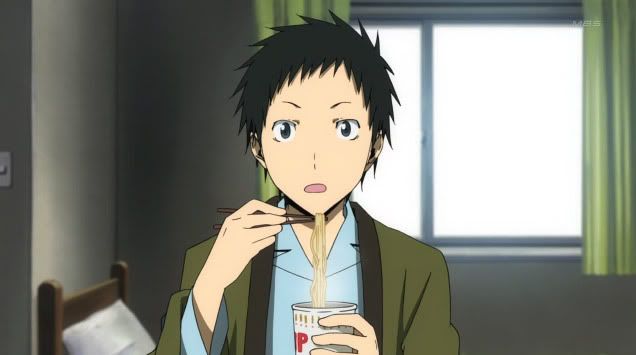 Mikado: What the...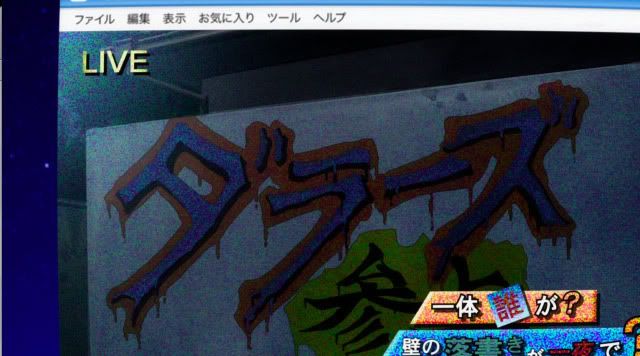 News Caster: We all know about the rampant "Dollars Clothes Suck Balls" graffiti that has sprung up all around town.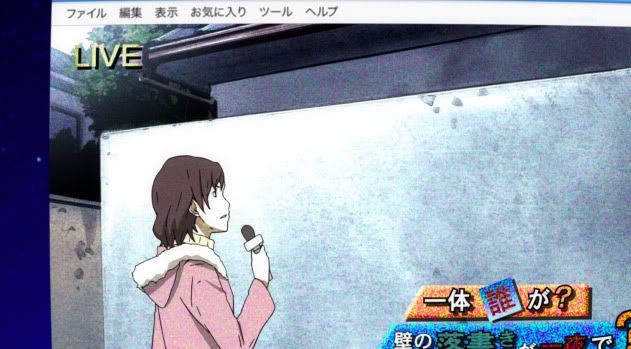 News Caster: But this morning, it was gone! Completely gone, as if it had never been there! Incredible! Who could have done it?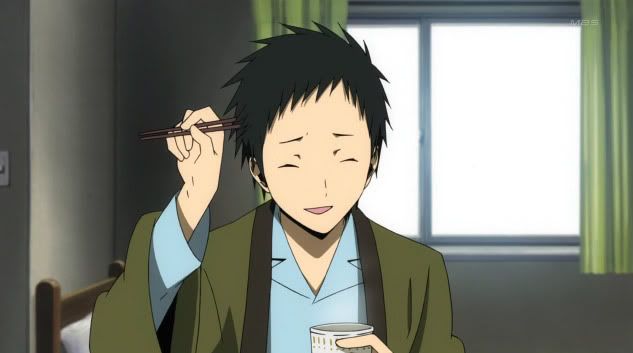 Mikado: Ahahaha, no way...
Mikado: When I finally made it to Ikebukuro, I asked around about Dollars.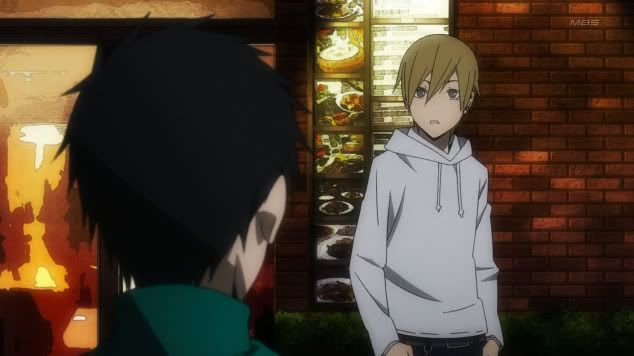 Kida: Dollars? Yeah, it's like a gang or something. Sorta like a good guy gang, I think.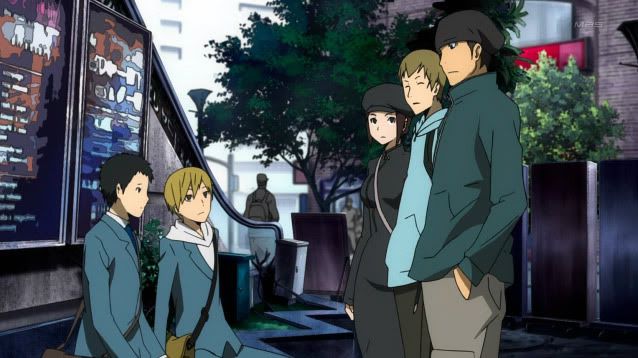 Kyohei: They make clothes.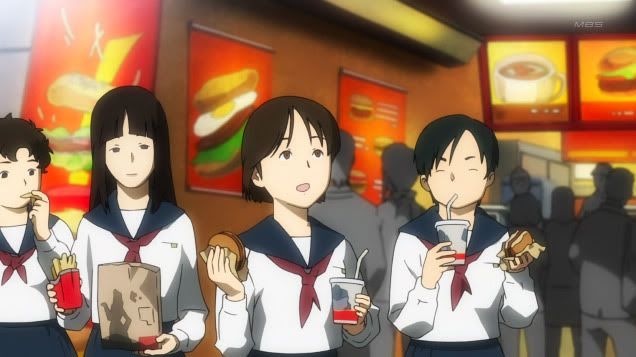 Hamburger Girl: Well, I heard they were a gang, but I saw some Dollars Brand clothes at the store the other day, so I don't know.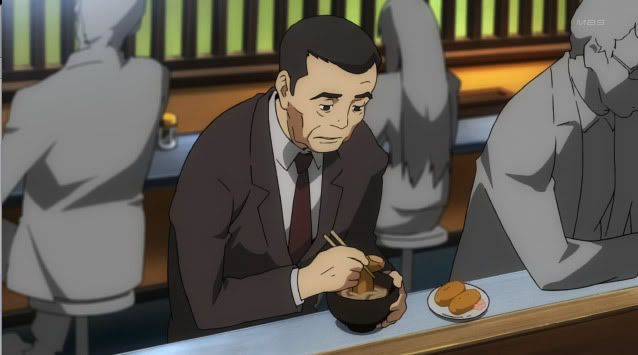 Salaryman: It's a bunch of punks who are actually doing good for once.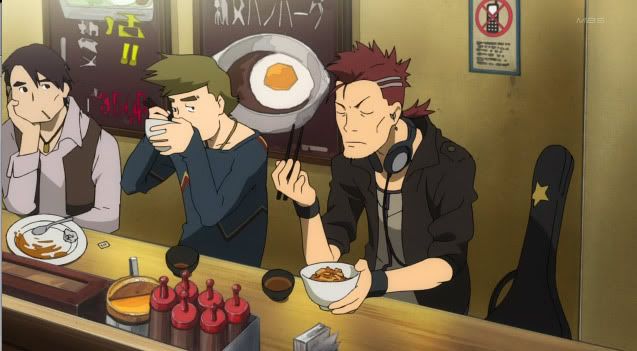 Rocker: Dude, they make THE BEST clothes around!
Mikado: Needless to say, opinions of who or what Dollars was varied.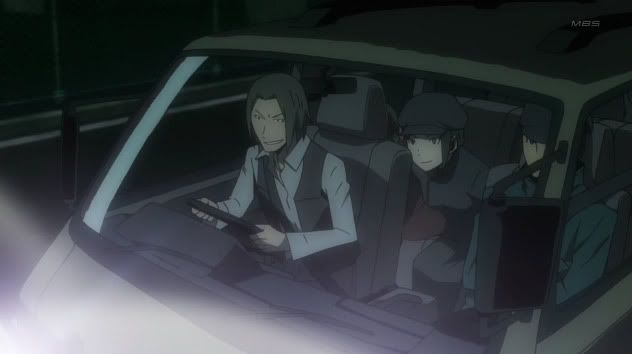 Saburo: LET'S GO GO GO~!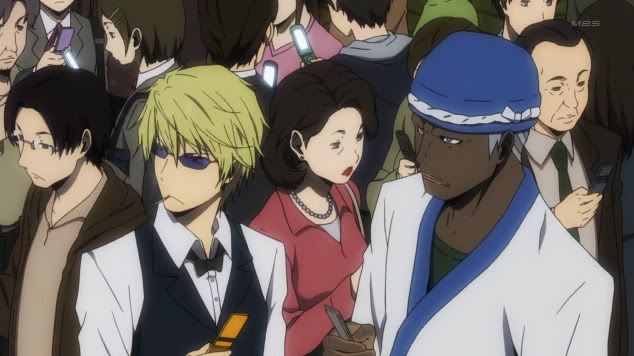 Shizuo: Damn, there's trouble and no where for me to change into my IKEBUKURO DEFENDER costume!
Simon: Stop wearing that. You look dumb.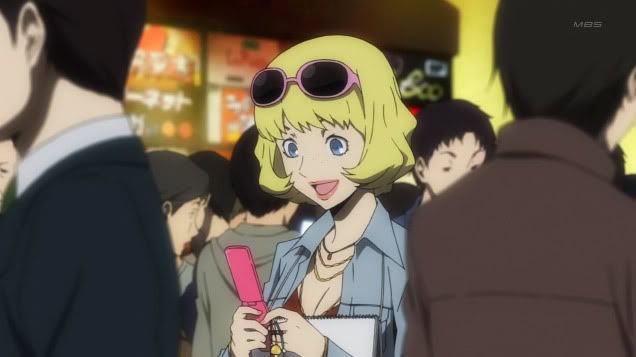 Blonde: Oh!! I got an email! Oh... oh.... oh. I can't read all this kanji. D=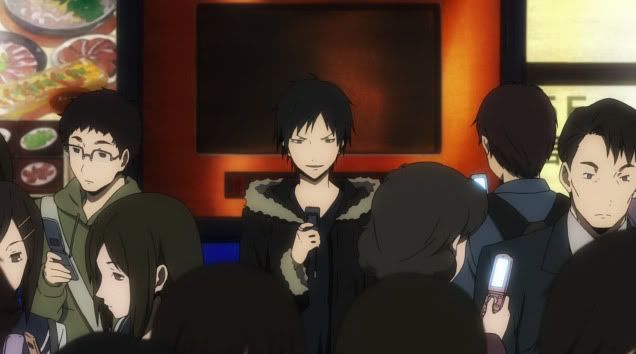 Izaya: I must find out his method of message delivery so I can spread my own word... ON NUTRITION!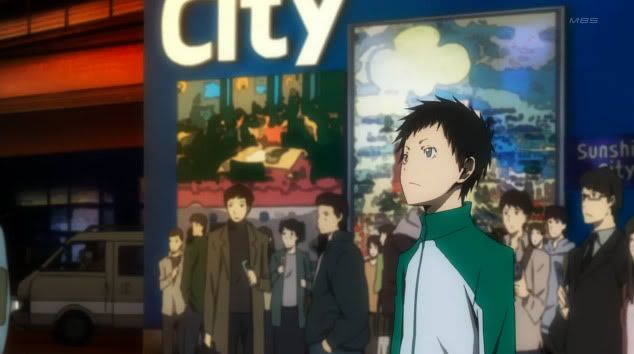 Mikado: *phew* I think that worked.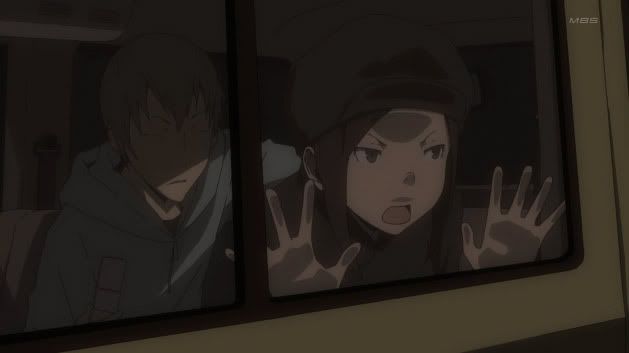 Erika: Where's the action? I WANT TO SEE ACTION!

Speaking of action... EARLIER: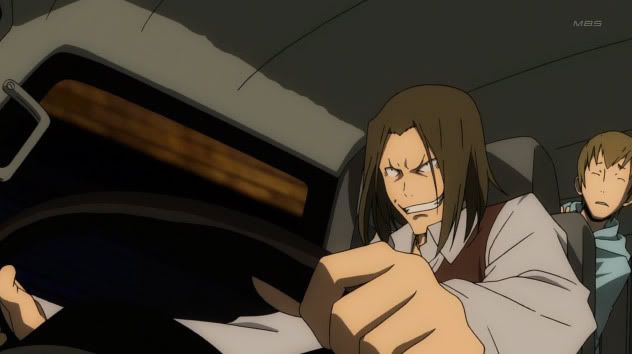 Saburo: FUCKERS DON'T FUCK WITH MY CARRRRR
Walker My general worry has turned into a FEAR FOR MY LIFE PLEASE SLOW DOWN!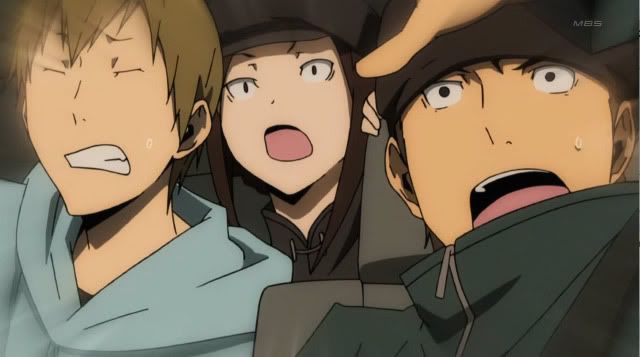 Kyohei: OH DEAR GOD YOU'RE DOING TO HIT THAT GIRL!!!
Walker: WE'RE GOING TO DIE!
Erika: SHE'S GONNA DIE!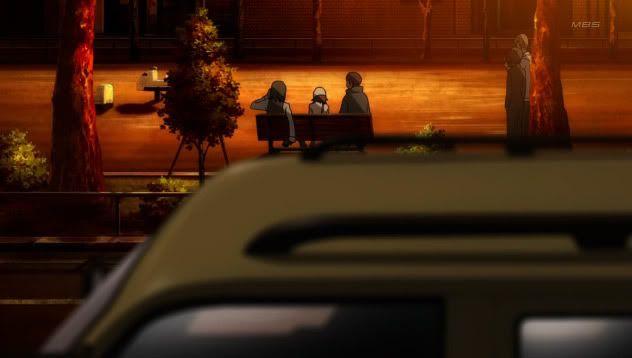 Saburo: *phew* Safe.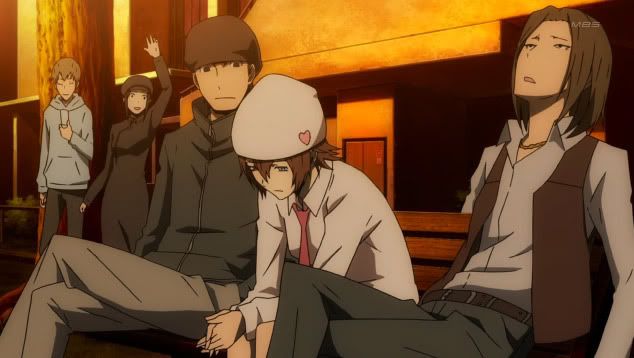 Kyohei: So I see you have a choppy neck. What a coincidence, we're looking for someone with a choppy neck. Mind coming with us?
Erika: We told the admin! He gave us a meeting place!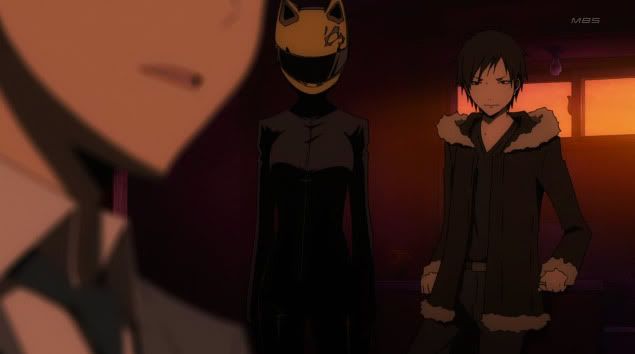 Mikado: Okay, Choppy Neck will meet you on the top of the building across from Sunshine City. Don't frighten her away, please.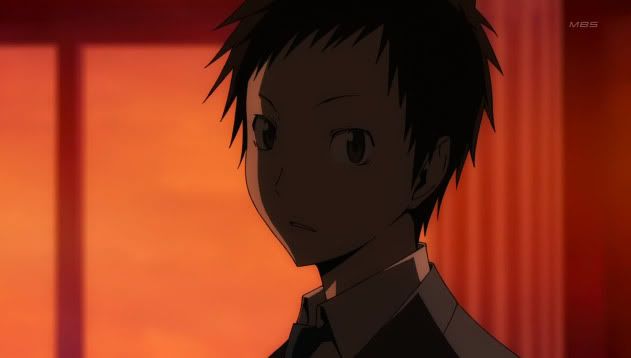 Mikado: You have to be kind to ladies, even if you are a lady yourself.

BACK TO THE PRESENT: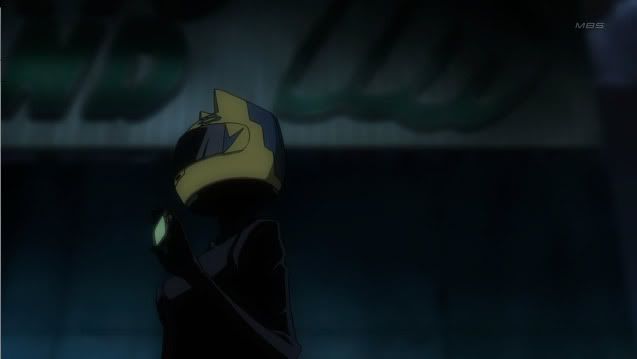 KITTY BIKER: So, what's your name?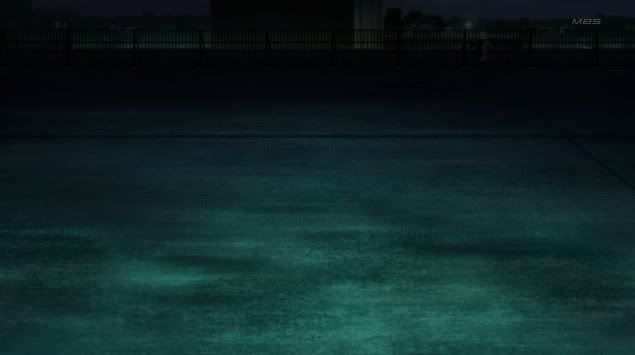 Choppy Neck: ...Celty.
KITTY BIKER: NNNGGHHH!!!!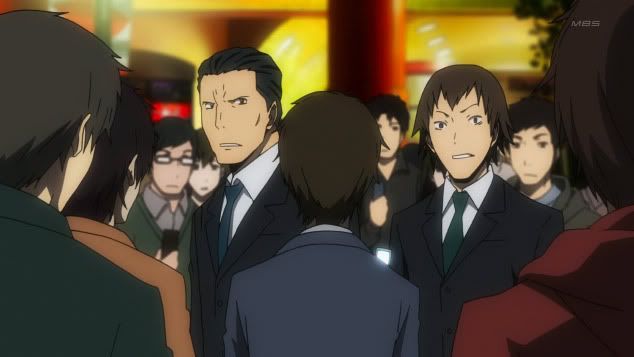 Man in Black 1: Uh, miss...
Man in Black 2: MISS! What should we do??



Man in Black 3: Get out of my way!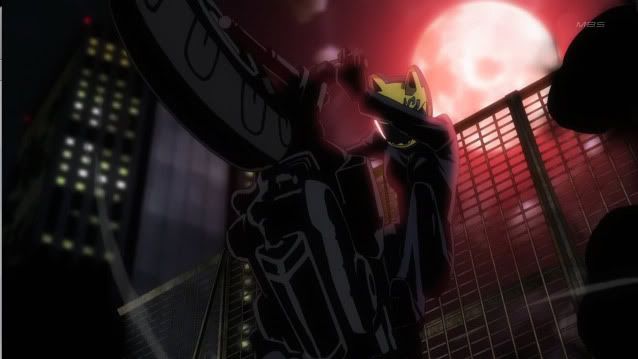 KITTY BIKER: NNNNNNGGGHHHHAAAAAAAAAARRRGHHHH!!! BITCHES AND WHORESSSS!!!!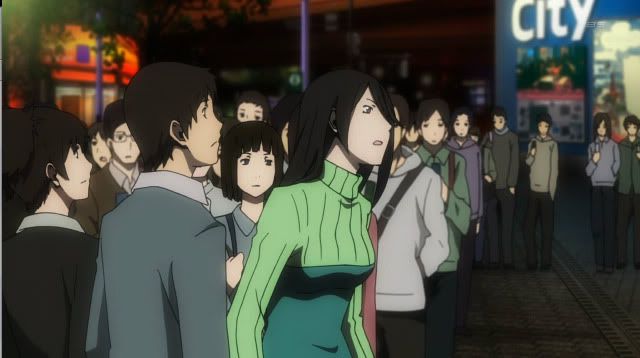 Namie: Is that... KITTY BIKER?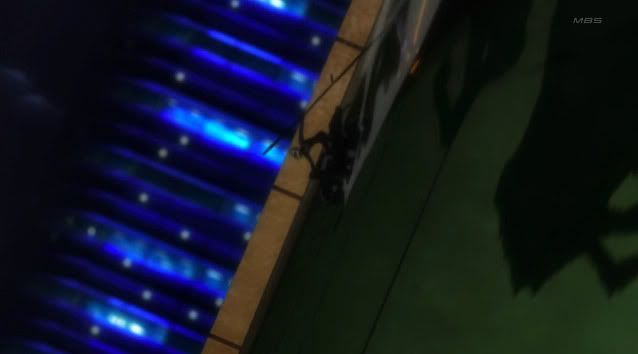 KITTY BIKER: NNNGGHHHHRRRRRRRRRRR!!!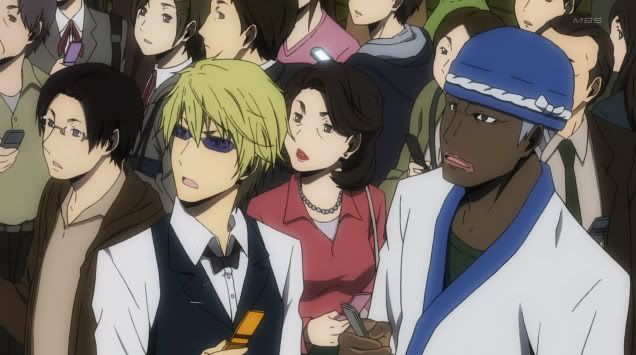 KITTY BIKER: I'M GONNA KILL SOMEONE!!!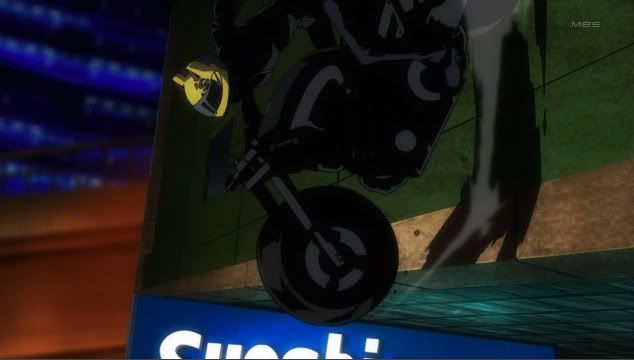 KITTY BIKER: PREPARE TO DIE!!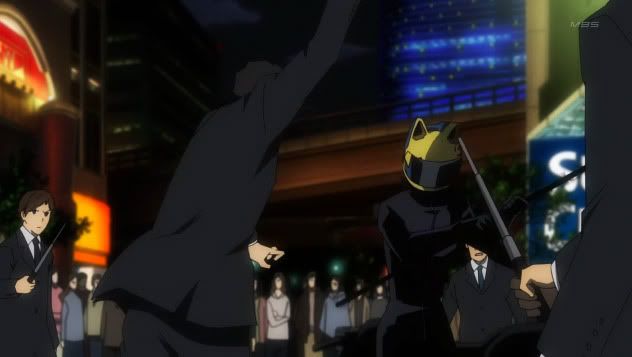 Man in Black 1: Attack!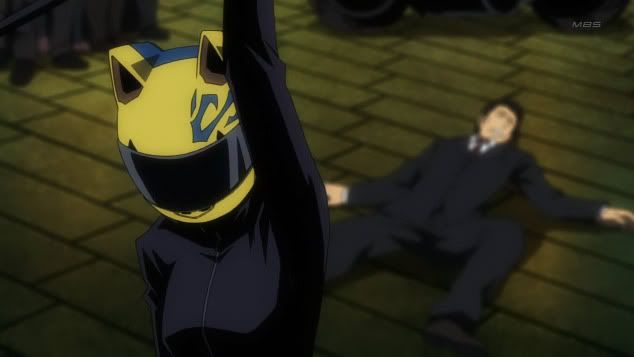 *WHACK!*
KITTY BIKER: P.S. I know kung fu.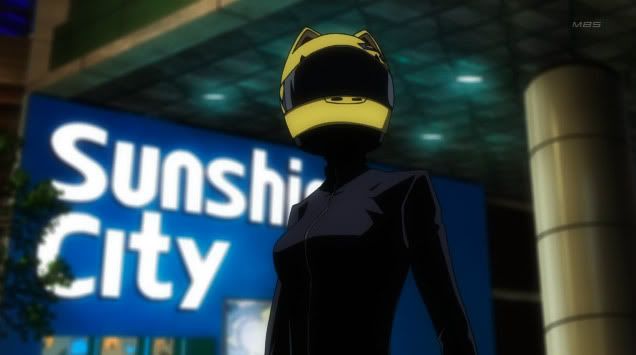 KITTY BIKER: Any other bitches want to try me?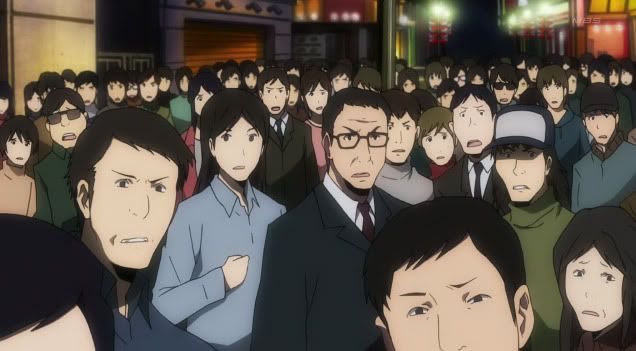 Crowd: Naw, we're good.
Man in Black 4: I'LL TAKE YOU DOWN! *SMACK!*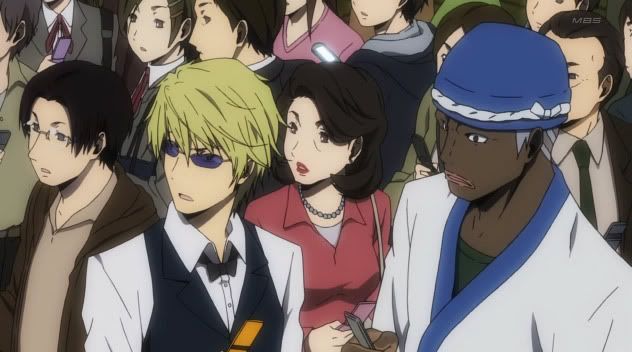 Simon: Not good.
Shizuo: Very VERY not good.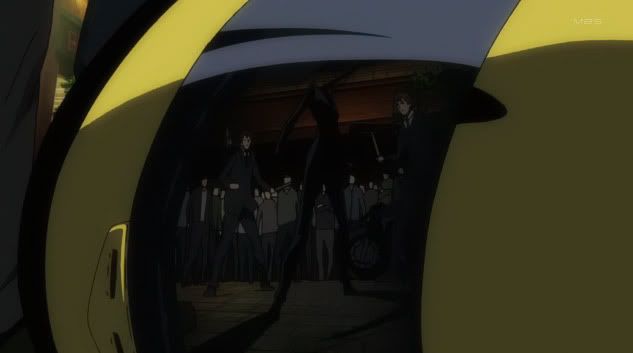 KITTY BIKER: Oh, you've done it now. YOU'VE DONE IT NOW!



KITTY BIKER: AAAARRRGHHHHH!!!!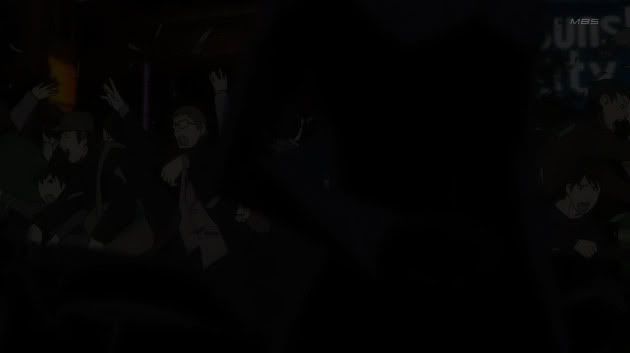 Crowd: She's really pissed off! Run for your life!



KITTY BIKER: ARRRGHHHH!!! WHY???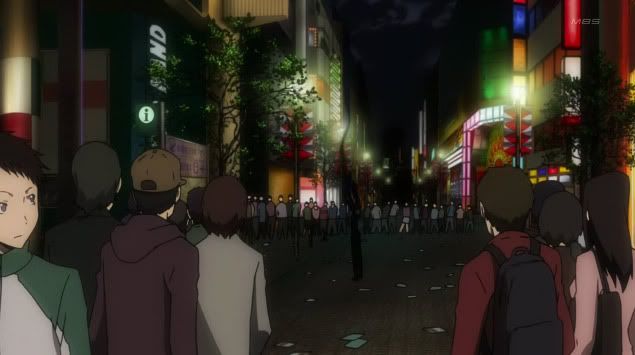 Crowd: Is it safe to go near her?
KITTY BIKER: TODAY JUST BLOWS.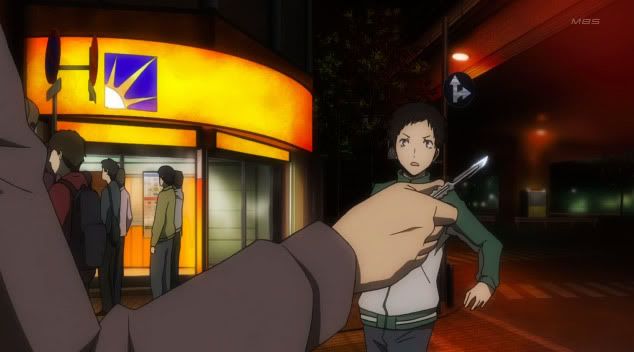 Seiji: When you're a Jet, you're a Jet all the way!
Mikado: Whoa, how did you get here?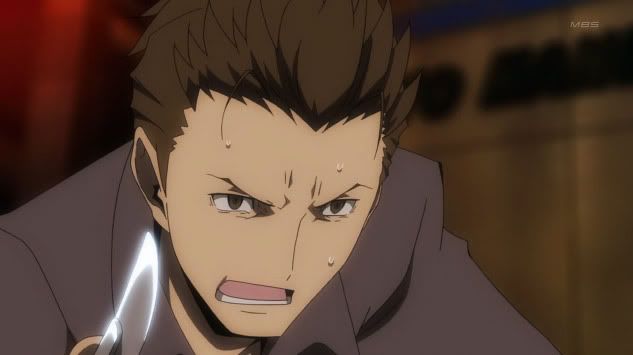 Seiji: From your first cigarette...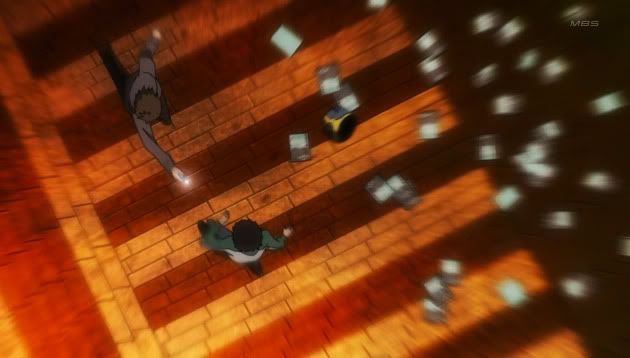 Seiji: TO YOUR LAST DYING DAY!

Next Time, On Durarara!!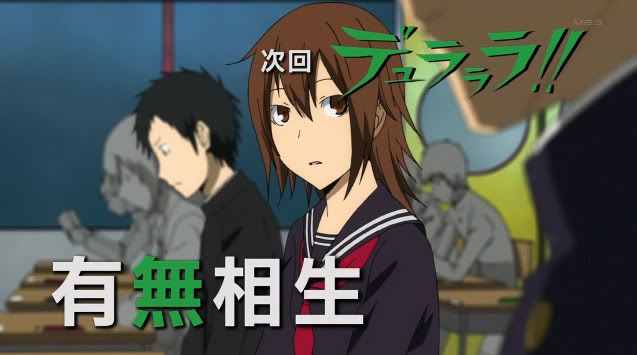 That one girl!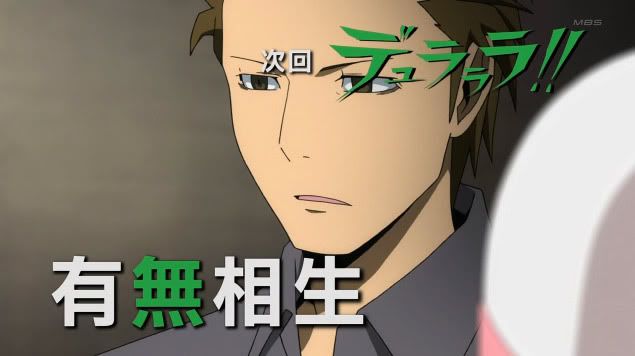 Reunion!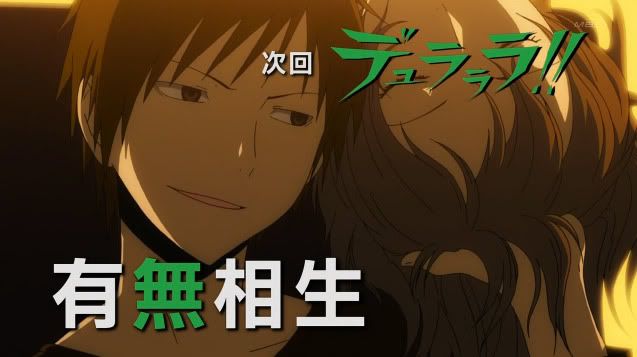 An extra head!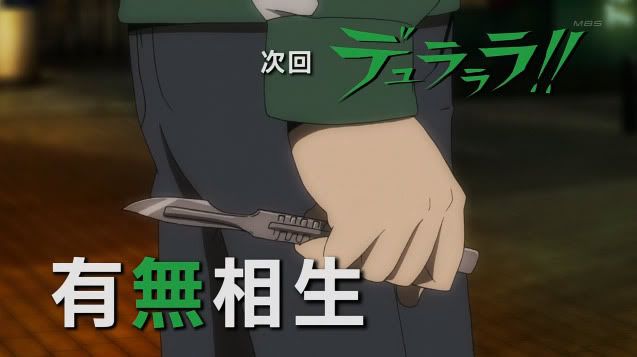 WHO'S GOT THE KNIFE NOW? AWWWW YEAH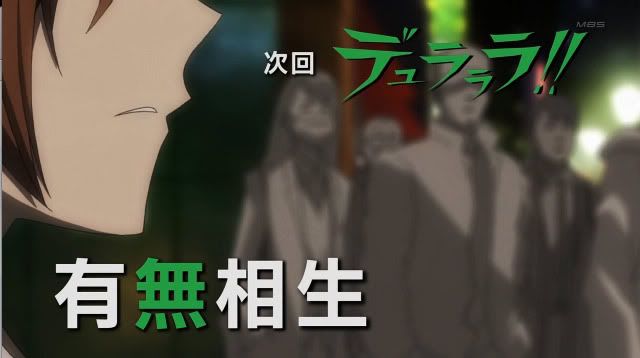 What will happen to Choppy Neck?

All this and more, next time on Durarara!!

*phew* I'm pretty out of practice with these recaps. Sorry, I was really pulling at strings the whole way through. That said, OMG THIS EPISODE WAS SO COOL! ISSAC AND MIRIA! MIKADO BEING A SUPER BADASS! AAAAAHHHHHH!!!! To be honest, I was sort of dreading playing catch up with these recaps because I was three episodes behind and they take a while to do each one, but this episode was SO cool, I'm pretty excited to catch up now. Keep being awesome, Durarara!!