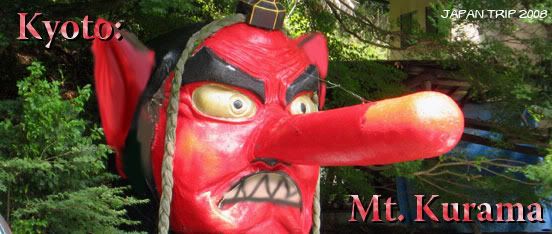 Our second day in Kyoto was spent about thirty minutes west of the city, up on Mt. Kurama. I actually had no knowledge of this place before talking to
sjen shortly before the trip. It sounded so interesting, we decided to try to make it out there. We walked over to the subway, which took us to a small station from which we took a small train up to Mt. Kurama.



This is a map we got when we got to the entrance to the mountain's trails.



The back of the pamphlet with the map.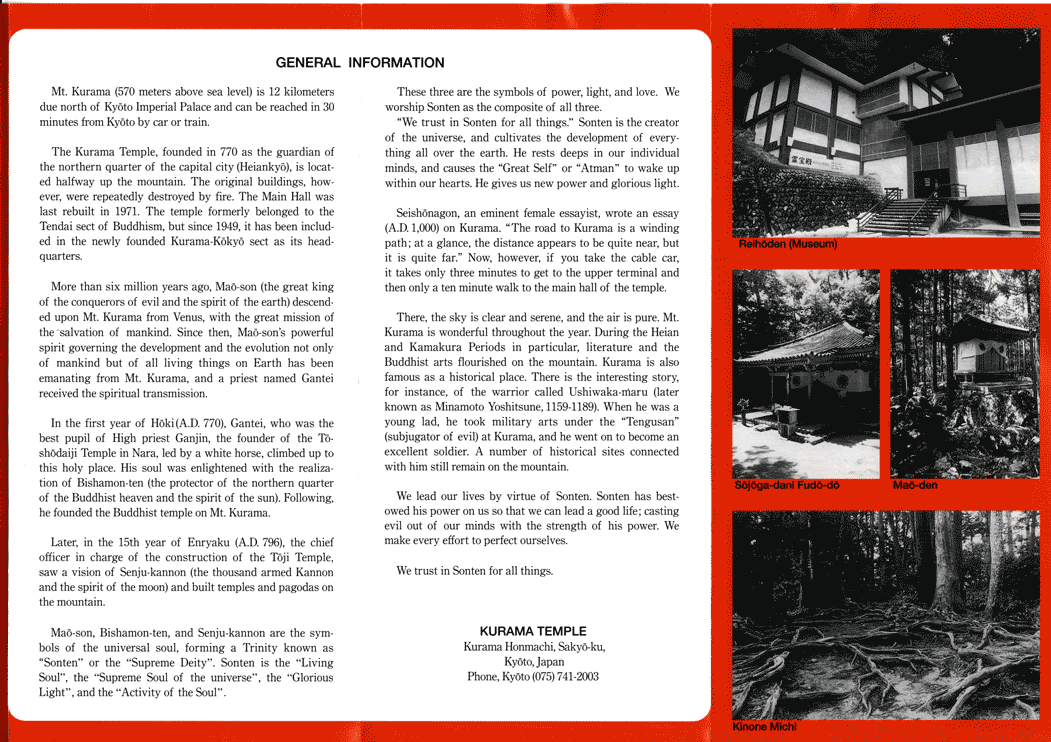 More from the pamphlet.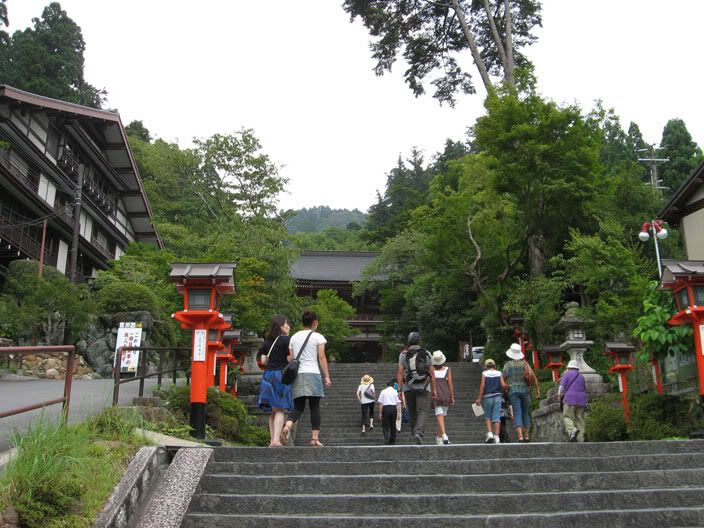 The first temple on the mountain. (1 on the map)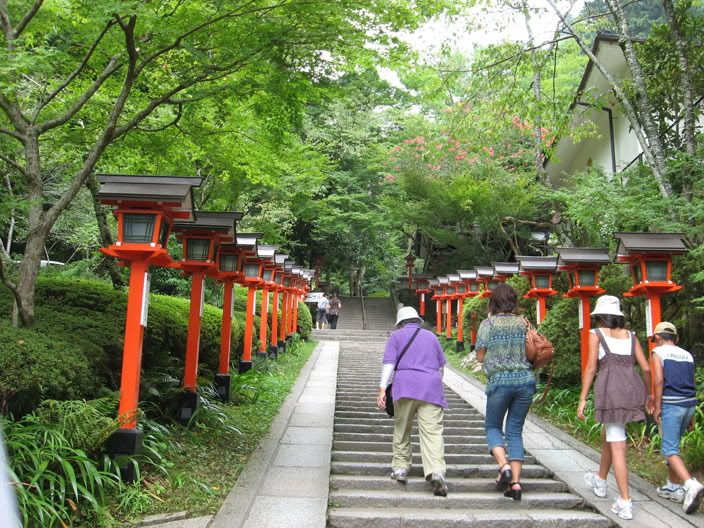 Everything was so green and pretty up there, completely different than summer in San Ramon. And I love the red against the green. All over the mountain there were red lanterns like this. So pretty!



Another shrine. There were dozens of shrines all over the mountain. This was one of the bigger ones. (7 on the shrine)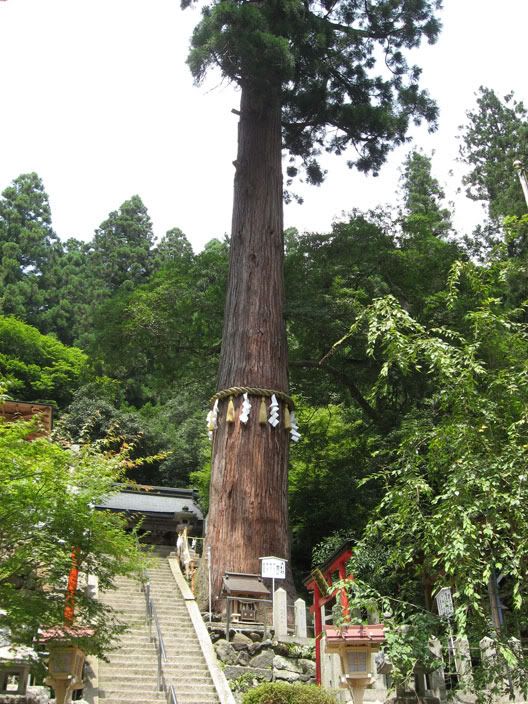 A sacred tree. A big sacred tree!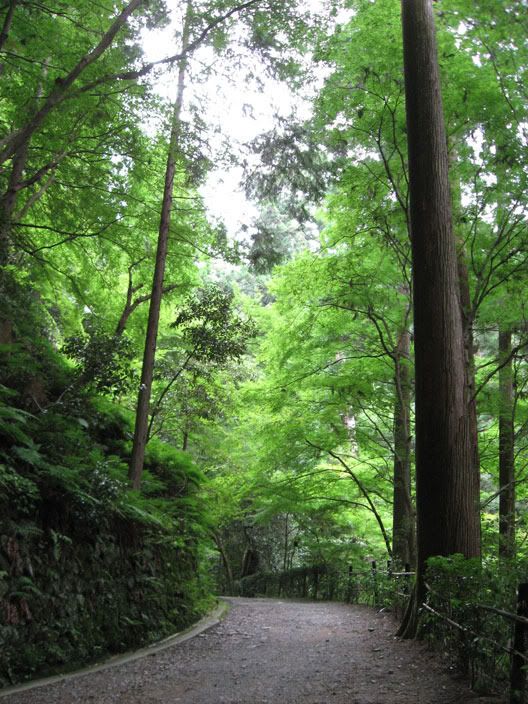 Everything was so lush and green!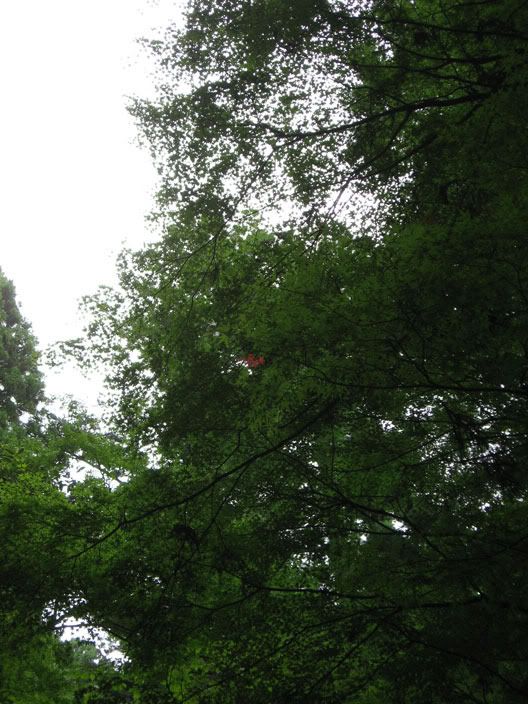 Here and there there were red leaves in the trees. It was really awesome.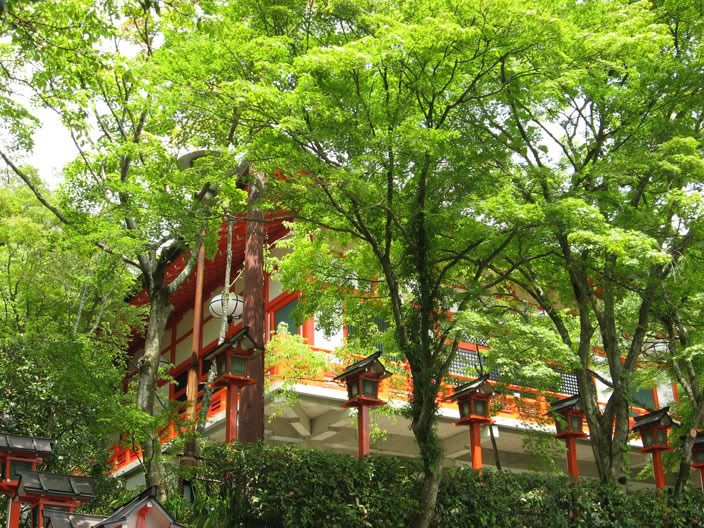 I think this is another shrine. It could be a writing room too though. (13 on the map)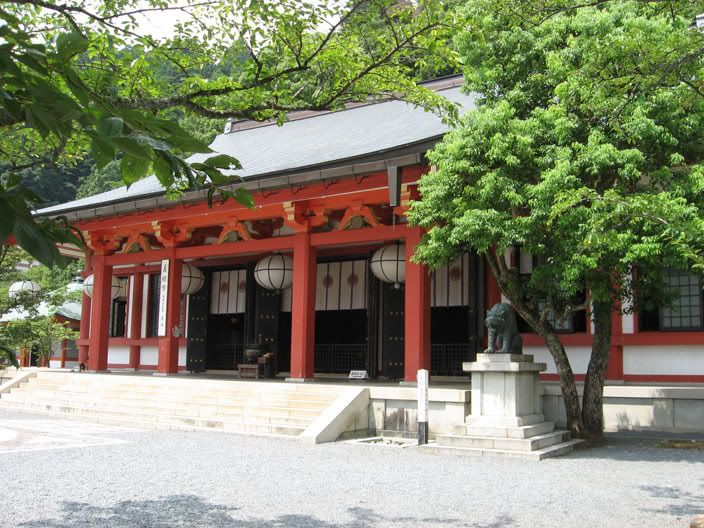 Main hall of the shrines. (15 on the map)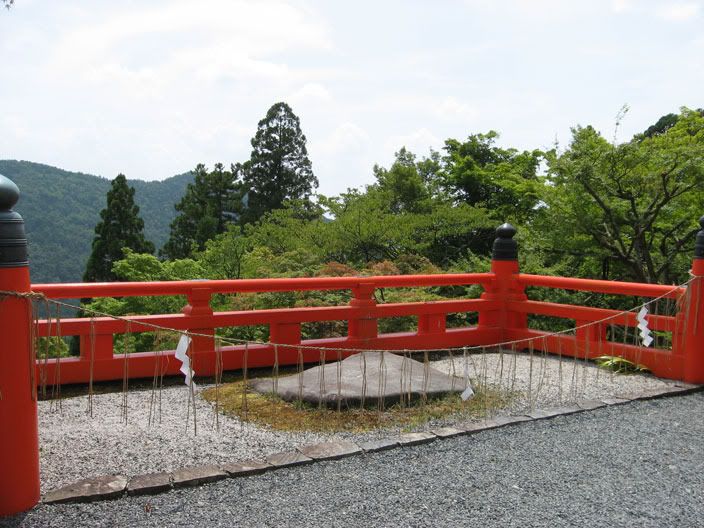 A sacred rock. Why is it sacred? I do not know.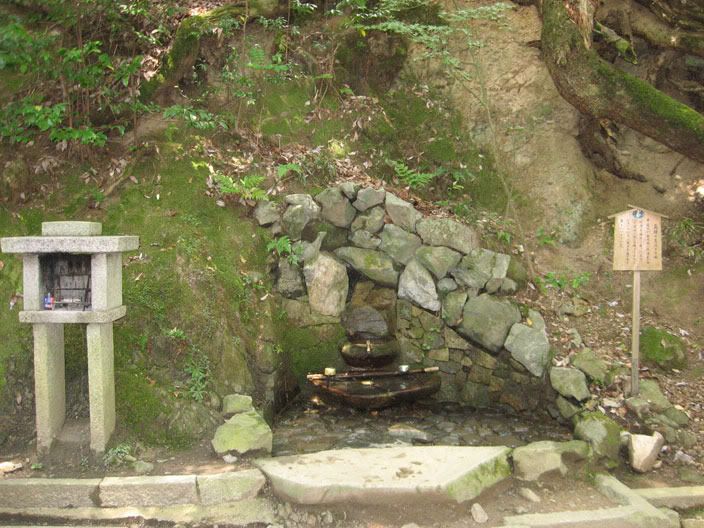 This was super popular, and it was just luck I got a picture when no one was around. This is where Yoshitsune (then Ushiwakamaru) drank from when he was on the mountain. You're allowed to drink from it still, although I didn't. I don't know why I didn't. (22 on the map)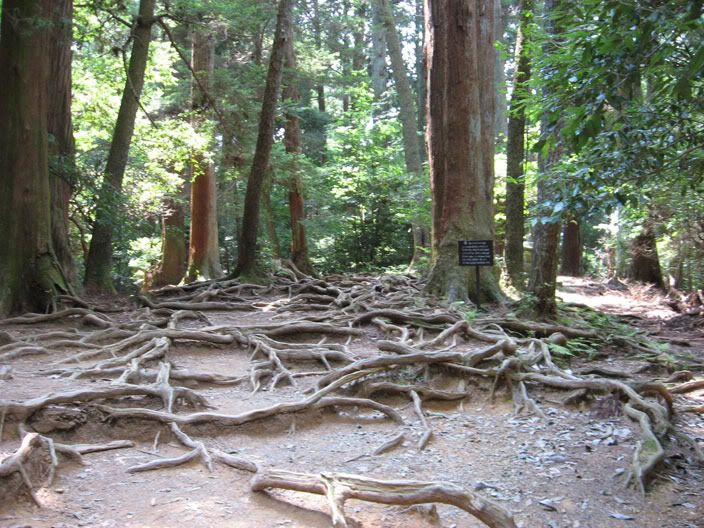 Top of the mountain!! The map shows a large fire-shaped... thing nearby, but we couldn't find any signs of fire, new or old. There was a fire hydrant. Strange. Anyway, these roots were really cool, I wish I could have read some of the signs up there to see what they said about the place!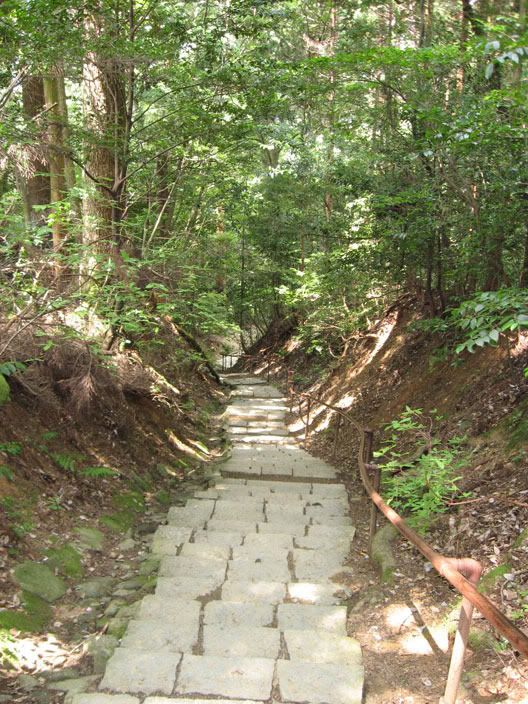 The other side of the mountain wasn't as kept-up as the first side, but it was still easy to get around. It was completely different from the first side vegetation-wise too.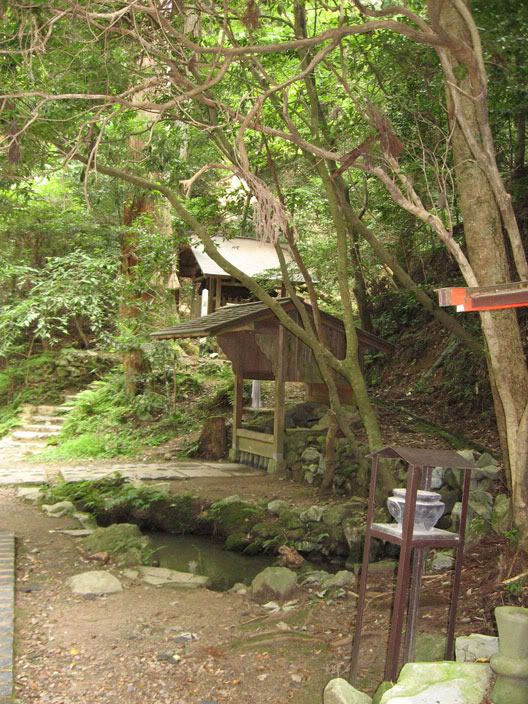 Possibly 27 on the map? I don't recall. The shrines on this side were not nearly as brilliant or fantastic as the one on the other side.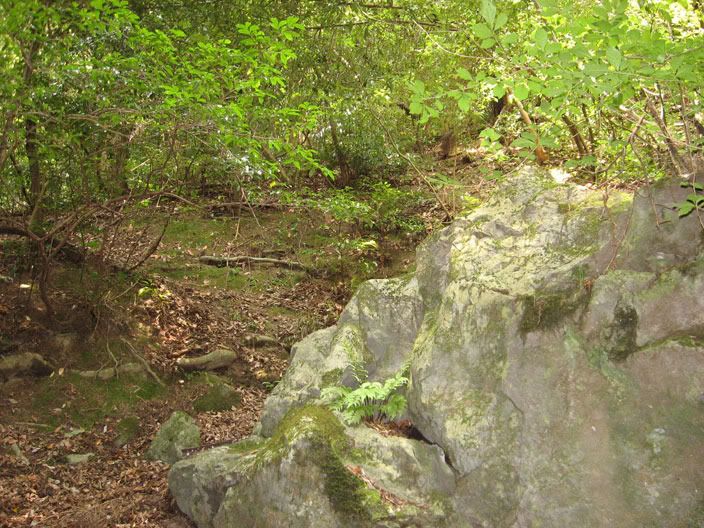 Because there weren't as many shrines and stuff, I was able to focus more on nature. Gorgeous, gorgeous scenery.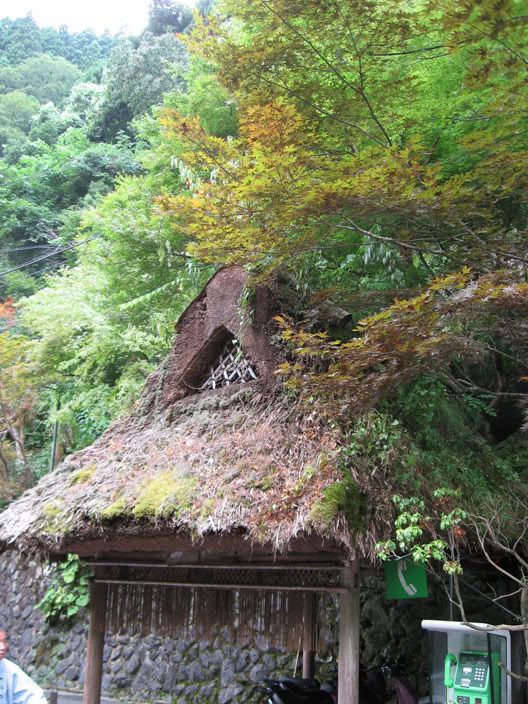 This is on the way back to a station. I thought the station would be right around the "exit" to the mountain, but it was 2km away! X_X There were some neat buildings with things growing off roofs and stuff. Some restaurants had sections where you could eat right on the river!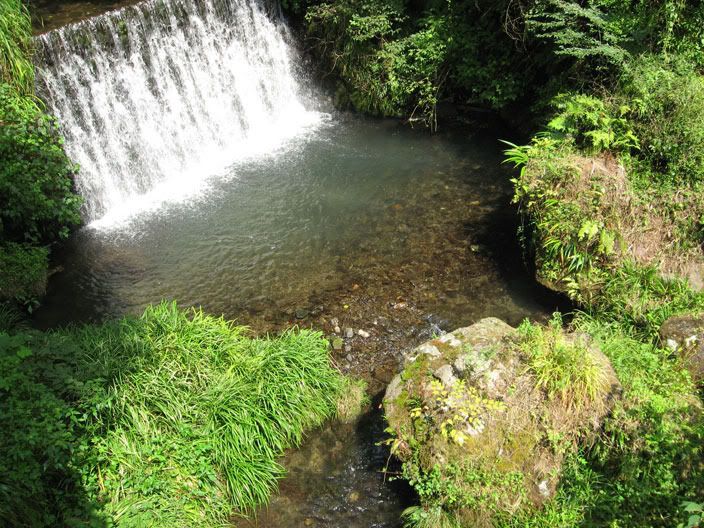 A waterfall on the way to the station.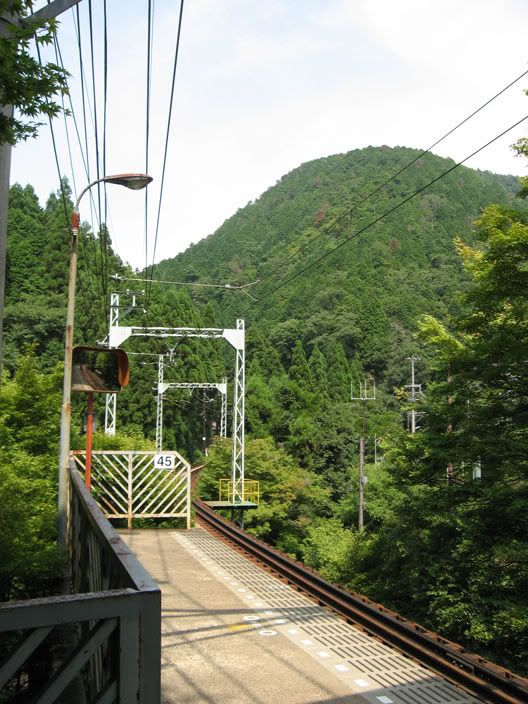 The tiny, tiny station Kibune-Guchi. There was something attractive about it... perhaps because it was so small? On the way back in the train we saw a monkey! A wild monkey!!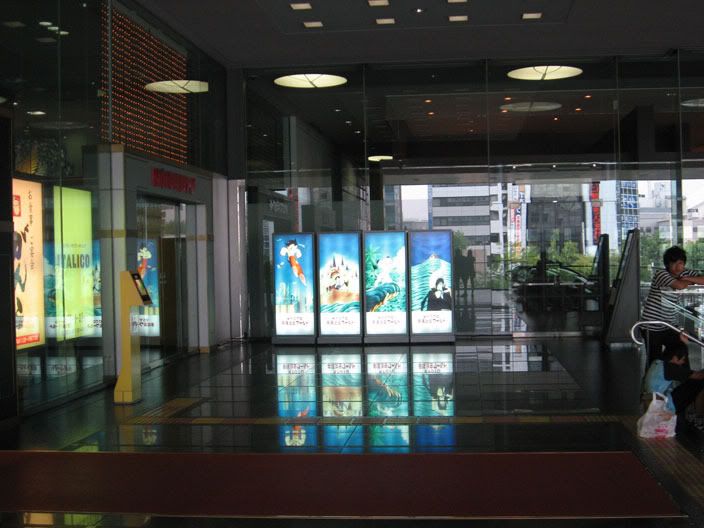 When we got back to Kyoto, we headed over to Kyoto Tezuka World. It was really small, but still fun to check out. Those four images there by the door were 3-D. Freaking awesome.



OMIGOSH IT'S BLACK JACK ♥ Obviously, I am a huge retard. And a huge fangirl.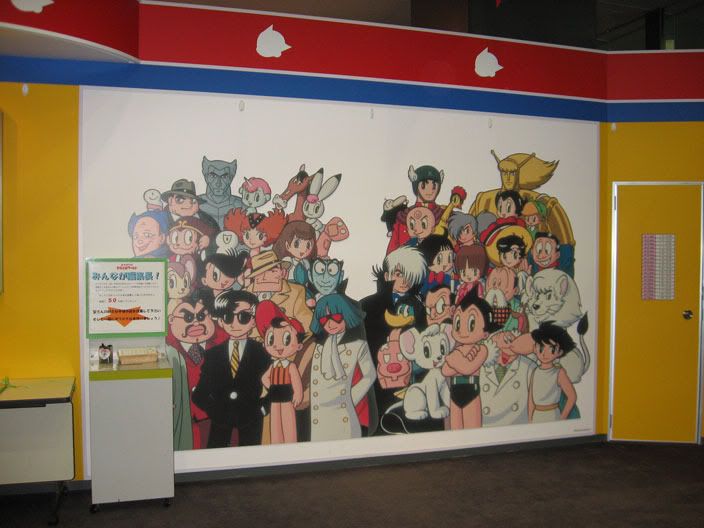 And a wall of Tezuka characters! See that guy in the front with the red goggles and white scarf? That guy is a pimp. I want to cosplay him sometime. I also want to buy the manga he's in (Nanairo no Inko, which is also his name), but it's annoying hard to locate in shops around here!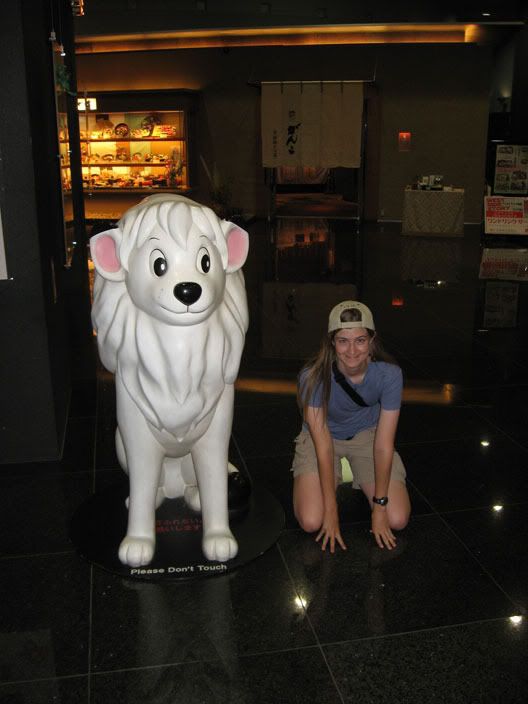 Still a dork, but this time with Leo. Tezuka characters make me so happy!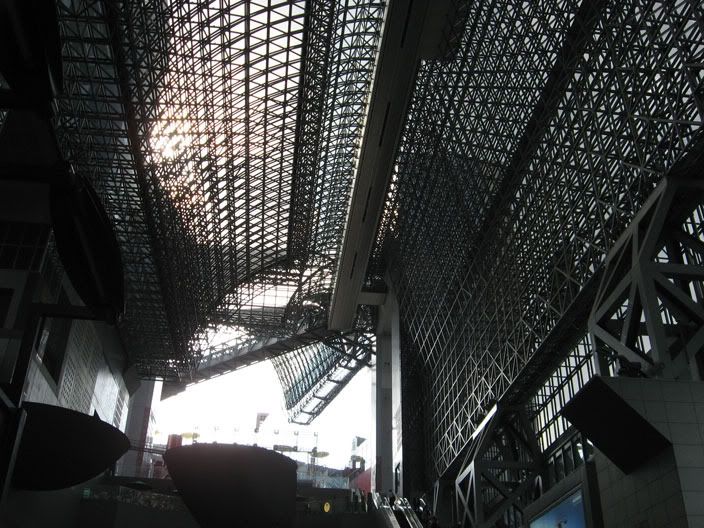 This is Kyoto station. Beautiful place and really interesting. The only bad thing about it is that it's a little hard to explore. We walked around the day after I took this and had some trouble locating places.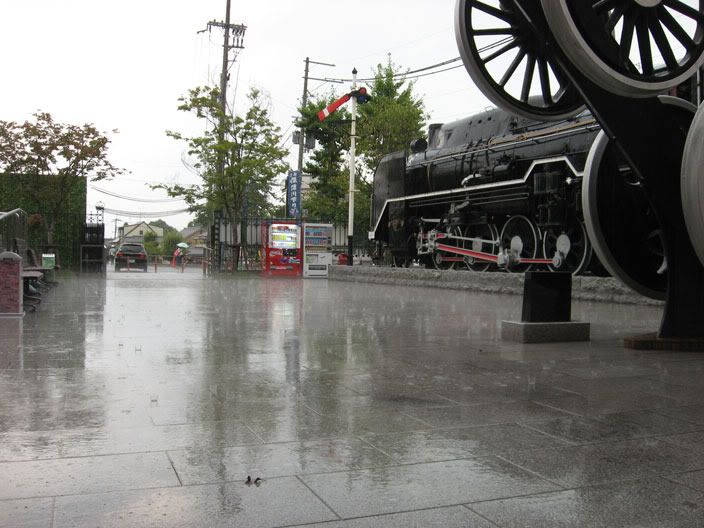 We took the train out to Saga-Arashiyama, where we were hoping to see a bamboo forest. It was late in the day, so we grabbed some food from a connivence store before heading back to this little plaza (in front of what seemed to be a train museum and a piano museum???). Then it started to sprinkle. Then rain. Then pour. Then pour even harder, as if to show us that it could. We were able to get some shelter, so we just sat and ate and watched the rain.



Luckily, the rain did clear up, so we headed over to the forest! A path was blocked out to walk through, which disappointed me a little bit. I wanted to run through the forest free as the wind! It was hard to take pictures, because the water kept dripping off the bamboo overhead. =\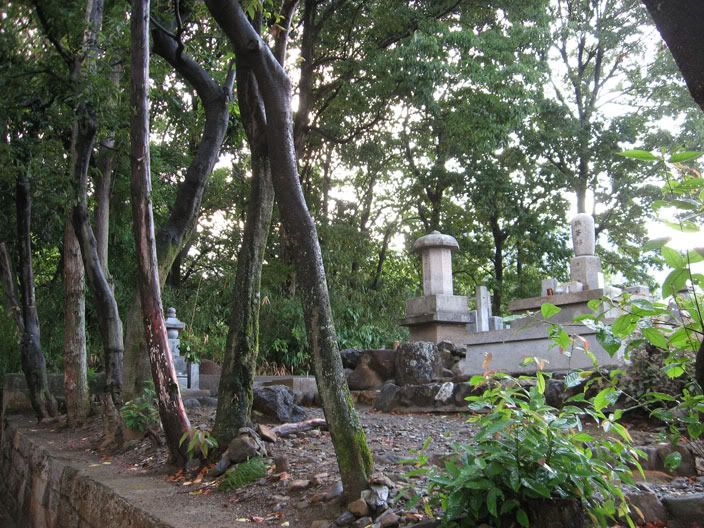 Part of the path went past a graveyard. It was pretty neat to see, but I felt a little bad taking pictures of people's gravestones... sorry. =(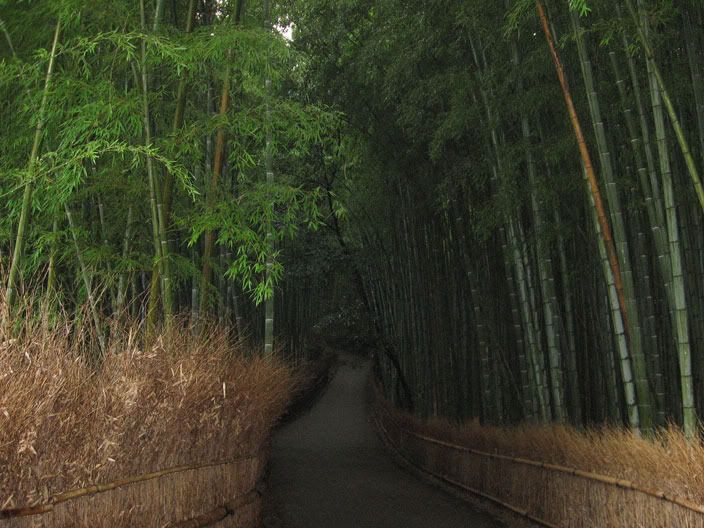 Back to the forest! Even if I couldn't run through it, it was really surreal.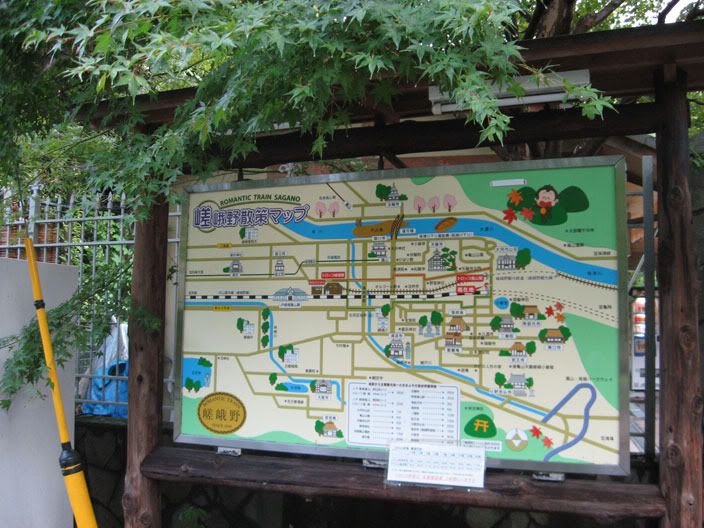 Nur and I decided to walk back to the station, but we could have taken ROMANTIC TRAIN SAGANO!!!!!!!! I swear, this "romantic train" went maybe a quarter mile? Crazy.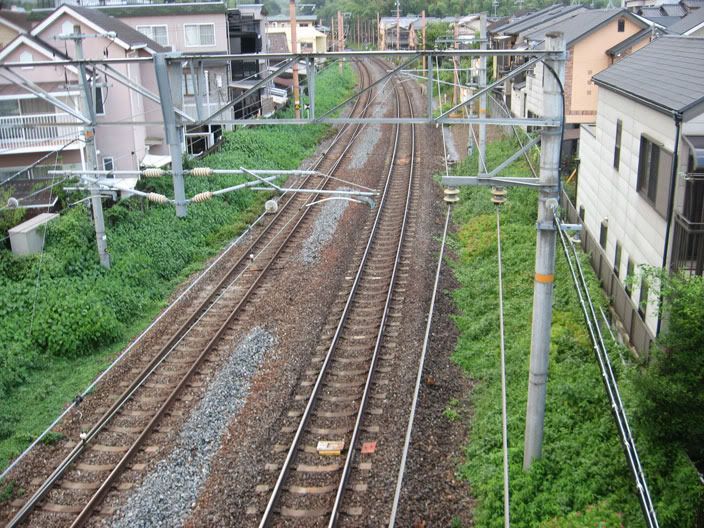 I just love train tracks.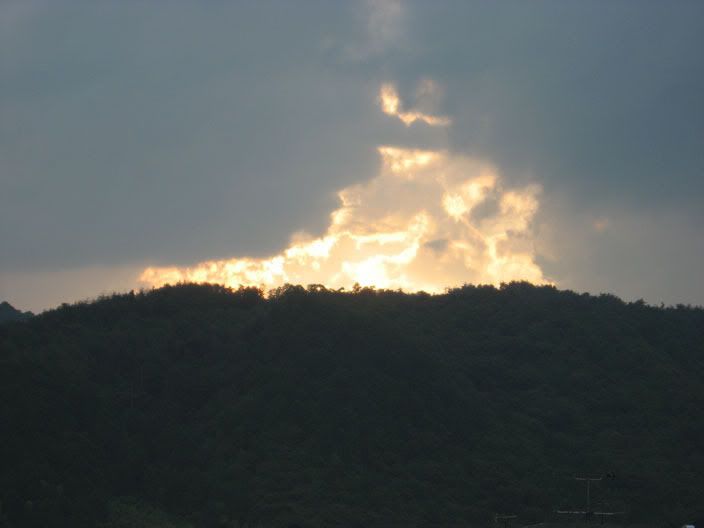 The sun was setting and the light that shone through the clouds was really neat.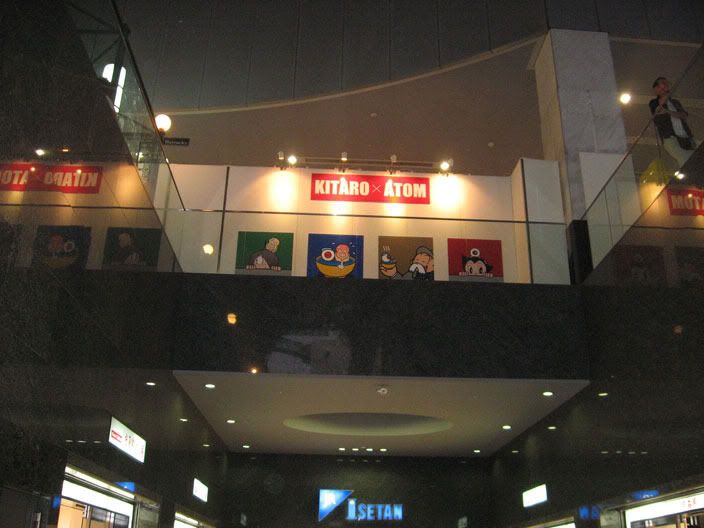 When we got back to Kyoto Station, we noticed this. Wait, wait, wait... Tezuka + Mizuki? Be still my heart!! It turned out to be a stamp rally, so Nur and got as many as we could before everything shut down for the day. We decided we would finish up the next day.

It was getting late and we felt it was time to get back and grab dinner, so we headed over to Moss Burger (SO VERY GOOD) and then to an arcade to pass some time. I trained like a devil on one UFO catcher-thing (it was more like a UFO-pusher). But it was worth it!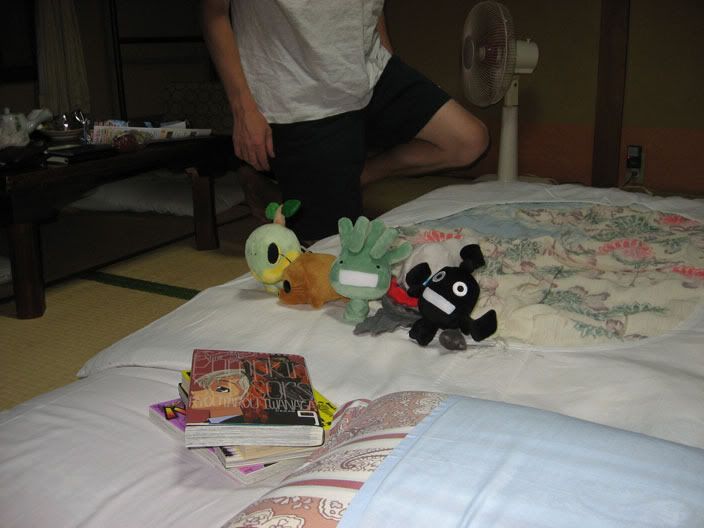 See the Boota? That was my goal, and my goal was accomplished! The game was actually not hard, and I won something in probably 8 of my 10 tries. Granted, I couldn't care less for pretty much everything else I got. That game was wicked-addictive and I searched every arcade for it the rest of the trip. You can see our other plushies we got... our Pokémon and Moyashimon microbes. They're all so cute!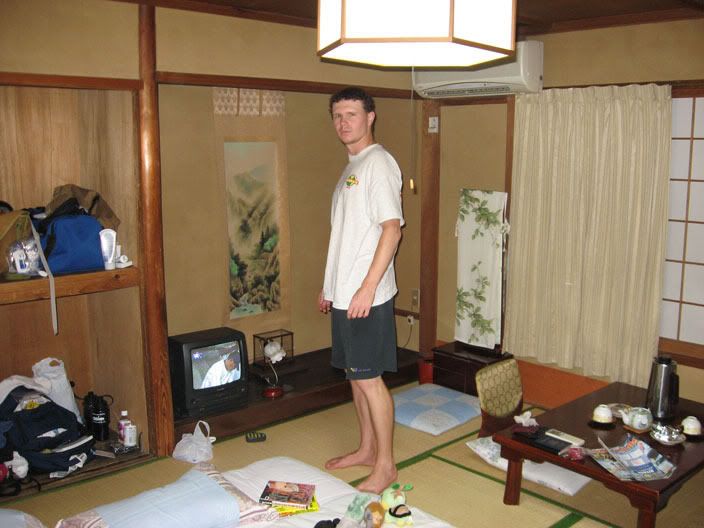 Nur. Well, he kept getting in my pictures. I was trying to get pictures of our room at the Ryokan. It was a nice place to stay. A little awkward (I was so afraid I'd do something wrong and upset the owners!), but really nice. They always had tea and snacks whenever we'd return to the room. We were watching an Olympic baseball match. I love baseball.

AND SO. IT HAS BEEN MANY MONTHS SINCE AN UPDATE. HOPEFULLY IT WILL NOT BE THAT LONG BEFORE THE NEXT JAPAN TRIP UPDATE. BUT WE SHALL SEE.