At Ueno Station, there was a Pokémon Stamp Rally. Kids had to get stamps at a couple of station along the JR railways and could earn special prizes. They got a cute paper Pikachu visor when they started their journey! SO CUTE! I wanted to take pictures to prove the adorableness, but that would be stalker-ish. I was bad enough in that area later. This is the hanging poster in the station.

We decided to try to go someplace during the day, but we had to switch subway lines and go outside the station to do so. Looking down the street we saw...



Hey, is that a roller coaster on that building? O_O;;



Holy crap, it is. o_o

It turned out we had found Tokyo Done City! There were a lot of rides around, along with all sorts of shops.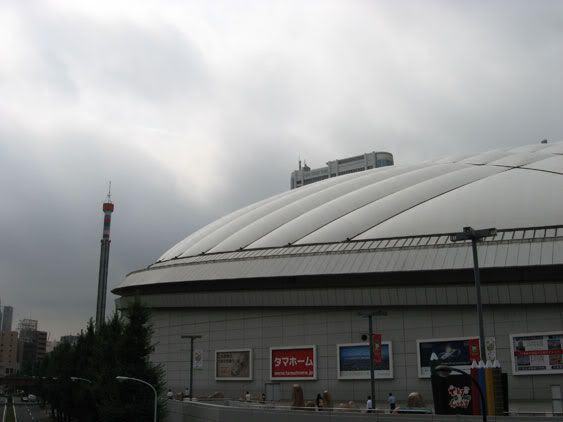 Tokyo Dome looks like a giant melonpan. Delicious. This is where the Giants play. Finding it was good, because we wanted to try to get some baseball tickets.



Tokyo Dome City had some amusing things. I couldn't decide which I liked more, this Engrish sign or...



...THE KIDS HACKER. Hack those kids! Go for it!



In front of the Dome, there was a Jump Shop. It was actually pretty long, this is only one of three pictures of the front, but this one has Jaguar on it, so that's pretty win.

I wasn't feeling very good (this was a common theme throughout the first week), so we hung out in a Starbucks for about an hour before jumping on a train to Ikebukuro.


In Ikebukuro, we walked around Sunshine City, a mall. They had a theater there. Nur and I were REALLY tempted to see the Thomas the Tank Engine movie, but we ended up passing in the end.



Out behind Sunshine City, we saw a giant Ultraman statue. I got a picture in front of it, but this little kid is a million times cuter.



There was an animate nearby. I wasn't taking pictures of every anime store I saw, but this one had such adorable SD pictures of the Kamen Rider Den-O crew. Freaking adorable.



Mandarake was also nearby. This one was obviously aimed at females. MmmM~



I think this speaks for itself.



This was a neat entertainment building nearby. They would have shows, concerts, and plays inside. It was really neat and open inside.



As we were walking, this car drove by. It was promoting the Shonen Sunday vs. Shonen Magazine card game.

We found a UniQlo and HOLY CRAP OMG it is the best clothing store ever. They were having a promotion with Shonen Sunday for their 50th anniversary. They had tons of awesome shirts for pretty cheap. I got a bunch of $5 shirts, and a couple $10 ones. They had some $15 ones too, but that's as expensive as they got. It's a lot less expensive than the usual $30 you'd spend on a Cospa shirt. Plus, a lot of the shirts had something extra, like embroidery, foil ink, etc. Really neat shirts.

We got back to Tokyo Dome City and got two tickets for the Giants vs. Tigers game the next day. We also found another UniQlo. There were different shirts there, so we got a couple more there. >_>;; That place is really addicting.

Tomorrow (maybe) I'll continue with the 11th and go a couple more days. The internet didn't want to let me upload pictures today, so it took an insane amount of time to upload just these! @_@ The internet was going along just fine, so I don't know what was up.