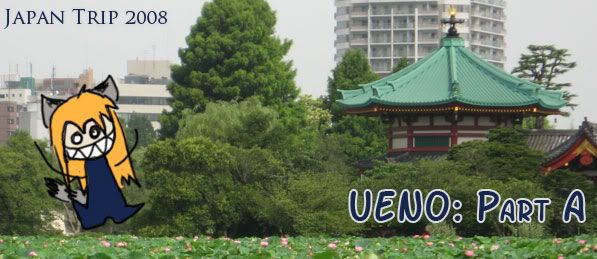 Flying to Japan from California means you lose a lot of time. We left Thursday afternoon and arrived Friday evening. The flight was long, but not that long. Overall, the flight was pleasant. It was a bit over 10 hours, but we had on-demand movies and music, so it helped pass the time. I also had my DS with me, and I beat the easy mode on Ouendan 2. Freaking awesome game. I watched bits of lots of movies... Hercules, The Hunchback of Notre Dame, uhhh, some others I can't remember... I only watched two movies (pretty much all the way through). The first was Kung Fu Panda, which was quite awesome. I had seen it before, but that was in black and white with Swedish subtitles at a neighborhood party. It was better in color. The other movie I saw was The Wild. It was horrible. I had to fast forward constantly to prevent my brain from liquifying. It was also CG and the graphics were nice, but the story made me writhe in disgust. Ugh, it was so poorly told. X_X

The plane wasn't full, so I was very lucky to have no one next to me on one side. Nur and I were both in the middle four seats of the plane. He was on the aisle and I was one inside. Then there was a blank seat and an elderly Japanese woman. Well, this lady thought it was fine to sleep spread out over two seats. Honestly, I saw no problem with that. I wasn't using the seat and I wasn't going to use the seat, so why should I care? The problem came when she started kicking me. The first time she kicked me, she glared at me as if it was my fault. Excuse me? You are kicking me in my designated seat area. Take the other seat area, I don't care, but don't get mad when you find that I am in mine! She continued to kick me (lightly) through a good portion of the flight.

When we got over Japan, I tried to look out the window to see the landscape, but the window I could see on one side was constantly blocked by the passenger in that seat and the other side was always closed. I can't blame the first person, but it made me upset that the other person wouldn't open their blind. I got a sneaking suspicion they were punishing me for constantly trying to look through their window (from halfway across the plane). The girl at the window would always give me strange looks when I tried to look out their window. Sorry! I wasn't trying to look at you, I just wanted to see where we were.

Our plane arrived early and we took the Skyliner train to Ueno. The ride was nice and the landscape was beautiful. When we got to Ueno, it was very humid and it took us a while to find the hotel. We relaxed for a while, then went out to explore the area.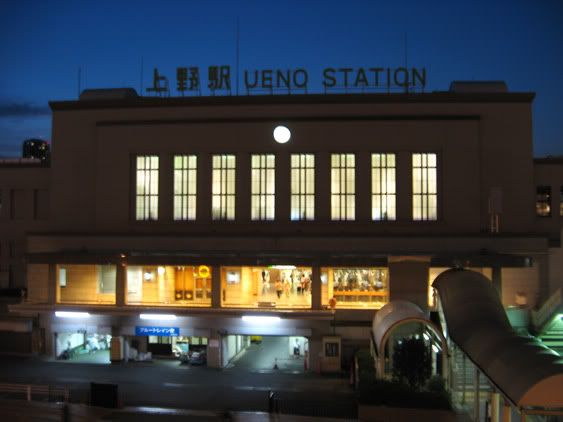 We were about two blocks from Ueno Station, which was really convenient. Inside there were a lot of restaurants and shops.

Right behind the station is Ueno Park. We walked around it for a while checking out sites in the dark and promising to come back the next day.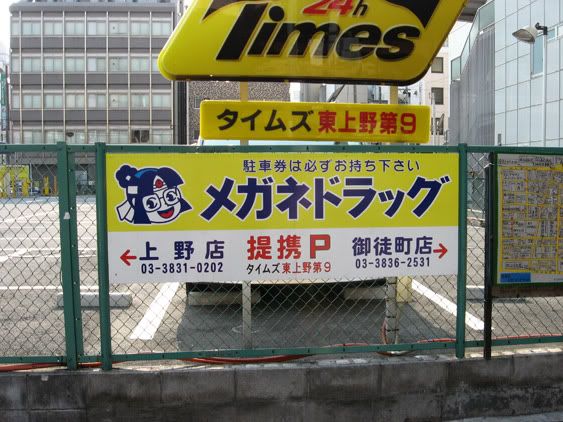 The next morning we tried to find a place to grab something to eat. We didn't have much luck, but we did see this sign. It says, "Megane Drug" or "Glasses Drug." We thought it was pretty amusing. (I guess it could also be "Glasses Drag" though?) We eventually went to First Kitchen, a fast food place near the station.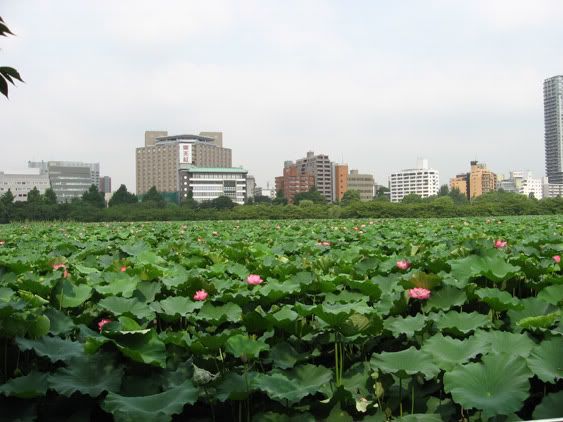 Ueno Park was gorgeous. This picture is Shinobazu Pond, and the plants in it are lotuses. They were so tall! Taller than me! This pond was in Otogi Zoshi (second arc). It was the place that kept randomly catching on fire. I think the trees in the background are the cherry trees that were in bloom in that episode.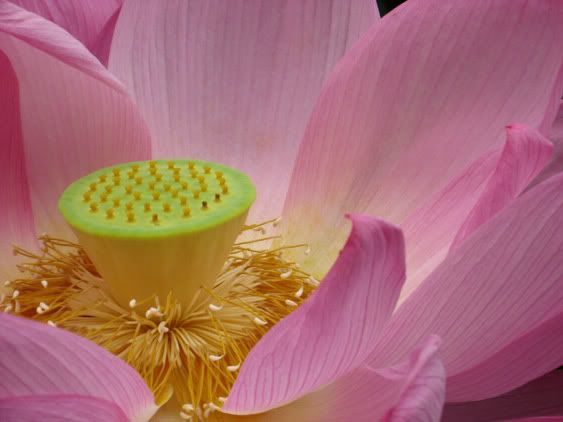 This is just a close-up of one of the lotus blossoms.

We explored more of the park, checking out small shrines and looking at museums until we saw...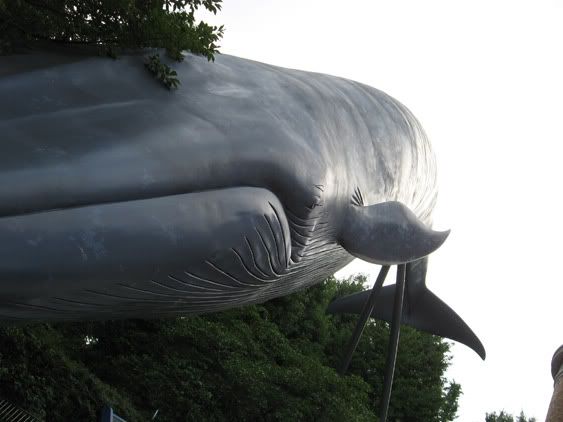 ...THIS LIFE-SIZE BLUE WHALE. I fangirled. I had read about this and had a strange powerful desire to see it. It's sooooo big and cool!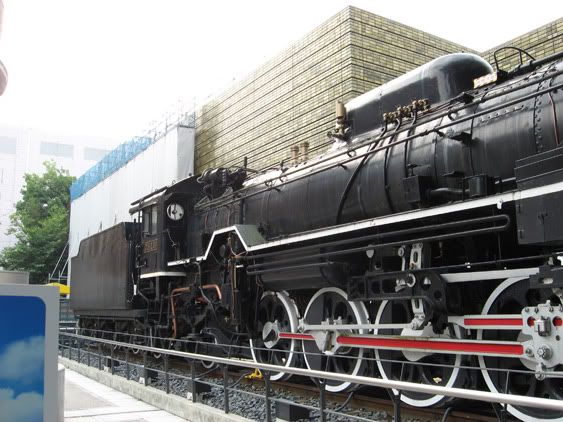 This museum, the National Science Museum, also had a locomotive in front of it. I like trains I like trains I like trains. The museum itself was really interesting and a lot bigger than I thought it would be. There was a lot of cool stuff on early Japanese people and the variety of Japanese animals. There were also some great prehistoric displays!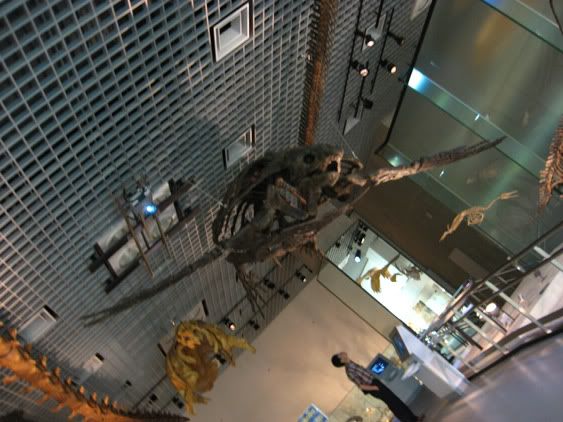 This ancient giant turtle was in one of those displays. Look how huge this thing is! I think it's fin span is at least 15 feet!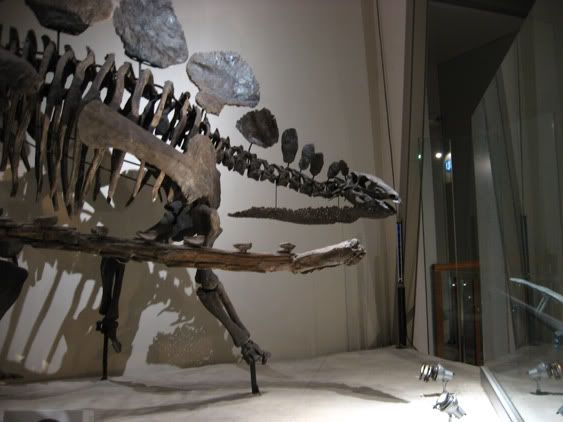 And of course, there were dinosaurs. Stegosaurus is my favorite, and it's also the picture that turned out the best!

After we finished with the museum, we had to battle the extreme humidity outside once more. X_X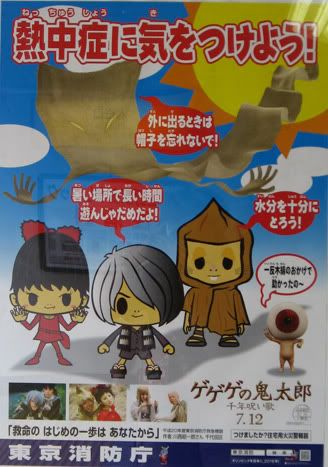 Did you know I absolutely love Kitaro? Because I do. I so do.

We got some food at a convenience store and ate in the park. Luckily, it cooled off enough to be bearable. We went to a anime and game geek store that was nearby and bought some cute Moyashimon stuff. We dropped our goodies off in the hotel and walked to Kappabashi, kitchen town.

Kappabashi was really interesting. Anything you could ever want for your kitchen seemed to be there! Unfortunately, my body began to rebel against me towards the end of our time there, so I just rested in the hotel room the rest of the night. The Olympics were on, so I had a good time watching that.

The next day we tried to get our rail pass certificates exchanged, but had no luck. We headed to Tokyo Station (*cough*Otogi Zoshi again anyone?) and decided to waste time exploring the area.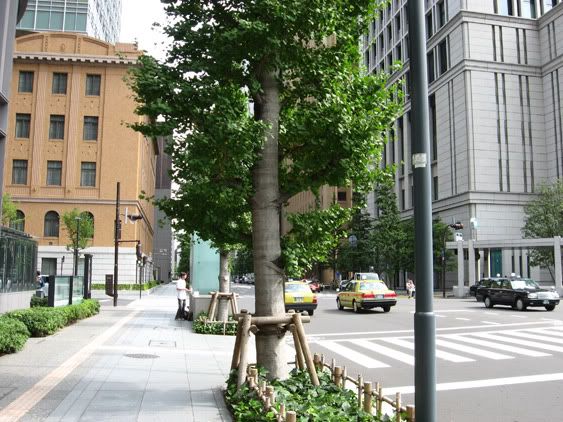 It was creepy. This part of Tokyo is just like San Francisco, except a bit cleaner and without any people. O_O;; Sort of creepy.



Here is the station itself. It's really a beautiful building, but there was a lot of construction in front of it, so we couldn't get a good shot of the whole thing. =(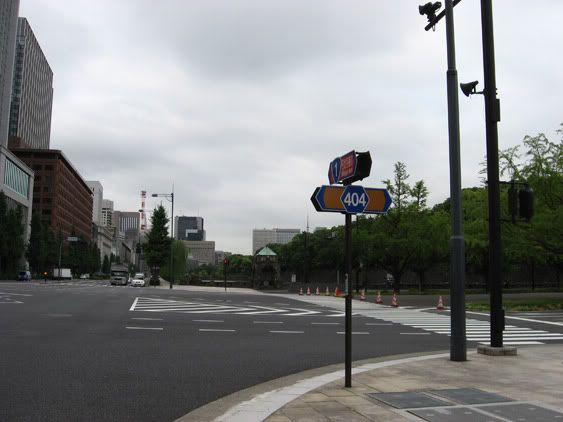 404 NOT FOUND.

After walking a couple blocks, we came upon a moat. In the moat were turtles and...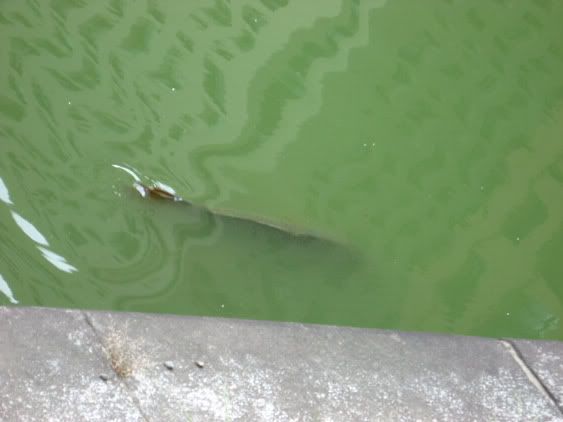 ...HUGE KOI. Japan is filled with huge koi.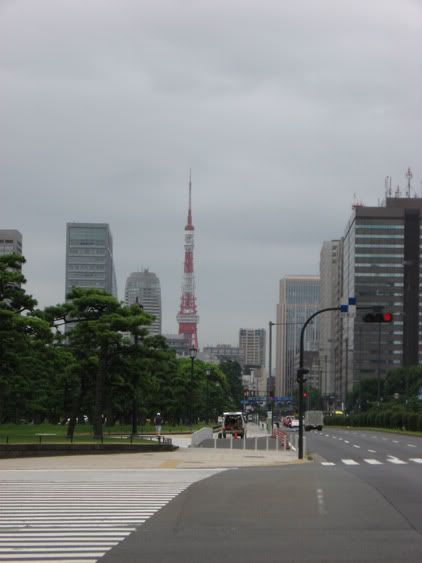 Oh hey, it's Tokyo Tower!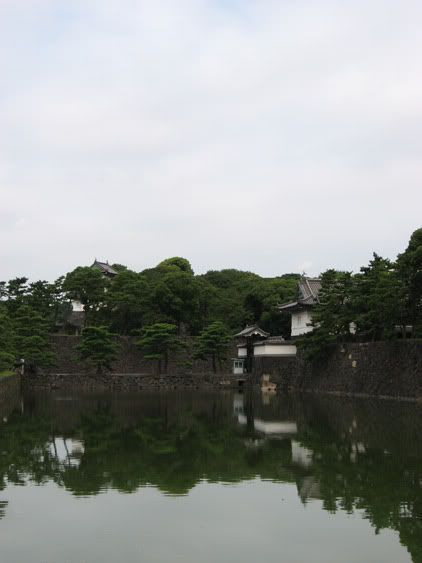 The moat surrounded, to our surprise, the Imperial Palace. This is along one of the outer walls.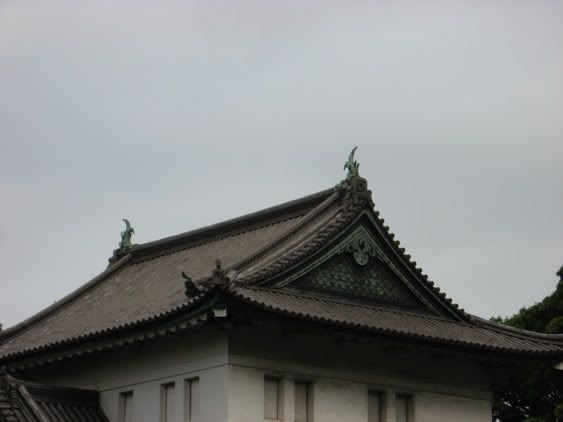 The roofs of many of the buildings had interesting a unique toppers (for lack of a better word). These ones are fish, but we saw fuu dogs, oni, horns... all sorts of neats ones throughout the trip.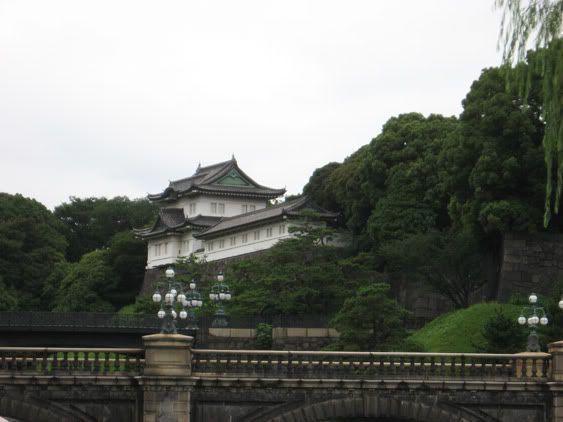 Slightly inside a bit more, there are two bridges and a couple buildings. I didn't go further than the bridges.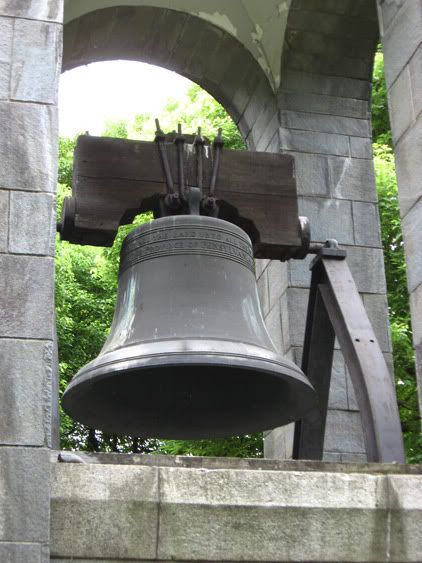 Nearby the palace was Hibiya Park. It was really noisy there (as it was in most places with lots of trees) because of the cicadas. They had a replica of the Liberty Bell there. Weird. O_o;;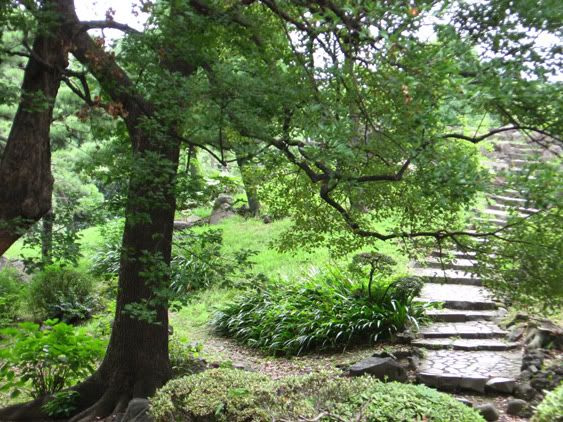 More of Hibiya Park. It was so lush there! Very different than how the Bay Area is right now.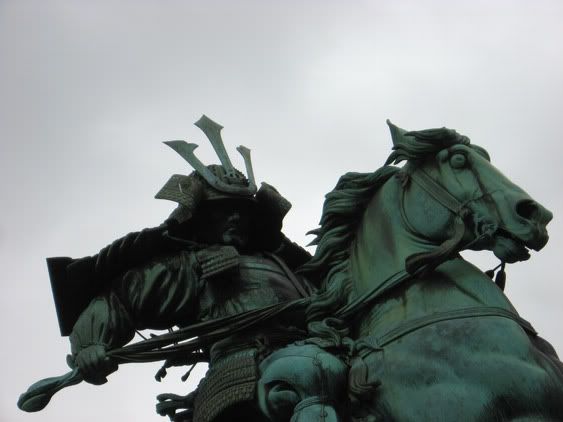 On our way back to the subway we passed this awesome samurai statue. He had a neat face, but I didn't have my exposures set right, so it didn't really come out in any of the pictures. There was a family of birds living under his helmet!!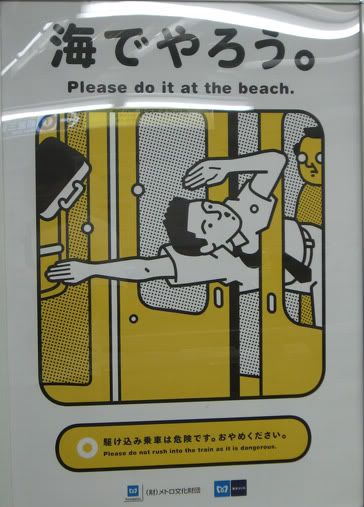 This poster was in a lot of subway stations. I want a poster of this.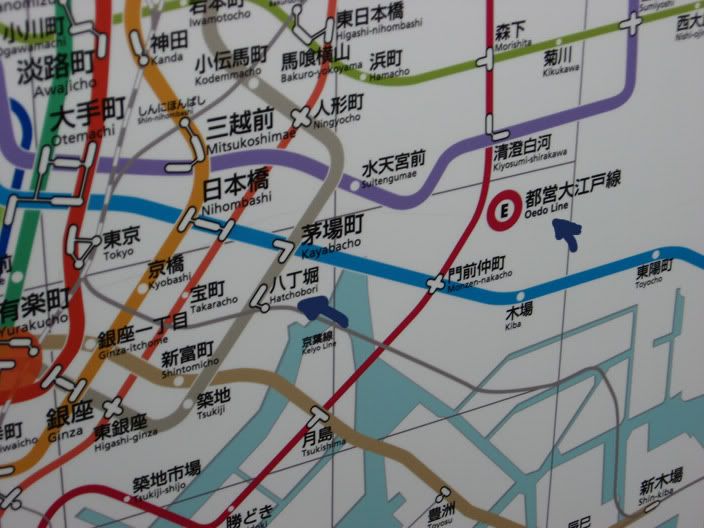 GEEKINESS ABOUNDS. I got a real kick out of the Oedo Line and Hatchobori station. Oh! Edo Rocket fangirling was done almost everytime we were on that line or passed that station.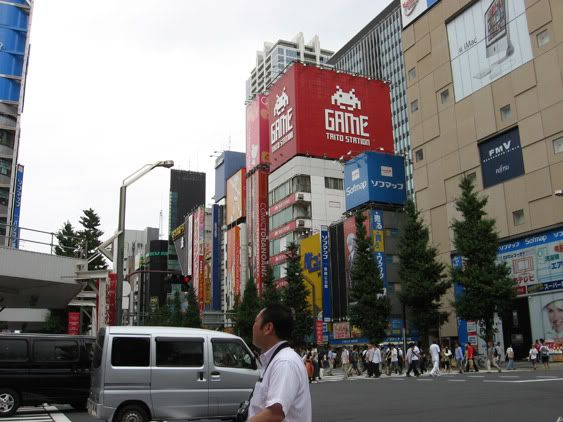 Ahh, the true purpose of our day... Geek Mecca, Akihabara. In actuality, Ueno station is only two stops from here.

Akihabara, Akihabara, so close, but so far away.

This place truly is a geek mecca. We planned to stop by at the end of our trip, but that didn't stop us from buying all sorts of fun things. =D

I think that's enough for today, tomorrow I'll post about the week before Comiket.