Can you tell? I really miss doing Baccano! screencap reviews. And Pumpkin Scissor ones too. Hopefully Soul Eater will be just as fun to screencap.

103 Screencaps. Spoilers for episode 1. Warnings: retardation, some harsh language, almost-nudity? Maka and Soul are my favorites, so my apologies if every episode is a bit heavy with images of them. Granted, this episode was pretty much their episode, so of course this one will have tons of them. I don't think I'll go as overboard as I did with Jacuzzi though. XD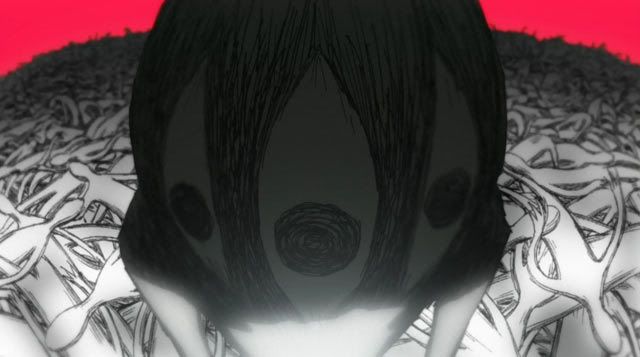 It looks like both the Medusa and Kishin arcs will be covered. Sweeeet.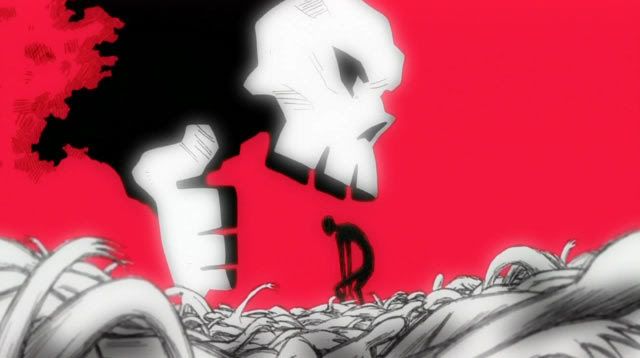 Shinigami-sama: OH KISHIN YOU ARE SO DELICIOUS NOM NOM NOM

And now introducing our beloved Weapon Techs! Sound off!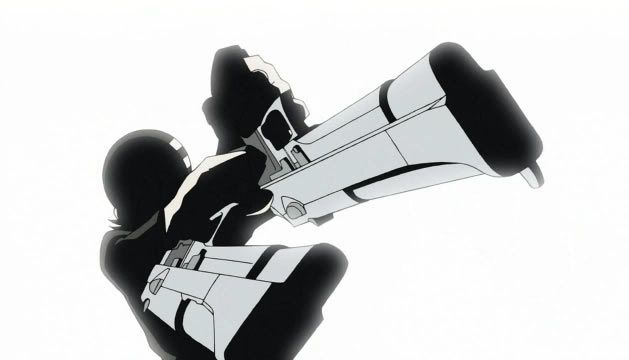 DEATH THE KID!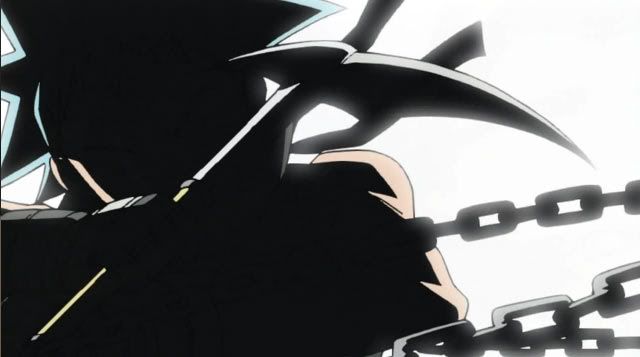 BLACK STAR!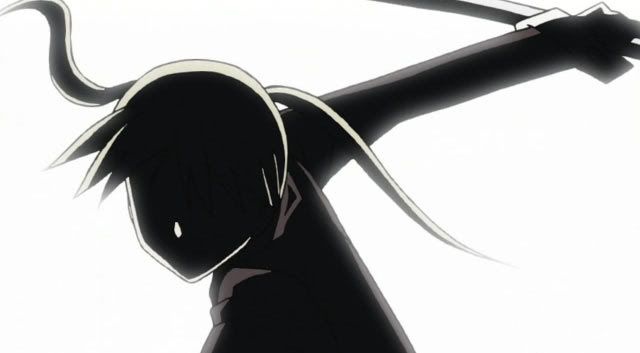 AAAAAANNNNNNDDD MAKA!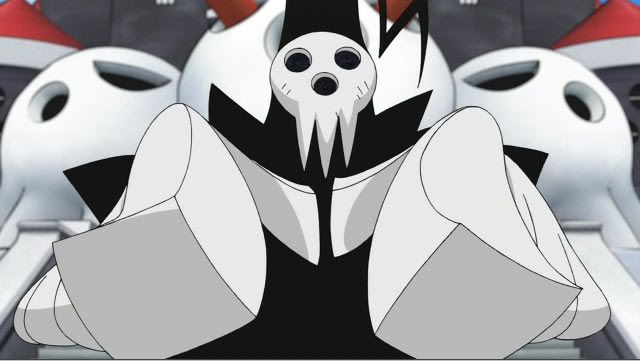 Shinigami-sama: Blah blah blah I'm awesome and built a school blah blah hells yeah.


OPENING, GO!!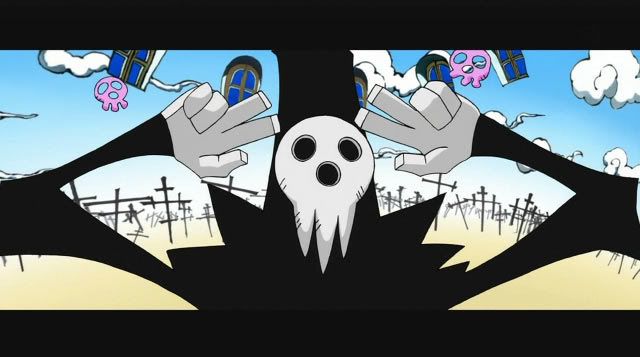 Shinigami-sama is a wicked dancer. Rock on, man!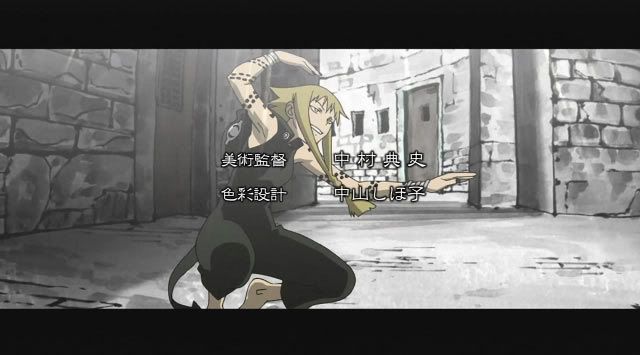 Medusa does this cool dance thing too. I totally want her outfit. Maybe I'll have to make it... I figure I could just modify a black hoodie... hmmm....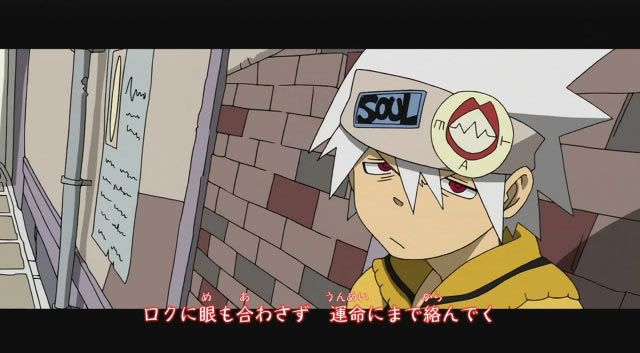 SOUL!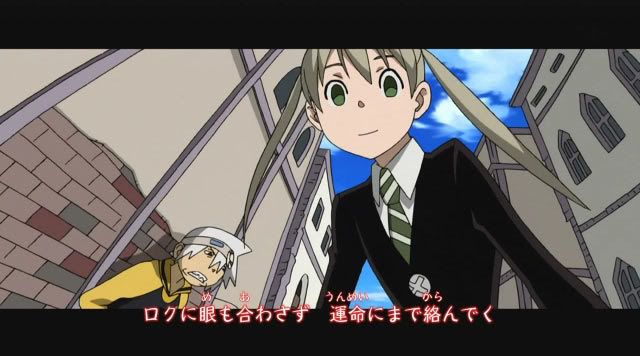 MAKA! I love Soul's expression.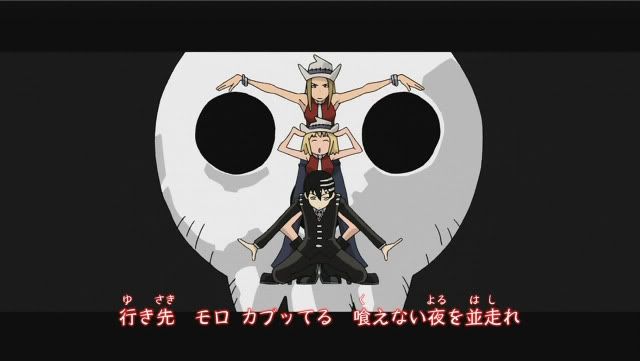 Liz, Patty, and Death the Kid. I want to cosplay one of the Thompson sisters after Maka. =D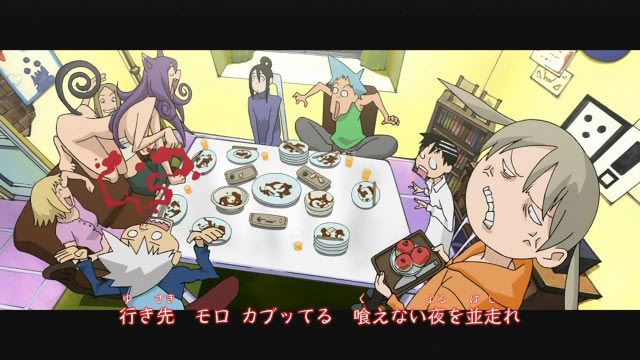 I love the variety of expressions in this picture. The Thompson's are all "LOL BLAIR IS NAKED." Maka is not pleases.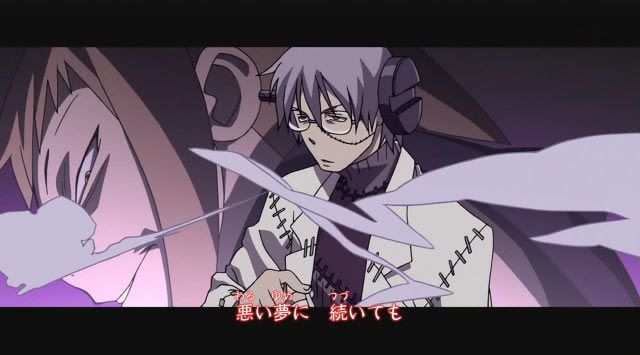 HEY JESSE. IT'LL BE AWESOME COME ON YEAH. XD

Stein~! He's so cool.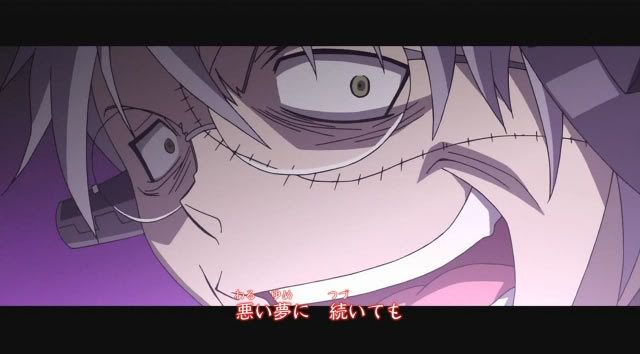 But this picture of him is better. XD



I liked the idea of these two together since the fight with Chrona in the manga, but somehow watching JUST THE FIRST EPISODE of the anime makes me want them together SO MUCH MORE.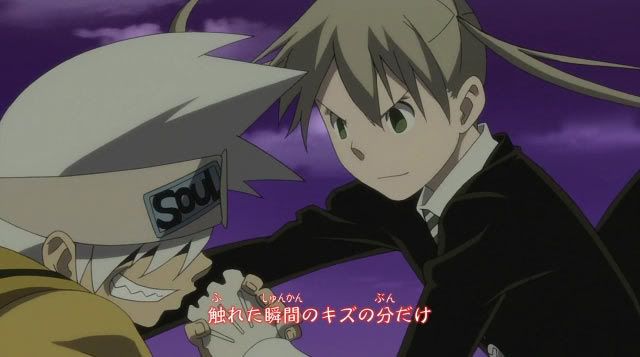 Maka: Soul, let's fuck things up.
Soul: With pleasure!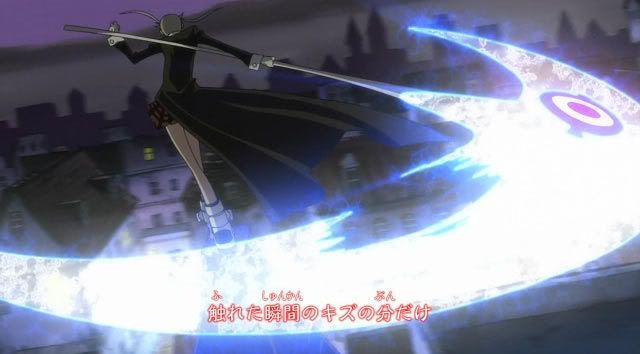 Maka: Oh, we bad. We bad. Kicking ass and taking names.



Maka: I CUT YOU.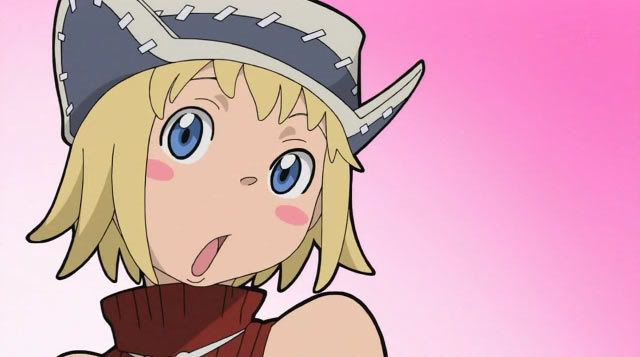 Patty!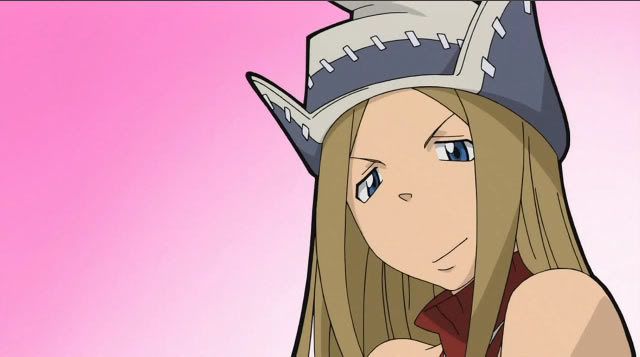 Liz!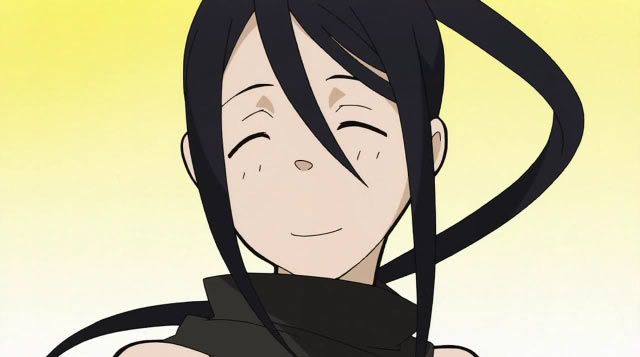 Tsubaki!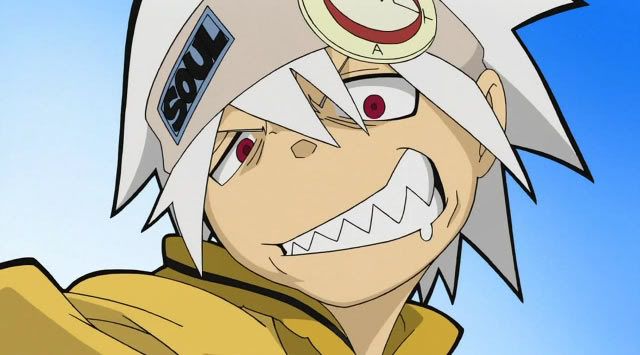 Soul!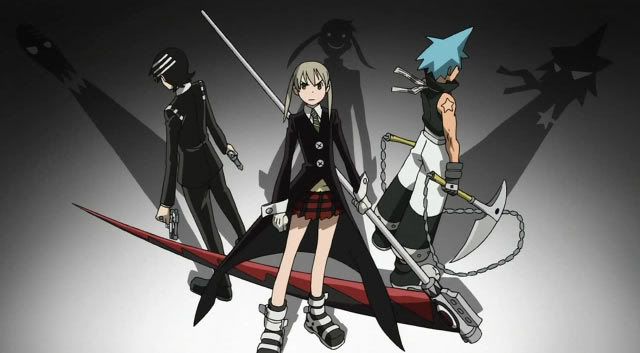 And the Weapon Techs! Their shadows are what makes this picture AWESOME. And they all totally work for the story. OMG. Totally. I love this anime already.

Okay, the opening is over.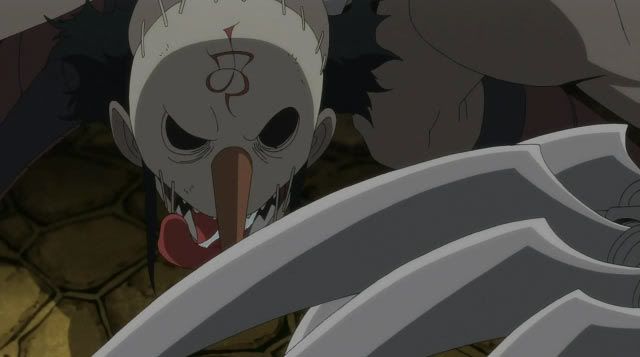 It's Jack the Ripper!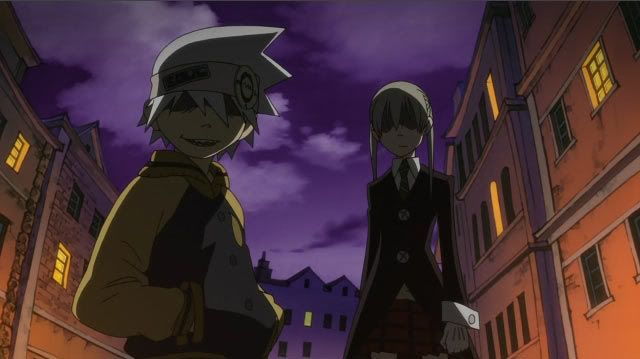 Soul: You're not human, are you?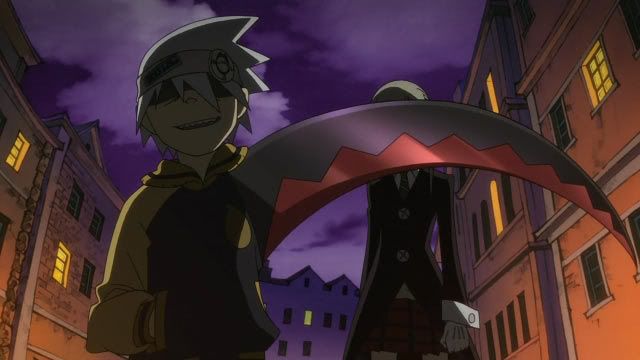 Soul: That's cool, because neither am I.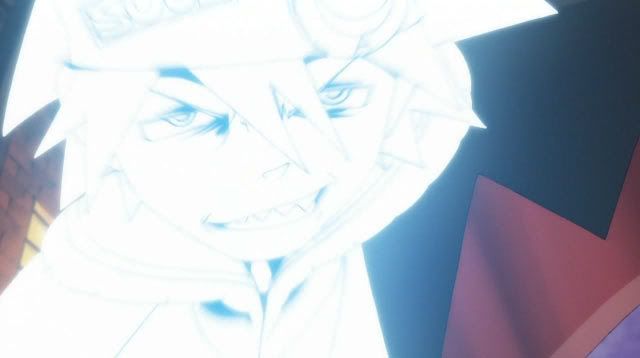 Soul: Let's do this, Maka!



Maka: But of course.

Also: BEST MOON EVER.

*fighting fighting fighting*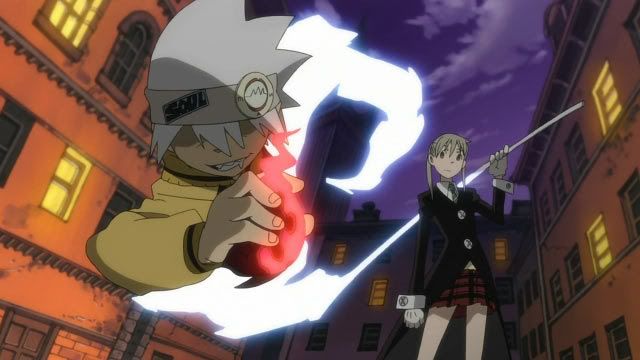 Soul: Mmm, delicious soul. ♥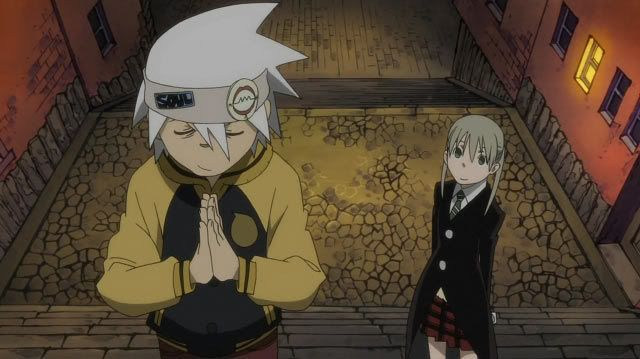 Soul: Itadakimasu!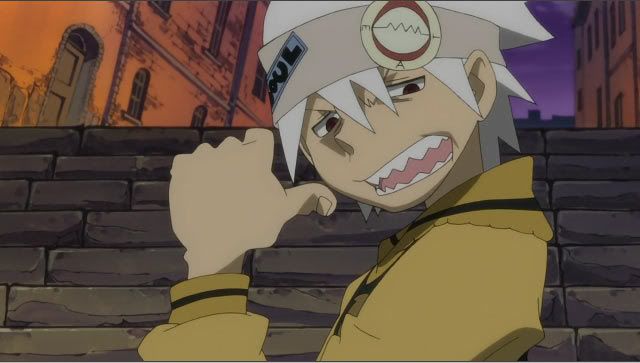 Soul: Just one more soul, a witch's soul, and I'll be a death scythe!
Maka: We're almost there! Let's call Shinigami-sama to tell him!



Shinigami-sama: Oh, Soul, Maka. Good job!

(His room is awesome.)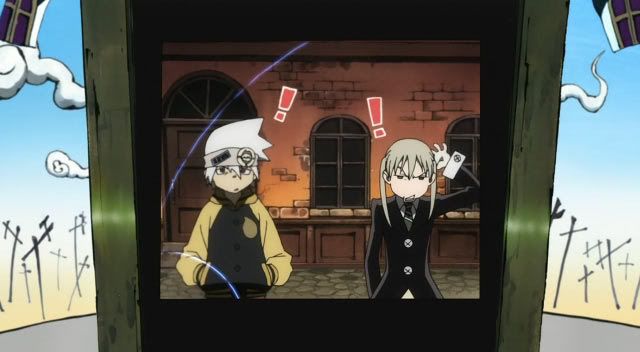 ????: SOUL DON'T TOUCH MY LITTLE GIRL!!!
Maka: !
Soul: !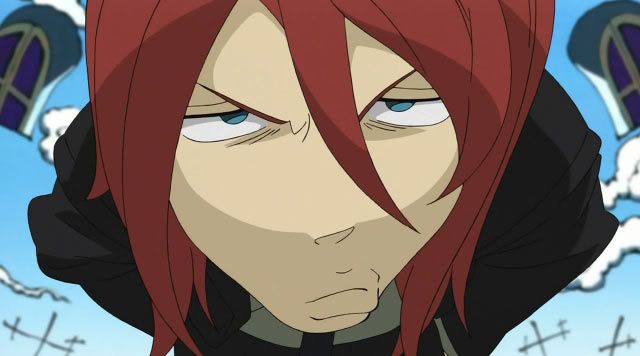 Death Scythe: Treat my girl with respect! Don't lay a hand on her!
Soul: Why would I want to lay a hand on that?
Maka: What was that, jerk?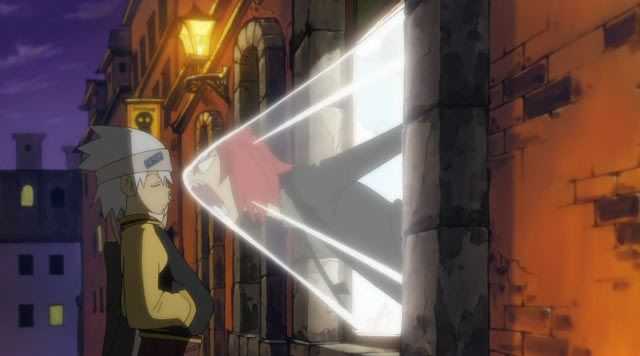 Death Scythe: WHAT DID YOU SAY?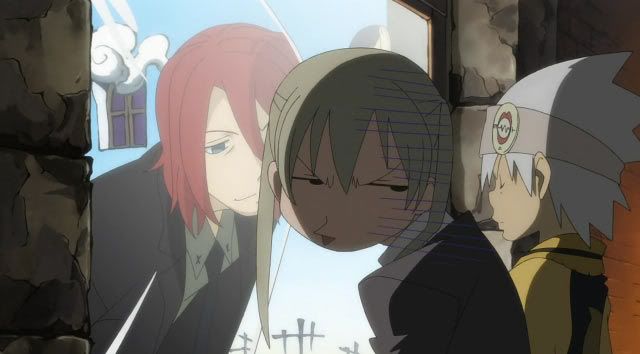 Death Scythe: I love you, Maka.
Maka: I don't accept you as my father. Go away.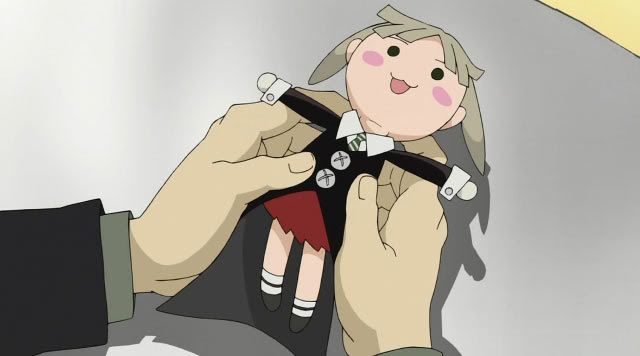 Death Scythe: BAAAAWWWWW Oh Maka plushie, you're the only one that cares~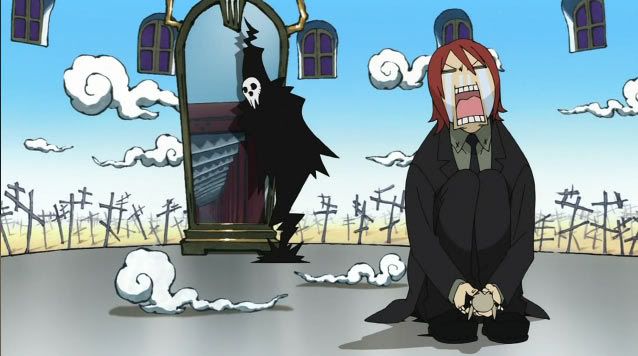 Death Scythe: BAAAAAWWWWW MAKA BAAAAAAW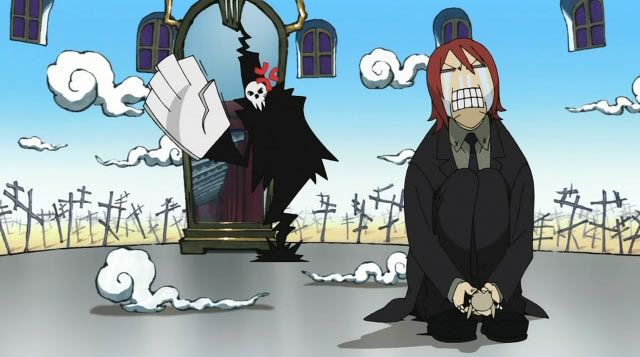 Death Scythe: BAAAAWWWW MAKA BAAAAW MAKA BAAAAWWW
Shinigami-sama: I am so going to Shinigami Chop you.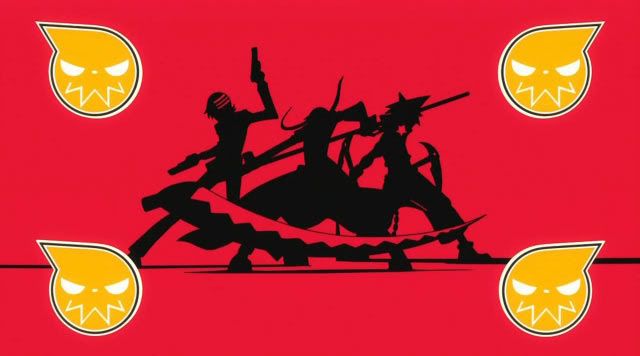 SO FREAKING COOL. I WILL VECTORIZE THIS SOMETIME AND SHARE.


So, In order to get the last soul for Soul to become a death scythe, they go to the witch Blair's home.

Soul: Let's just break in.
Maka: Don't be retarded.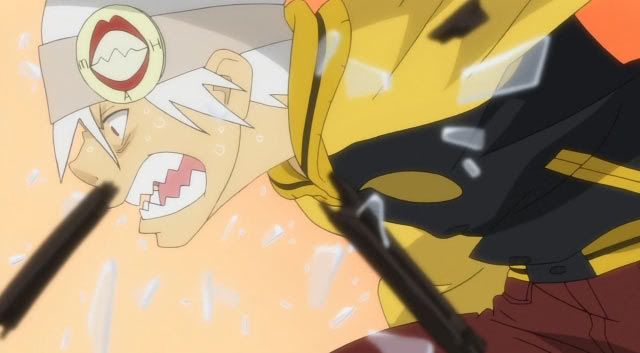 Soul: HERE I COOOOMMMMEEEE.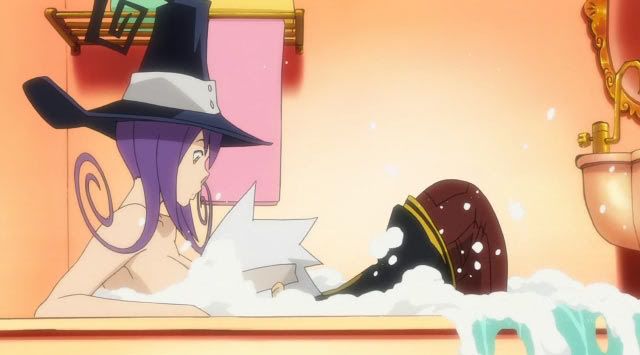 Blair: Well hello there.
Soul: MRPHHH. (I must act cool, I must act cool)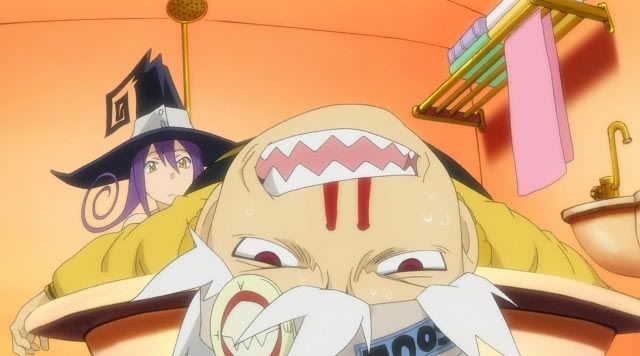 Soul: ~♥ This is not cool.



Maka: Soul, get out of there. Turn into a scythe.
Soul: Okay.
Maka: Witch Blair! We're going to take you out!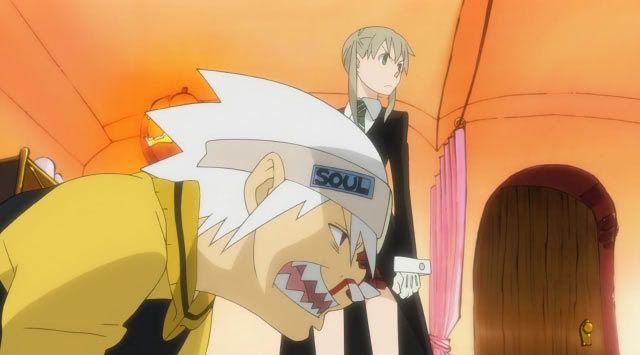 Soul: I'll show you how cool I can be!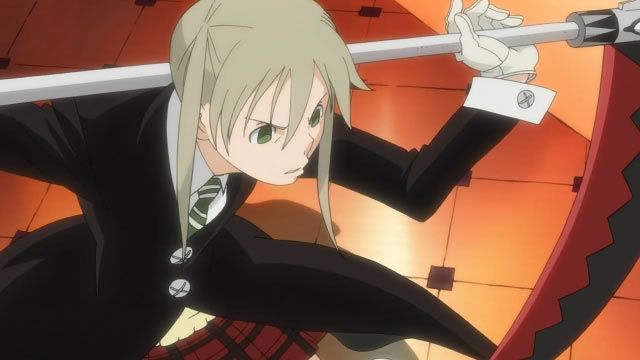 Maka: Oh no, she's on the offensive!

*KA-BLAM* Goodbye, Maka and Soul.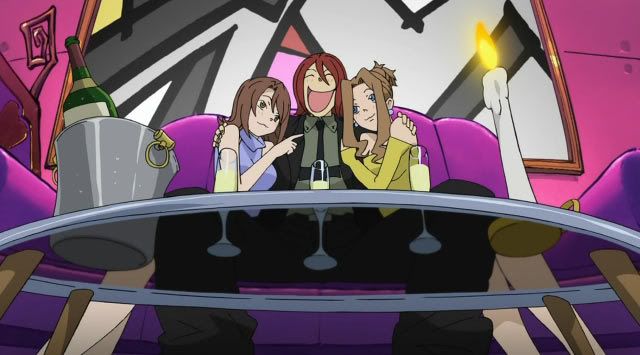 Girls: *titter titter* Oh Death Scythe~♥
Death Scythe: Oh ladies~
Girls: So how is your daughter?
Death Scythe: MAKA BAAAAWWWW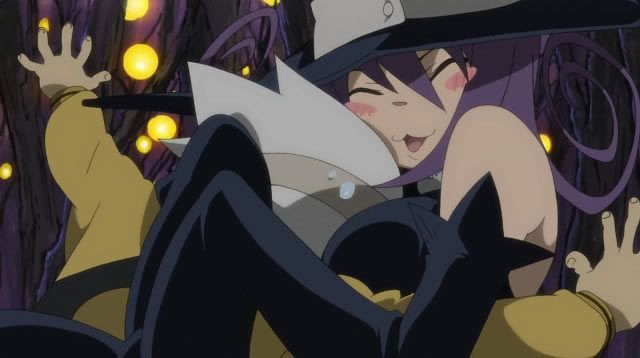 Blair: Blair loves Soul!
Soul: MRRRPPPPHH!!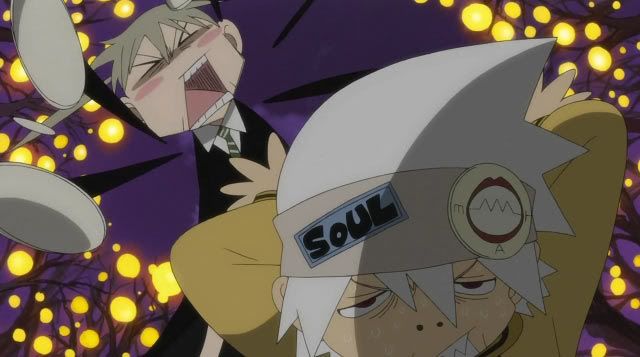 Maka: SOOOUUUULLLL!!!!! *bap bap bap*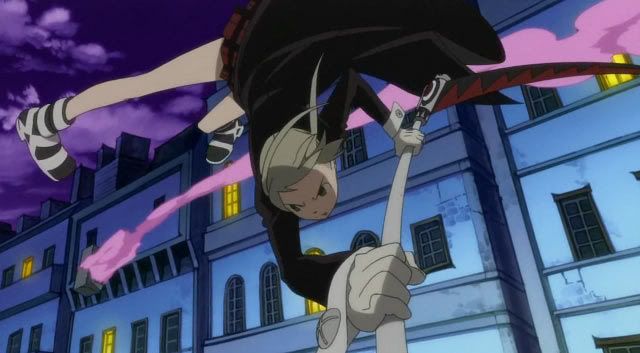 After several failed attempts, they finally start a fight with Blair.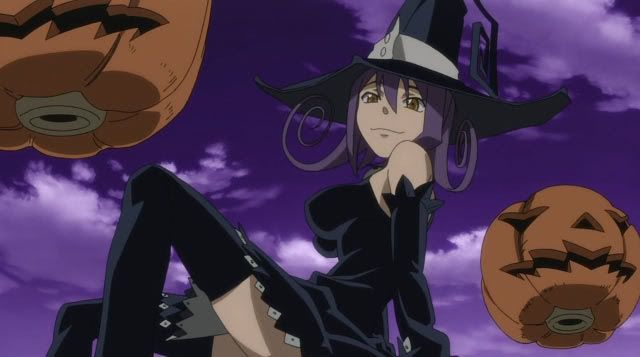 Blair: Pumpkin~ Pumpkin~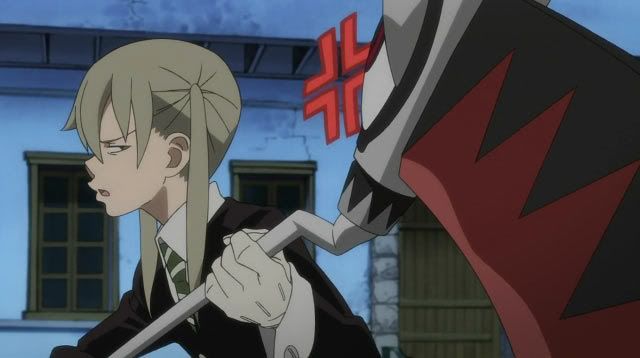 Maka: Are you oogling her?
Soul: Whaaaat?
Blair: Hey, Soul~ Come join me~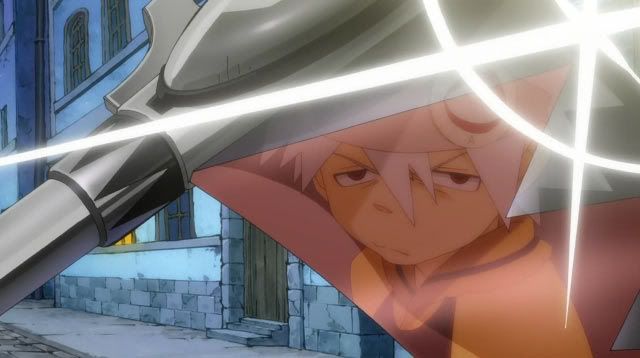 Soul: ...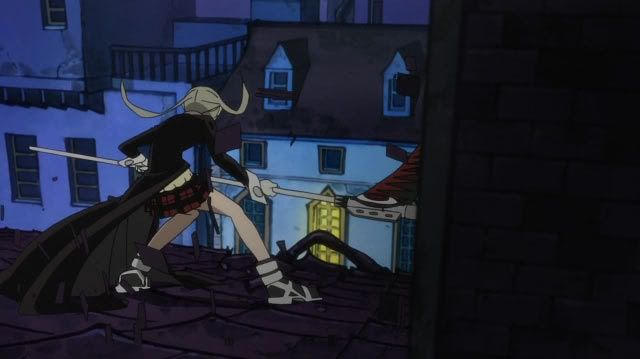 Maka: She's so powerful! How will we be able to defeat her? Soul?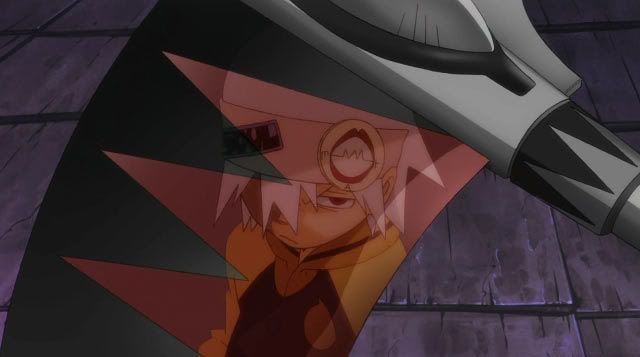 Soul: ...



Death Scythe: I'm going to help Maka!
Shinigami-sama: Oh no you aren't.
Death Scythe: Mrr.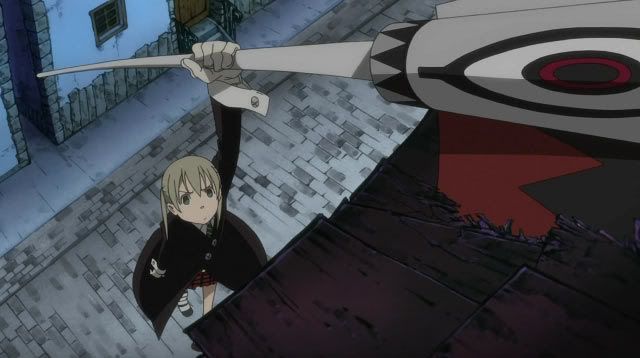 Maka: This battle isn't going all that well. =\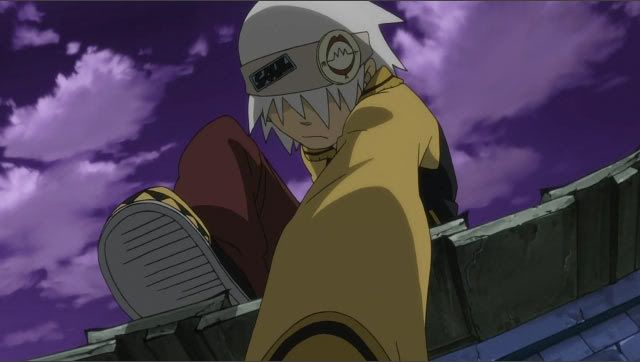 Maka: Soul, can you pull me up?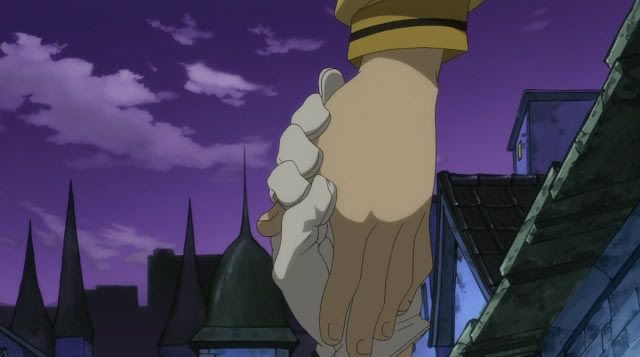 Maka: Soul? *falls into trash*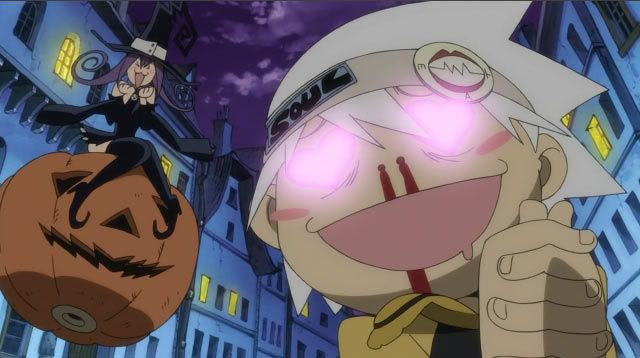 Soul: I don't want to be with you anymore, Maka. I'm going to Blair and her beautiful body!!!
Blair: Knyaa!~&hearts Yay!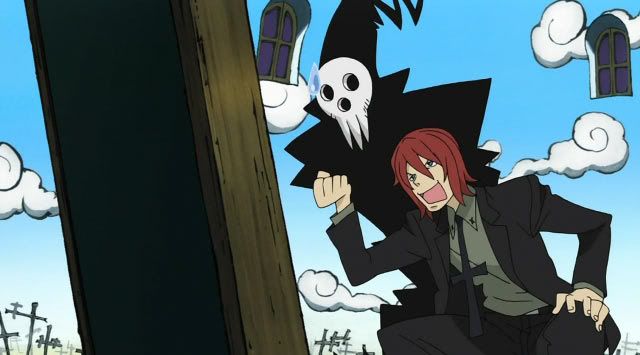 Death Scythe: It's true she has a beautiful body!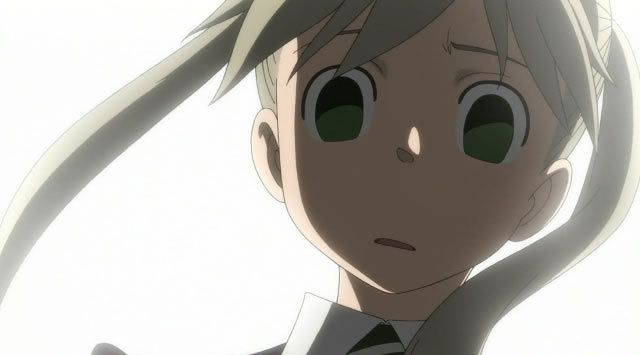 Maka: ....Soul... You're going to betray me? You lied to me? ...just like my father...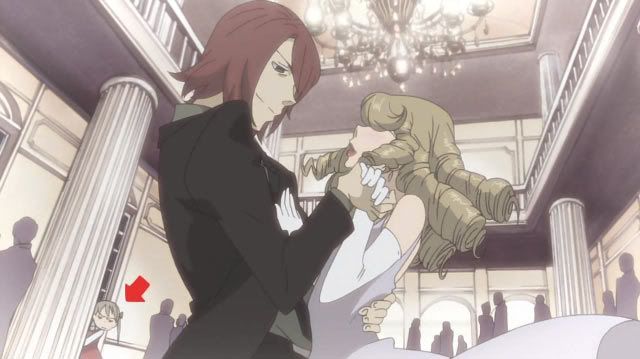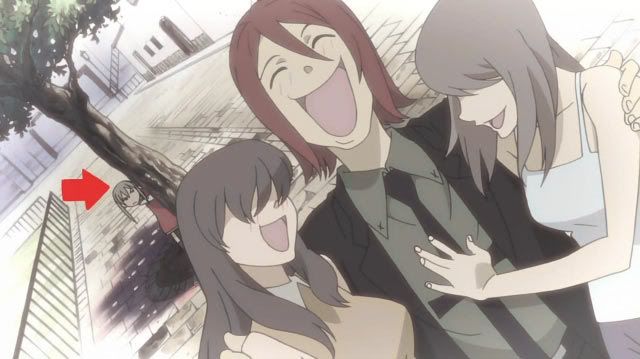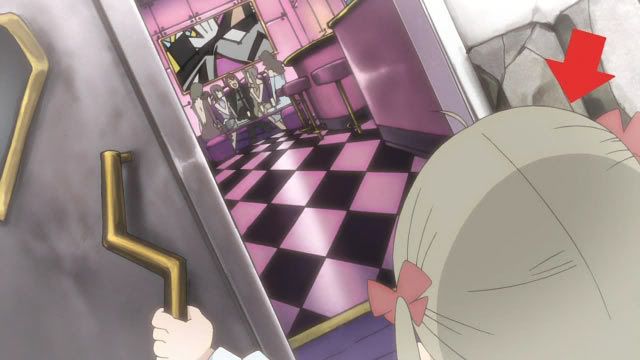 Death Scythe is quite the player.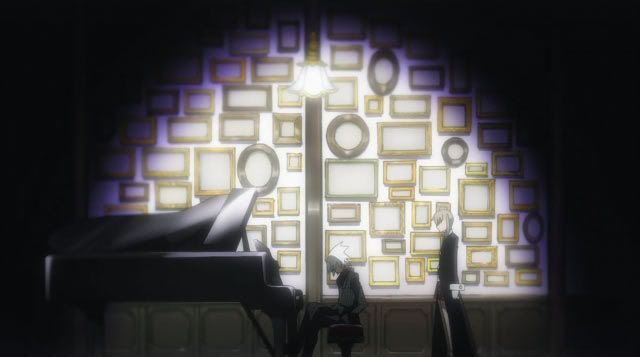 Maka: I thought we were partners.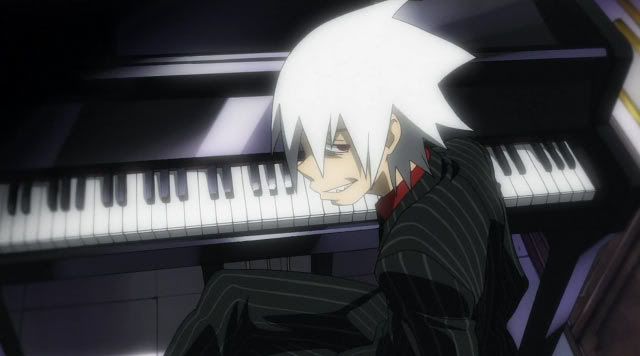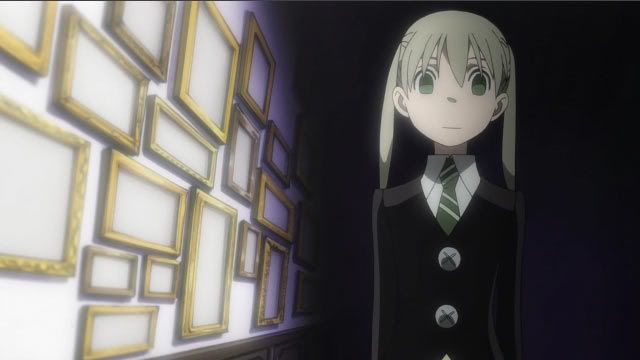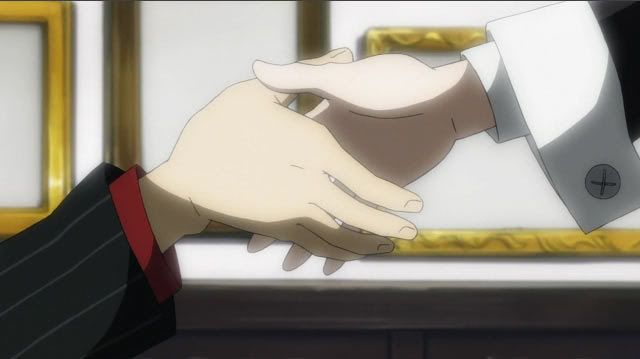 Maka: I guess I was wrong...

(GAAAH THE PIANO OH MAN THE MUSIC SCENES ARE SOME OF MY FAVORITES!! THANK-YOU BONES FOR PUTTING A TASTE OF ONE IN THE FIRST EPISODE ♥)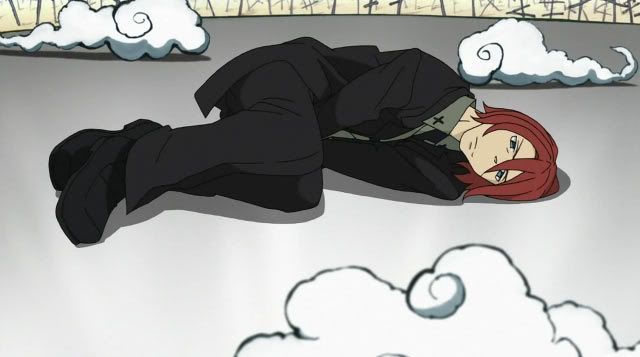 Death Scythe was a bad daddy. But he does love Maka. =D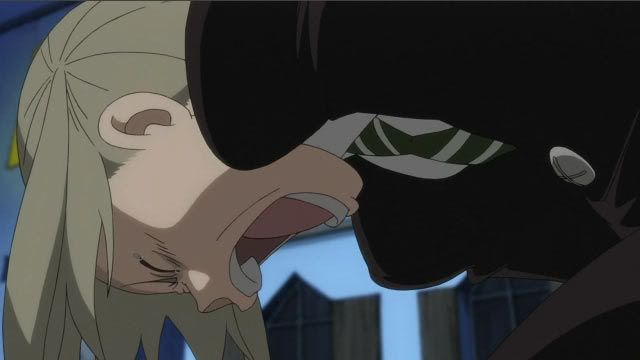 Maka: Soul, you IDIOT!!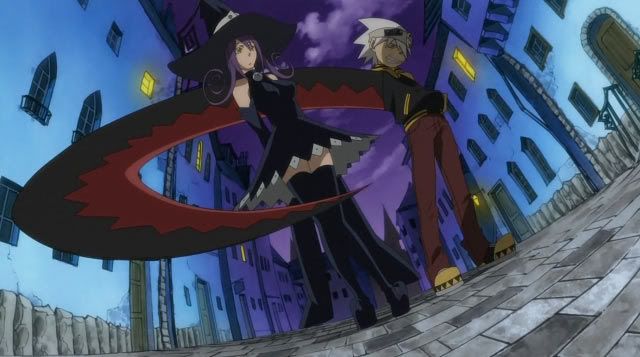 Soul: Hey, betrayal isn't cool. I wouldn't do it. But this is cool, right?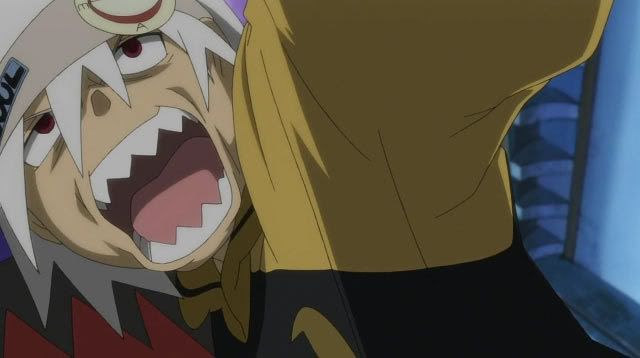 Soul: MAKA!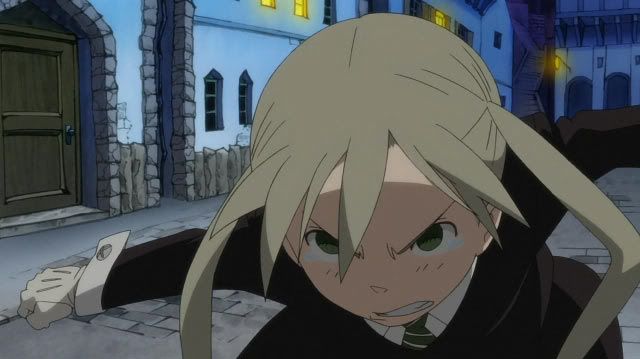 Maka: YEAH!



*SLICE*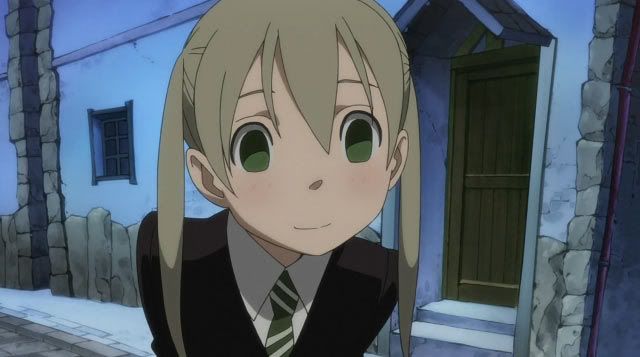 Maka: Thank-you, Soul.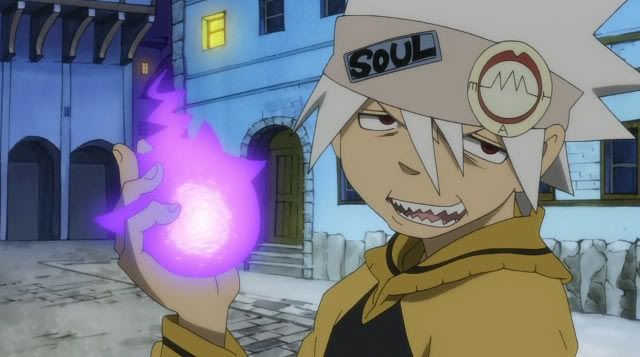 Soul: Now we have our witch's soul. I can finally be a death scythe!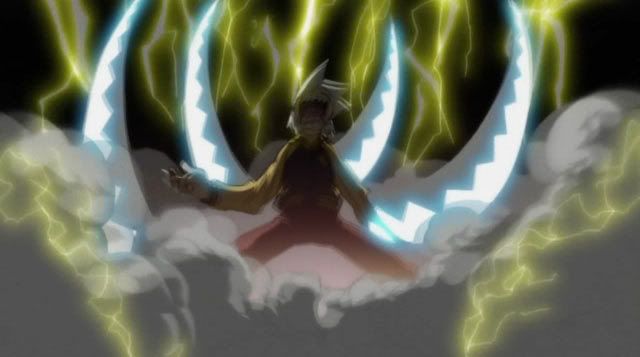 Soul: THE POWER!!!! THE POWER!! THE POWER...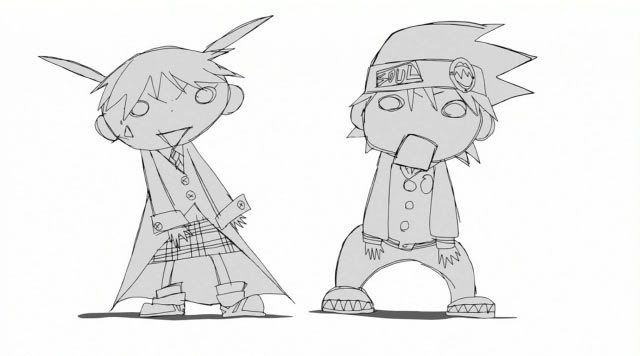 Soul:...it's not coming.
Maka: Eh?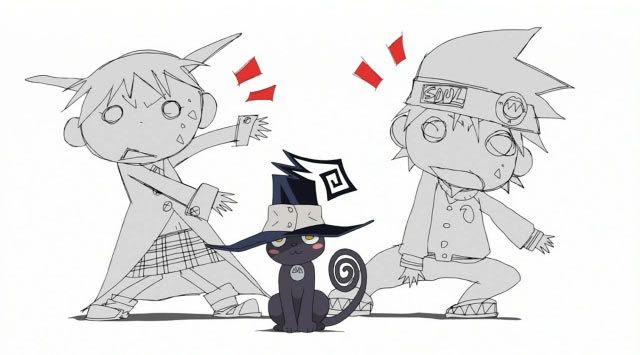 Maka and Soul: EHHH? N-no way...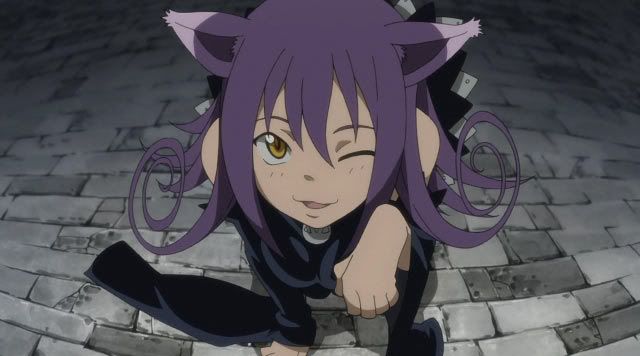 Blair: Blair isn't a witch... she's just a kitty cat with really strong magic!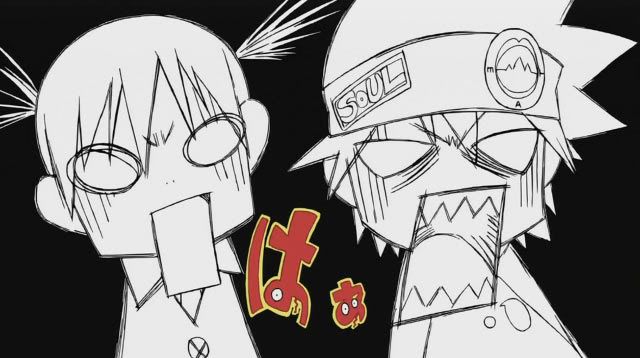 =O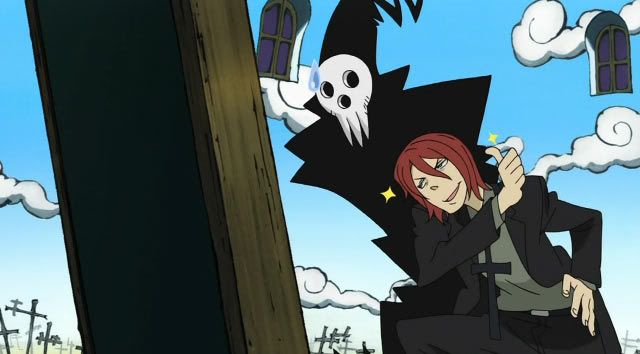 Death Scythes: Cat Girls are A-OK!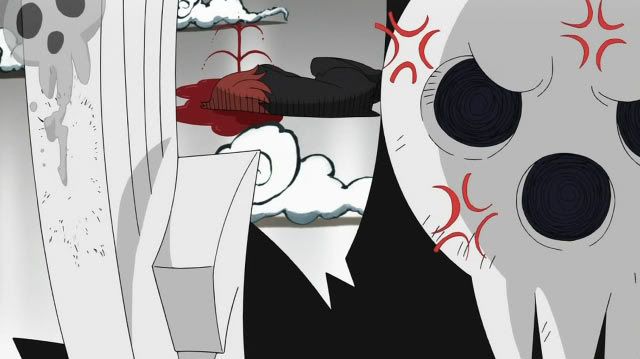 Shinigami-sama: SHINIGAMI CHOP!!!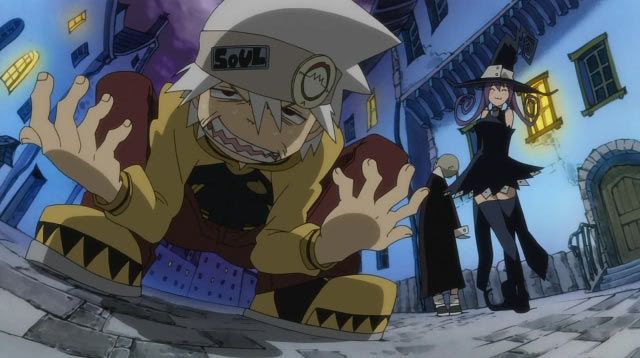 Soul: So... we just wrecked our chance? All that work... FOR NOTHING?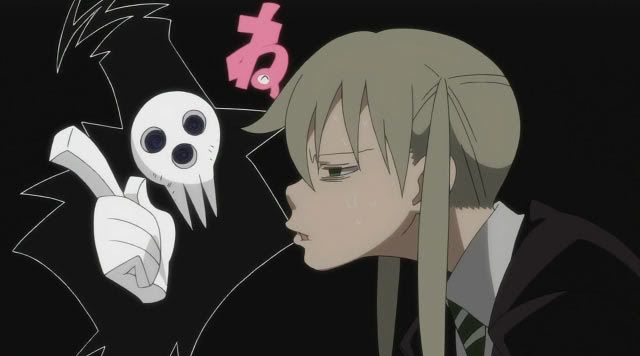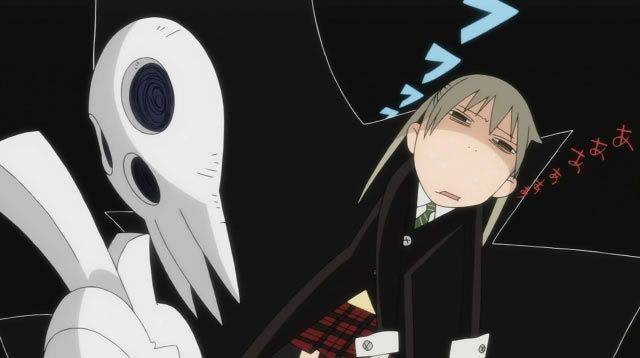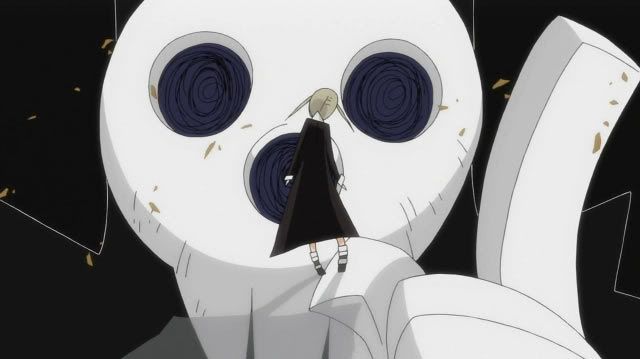 Shinigami-sama: If you eat any soul besides a witch's, you'll have to start all over... getting 99 kishin souls and a witch soul.
Maka: UUGGGHHH WASTED EFFORT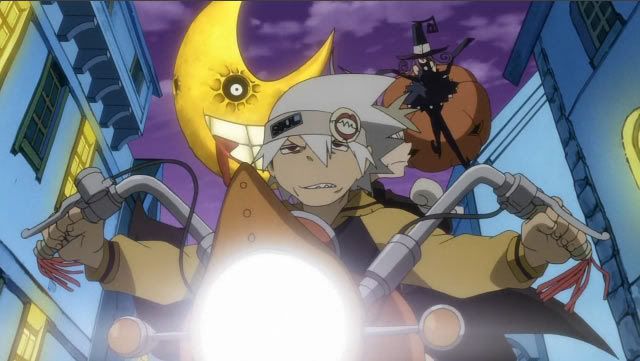 Okay, so they have a motorcycle. WITH STREAMERS ON THE HANDLEBARS. LOL. Cool bike Soul, cool bike.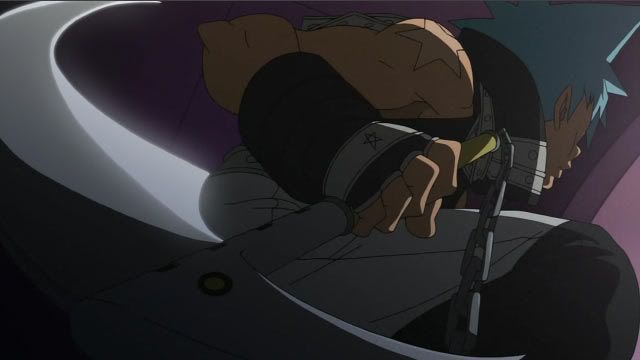 Waiting in the shadows...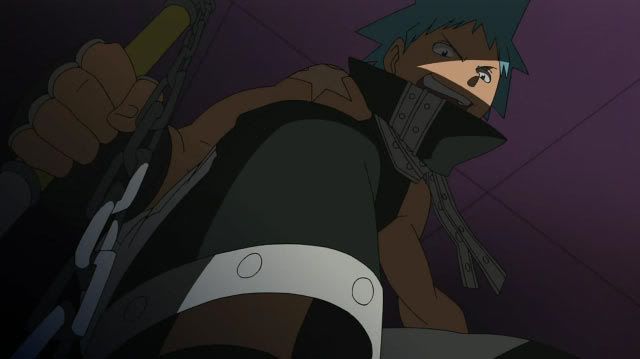 It's Black Star!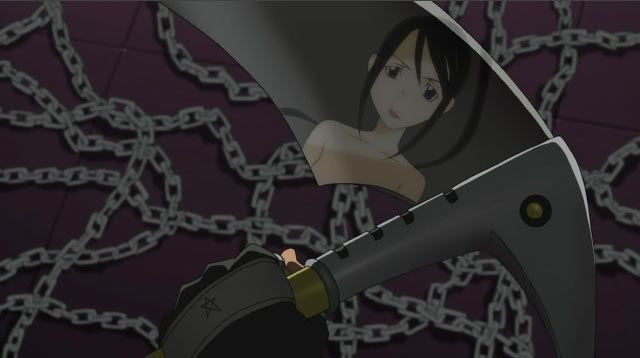 ...and Tsubaki too of course!

TO BE CONTINUED!!

Ending song time: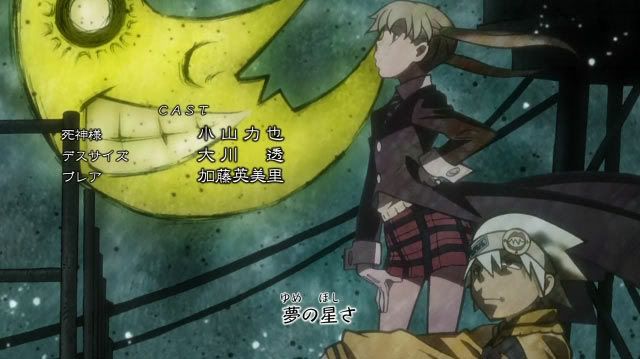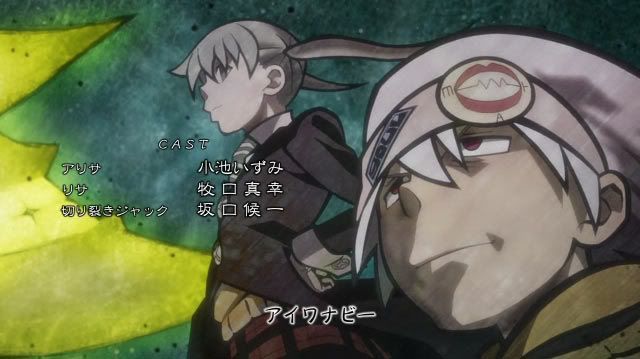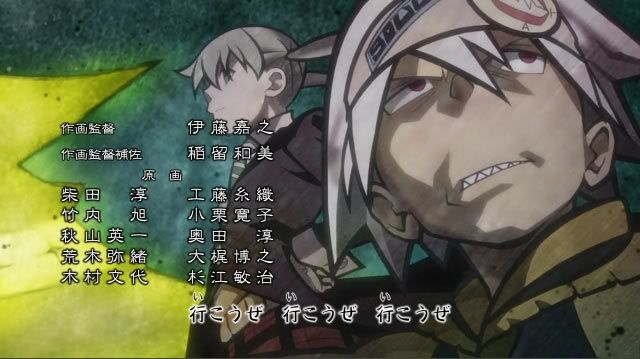 I love the style.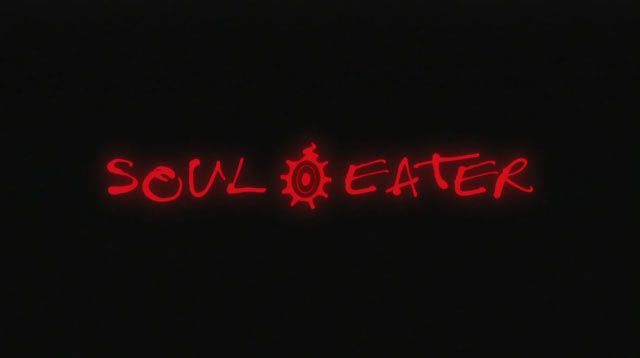 This series has three or more logos, and they're all really neat.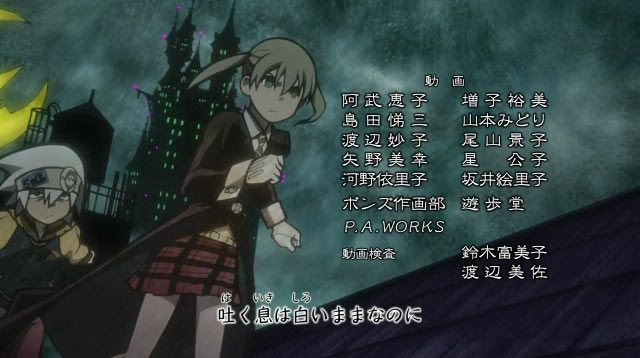 Soul is doing a ninja run.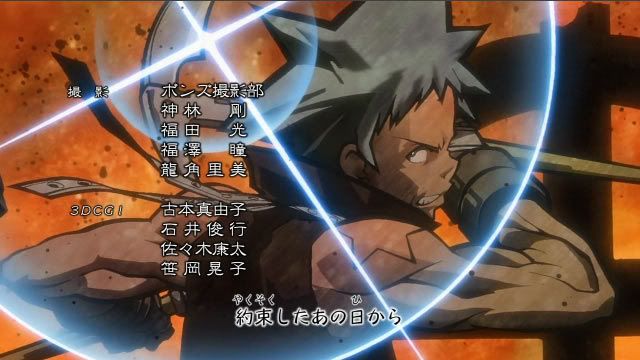 Black Ssssstar!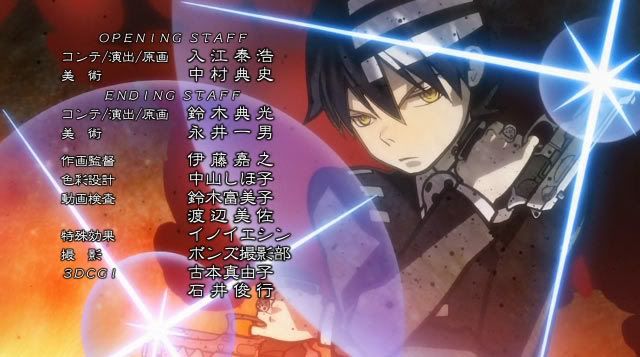 Death the Kiiiiidddd!



This monster is pretty awesome.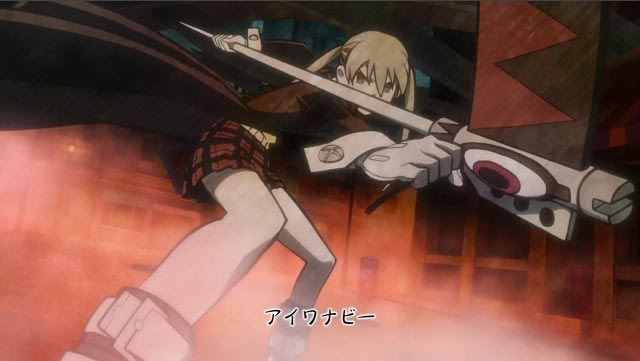 I'm going to have to learn some of these poses when I cosplay her... I think my version of Soul Eater is too ungainly to do some of them though. =\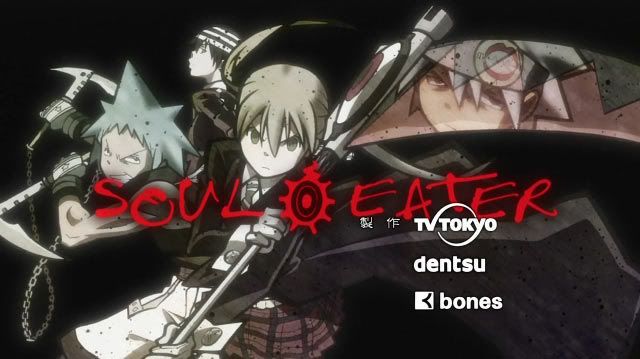 So. Damn. Cool.

Next Episode: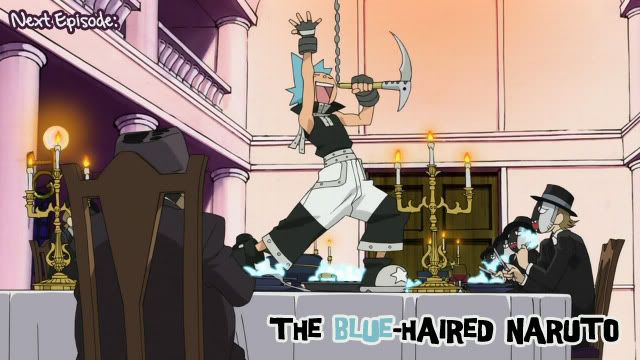 HERE I AM! BLACK STAR SHOW TIME!

Ooo, I'm so excited for this series. I really enjoyed the first episode~♥ The opening and ending are both really cool, and the voices, designs, and animation are really awesome.

I cut out the opening if anyone wants it. It's 65 megs and a pretty large video (1280x720).


Okay, back to work~♥