I was at Yaoi-Con this weekend, so I did not have a chance to watch this episode until this morning. My apologies on the delay of my usual retarded screencap synopsis. Or whatever it is I do.

145 pictures for the BEST EPISODE EVER. Not worksafe (blood, swearing, too much awesome). Lots and lots of Jacuzzi and Nice. ♥ Reatarded commentary, as is par for the course.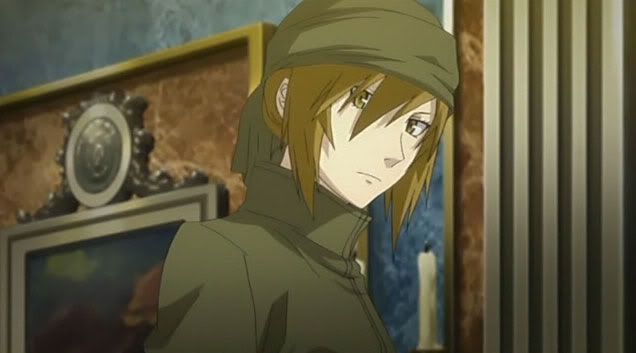 Rachel is the hero to all those in distress.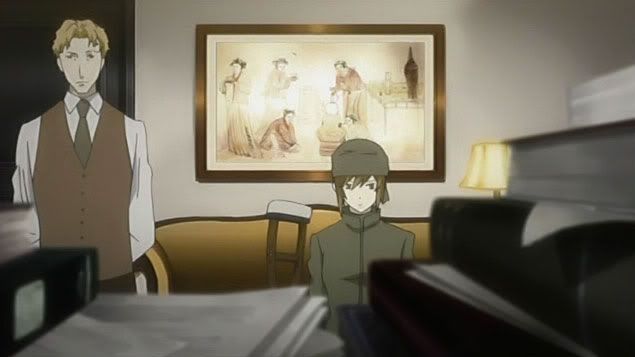 Nicholas thinks she's making it up.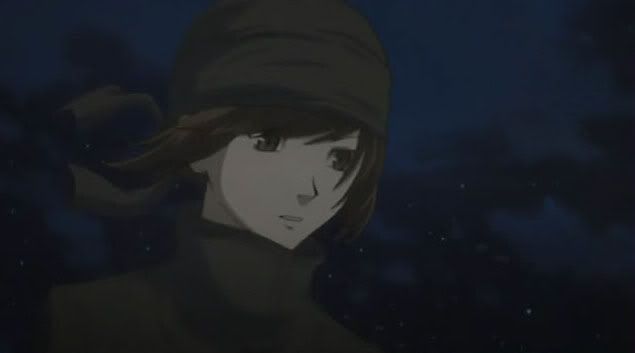 But no, she totally is. She rescues Mary and her mom by getting them on top of the train. BADASS.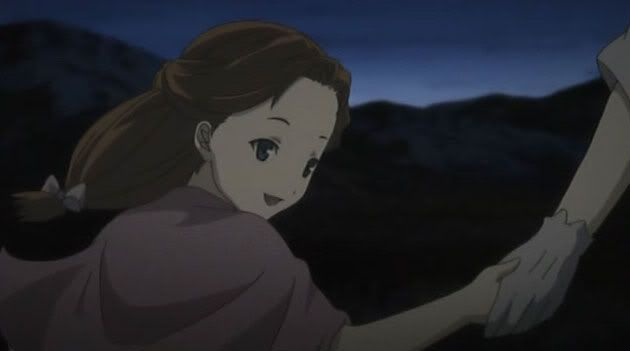 Mary: Thanks, awesome hero-girl!

And then!!!!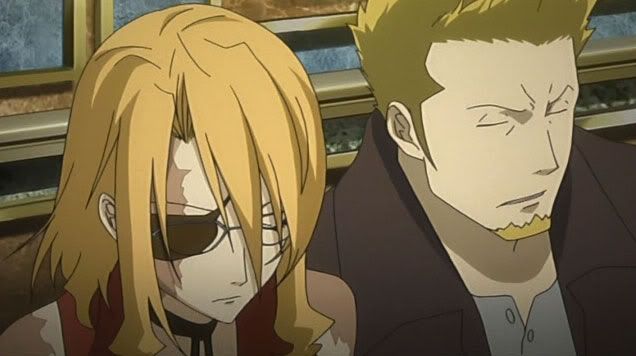 Nice: Ugh. Being tied up sucks, big time.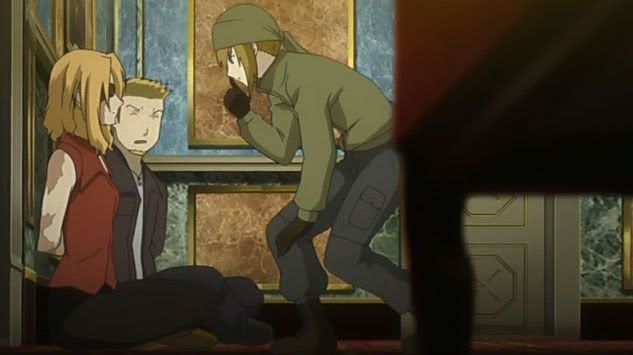 Rachel: Hey, I'm here to save you.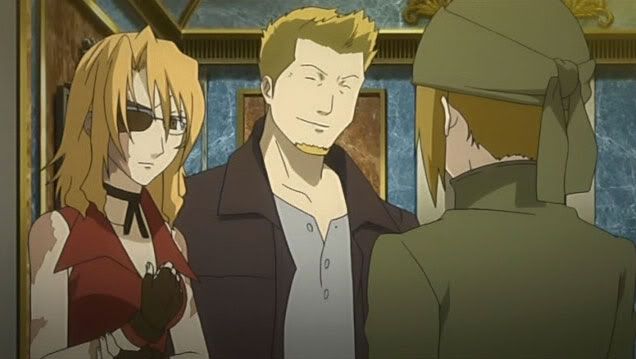 Nice: You're our hero!
Rachel's hero points increased! Rachel is now a level two hero!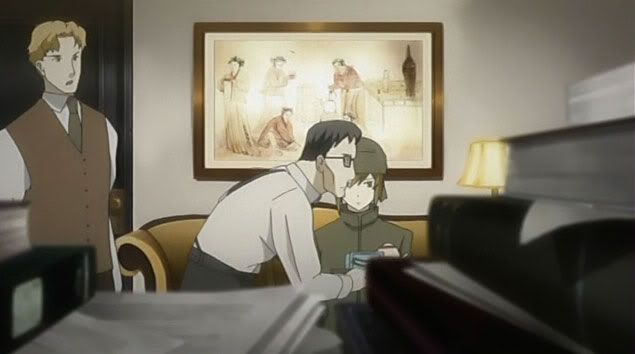 OMG OMG OMG.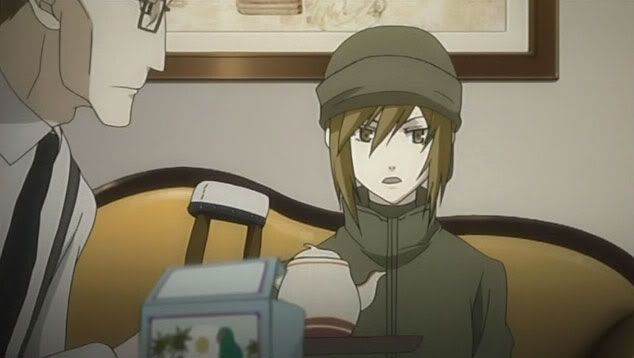 OMG OMG OMG LOOK WHO IT IS OMG.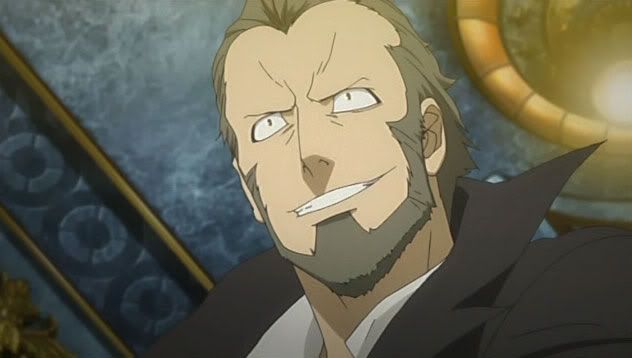 Spike: Sideburns are AWESOME! I'm here to stop our captives from escaping!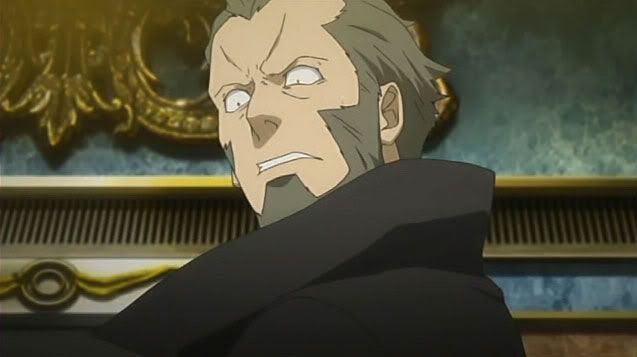 Spike: Nice's bombs are not awesome! (yes they are)

*ka-boom!*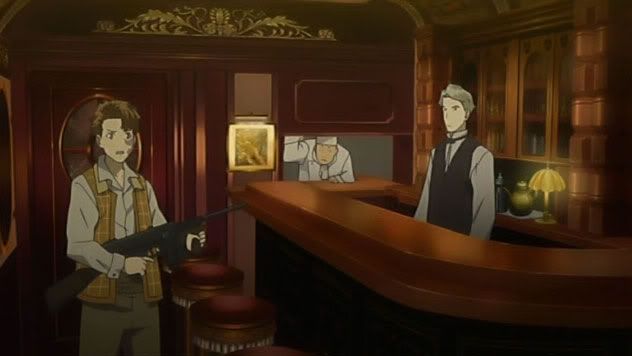 Jacuzzi: Hey guys, I'm going to be leaving soon, so you'll have to take care of yourselves, okay?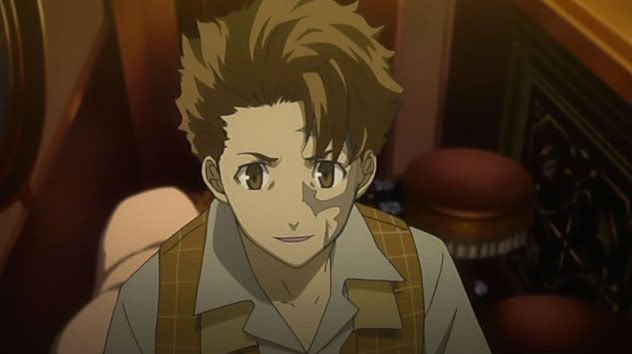 Jacuzzi: I need to go be a badass.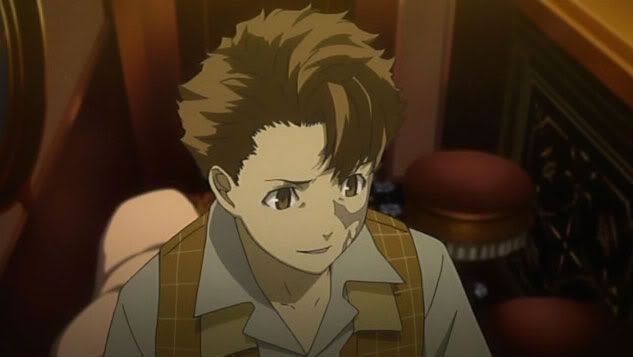 Jacuzzi: And maybe totally impress Nice. That would be cool.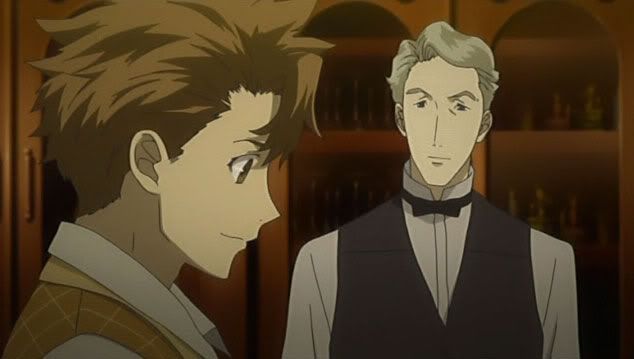 Jan: ...but aren't you scared?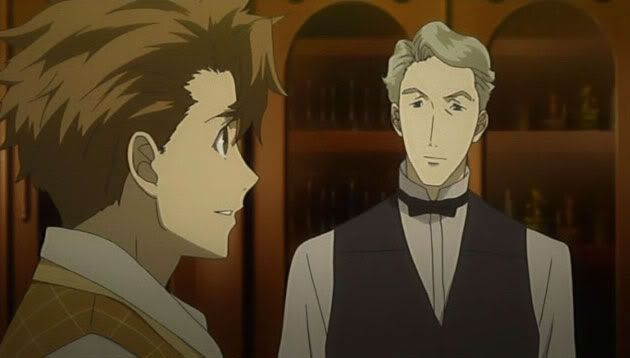 Jacuzzi: Oh god yes I am.

MEANWHILE, THOUSANDS OF YEARS AGO...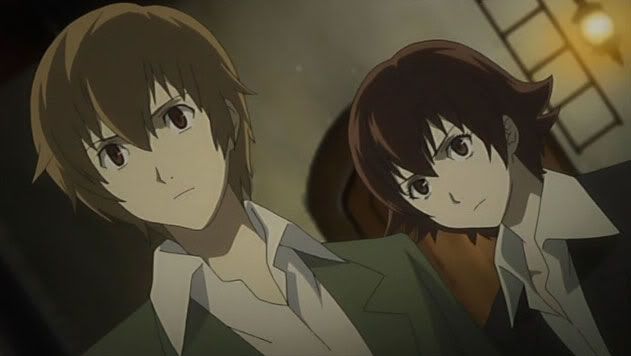 Firo: I don't really like you, Dallas. Could you, you know, not point a gun at me?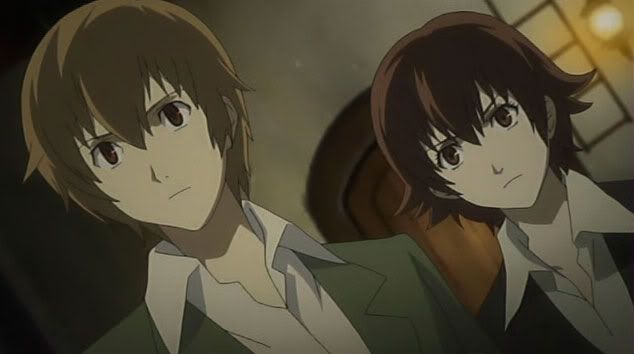 This is almost the same picture as the last. What's up with that? Oh well, Firo and Ennis ♥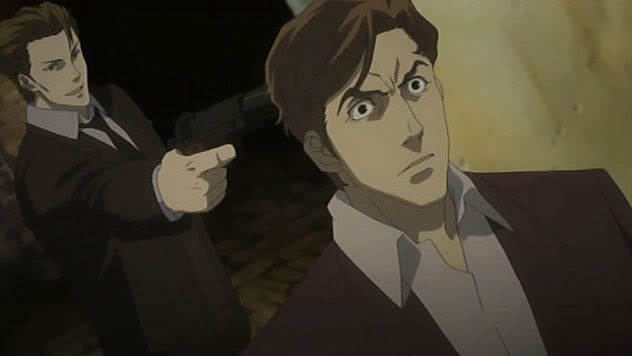 Luck: LOL, Dallas. Prepare to die! Team Gandor, ASSEMBLE!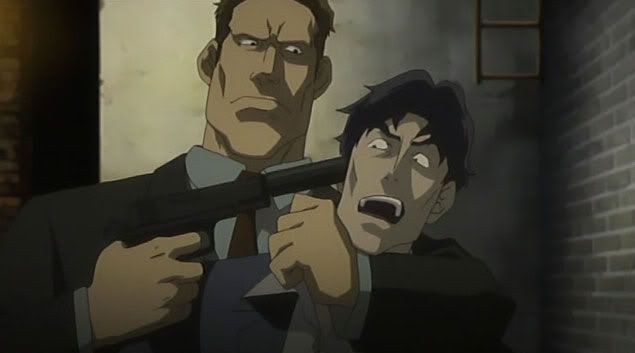 Berga: Sounds good.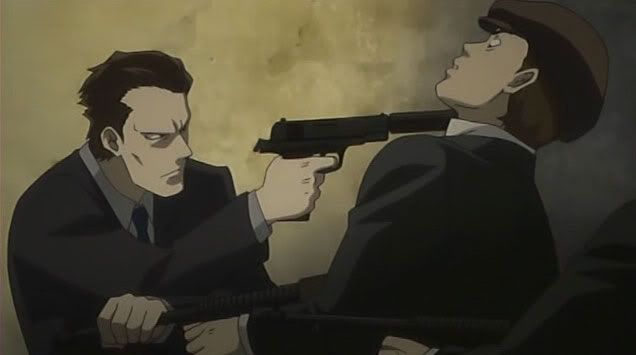 Keith: Yeah.
Okay, so Keith totally being completely amazing in this picture? I think so.

*BLAM BLAM BLAM!*
Luck: And that takes care of that.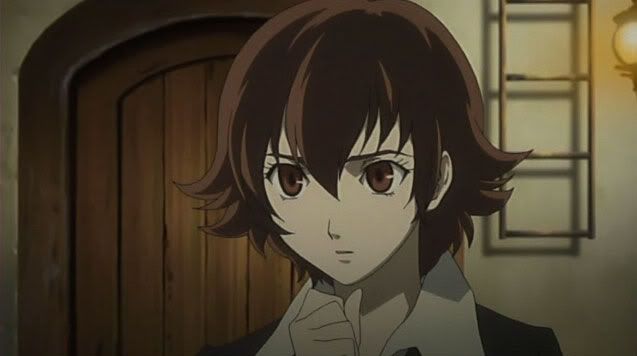 Ennis: ...yeah, except they're immortal, remember?
Berga: What? Oh shit.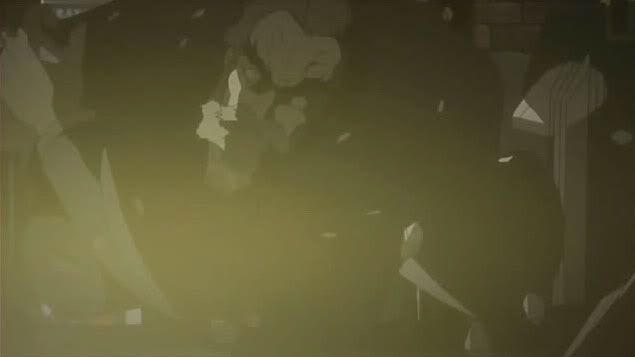 Szilard: Maiza, you'll never escape m- OH SNAP A CAR


Meow-meow-foot-train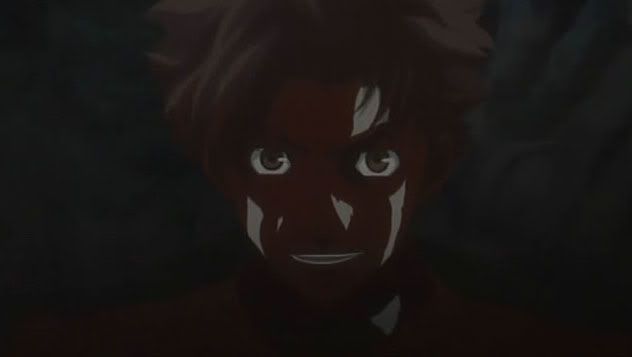 Announcer: EVENT OF THE CENTURY!! STANFIELD VS RUSSO!!



Claire: Fighting you is like watching a movie.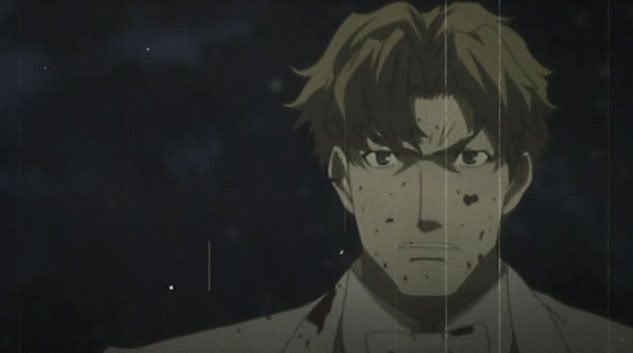 Lad: Huh?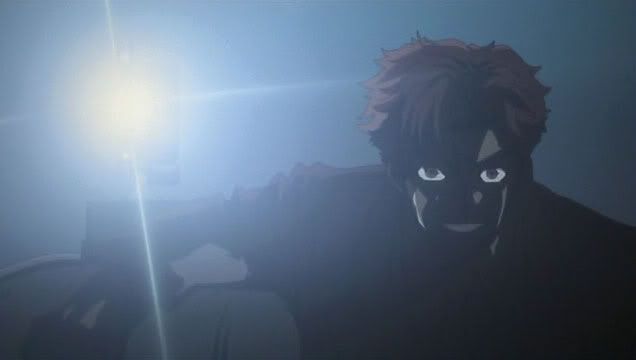 Claire: I could totally just eat popcorn and sit on a couch while I do it.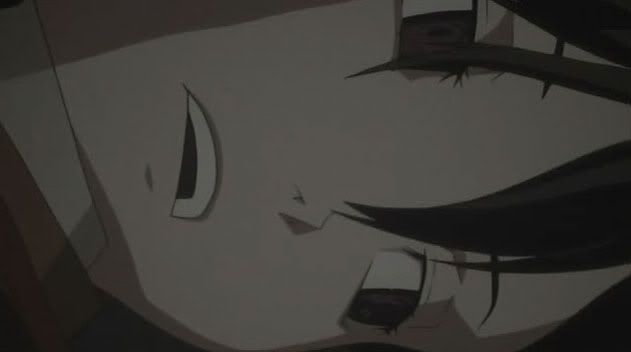 Czes: Sometimes I wish I could just die.

[FLASHBACK]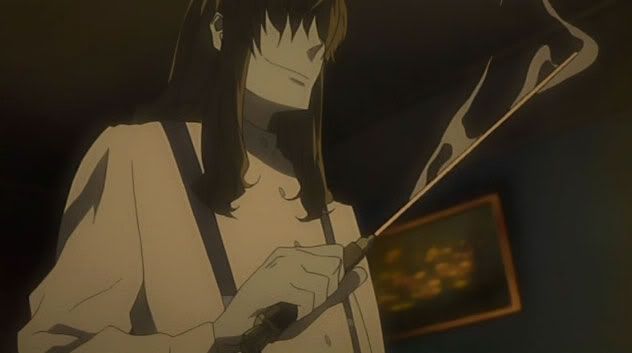 Fermet: It's time for your optometry appointment, Czes-kun!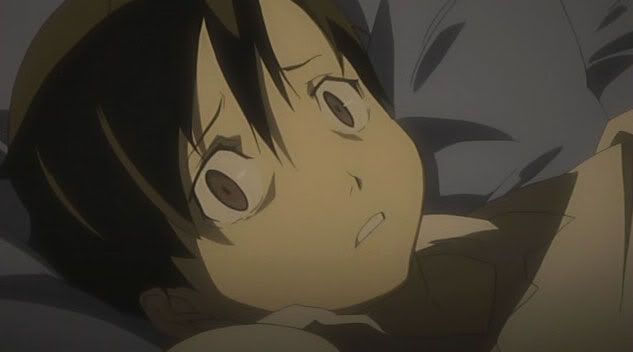 Czes: B-but my eyesight is fine!!!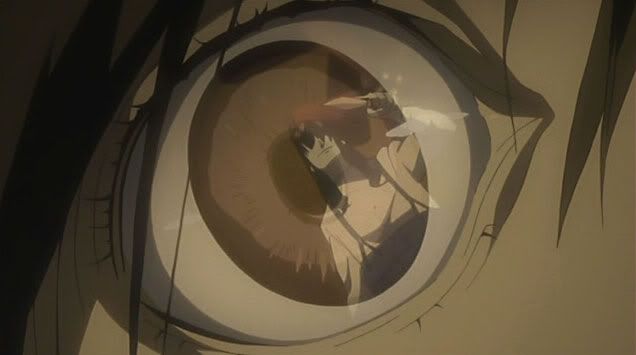 Fermet: Oh really...?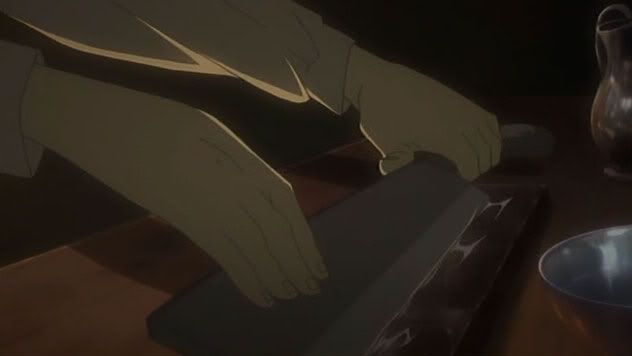 Fermet: Oh Czes-kun, it's time for exploratory surgery!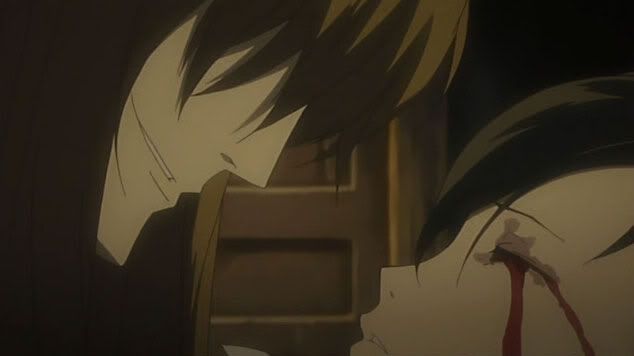 Czes: Why are we exploring now?
Fermet: Because I like it.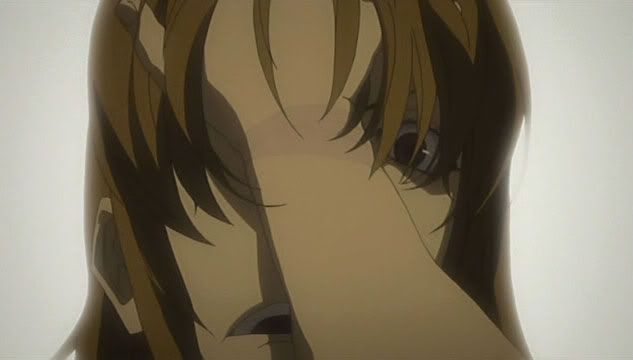 Czes: How about not?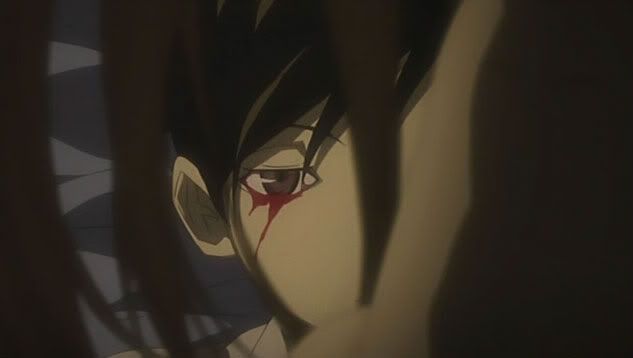 Fermet: Why, Czes? WHY?
Czes: Because you are sick, twisted person.

I think he totally deserved that.
[END FLASHBACK]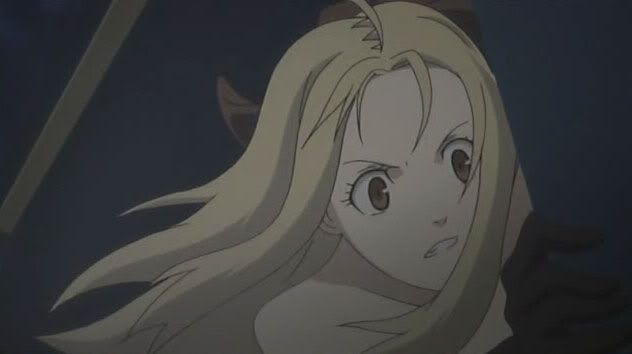 Miria: It's Czes! He's under the train!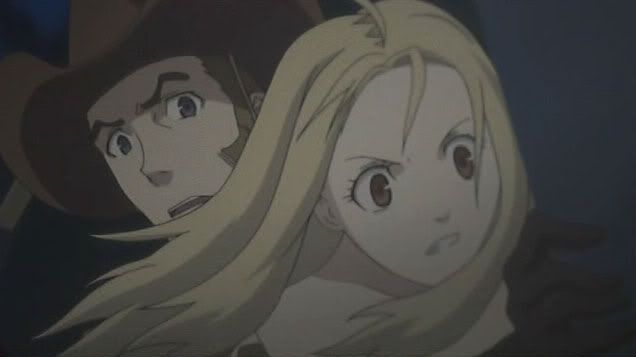 Issac: Oh man, we need to save him!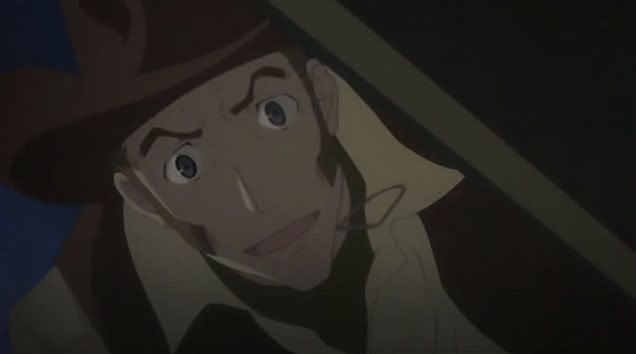 Issac: Hey Czes, it's going to be alright, you're going to be okay!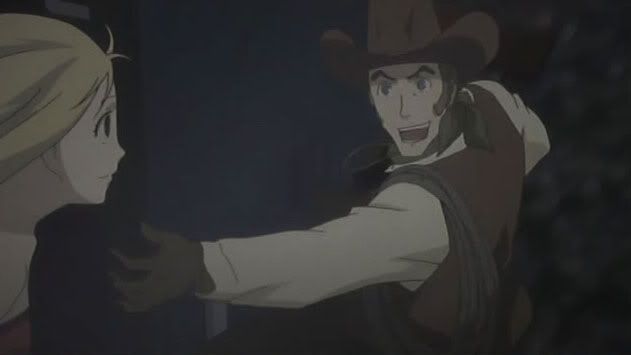 Issac: He's alive!

Czes: OMG YOU'RE AN IMMORTAL DON'T TOUCH ME WITH YOUR RIGHT HAND NOOOOOOOOOO!!!! Whoops!

...and everyone slips.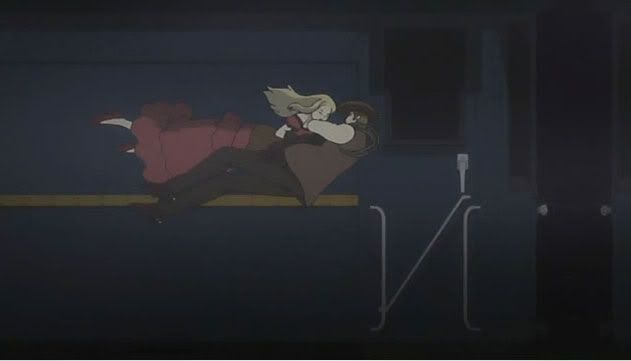 Miria: Don't worry Czes, you'll be okay!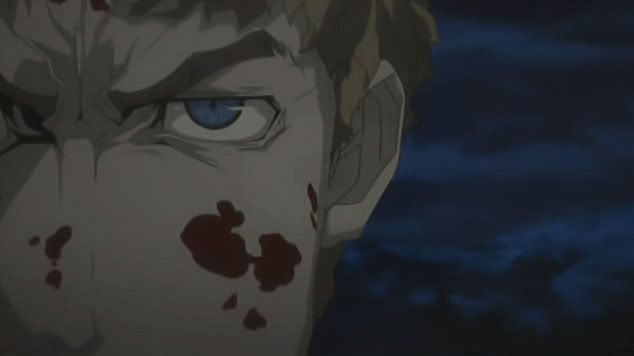 Ladd: Now I think you're just making fun of me.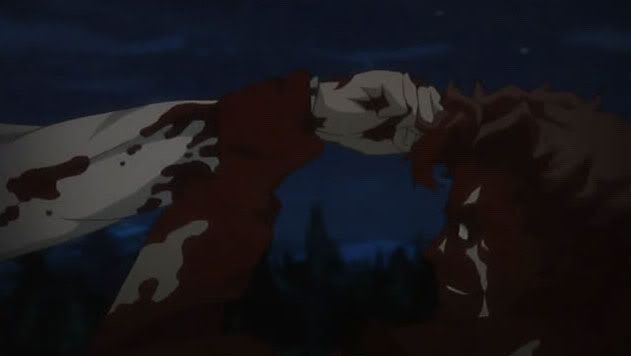 Claire: My, how observant. I am.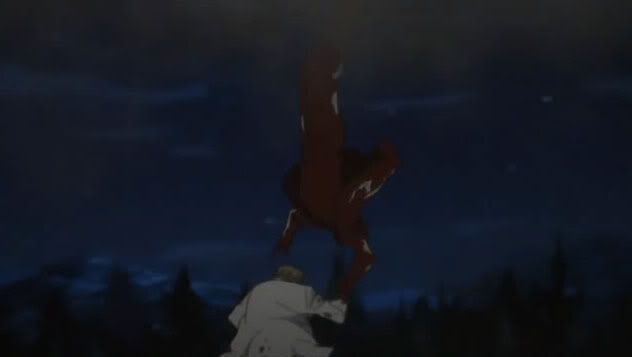 Claire: I tell you, this is like taking candy from a baby.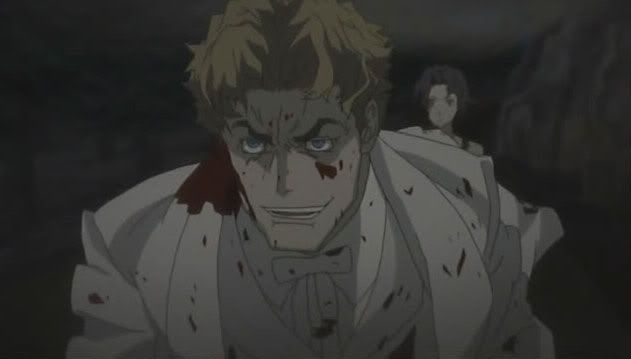 Ladd: Now I'm really pissed off.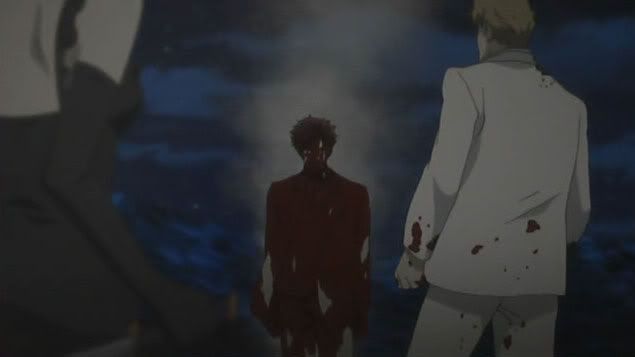 Claire: And what are you going to do about it?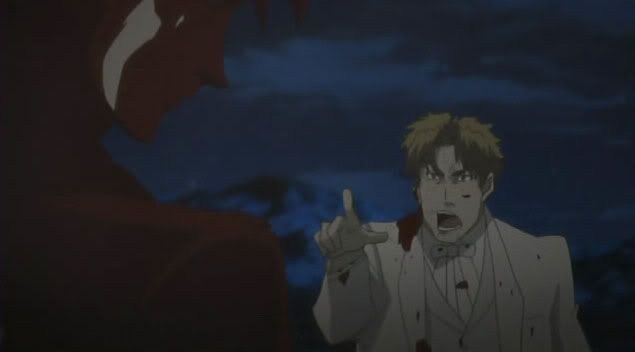 Ladd; You listen here, I'm a VERY feared person! Men quiver in fright when they hear my name!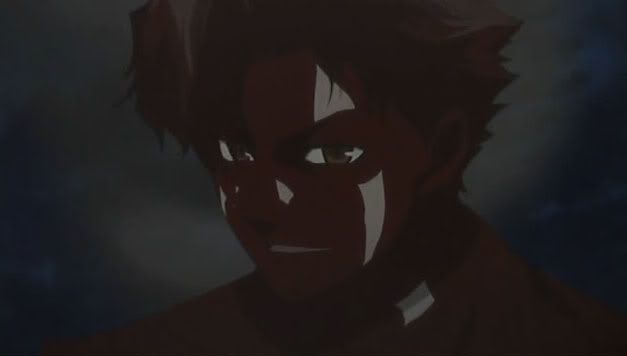 Claire: Yeah, but you're probably just a big softie when it comes to some people... oh, like your girlfriend.



Lua: ...this isn't a good time, is it?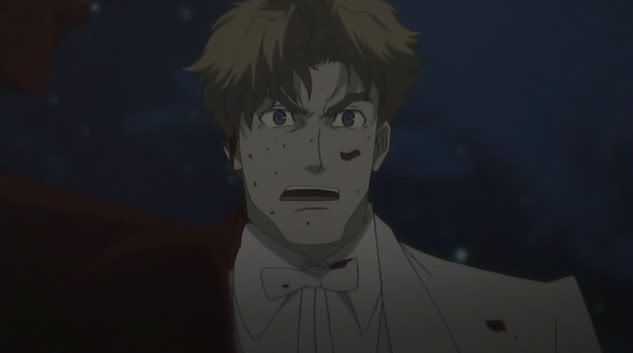 Ladd: Fuck.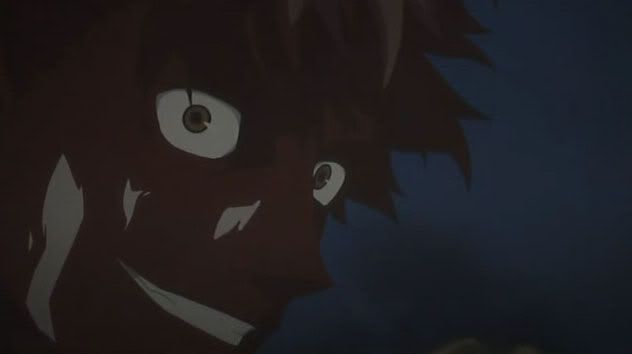 Claire: =D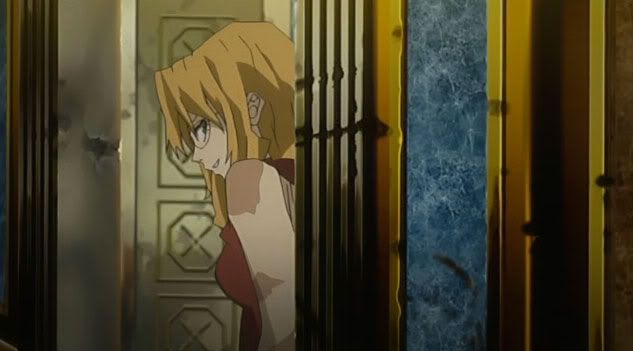 Nice: Kekeke... That one hurt 'em.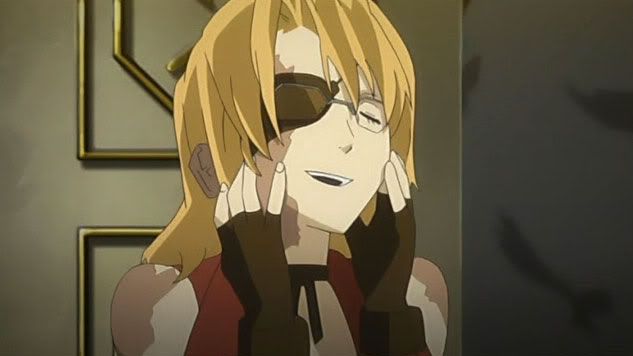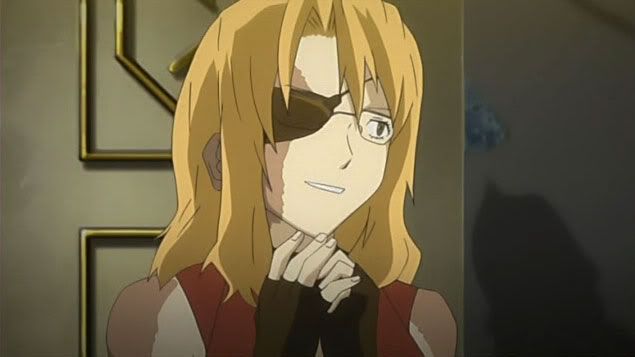 Nice: Oh, I love explosives so.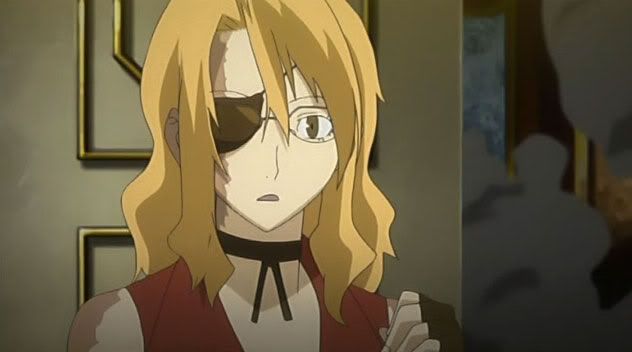 Nick: Nice!!! Stop it! That's enough explosives!!
Nice: B-but....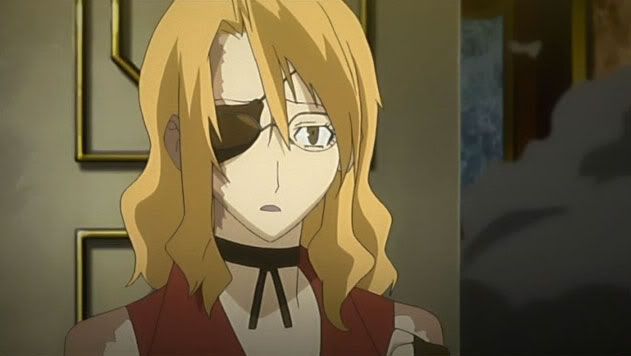 Nice: ...fine.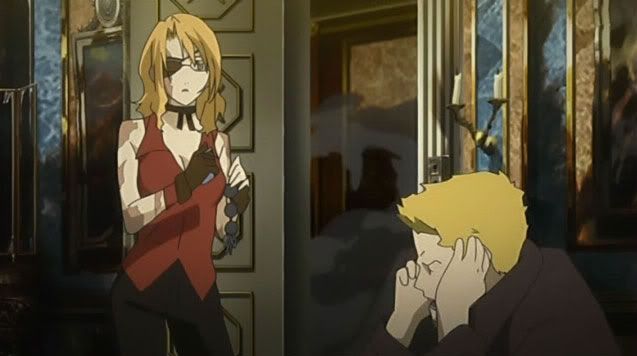 Nick: Good! Much more and you'll destroy the entire train!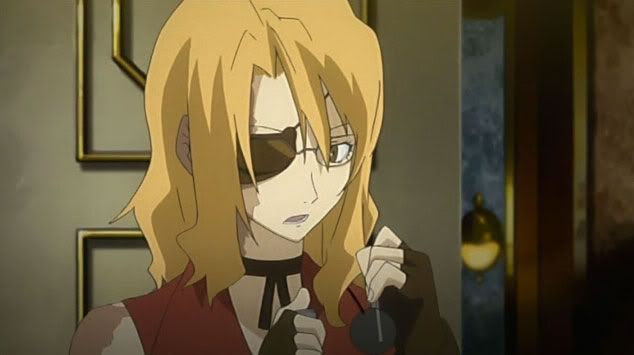 Nice: Well, I don't want these to go to waste...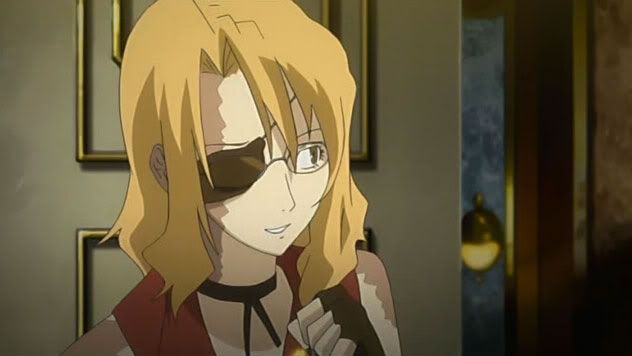 Nice: One more set won't hurt, right?



Nice: Naw, it wouldn't.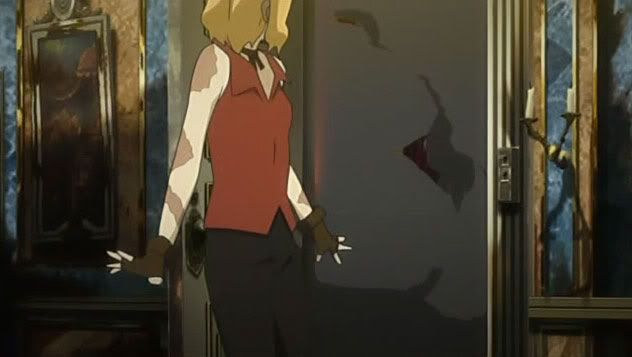 Nice: Eeeee ♥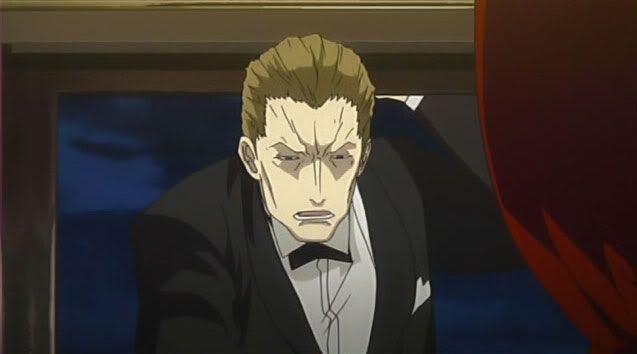 Goose: Hey guys, I'll show you want happens when you try to escape from us.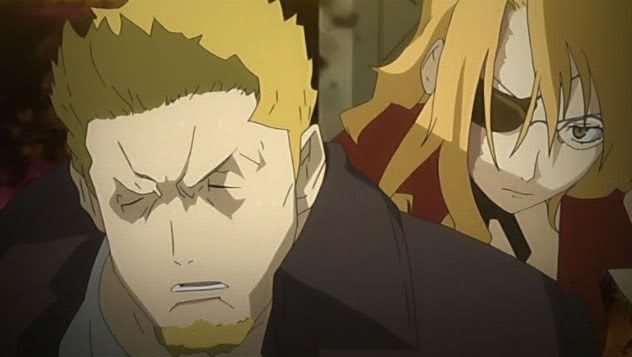 Nick: Uh-oh.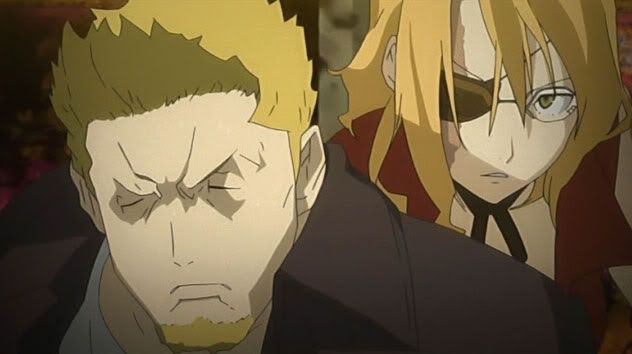 Nice: Shit.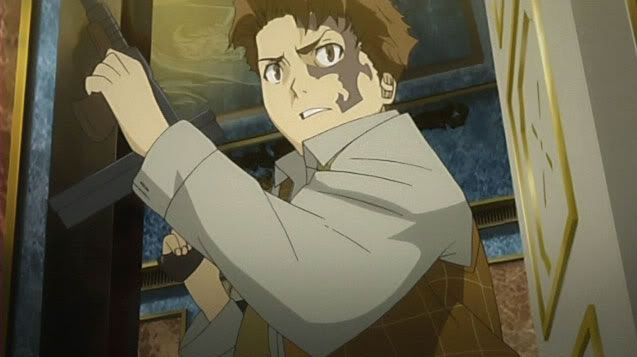 Jacuzzi: HEY THERE. I'll show you what happens when you mess with my friends.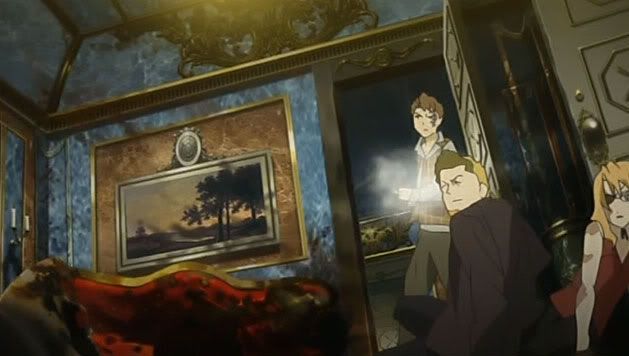 Jacuzzi: Take this!!! *ratatatatatatatata*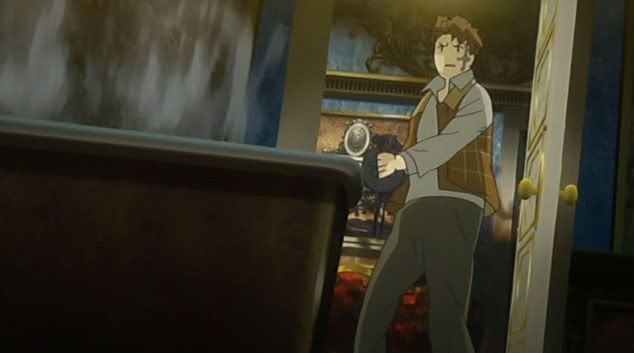 Jacuzzi: Oh yeah, you hide behind the bathtub. You stay there. Bitch.

In the time of Dinosaurs a certain mafia party: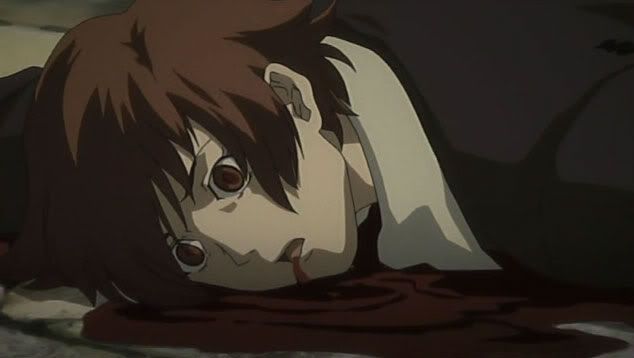 Ennis: Dying sucks. Everytime.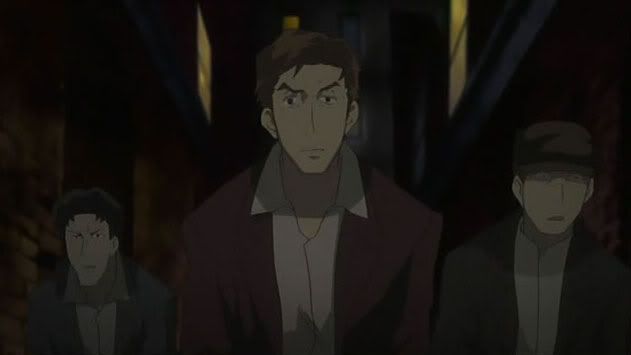 Dallas: Well, they're dead. What else should we do tonight? Rent a porno?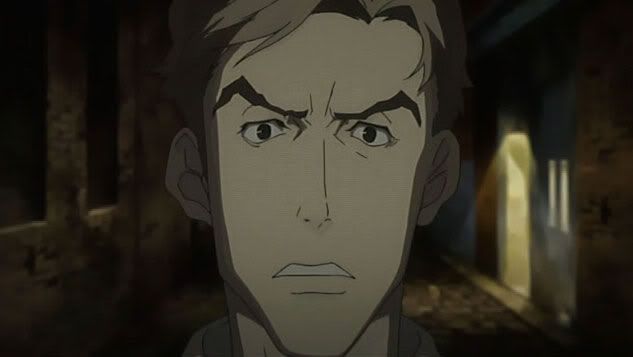 Dallas: What's that light...?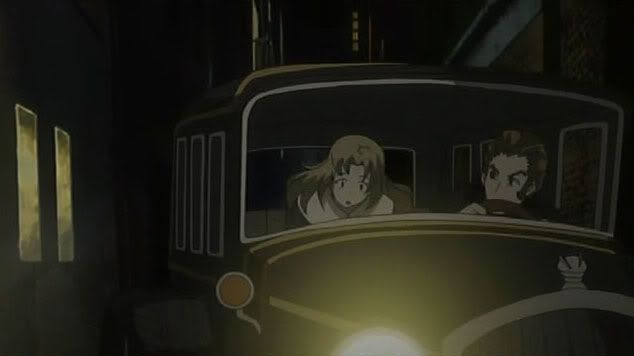 *THU-BUMP CA-RUNCH*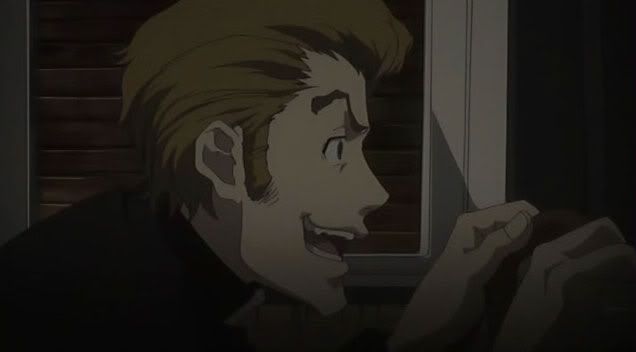 Issac: I feel so alive!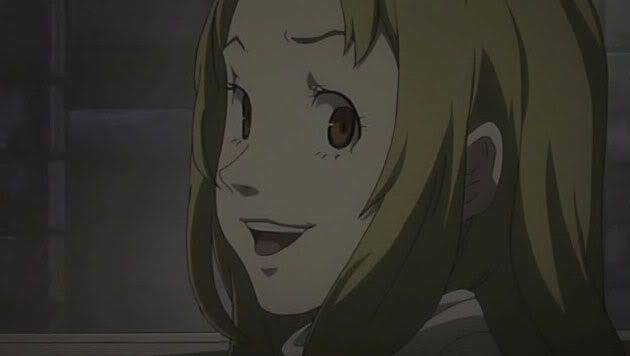 Miria: Ne, Issac! Do you even know how to drive?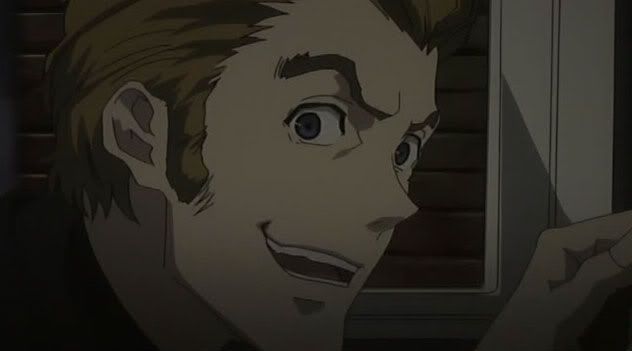 Issac: No clue!!



Issac: But I think I'm getting it down!
(Issac totally reminds me of Lupin in this picture)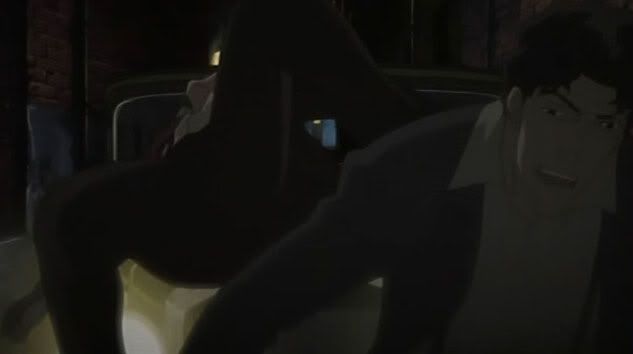 Dallas: Oh shiiiii- *KATHUMP*
Everyone: YAAAAAAAYYY!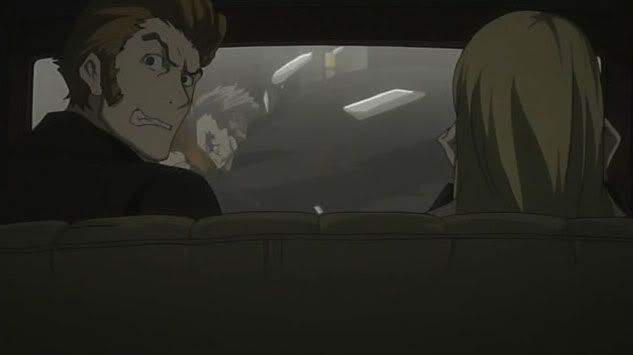 Issac: Serves you guys right!
Miria: Issac, look out the front! The front!!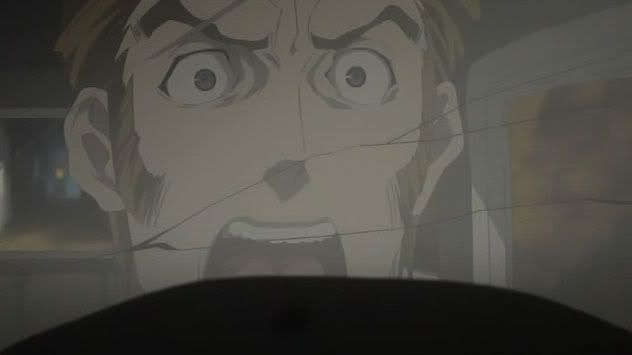 Issac: AAAHHH! I've killed an old man!!


Pussyfoooooot: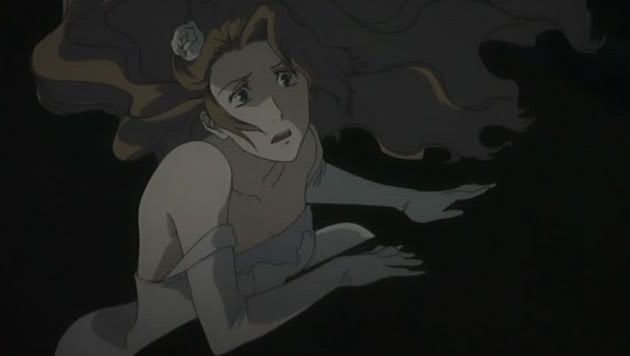 Lua: I don't think my sudden appearance is going to be a good thing.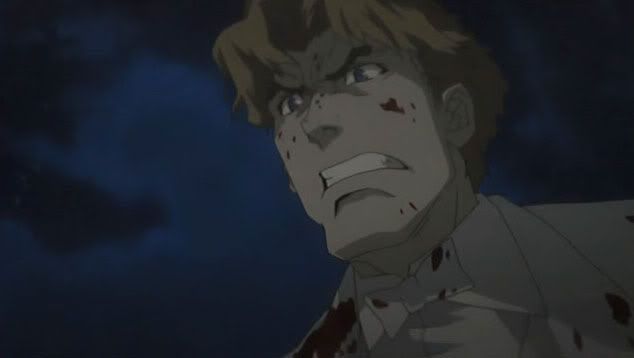 Ladd: Erggggggg....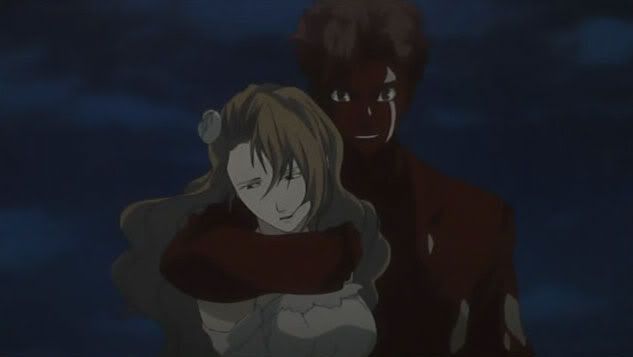 Claire: Now I've got your girl. What are you going to do?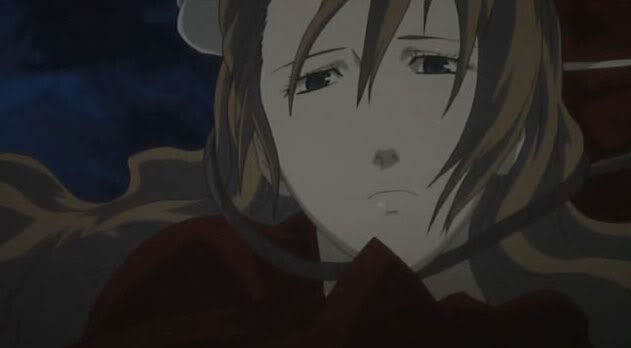 Claire: I'm going to slip this around her neck and she'll have her head fly off when the cord runs out. What is your choice?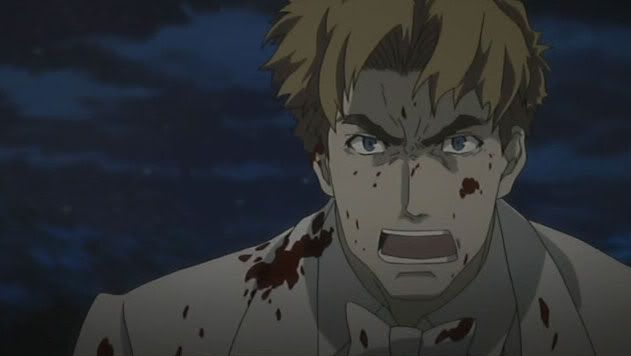 Ladd: YOU SON OF A BITCH. *totally saves Lua like the badass he is, but loses a few fingers on the way*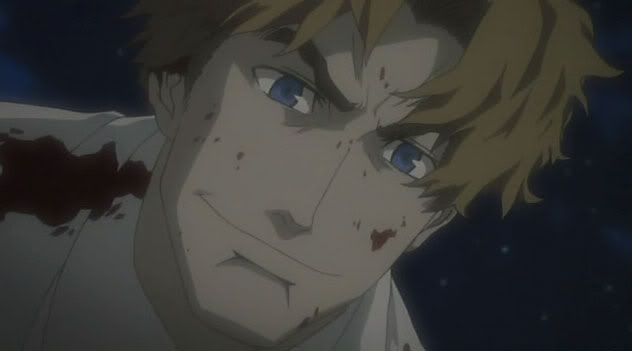 Ladd: Don't forget, I'll be the one to kill you.
(Oh Ladd, can;t you just say you love her?)



Ladd: Now let's get down safely! *smashes into pole-thingy*
(I feel pretty bad for him, that had to hurt so freaking badly)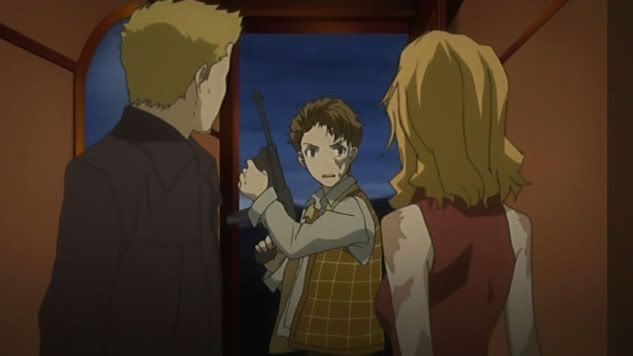 Jacuzzi: You two go back to the dining car, I still have badass points to earn.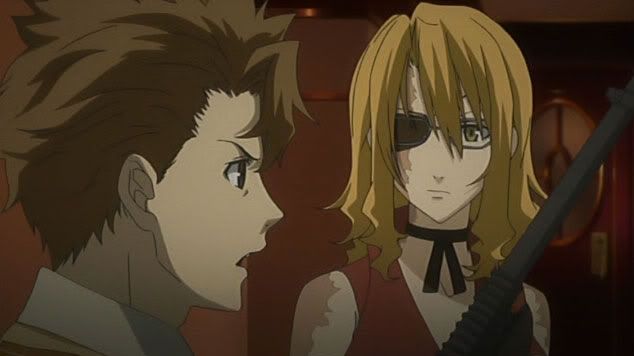 Jacuzzi: I think Cliare might be beating me point-wise, so I have to surpass him.
(No, Jacuzzi, you're always the winner in my books)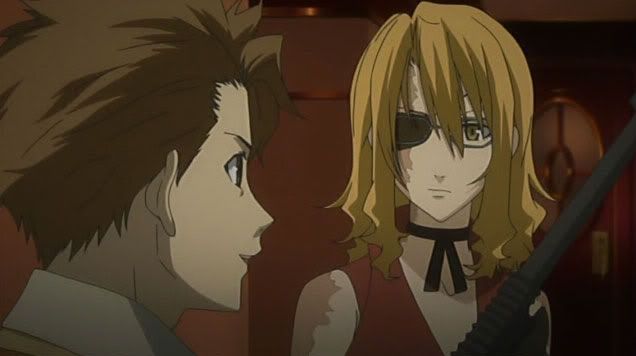 Jacuzzi: But, stay safe, okay?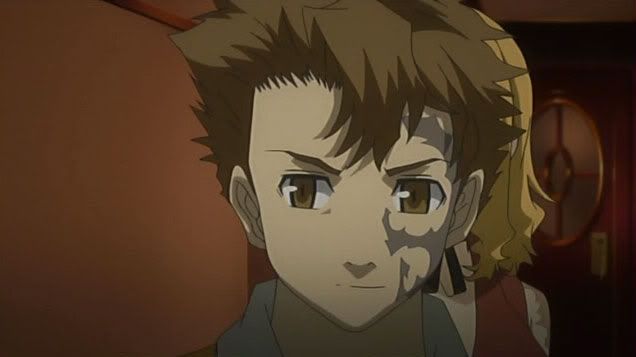 Jacuzzi: ♥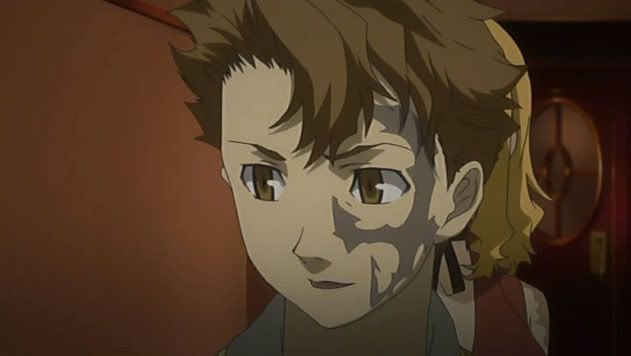 Jacuzzi: Well then...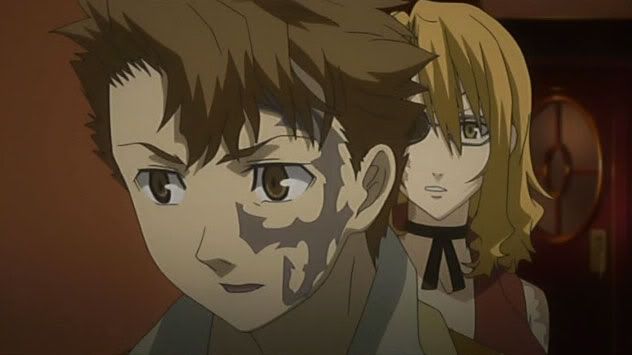 Jacuzzi: I'll be heading off.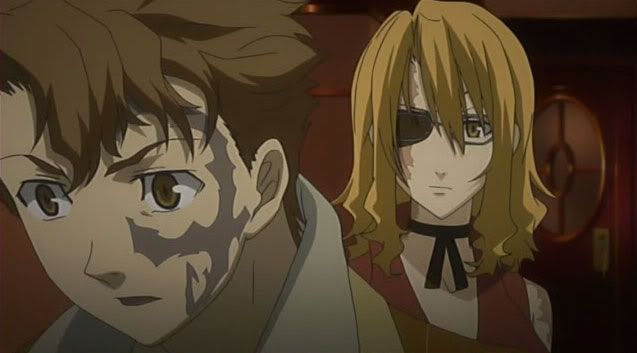 Nice: Wait.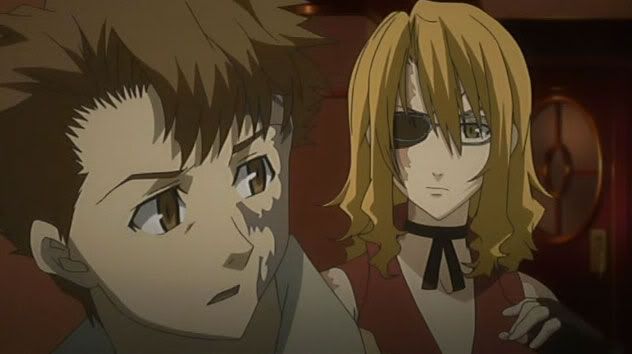 Nice: Let me give you something.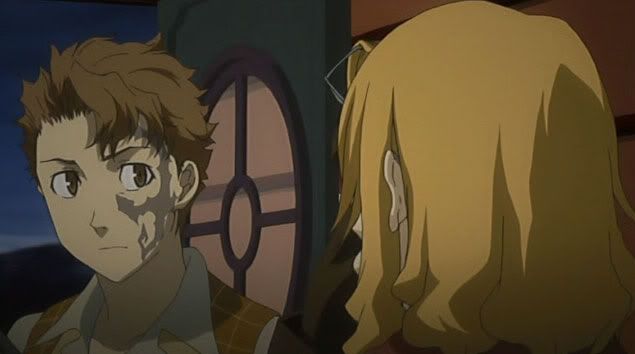 Jacuzzi: (Nice looks pretty hot without her glasses too!)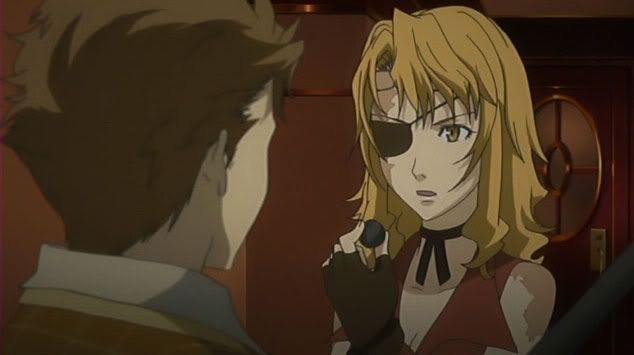 Nice: This is my super special awesome bomb. Take it.
Jacuzzi: Did you take that out of your eye? O_o;;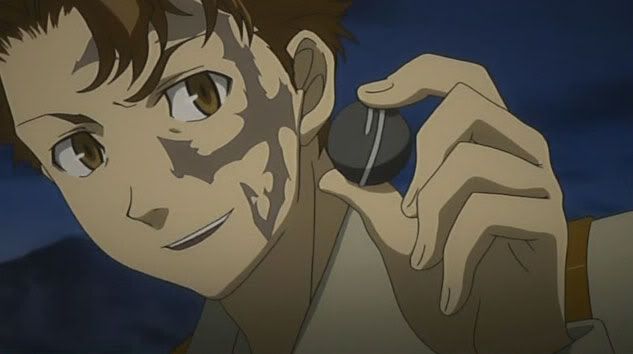 Jacuzzi: Thanks, Nice. I love you. ♥



Jacuzzi: I'll return safely.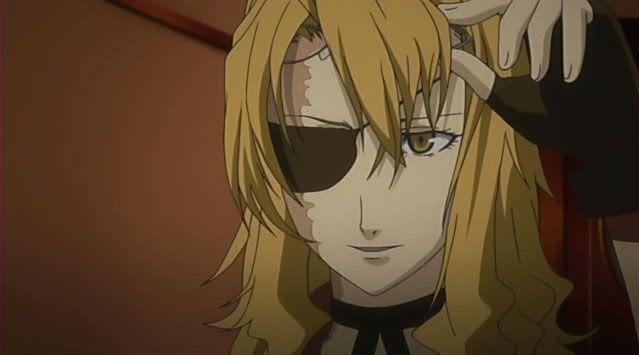 Nice: Oh, you best return safely.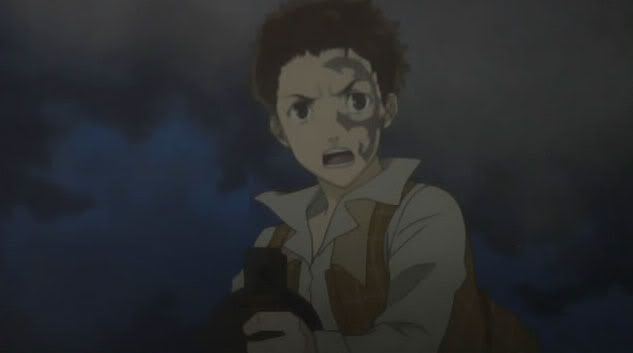 Jacuzzi: HEY I THOUGHT I TOLD YOU TO STAY BEHIND THE BATHTUB.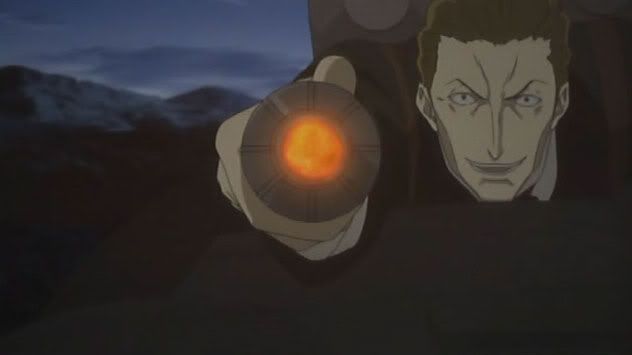 Goose: No thanks, but I thought I'd heat things up for you!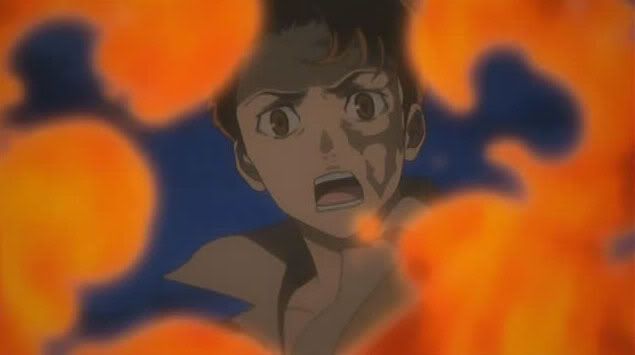 Jacuzzi: This kind of heat is murder for my hair!!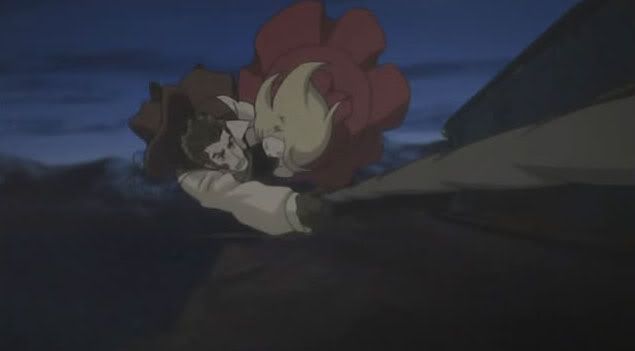 Issac: Hang on Miria, hang on Czes!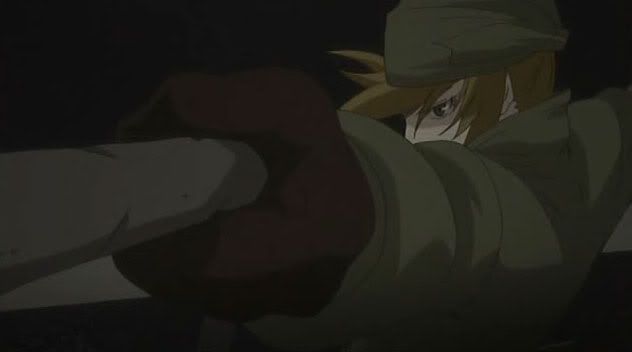 Rachel: Don't worry, I have you!!
Rachel is now a level three hero!
Rachel: Oh snap, I can't hold onto three people!
(She has to be a level 12 hero for that)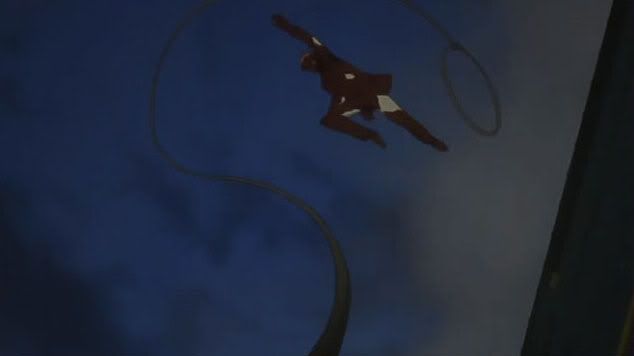 Claire: Never fear, Claire is here!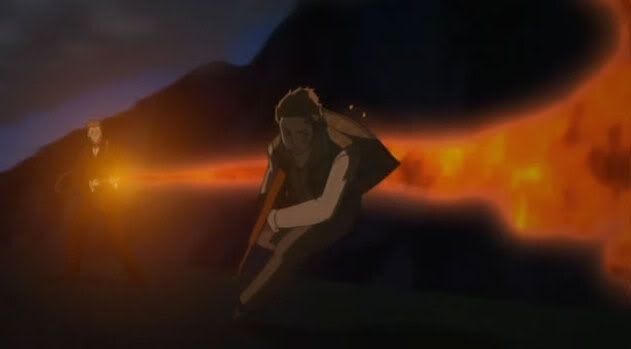 Jacuzzi: Where the hell did he get a flamethrower?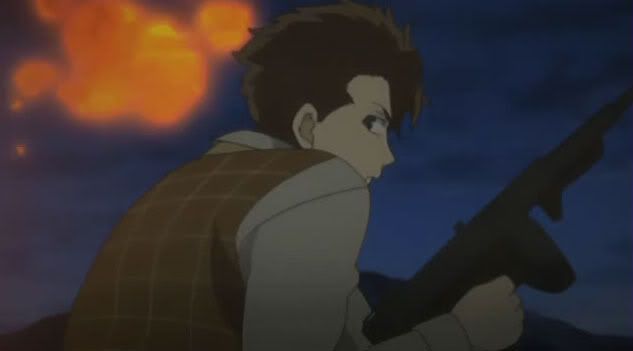 Jacuzzi: Okay, now I'm starting to be really ticked off.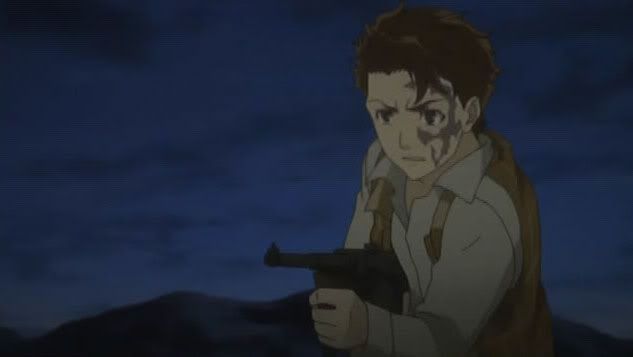 Jacuzzi: Suck on this!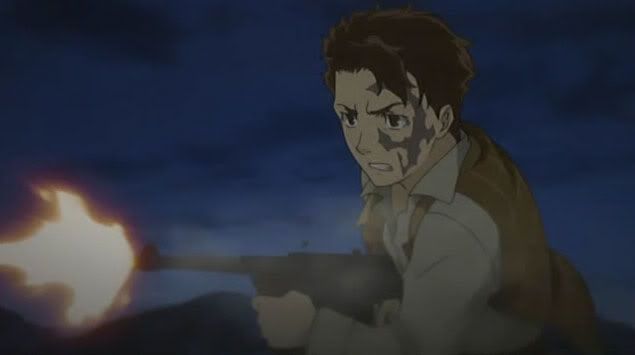 Jacuzzi: SUCKER.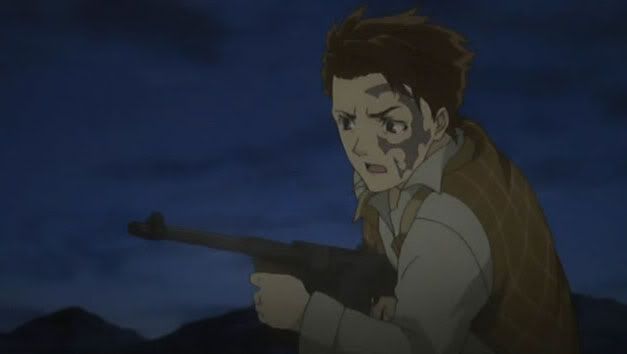 Jaccuzi: Oh damn, out of bullets.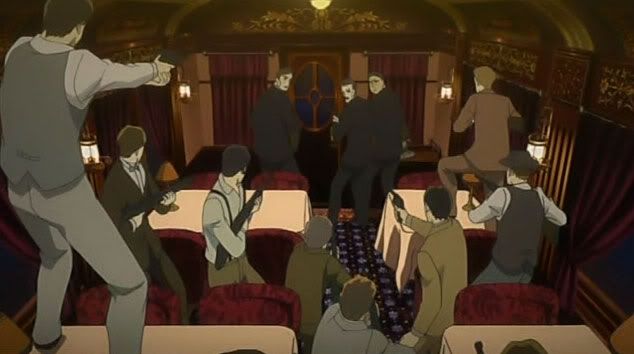 People: Hey black suits, put your weapons down! We're going to protect ourselves now!
Black suits: ...damn.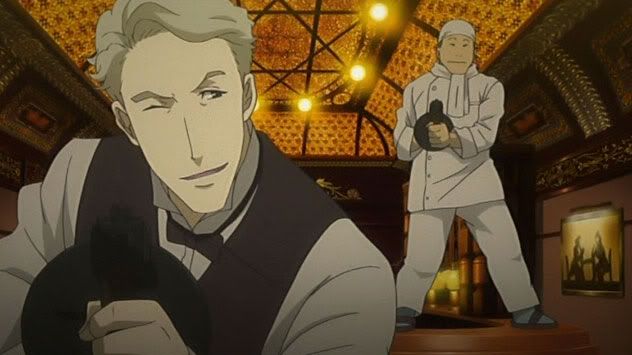 Jan: If Jacuzzi can do this, I reckon we can too.
Fuan: I guess so!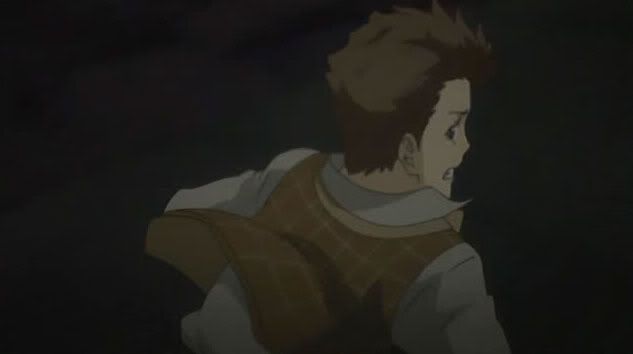 Jacuzzi: RUN RUN RUN RUN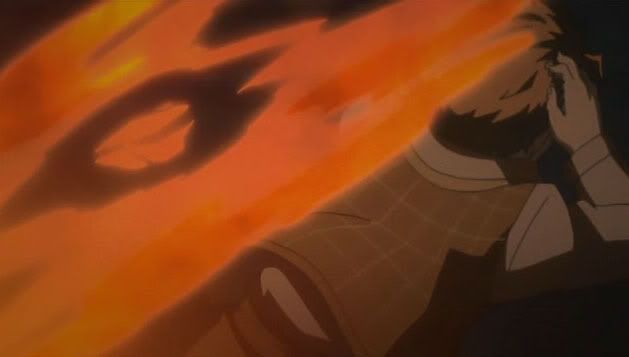 Jacuzzi: FIRE!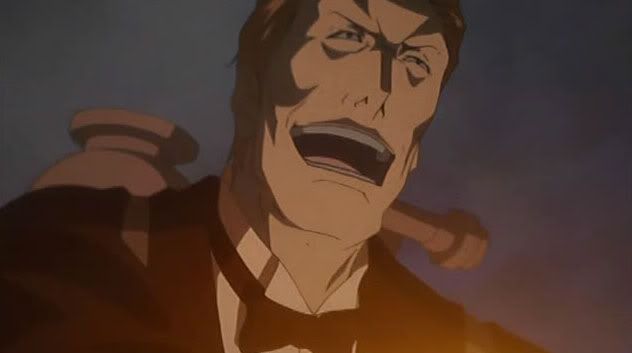 Goose: LOLOLOLOL!!!!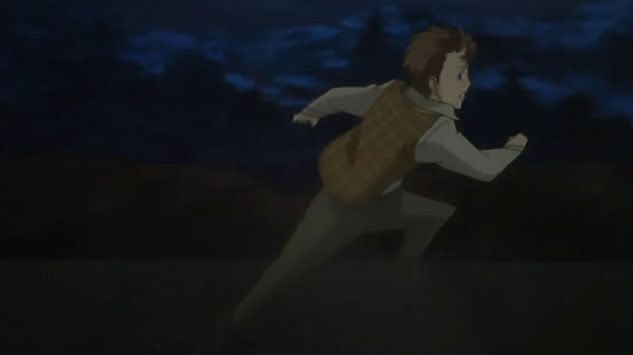 Jacuzzi: I think he's gone insane! Wait, that reminds me...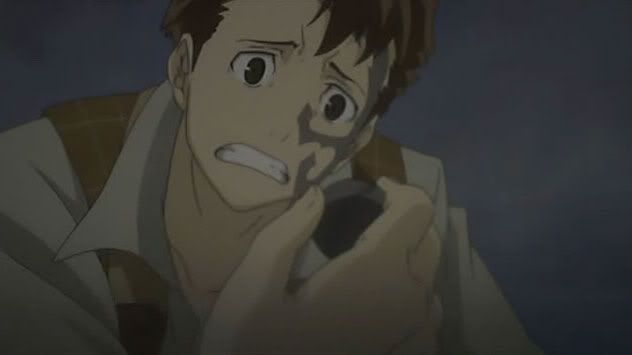 Jacuzzi: ...Nice's bomb! Now, if I only had some way to light it....



Jacuzzi: Oh. Duh.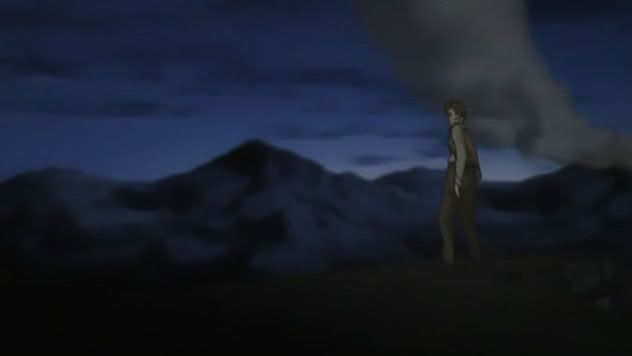 Jacuzzi: Well, this could be suicide.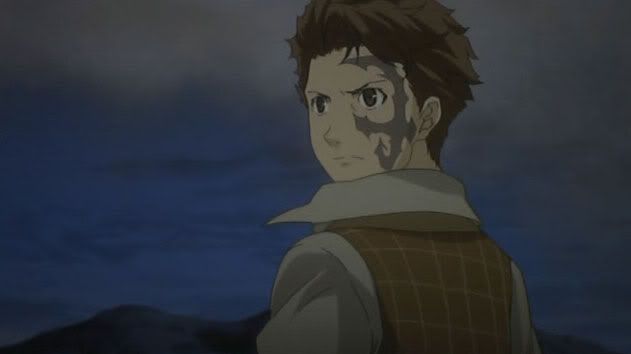 Jacuzzi: But I've got to do it.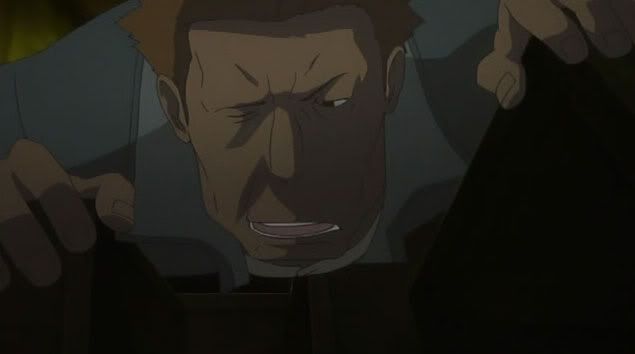 Donny: I probably should have asked what the thing I'm looking for looks like before trying to find it. Ugh.
*Thump*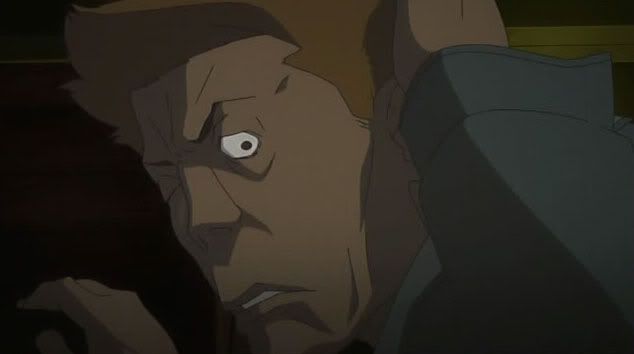 Donny: "Thump?" What was that?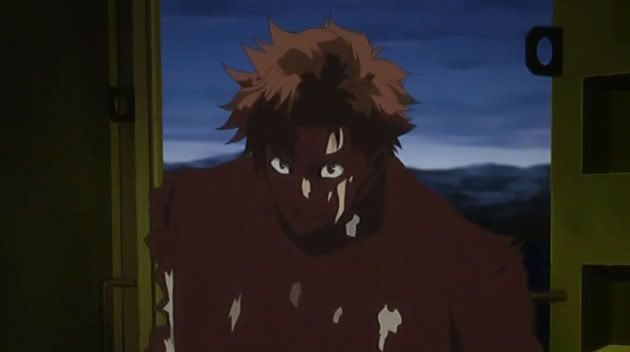 Donny; R-RAIL TRACER?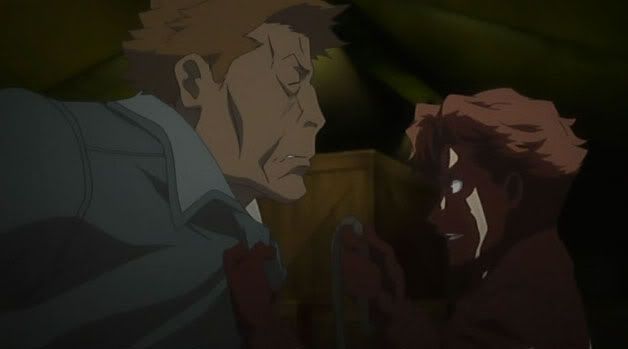 Claire: Hey there big guy. You're going to hold onto this rope then pull these people in.



Claire: Because they are good passengers, and I like good passengers.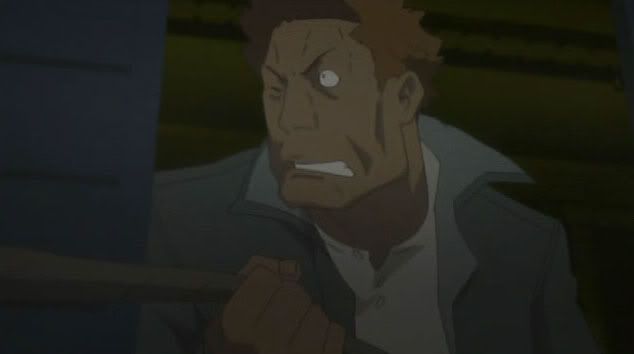 Donny: There are people on the other end of this?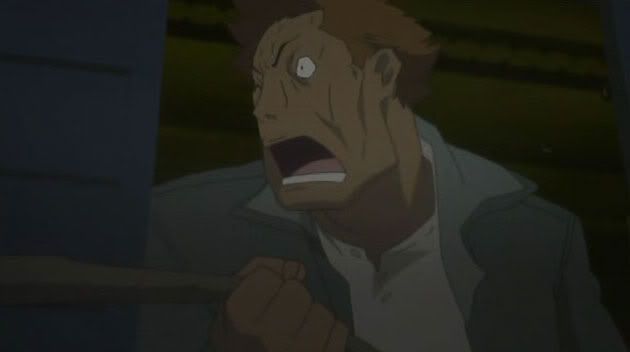 Donny: ISSAC? MIRIA???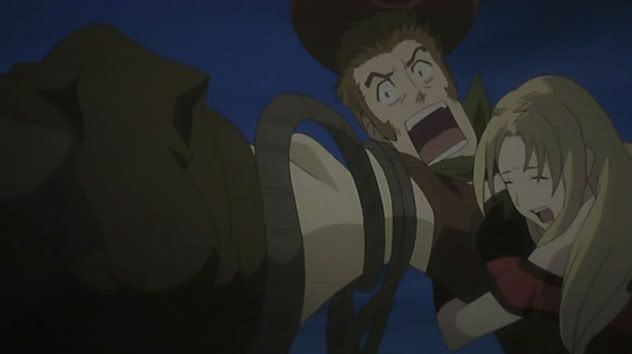 Issac: GAAAAHHHHHH!!!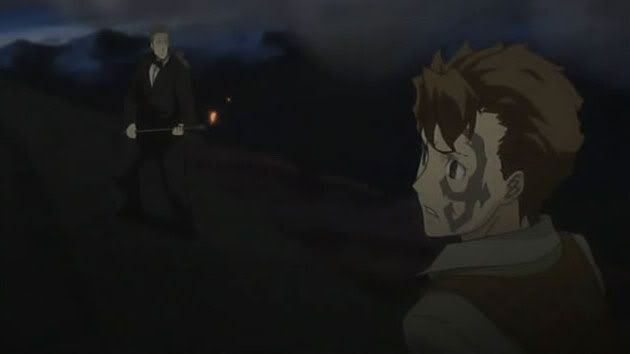 Jacuzzi: Strange, I thought I heard Issac screaming.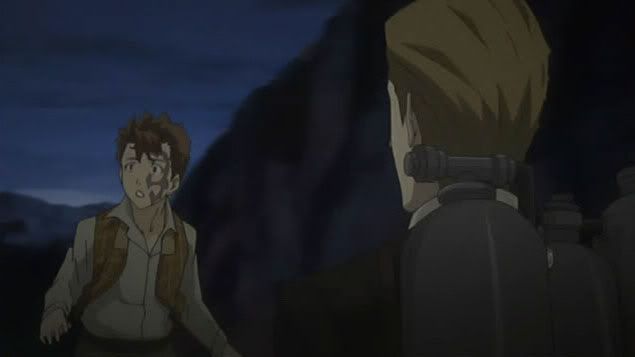 Jacuzzi: Holy crap, check that out!
Goose I'm not falling for tha-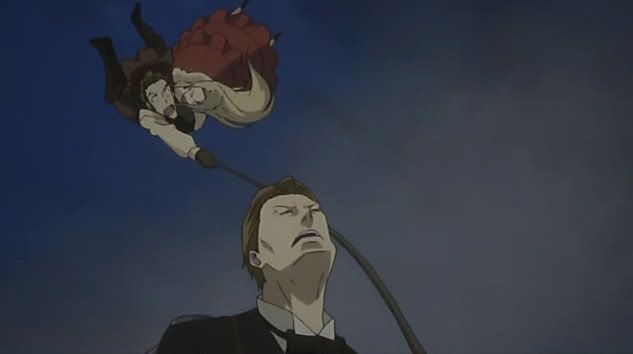 Issac: UWAAAAAAARRRGGGGG!!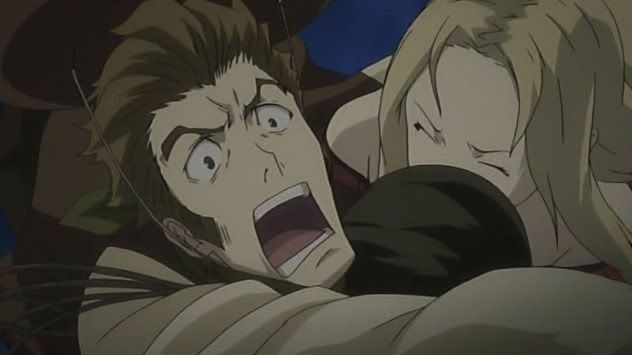 Issac: HELP US!!!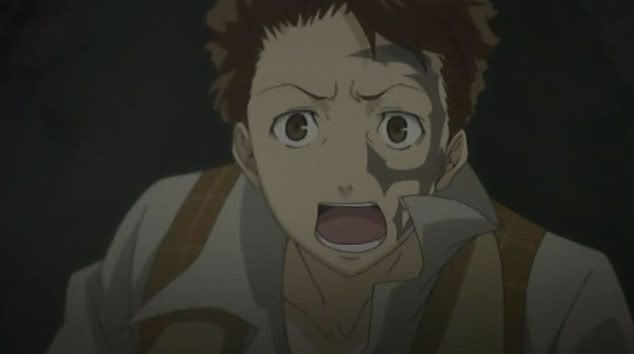 Jacuzzi: ISSAC? MIRIA? HOW THEY HELL DID YOU GET UP THERE?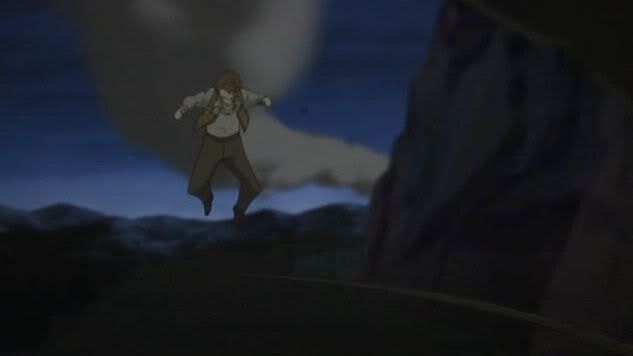 Jacuzzi: This is like jump rope!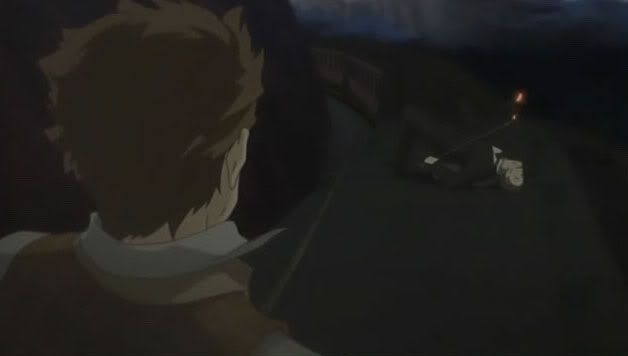 Goose: I sucked at jump rope.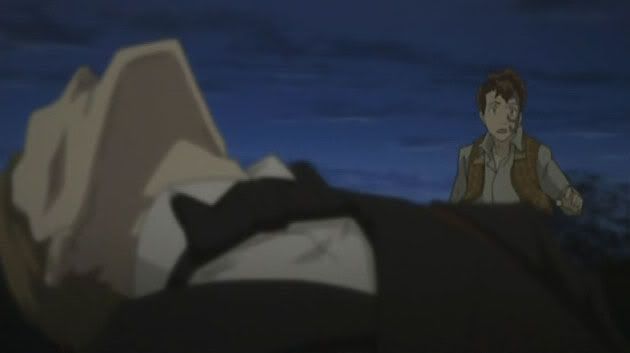 Jacuzzi: Oh man, are you alright?

LIGHT YEARS AGO:


*THUMP!!*
(I had to screencap every time Lizard gets hit with the car)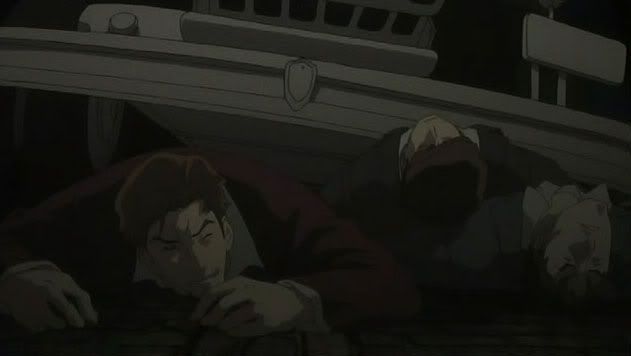 And Dallas & Co getting run over? This episode is so very cool.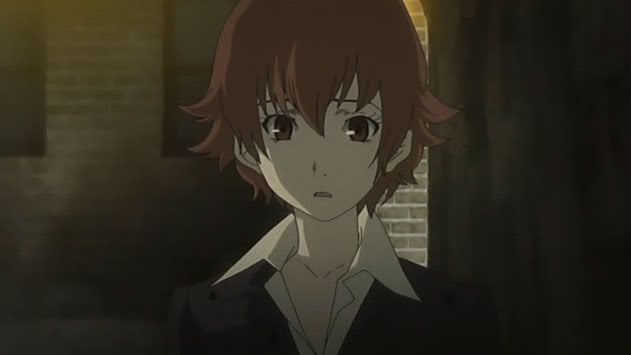 Ennis: I'm so confused...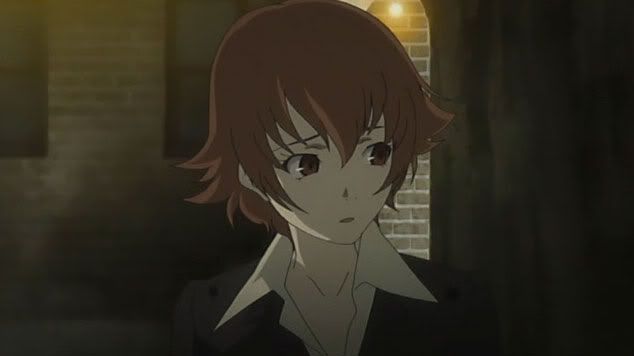 Ennis:...Lizard is a giant ass, but he did make me...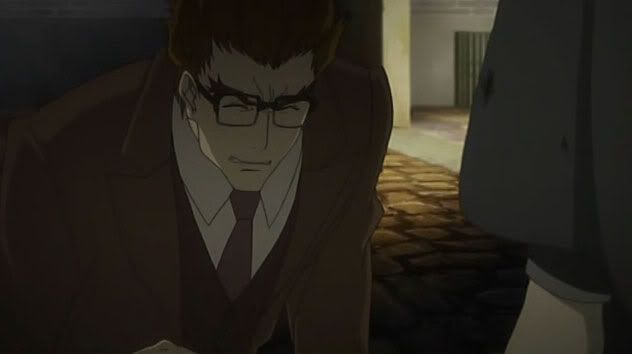 Maiza: Why do I get all the crappy parts lately?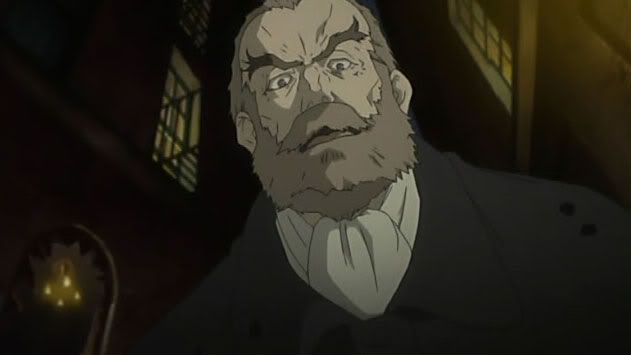 Lizard: Because everyone thinks you are pedophile.
(I must admit, I do... I do... but I still love you, Maiza)

What's Next on Baccano!?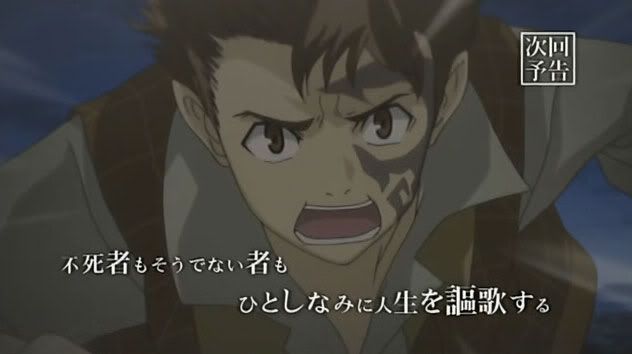 Jacuzzi's badass points rise to levels never seen before!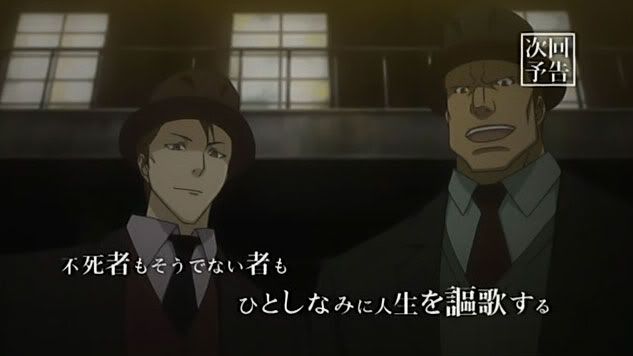 The Gandors are obviously not dead!
Berga: Hells yeah!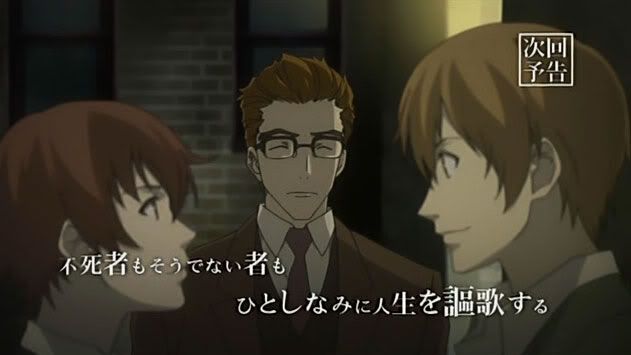 Maiza gets left out like usual!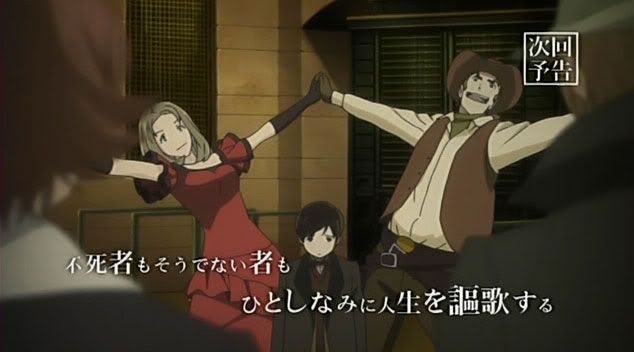 And Issac and Miria attempt to cheer Czes up!

Summary:
Firo, the Gandors, and Ennis get shot up by he immortal asshat gang. Ennis is alright pretty soon after. Issac and Miria hit the gang with a car, then hit the Lizard, then back up over the gang. Good going, guys, that gets you even more bouns points. Maiza gets shot in the knees (OW OW OW), and Ennis is told to kill Issac and Miria.

Ladd and Claire continue their fight, and Claire takes Lua hostage. Ladd saves her but royally messes up his hand/arm in the process.

Jacuzzi is a pimp and fights Goose. Rachel is a pimp and saves lots of people. Nice and Nick are pimps and blow up people. Issac and Miria save Czes, but get into trouble themselves. Luckily, Rachel, Claire, and Donny each do their part to save them.

Thoughts:

BEST. EPISODE. EVER.

I'm sorry I said bad things about you, Czes. You still scare me, but I see why you act the way you do now. I think you were totally right in sucking Fermet up. What a creepy bastard. D= Now I really want to see Czes genuinely happy.

Issac and Miria were, as usual, completely awesome. Except, I think they may have been more awesome than usual. ♥

Ladd was awesome, and I loved seeing him save Lua. You're insane, Ladd, but I really do think you truly love her. I felt bad seeing him fight Claire. It seemed like Claire wasn't even trying... and that makes Claire even more frightening than before. I still love him, and I love him even more for saving Czes, Miria, and Issac.

Does anyone really need to know how I feel about Jacuzzi? He's so freaking awesome. I love him so very much. You're my hero, Jacuzzi!

I loved Nice's reactions to the explosions. Such a bomb freak. XD

Rachel, holy crap, have you been popping awesome pills? You're the star of the episode, in my opinion. ♥

AND OMG WTF SUGARCUBE IS A MEMBER OF THE DAILY DAYS TEAM? WIIIIINNNNNN.

...I think that's all, which is good, because I have to run to class now.