I didn't understand much of this episode, partially because of my minimal Japanese knowledge and partially because I was making strange noises every time Jacuzzi came on.

55 Screenshots. Blood and some harsh language, worksafe otherwise. Spoilers through ep 5. Basic summary and theories follow.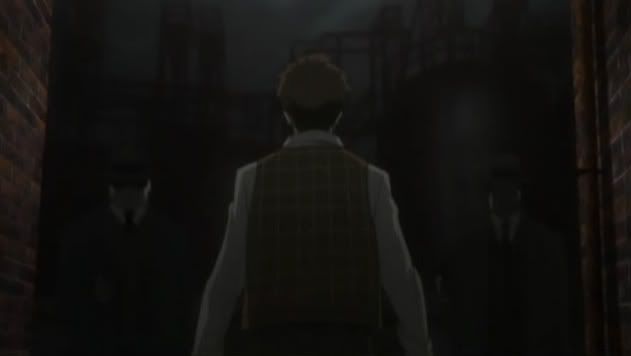 In a dark alley, three men corner Jacuzzi.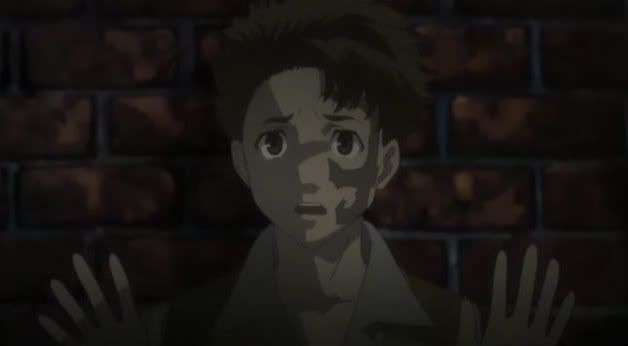 "Hey guys, what's going on?"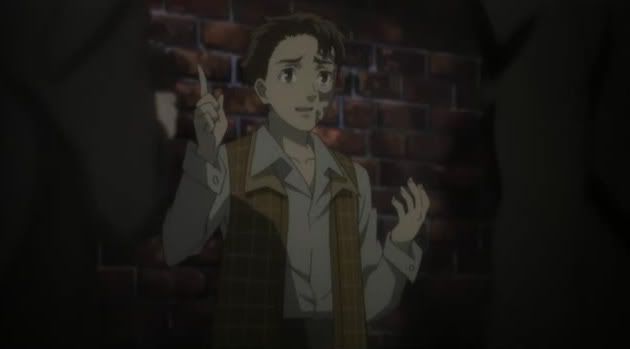 "Oh, you're upset because I ate the last piece of cheesecake at that buffet, right?"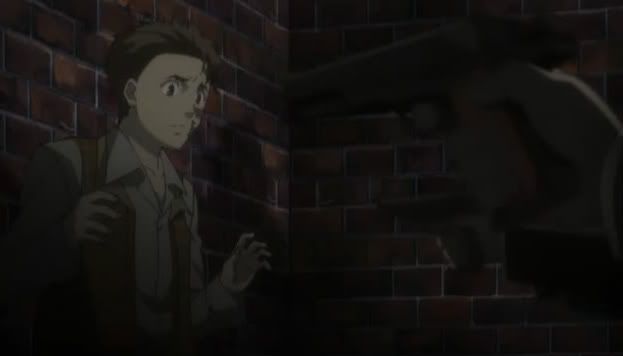 "Hey, that... that's a gun. You could really hurt someone with that."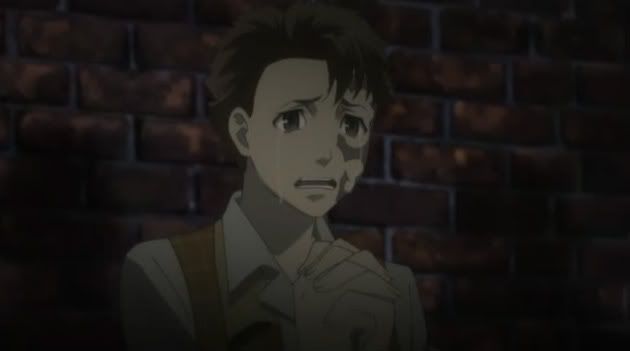 "Look, I'm really sorry, I didn't know you wanted the last piece!!"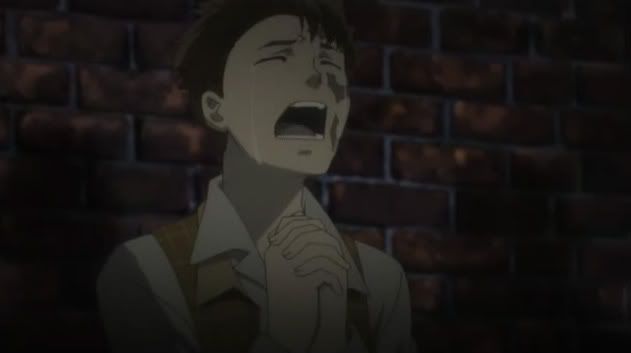 "I'll buy you another cheesecake! Just put the guns down! Please!!" ...okay, I really have no idea what they had him cornered for.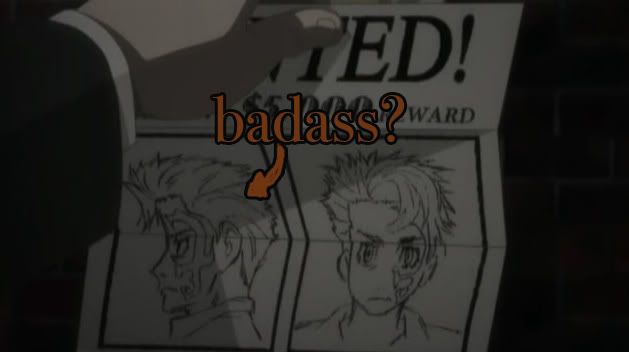 Jacuzzi totally looks badass in the left-hand picture. but it also looks like he has a mohawk. =\

Anyway, back to the cheesecake dilemma.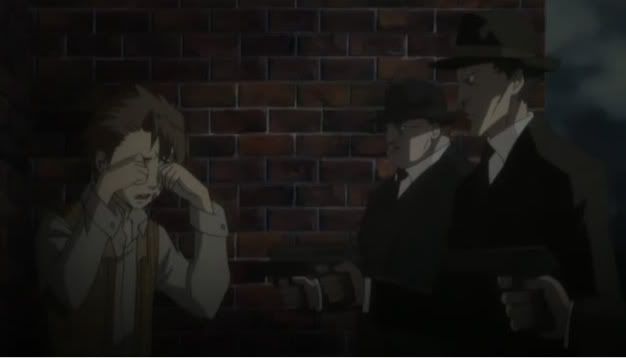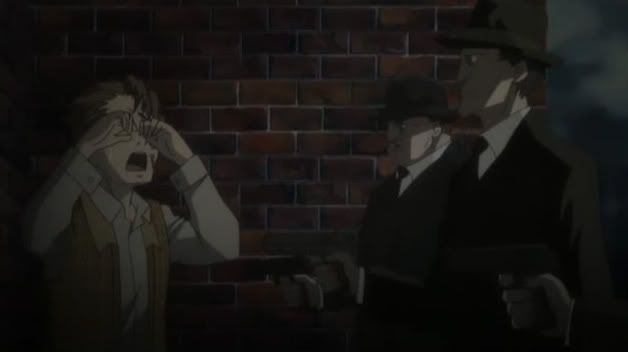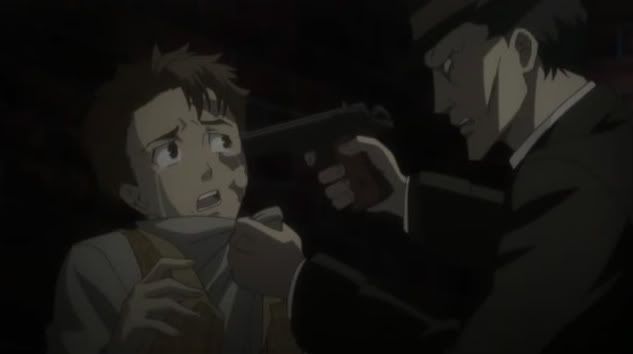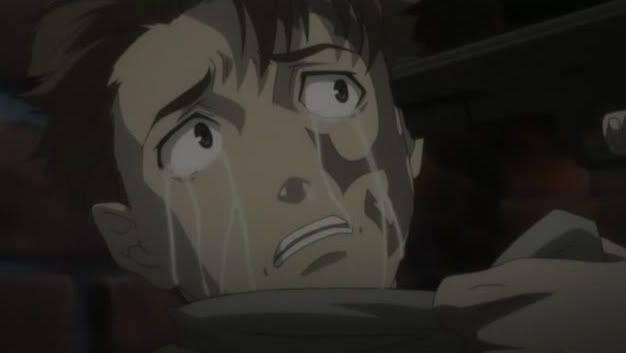 He said he'd buy them more cheesecake. Jeez, people these days just don't listen.

Now, to the Pussyfoot!!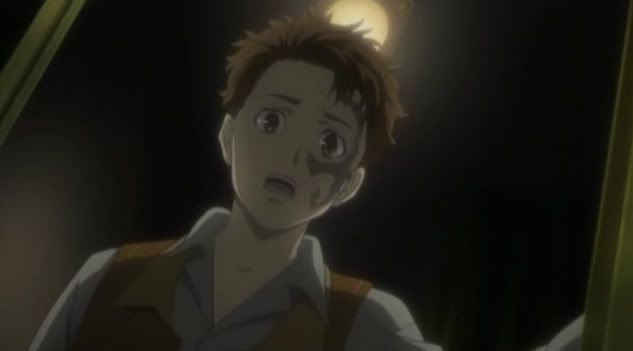 "Hey, I'm looking for the-"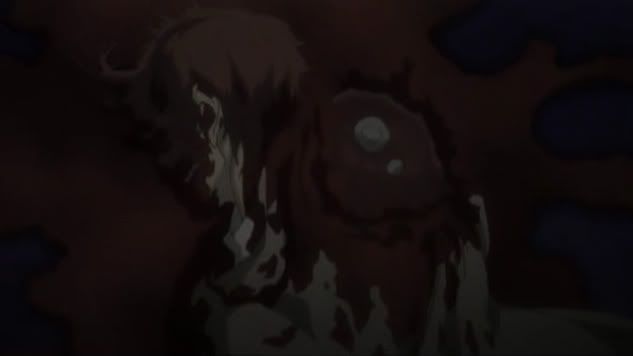 OH GOOD GOD YOUNG CONDUCTOR WHY? WHYYYYY? YOU'RE GOING TO BE OKAY. DON'T WORRY. JUST A SCRATCH.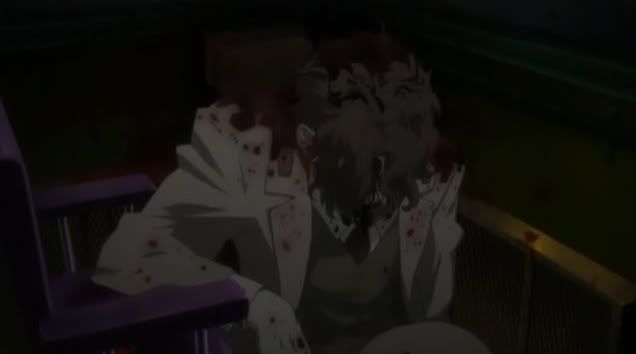 OH GOOD GOD OTHER COND- Oh wait, I don't care about you.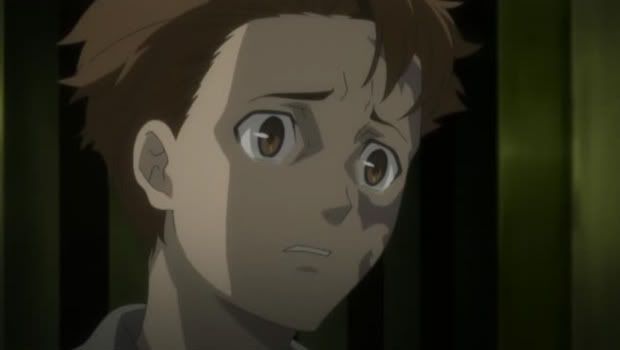 "...I shouldn't have eaten all that food. D="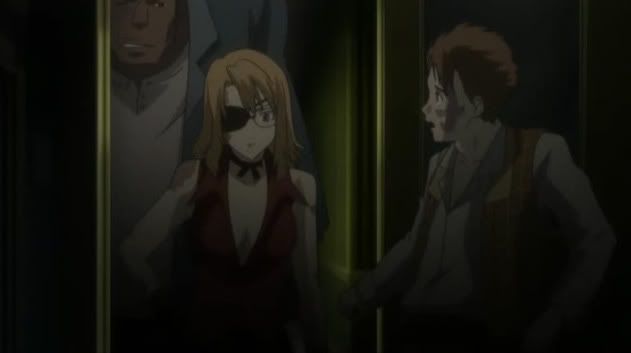 Nice: Holy crap, Jacuzzi!
Jacuzzi: IT WASN'T ME!!!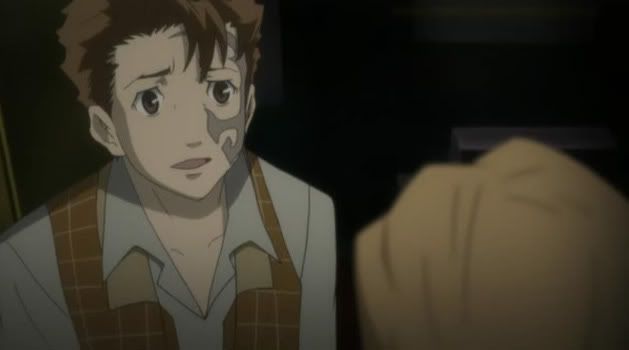 "I'm so happy you guys are okay!!"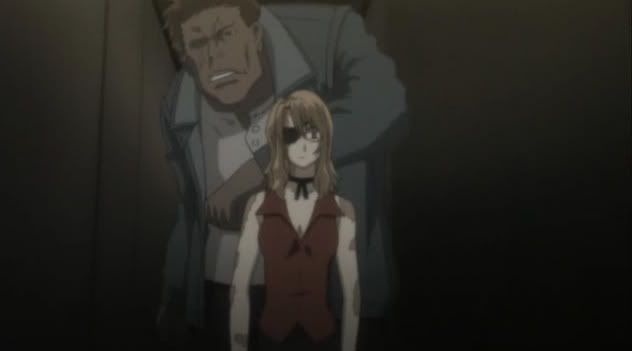 Poor Donny barely fits. XD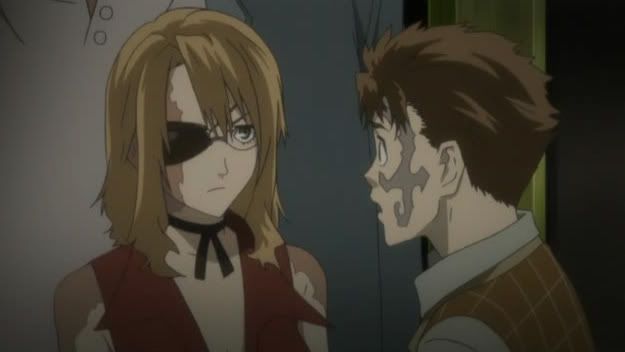 Nice: The men dressed in black got Nick though.
Jacuzzi: D=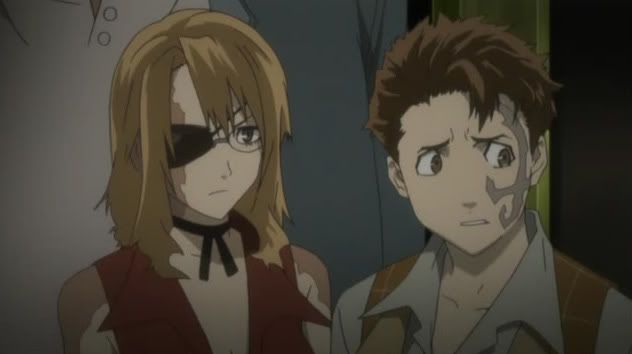 I don't why, but I think Jacuzzi looks so cute here. He's trying to think of what to do, but he's so scared.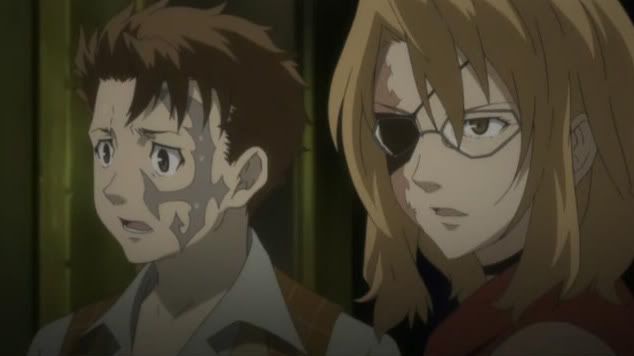 Nice is always so calm.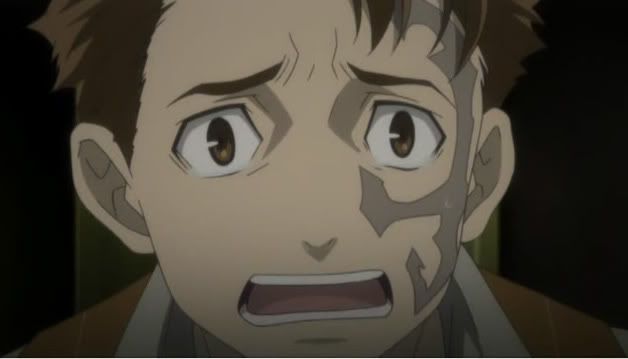 Jacuzzi is never calm.

Cheesecake saga, once again: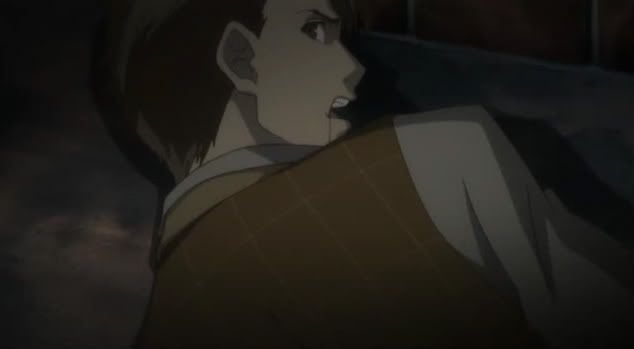 "You know... this is starting to tick me off..."

Pussyfoot: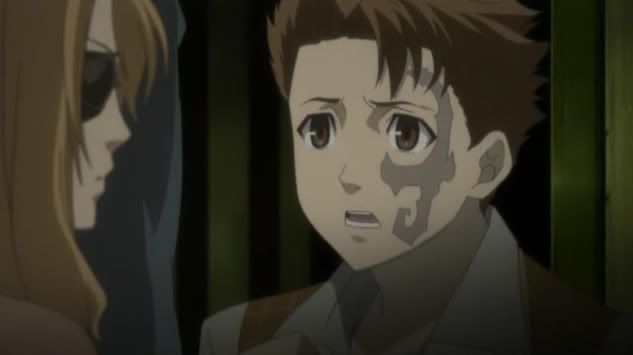 "I still can't believe they beat me up over cheesecake!!"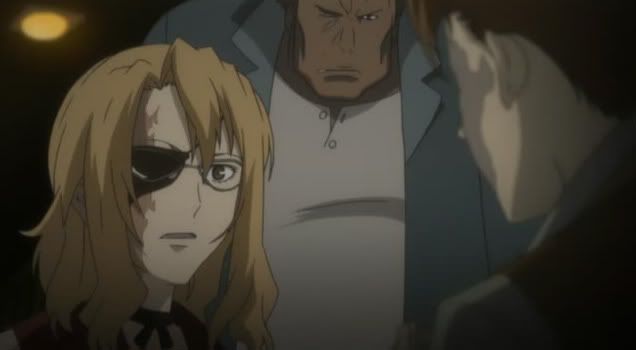 "You're still worked up over that? Come on, just remember what happened next."

Cheesecake Saga, part IX Million: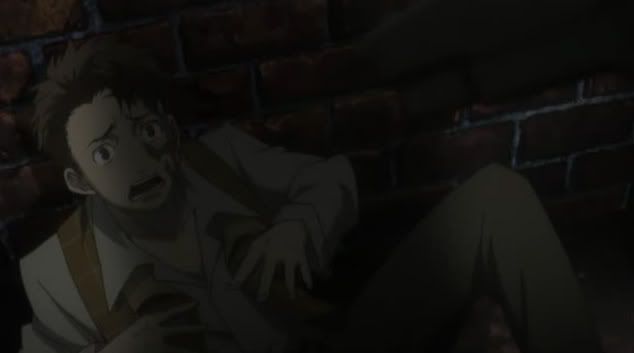 "GAAAH I'M GONNA DIE!"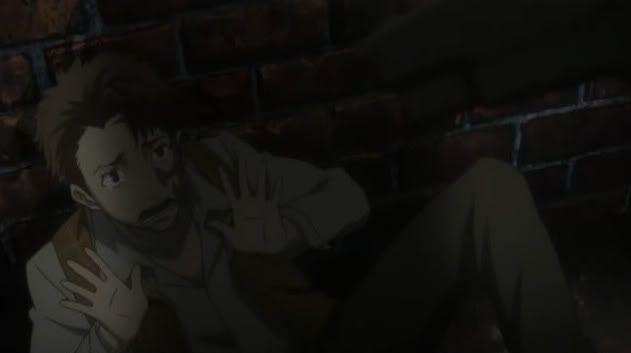 "Look, I don't have any cheesecake on hand, but if you just let me go to the store..."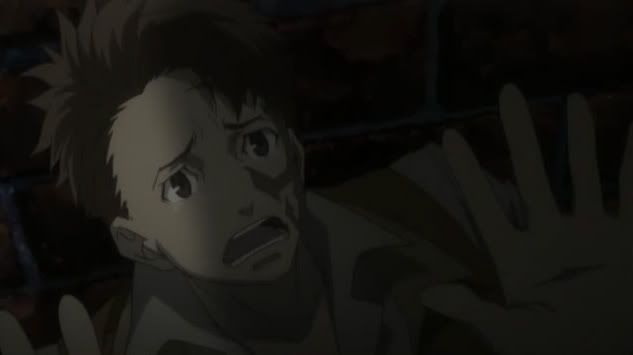 "...I'll get you cheesecake from there!!"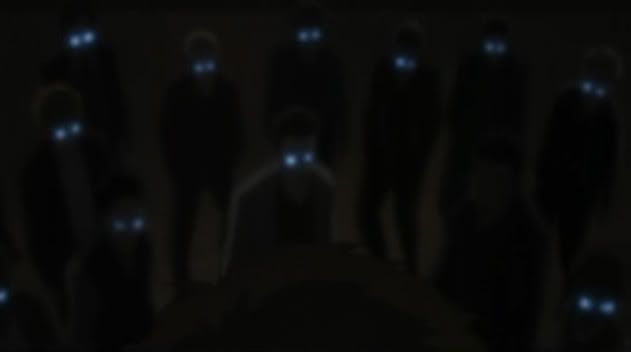 As if summoned by a magical spell...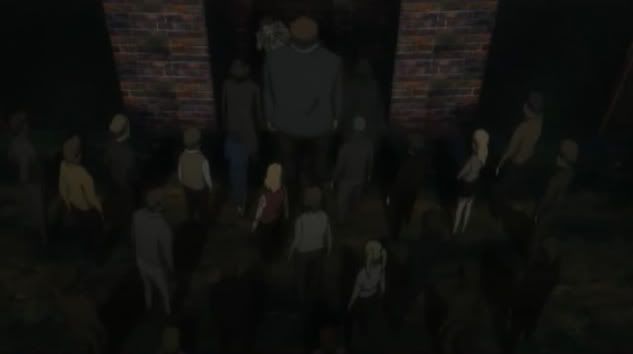 ...The Hot Springs Chicago Tour Gang Jacuzzi's gang arrives!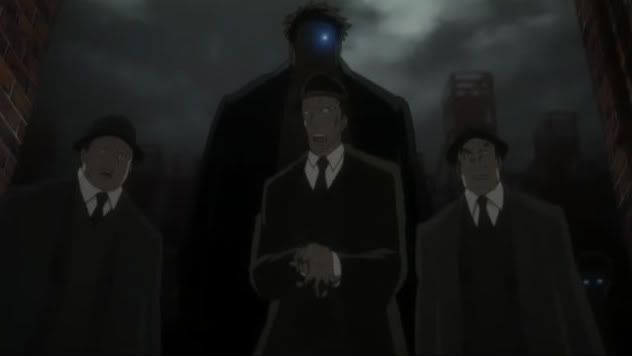 Donny is HUGE. And can break off people's fingers like twigs. Little twigs.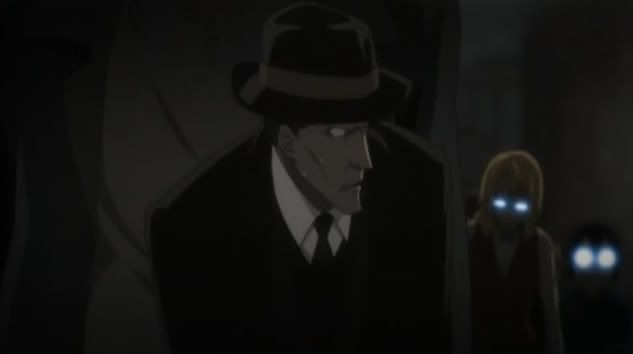 Braaaaiinnnnsssss.... Brrraaaaiiinnnsssss....



Would you like me to light up your life? (Yes)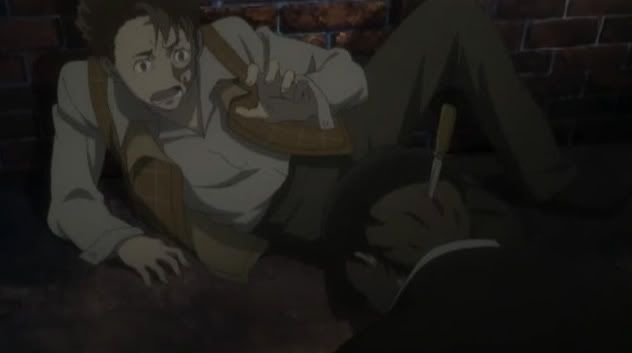 Ouch.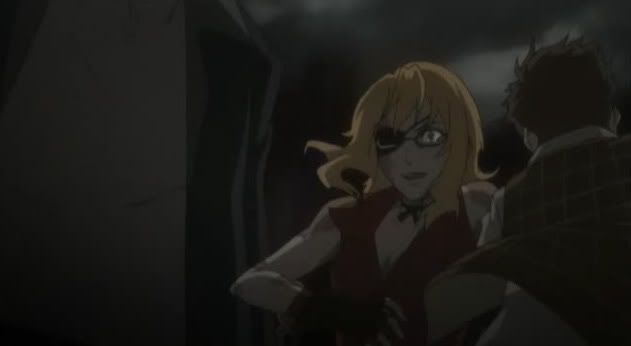 Nice: Did you see that? That was SO COOL. Can I try that again?
Jacuzzi: RUN RUN RUN RUUUUUUNNNNN!!!!!!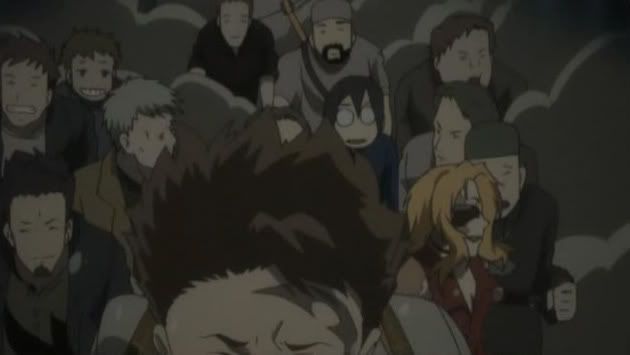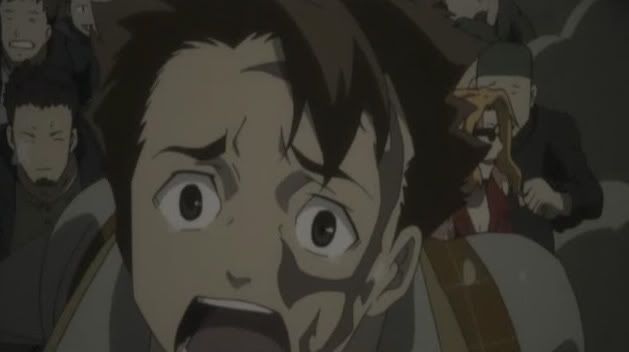 I love these guys already. Nice look so happy with herself in the first picture.

Okay, that's all the Jacuzzi loving from this episode. Onto the other awesome characters!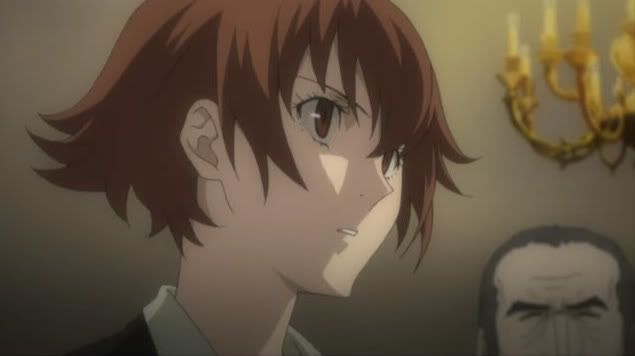 Ennis~ What will she do about Firo?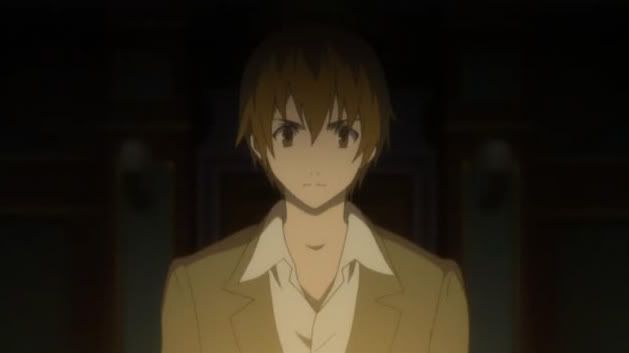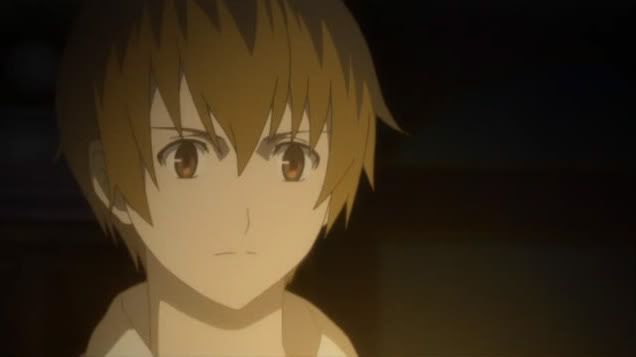 Speaking of Firo...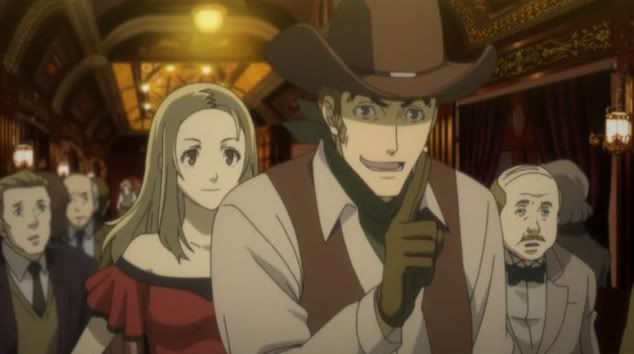 Go and save the day, you two! ...Or at least chill with Jacuzzi and Nice.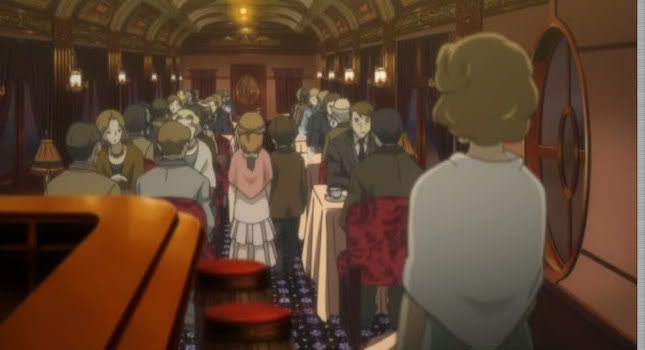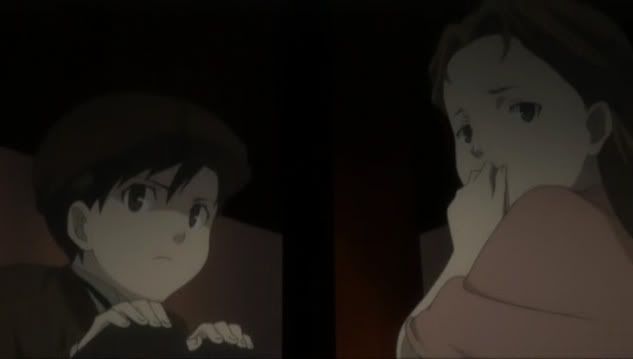 Comrade Chess Csezlaw might scare me, but I thought this scene was pretty cute.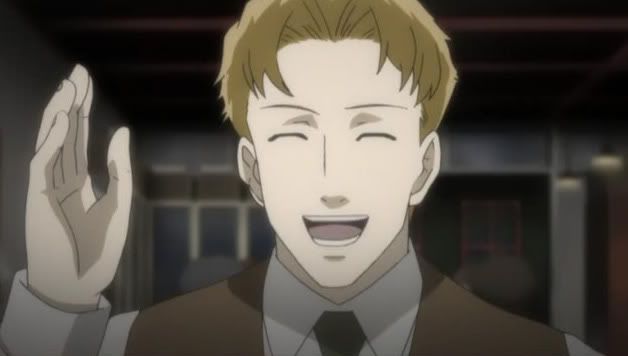 It's Nicholas! "Did you guys miss me?" (Yes)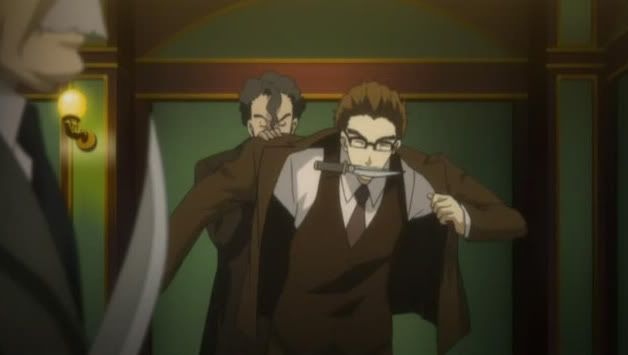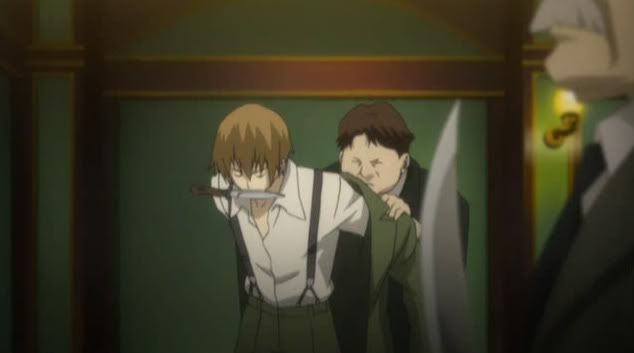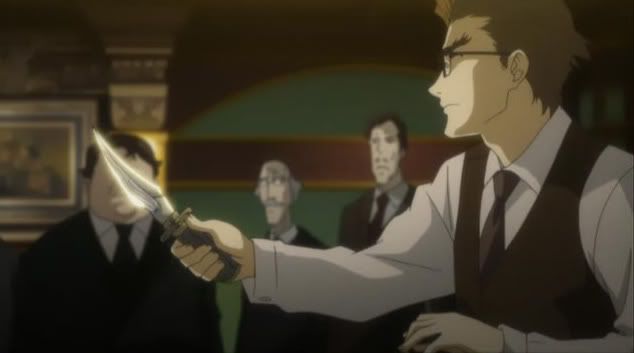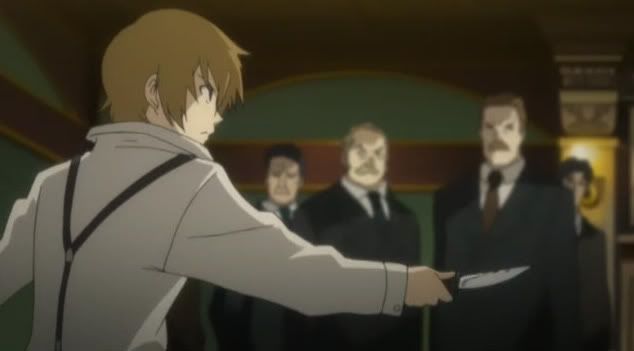 IT'S KNIFE FIGHT TIME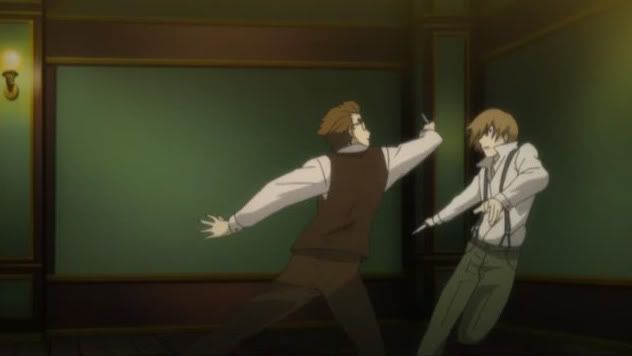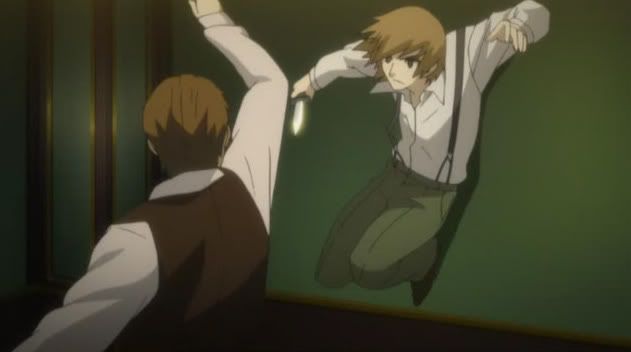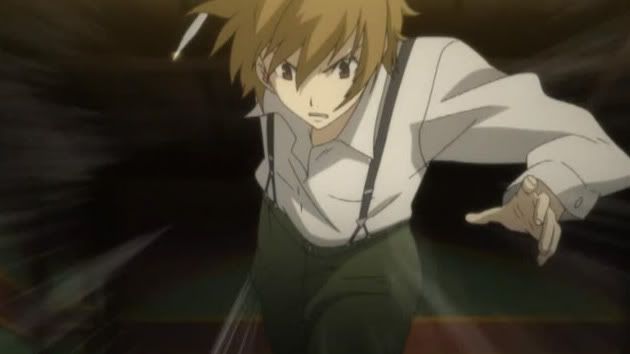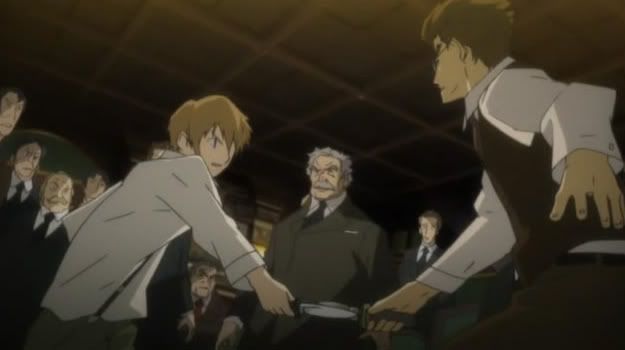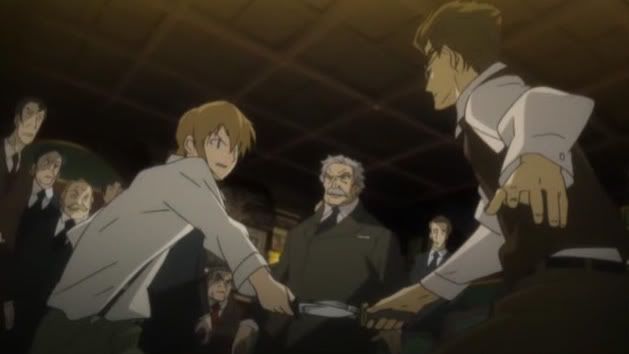 I don't know why those last two are almost the same, but I uploaded them both so why not post them both?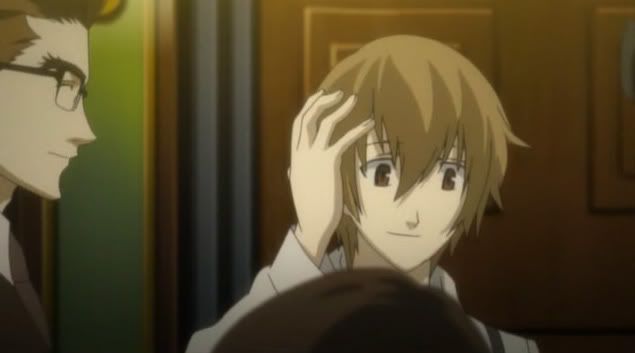 Yay, Firo wins! (Maiza was pretty badass too though)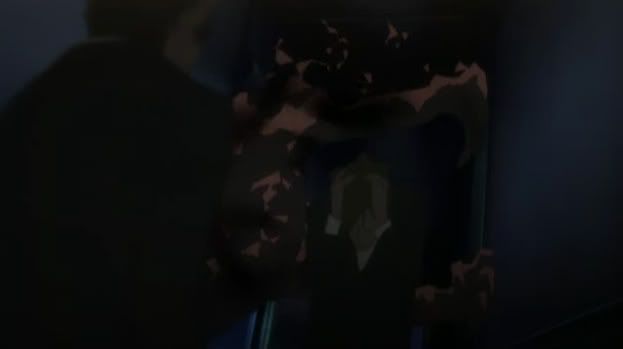 YOUNG CONDUCTOR RAAAIIIILLLL TRRRRAAACCCEEERRRRRRRR!!!!!!

Summary:
For some reason the Russo family has it out for Jacuzzi. He tries to get them to stop, but they beat him up a bit then get slaughtered by his super awesome gang of excellent and badass. I was a little disappointed not to see Graham, I was really hoping he was in Jacuzzi's gang.

Ennis brings the mouse-smashing guy to Szilard or Godzilla or whatever his name really is. He sucks him up through his right hand and sends Ennis after Firo. D=

Issac and Miria decide to find Jacuzzi and Nice.

Csez and Maria(?) hide from the men dressed in black as Maria's(?) mother tries to tell them the children are not around.

Firo and Maiza knife fight, probably as part of Firo's Camorra initiation. Firo wins. The old people are happy.

Then the Rail Tracer starts eating people. ...or at least makes them disappear.

Thoughts:
I LOVE YOU JACUZZI AND I LOVE YOUR GANG.

I knew Maiza was an immortal! How is he going to explain the disappearing blood to Firo? Time will tell. But that knife fight was pretty freaking awesome.

Nur told me today that Mihashi from Ookiku Furikabutte and and Jacuzzi would probably be pretty good friends because their personalities are so similar. XD ...I really want to draw that now.