Wow, twenty episodes! When I finish with the recap, I'm going to have a little party. Or go to bed. I'll probably go to bed and dream about really cool parties.

43 images, worksafe but mentions of porn, and smatterings of swearing.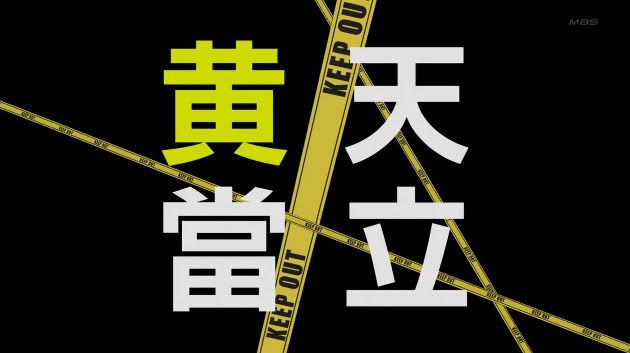 Durarara!! Episode 20: THE YELLOW SKY RISES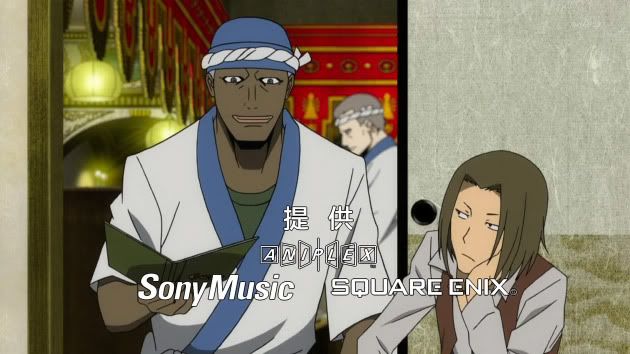 Simon: YOU LIKE SUSHI, RIGHT?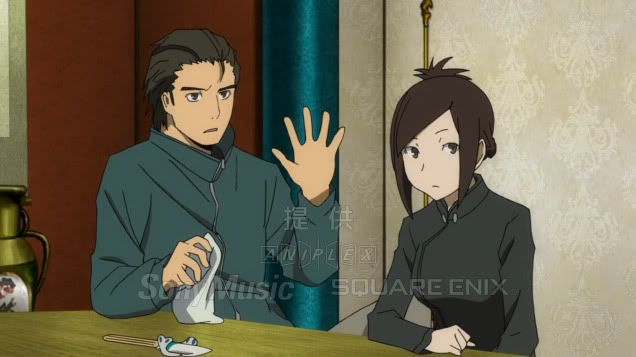 Kyohei: We'll take five orders of the usual.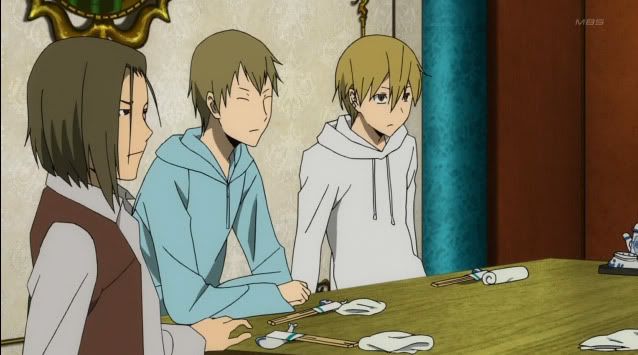 Walker: What if I don't want the usual?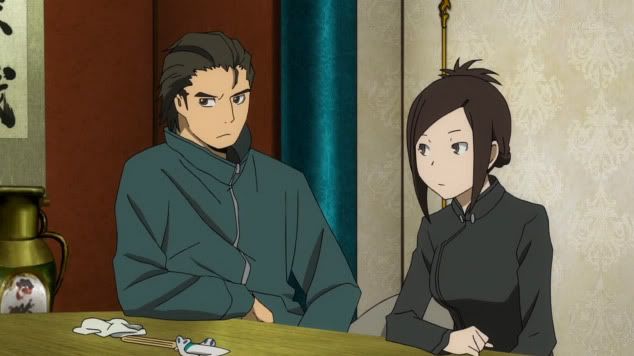 Kyohei: You ALWAYS get the usual.
Kida: But you don't know what I always get.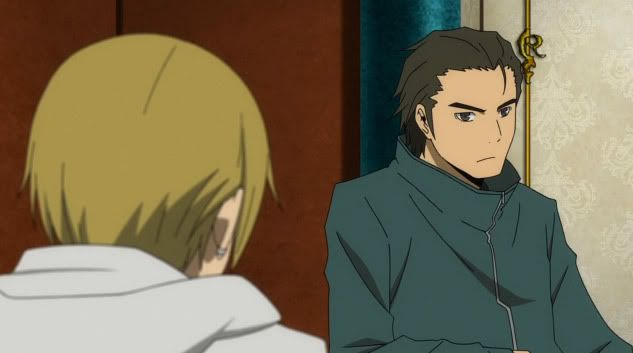 Kyohei: If you have any taste, you'll like what I ordered.
Kida: ....okay.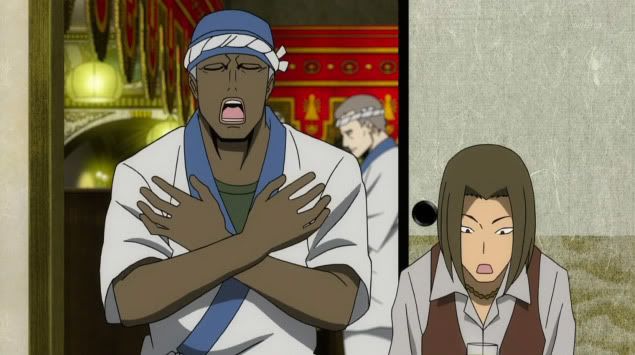 Simon: BO-HO-HO-HO! I WILL BRING YOUR SUSHI SHORTLY!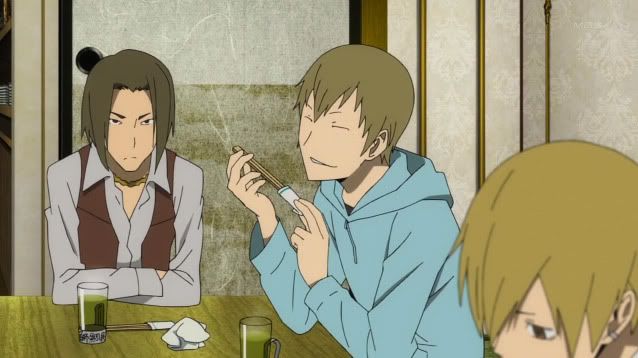 Walker: I just fucking LOVE sushi.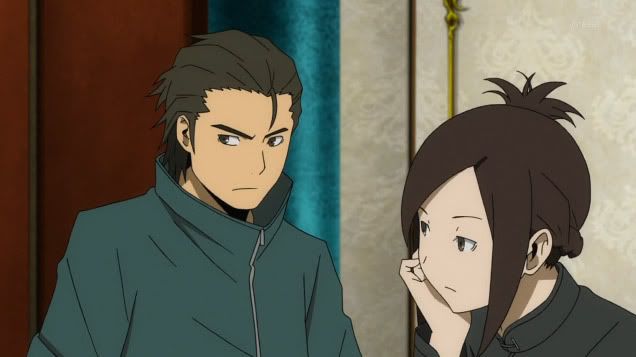 Kyohei: Honestly, I'm more of a noodle guy, but sushi is always good.
Kida: I don't really like sushi or noodles. They taste too plain. Bland. Bleh.
*SNAP*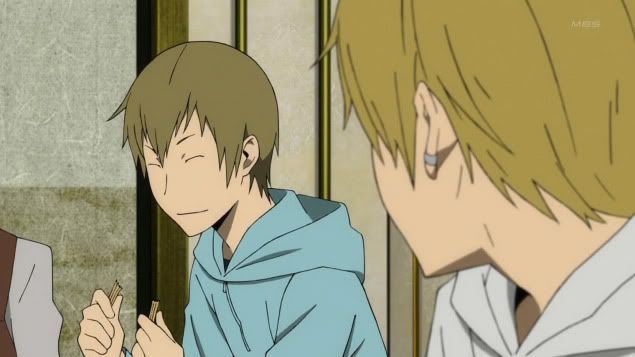 Walker: What... did you say?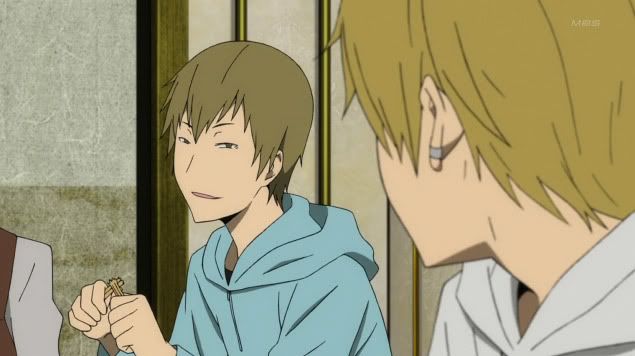 Walker: I thought I heard you say noodles and sushi were too plain.
Kida: Yeah, I di—

*SKARRCH!!*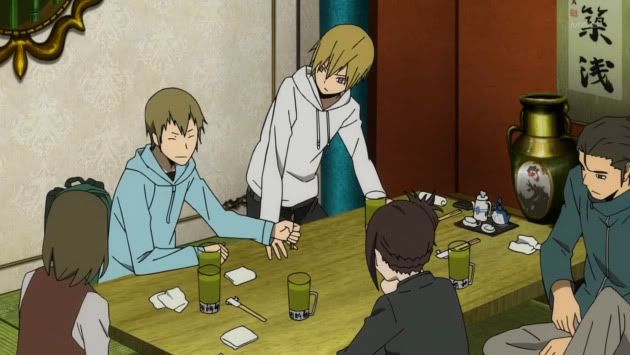 Kida: Whoa, what the hell, man?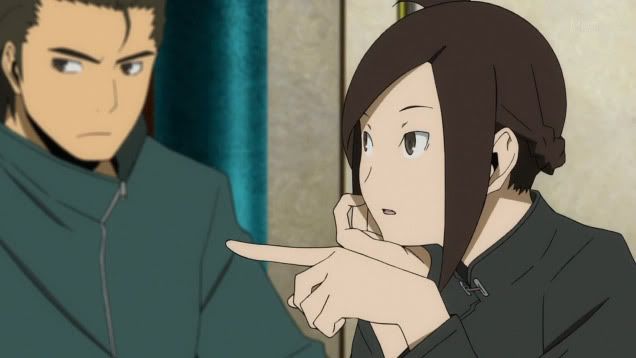 Erika: Watch what you say about food around Walker. He's not just a regular otaku. He's a food otaku too.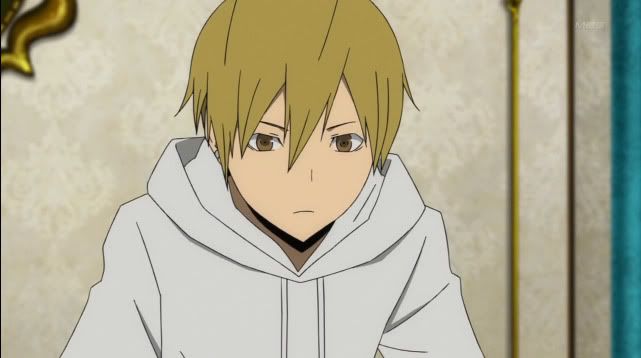 Kida: I don't care if he's the bloody Queen of England, I'll say what I want abou—

*SKIRTCH!!*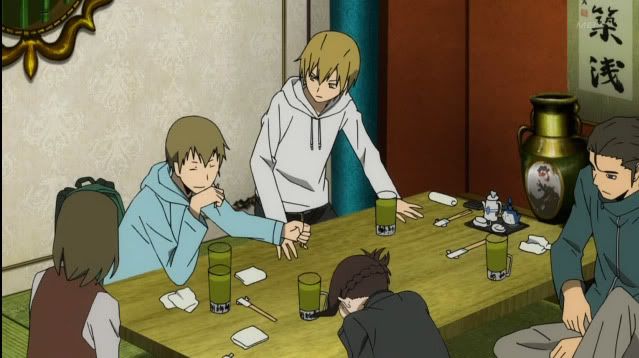 Kida: GAAAHH!! You know, you're going to miss and impale my hand one of these times.
Walker: And you're saying that's a BAD thing?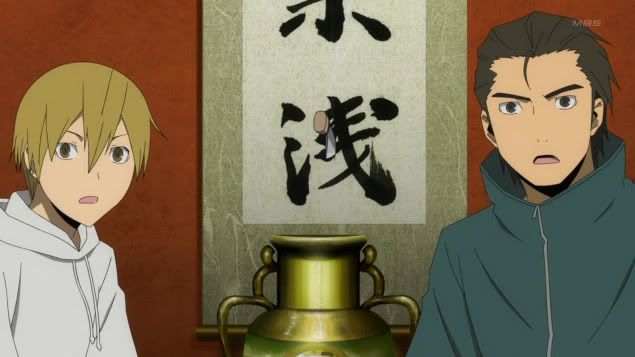 *WOOOSH!!! KLUNK!*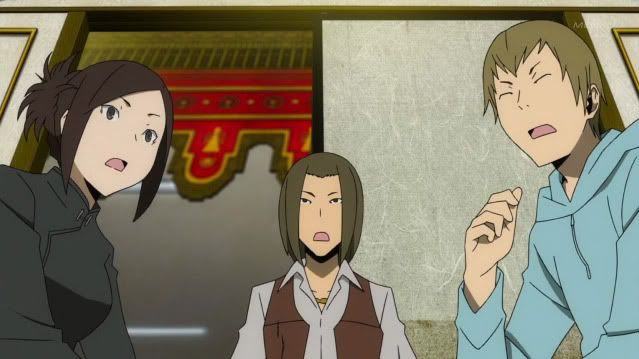 Everyone: UWAH!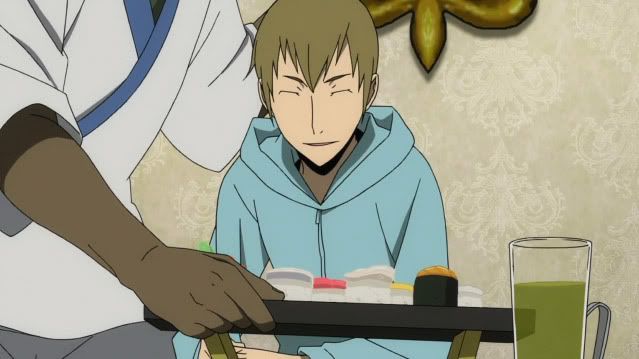 Simon: OH HO HO HO WE ARE SORRY! THE KNIFE SLIPPED! HERE IS YOUR SUSHI!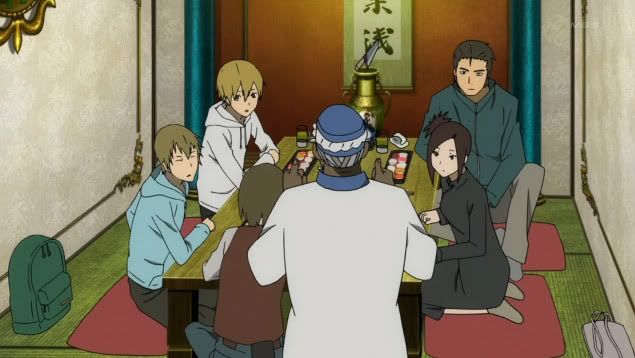 Simon: IT'S GOOD, YES? ENJOY!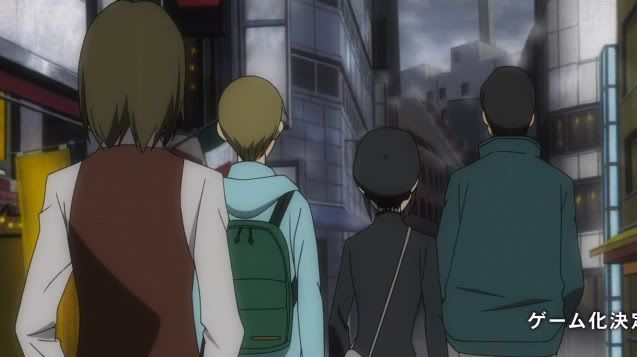 Kyohei: Hey, did anyone bring an umbrella?
Erika: No.
Togusa: No.
Walker: No.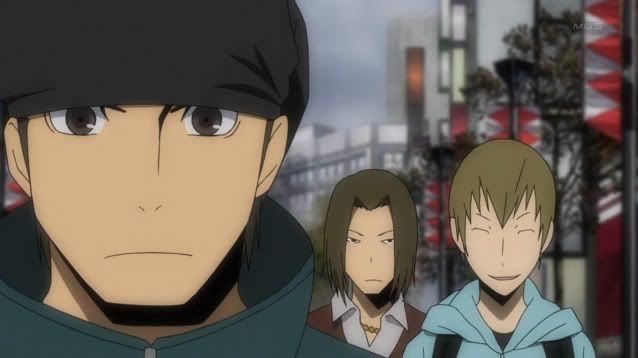 Walker: It's nice to walk in the rain sometimes though.

EARLIER: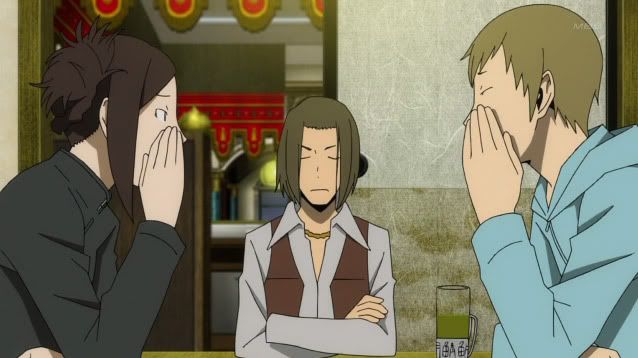 Erika: PSSSSTTT WALKER
Walker: WHAT IS IT, ERIKA?
Erika: I have an idea for your story! The one about Shizuo!
Walker: Oh?
Erika: Simon should be in it!
Walker: Oh!!! But would he be a bad guy or an ally or...?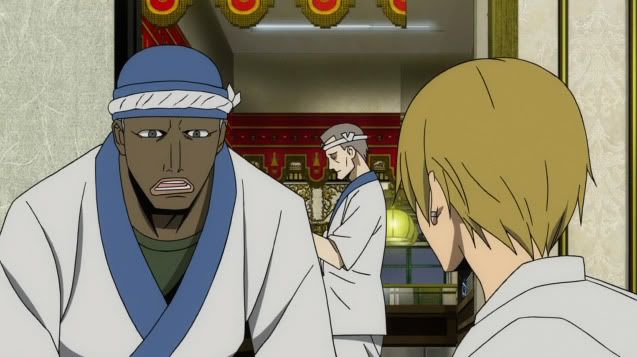 Kida: Don't look now, Simon, but you're going to be some goofy character in a book.
Simon: WHAT? WHAT DO YOU MEAN?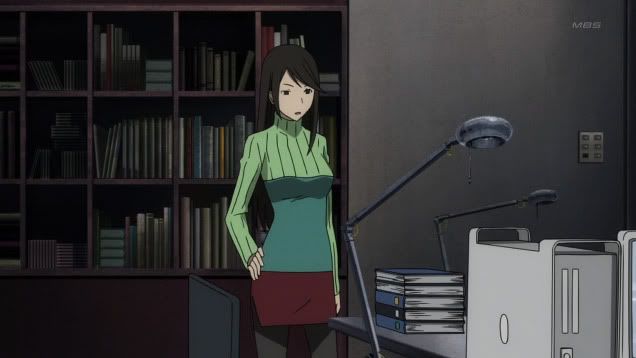 Namie: I've gone through almost all of Izaya's books. This is the last stack. There HAS to be porn in these!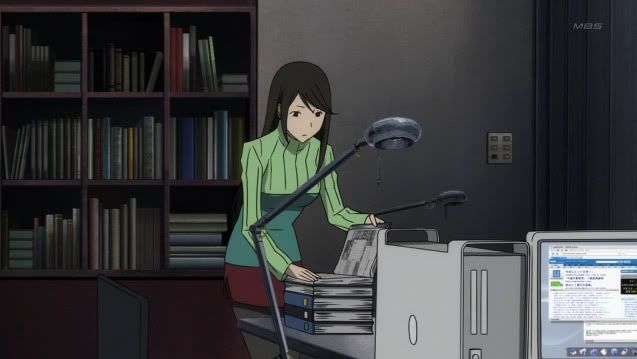 Namie: W-whoa. Whoaaa. That's a little too kinky, even for me!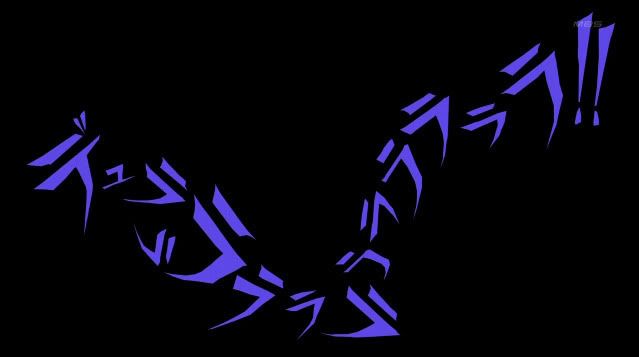 DURARARARARARARARARARARARA!!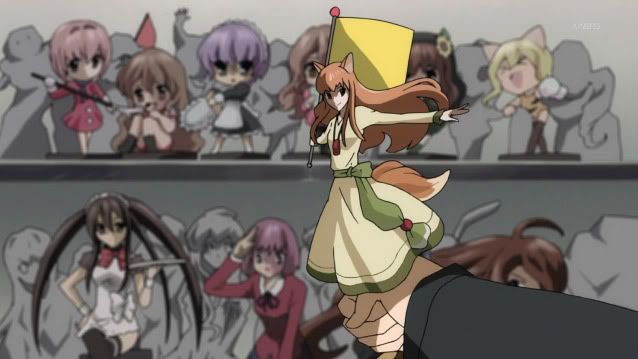 Erika Horo: Shizuo-san! Shizuo-san! Come and protect me! Help me escape these bad men and find my way back to my home!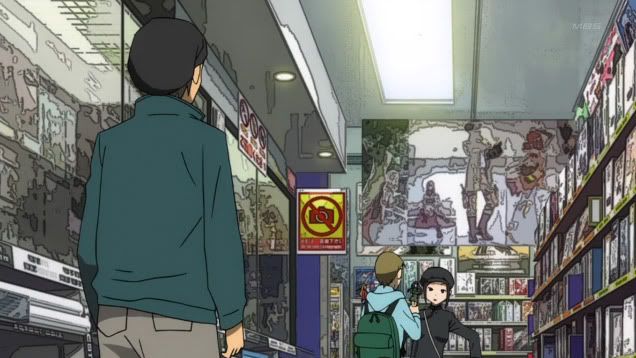 Walker Taiga: Oh please help me too, Shizuo-san! I need help asking the guy I like out!
Kyohei: What are you two doing?
Erika: Story planning!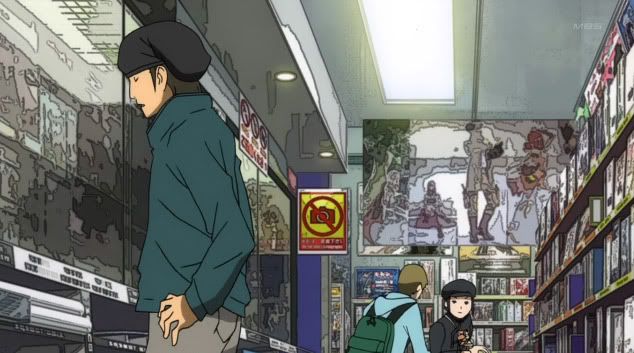 Kyohei: *Sigh* This is going to be the worst story ever.



Kida: Izaya, I need advice. I think I like this girl, but I'm sorta kinda maybe going out with this other girl already...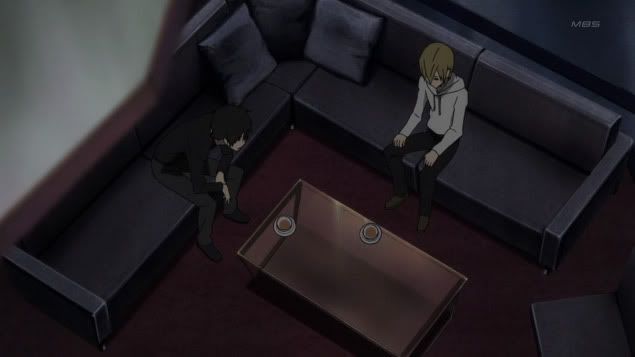 Izaya: Why come to me?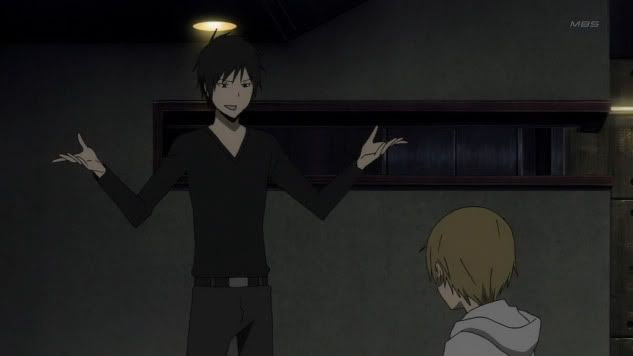 Izaya: I mean, WHY can't you have them both?
Kida: Because that's cruel to them and sorta makes me look like a thoughtless jerk?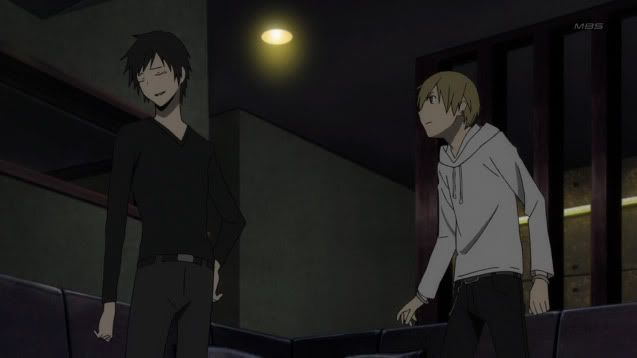 Izaya: That's not what a REAL man would say.
Kida: What was that?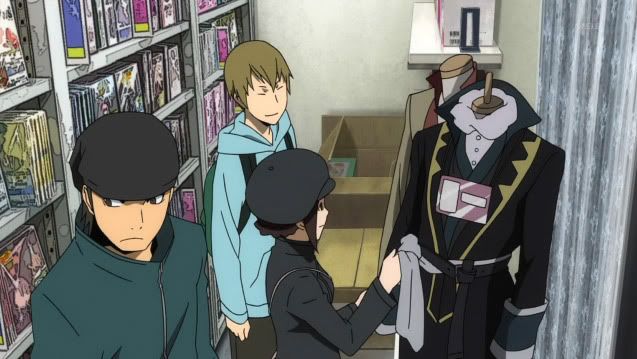 Erika: Oh, this is pretty well made. This would look good on you, Dotachin!
Kyohei: Don't even think about it. There is no way I'm wearing that.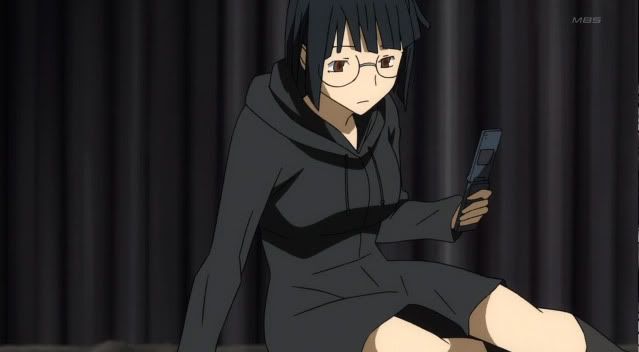 Anri: What is this text? "Izaya's Amazing Health Tips?"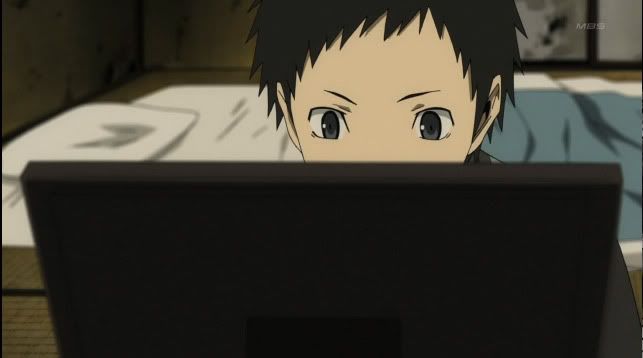 Mikado: ...these are the worst health tips I've ever seen!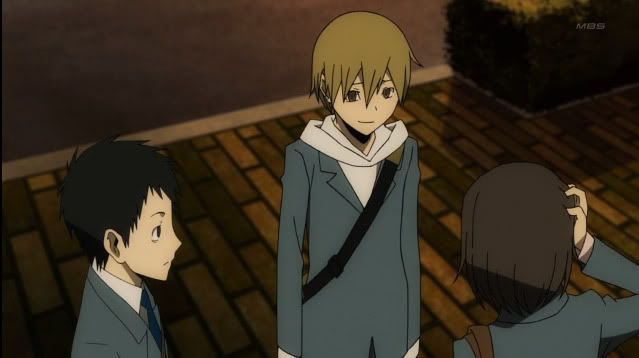 Kida: Hey that one guy who is in the Dollars. What's up?
The One Guy Who Is In The Dollars: I got wind of this crazy meet up! I'm going there now!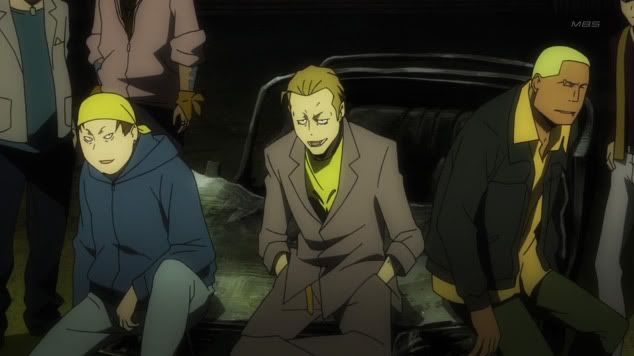 Yellow Loser: I told some Dollars brat about this meet up. I'm going to beat him up.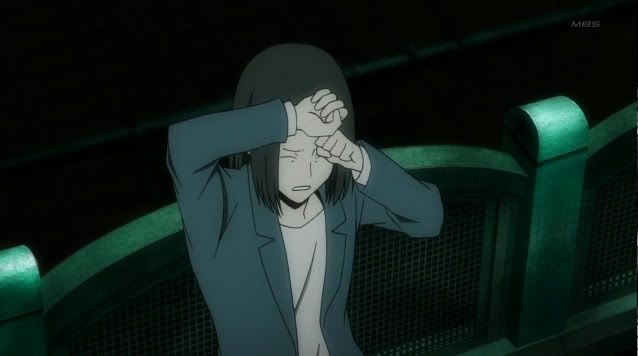 The One Guy Who Is In The Dollars: Arrrgghhh! I'm getting beaten up!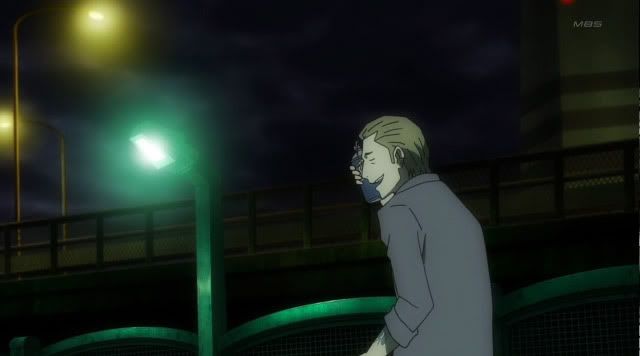 Yellow Loser: Ahhh, spray paint. You're my best friend. ♥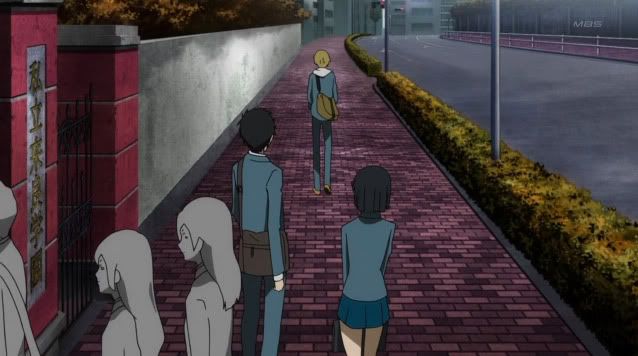 Mikado: Hey Kida, we're going to go— ....Kida?

Next time, on Durarara!!: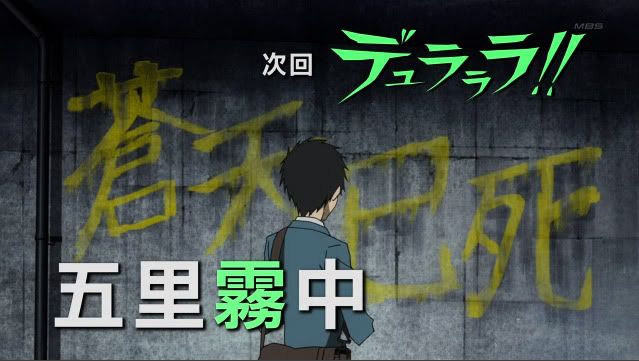 Graffiti like WHOA



Gangsters with really straight teeth!

All this and more, nest week on Durarara!!


OMG OMG OMG Hatless Kyohei~♥!!! AND HATLESS ERIKA!!! And Walker being a badass AGAIN. Is it bad that he reminds me of Vincent Law? Except more badass. (ILOVEYOUVINCENT) Episodes that are heavy on the otaku team make me a happy, happy girl.