Thanks for all the kind comments on the last recap post, they really made me happy! =3

Soooo.... I downloaded a Chinese subtitled Real Media version of this episode. I guess I just REALLY suck at getting good versions of eps of this series. Sorry about the occasional subs and weird logos in the corners!

129 images, worksafe except for swearing. Expect the usual poor humor, spoilers for episode 7, and bastardizing certain comics.




Shizuo: My name is Shizuo. I work as a bodyguard. People around here fear me.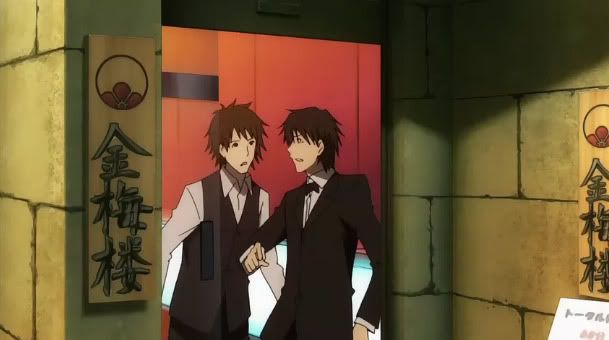 Shizuo: They always stay back and say I'm an angry, intolerant person. They're right. I am intolerant...



Shizuo: INTOLERANT OF CRIME.
Shizuo: YOU LITTLE BITCH IF YOU DON'T GET YOUR ACT TOGETHER, I'M GOING TO THROW A GODDAMN ROAD SIGN AT YOUR FACE.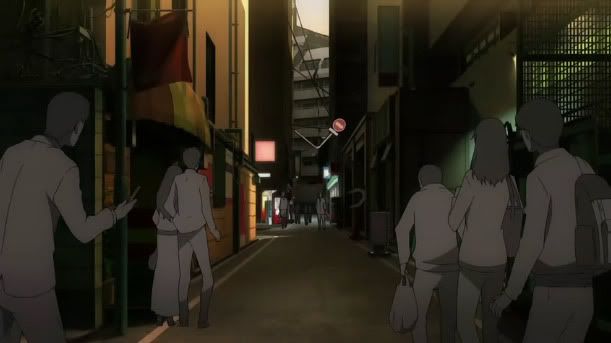 *does anyway*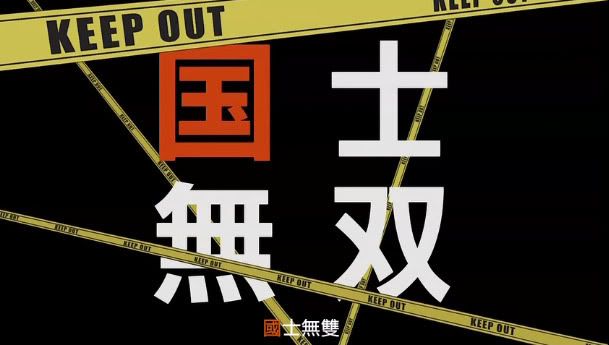 DURARARA!! EPISODE 7: A DISTINGUISHED PERSON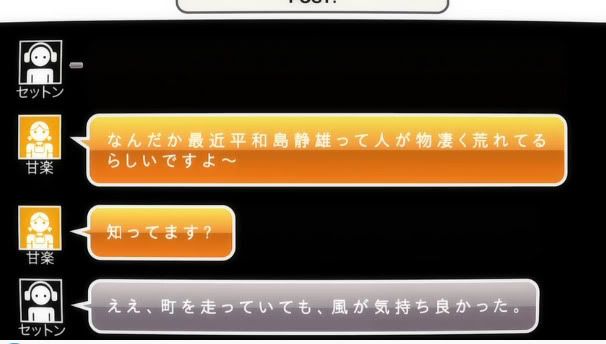 Setton: So let's talk about Shizuo today. I think he's a pretty cool guy.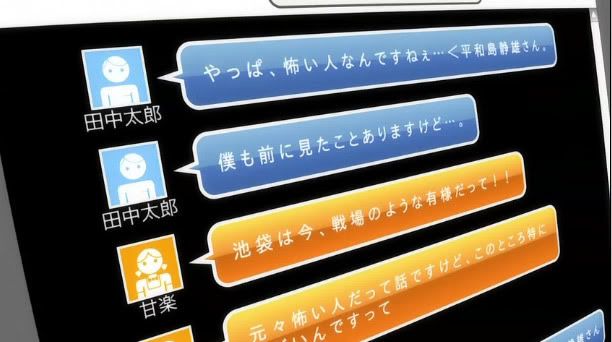 Tanaka Taro: They guy throws vending machines at people. I think he's crazy.
Setton: I think he's interesting. =\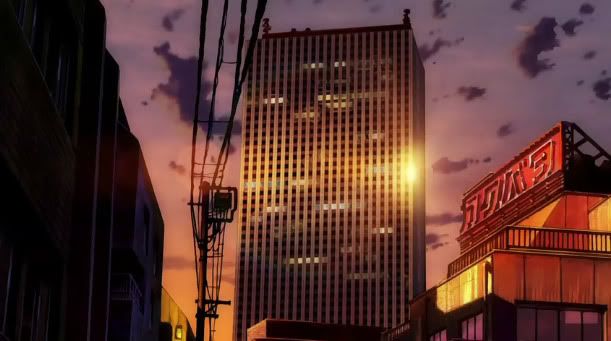 Shizuo: Dusk. Evil is starting to lurk.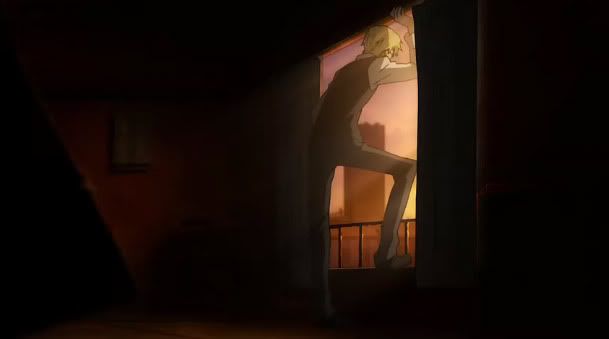 Shizuo: Looks like he got away.
Tom: Don't worry about it. We'll get him eventually.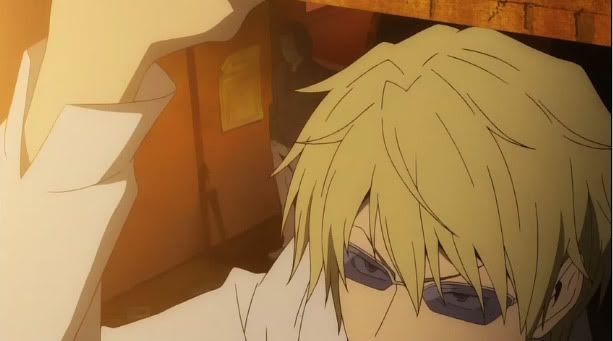 Shizuo: This is a blemish on my reputation. I cannot stand for the injustice he has caused.
Tom: Yeah okay.



Shizuo: What's this? Another attack? Who could have done such a thing? The Witchy Witch?
Tom: Maybe it was a color gang? Maybe the yellow one?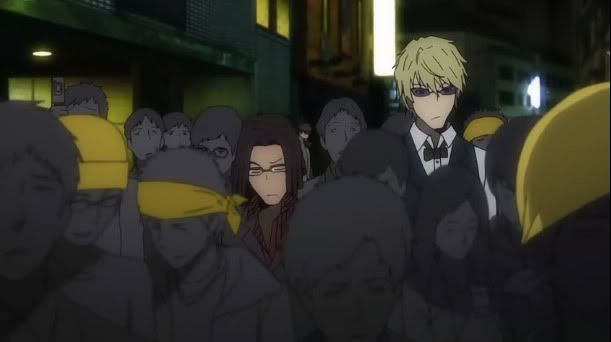 Shizuo: What makes you think that?
Tom: Just a hunch.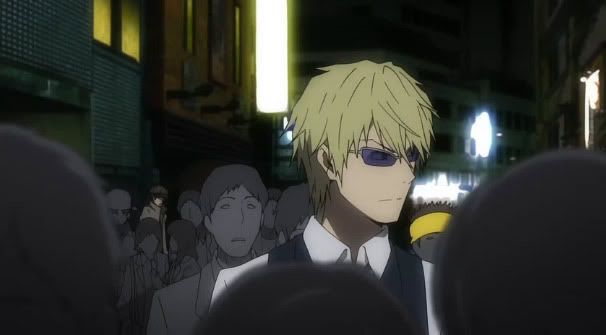 Shizuo: I feel like I'm being watched.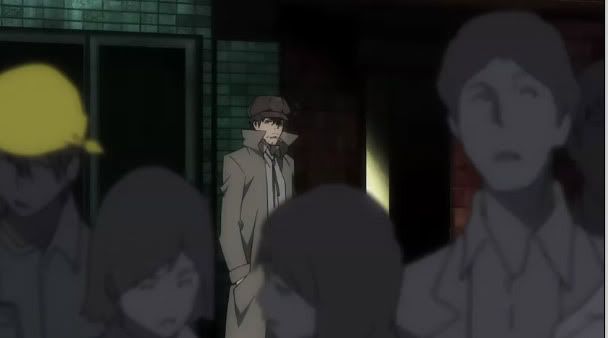 Benny: TARGET LOCATED.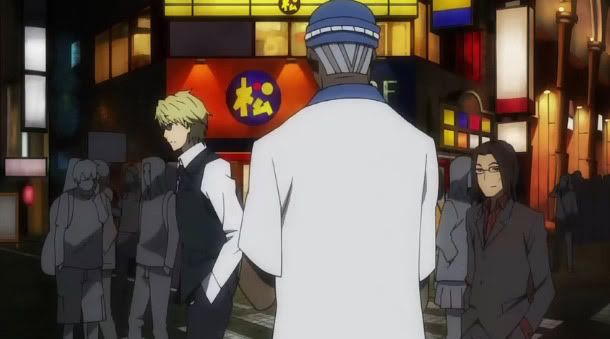 Simon: HELLO SHIZUO!
Shizuo: ...........
Tom: Sorry Simon, someone got away, he's on a warpath... for justice.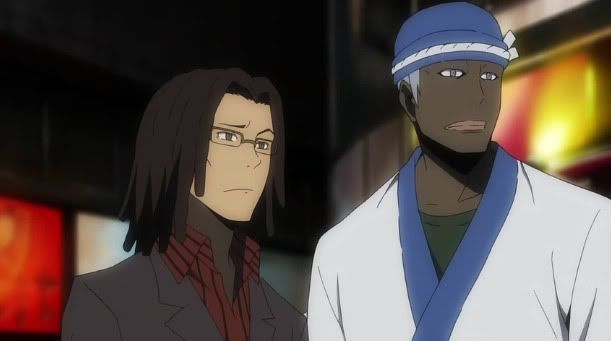 Tom: I worry about the guy, I really do.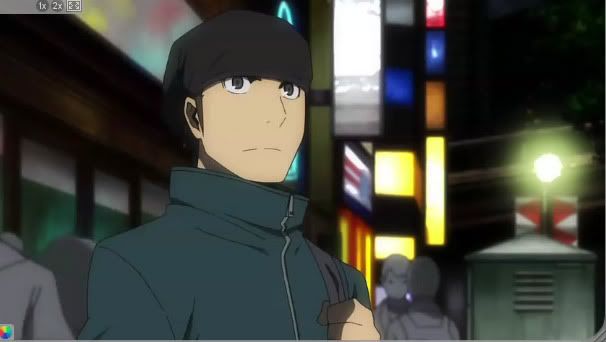 Kyohei: Was that Shizuo? I got those comics he wanted... oh, I'll just give them to him later.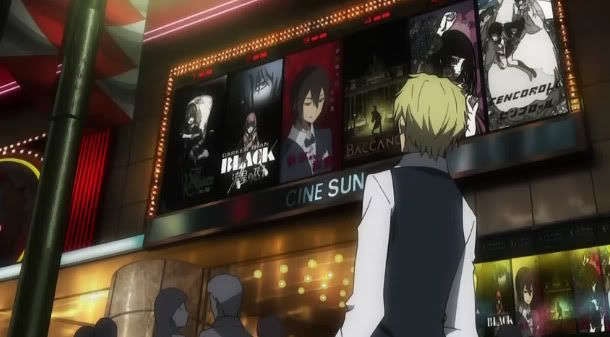 Shizuo: Some good movies are playing... Darker than Black, Baccano!, Cencoroll... the new Batman...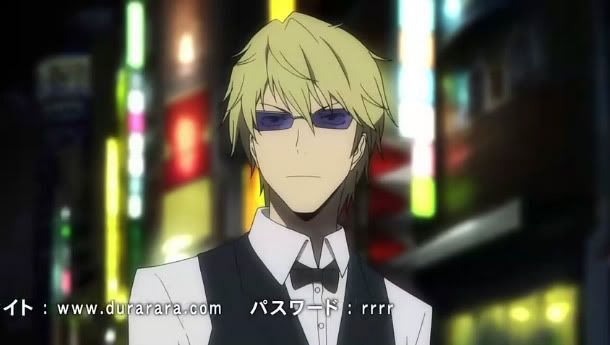 Shizuo: *sigh* Batman... that brings back memories...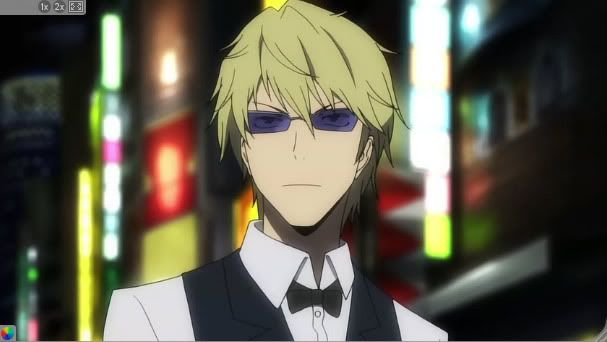 Shizuo: Memories of a more innocent time...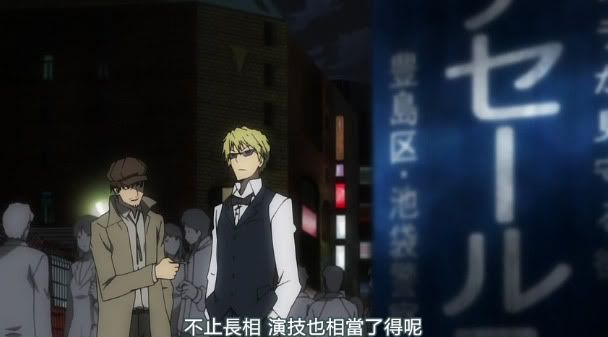 Benny: Hey man, gonna see a movie?
Shizuo: What the— Dammit, I was going into a flashback, you asshole!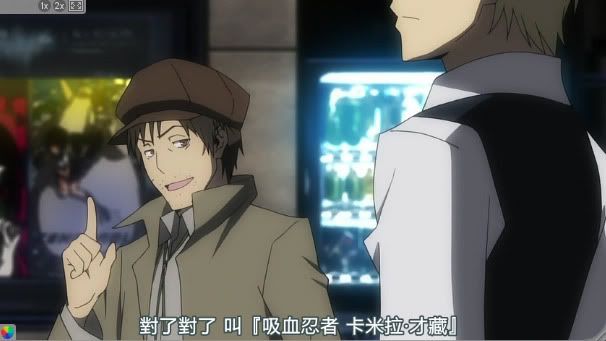 Benny: Flashbacks are lame. Go see a movie. I recommend Ninja Warrior Cadets 6.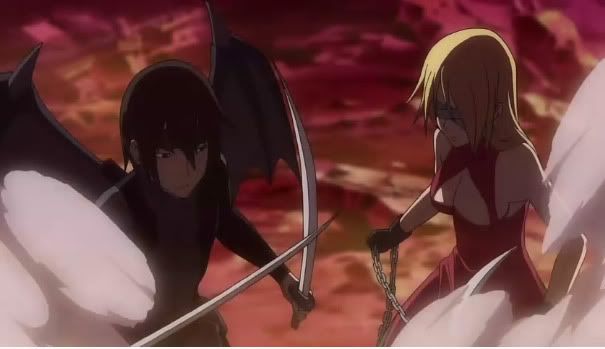 Benny: The action is great and the main characters are ninjas. NINJAS.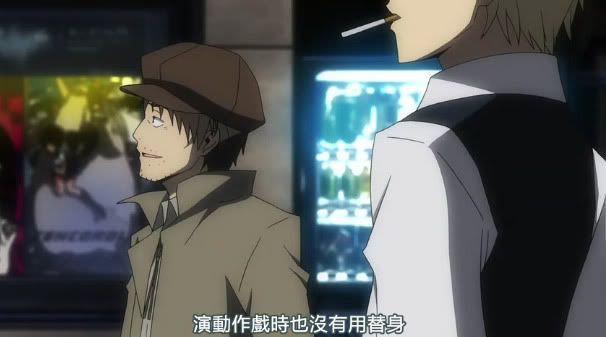 Benny: I want to be a ninja. They're so cool.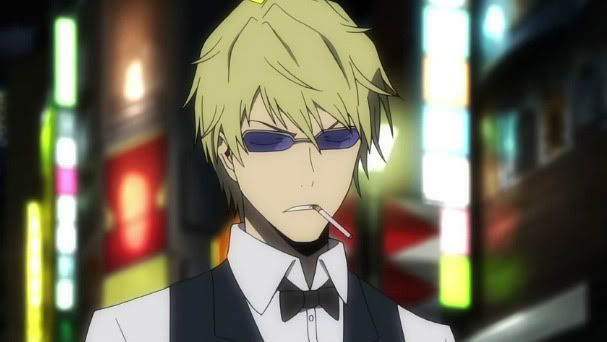 Benny: Hey Shizuo, have you ever wanted to be a ninja?
Shizuo: I can't... believe... you....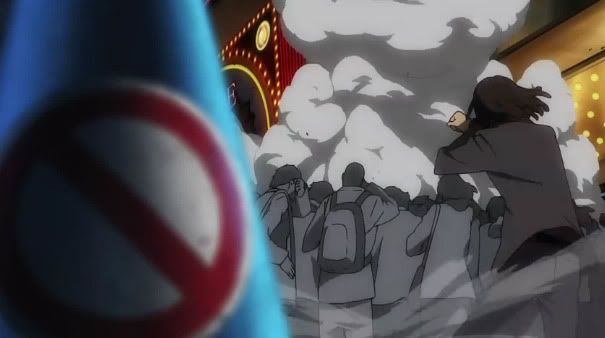 Shizuo: INTERRUPTED MY FLASHBACK!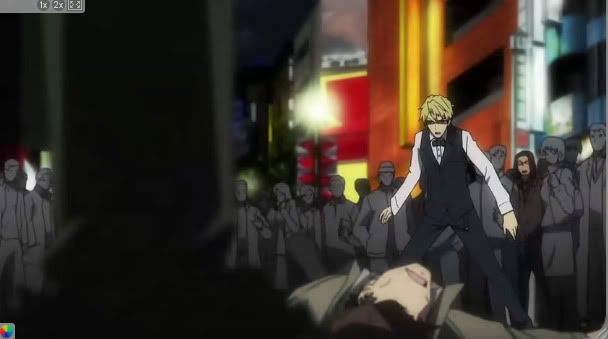 Shizuo: *huff huff*
Tom: SHIZUO?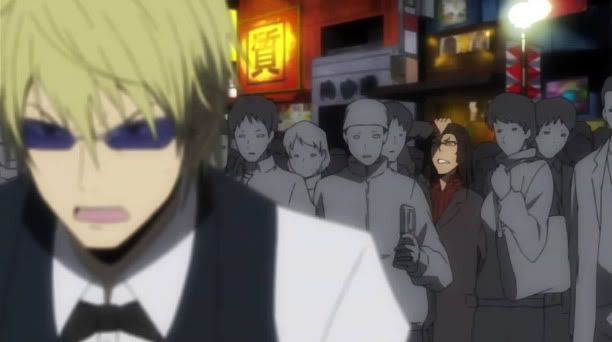 Tom: Goddammit, you retard!
Shizuo: Now, back to my flashback...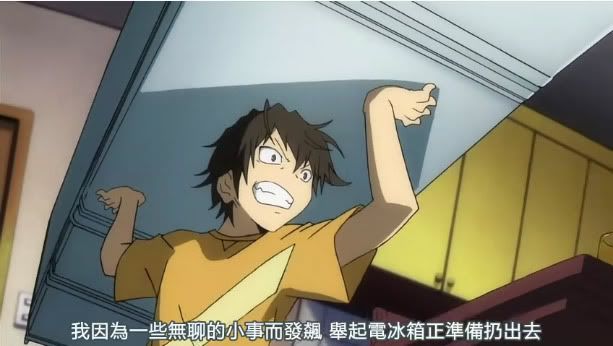 Shizuo: Even as a child, I had an incredible amount of strength.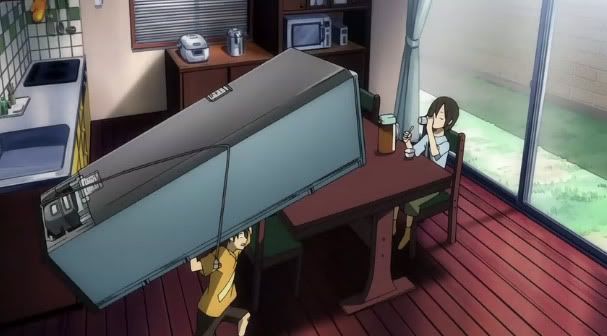 Shizuo: I would often try to frighten my brother with this strength, but really, I just got hurt a lot. I needed to find a good use for my power.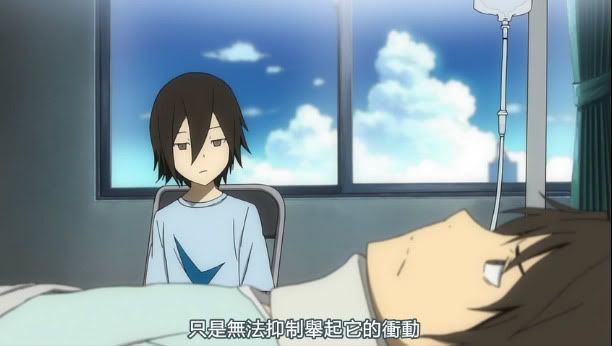 Shizuo: Hey Huey Little Bro, I've made a decision. I'm going to use my strength for good.
Huey: ...........
Shizuo: I'm going to be... the next Batman.
Huey: ..........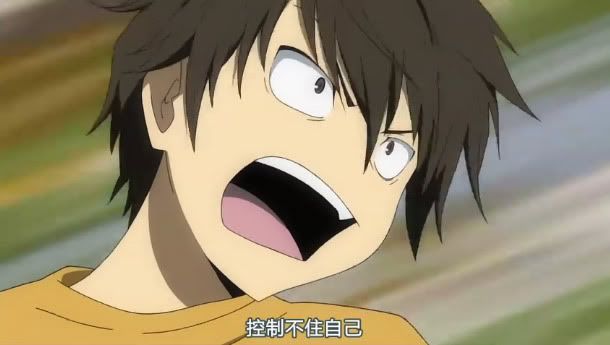 Classmate: Ahahaha, Batman sucks! Superman all the way!
Shizuo: BATMAN IS THE BEST SUPERHERO EVER!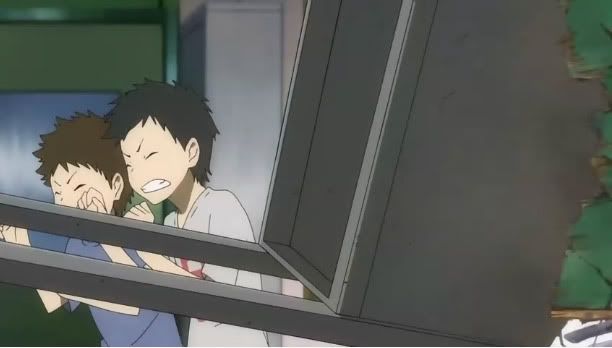 *KA-THUNK!!*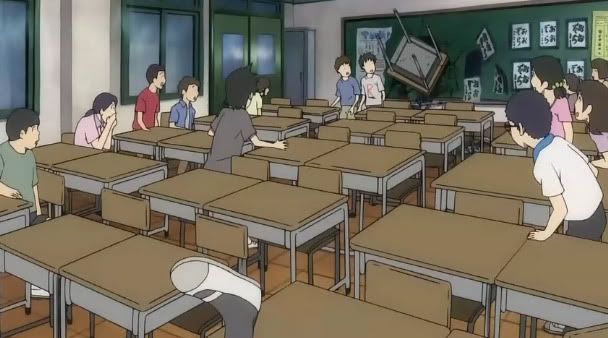 Classmates: Holy shit!
Shizuo: I think... I pulled something...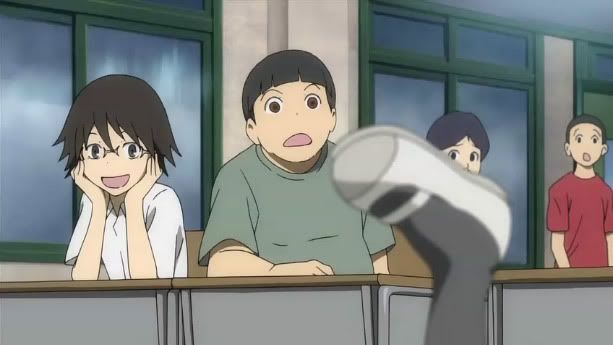 Shinra: Oh Shizuo, you make my heart go doki-doki!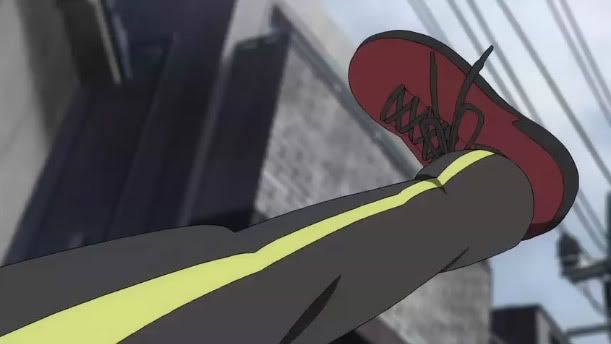 Shizuo: From then on, it was a endless cycle of pain. I broke nearly every bone in my body.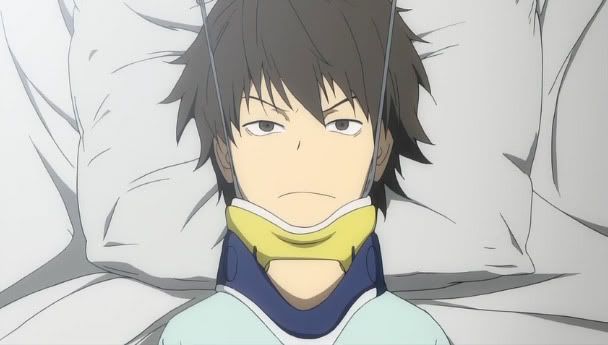 Shizuo: I wonder if Bruce Wayne injured himself this much.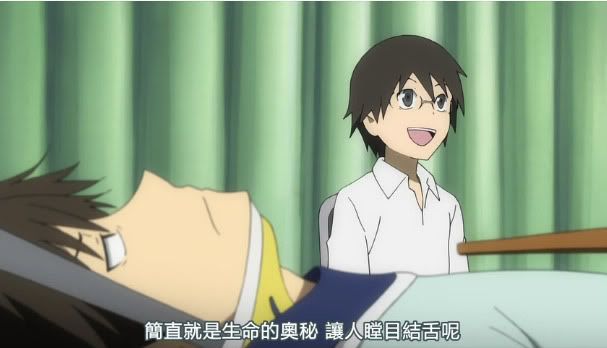 Shira: Bruce Wayne is skilled in all sorts of martial arts and stuff, so I bet he knows how to move without injuring himself much. He has mad skills.



Shizuo: Are you saying I don't have any skills?
Shinra: Ow ow ow!!! No, that's not what I said!!
Huey: .......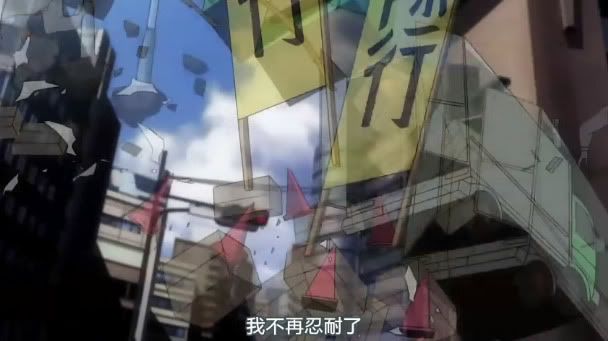 Shizuo: My pursuit of justice continued every time I left the hospital. I demolished gangs and property...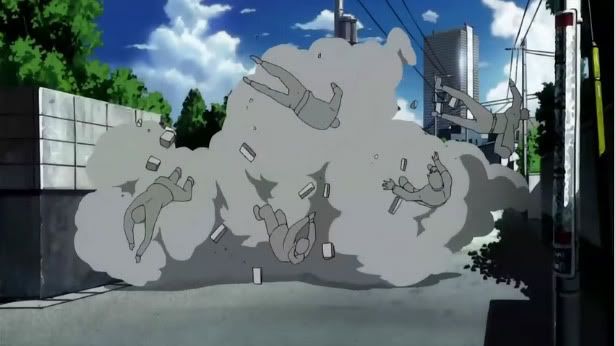 Shizuo: ...always looking forward to stop evildoers in their tracks.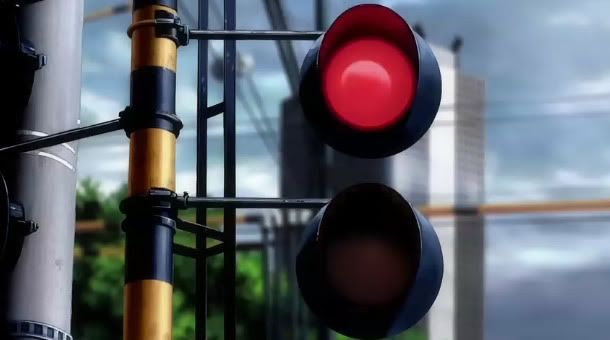 Shizuo: But with great ass kicking comes great injury.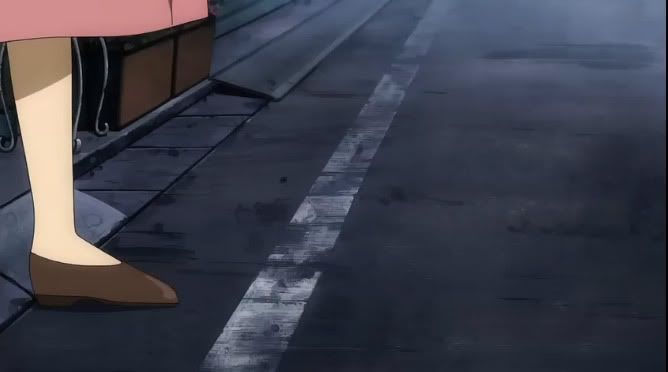 Shizuo: I was constantly injured, and it was only a matter of time before someone noticed.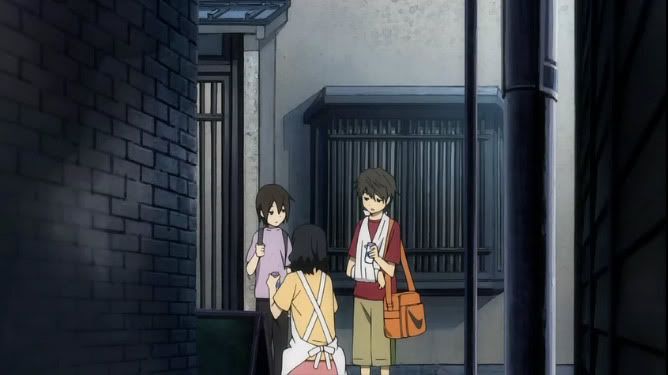 Shop Lady: Hey there boys! I noticed you're always sporting a broken bone. Have some milk, it'll help your bones get strong!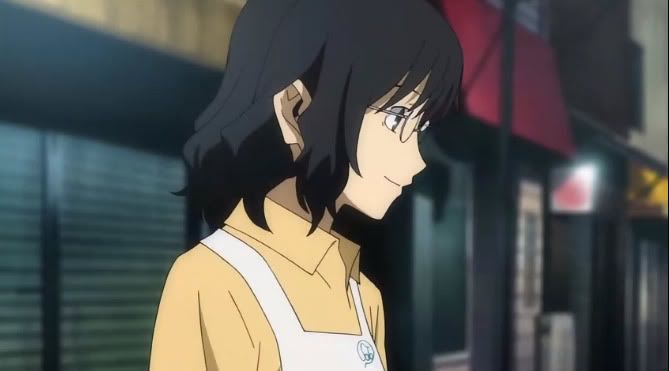 Shop Lady: But also be careful! It's always to sad to see boys your age in a cast!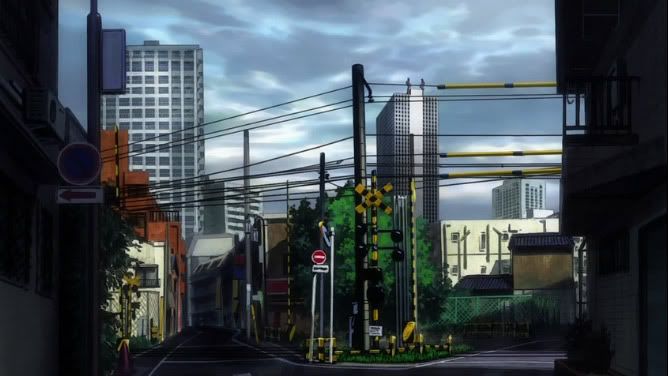 Shizuo: She was my shining light. It was as if I had been rewarded for my fight for justice.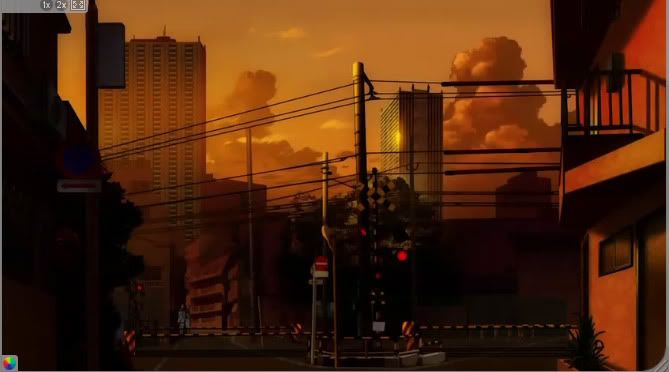 Shizuo: But then... one evening...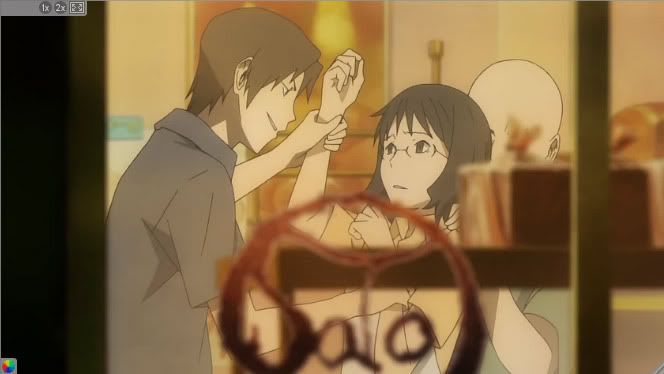 Shop Lady: S-Stop it! Let me go!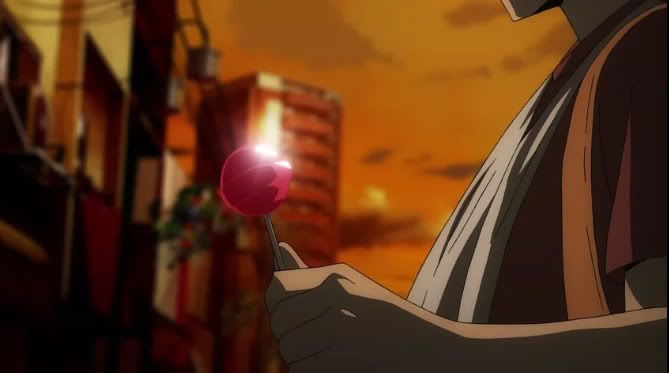 Shizuo: Awww no! No one messes with my shining light!

*three bone-shattering moments later*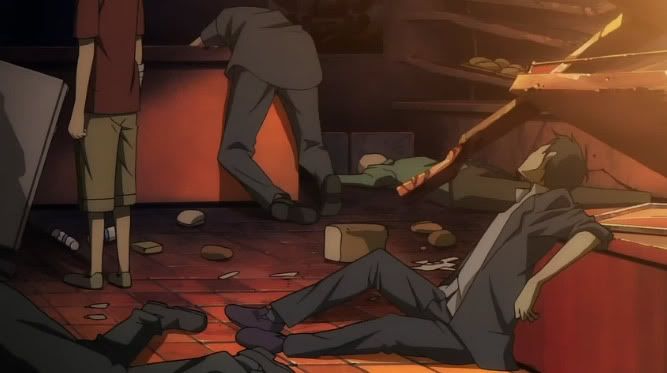 Shizuo: ...I went too far.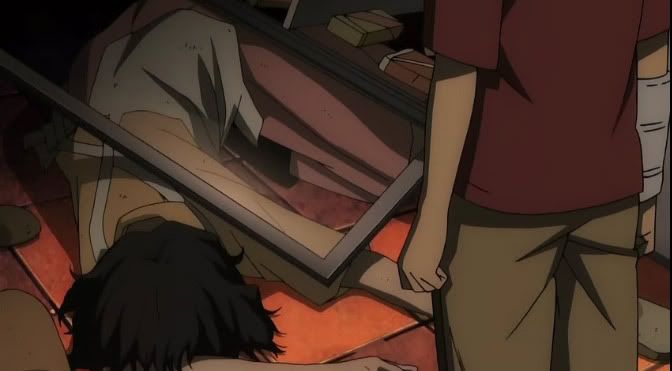 Shizuo: I hurt the one I cared for... I have gone down the path of darkness! In order to protect her, I must never interact with her again!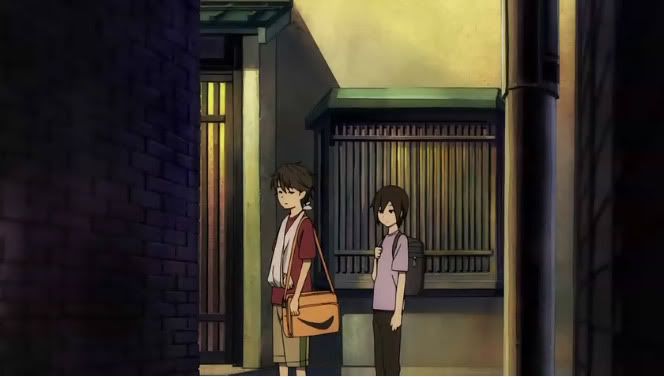 Shizuo: From then on, I just watched from a distance, making sure she was alright.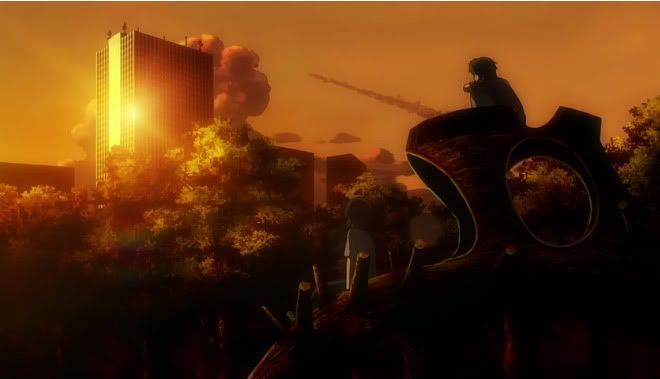 Shizuo: I don't need someone to recognize my deeds. I'm a warrior for justice. I need no thanks, the crime levels in the city dropping are thanks enough.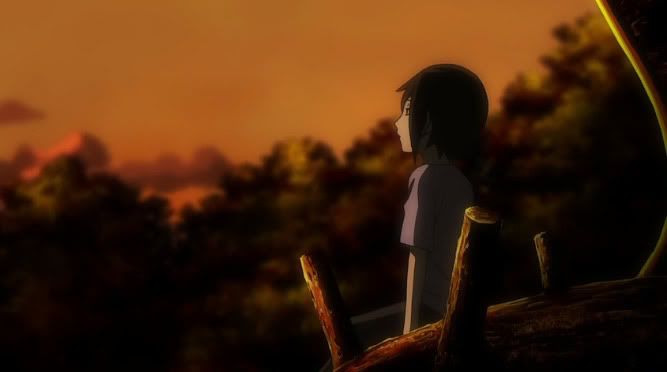 Huey: ........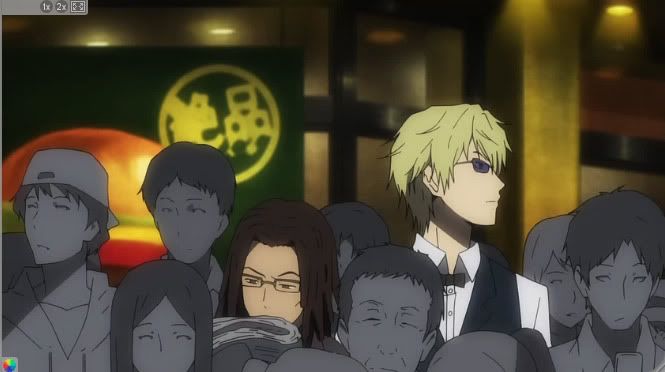 Shizuo: I think I smell burgers. God, I'm hungry.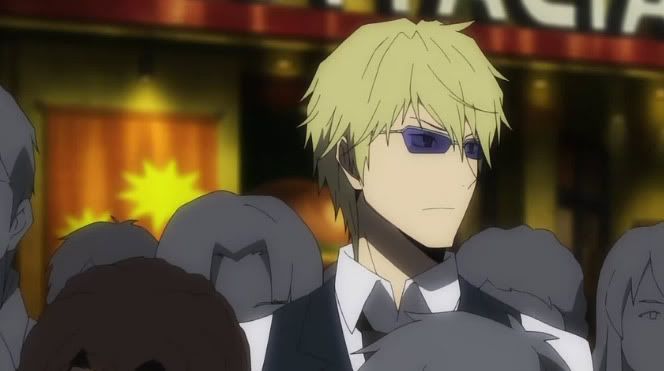 Shizuo: I could really go for a burge— Oh, sorry, the flashback.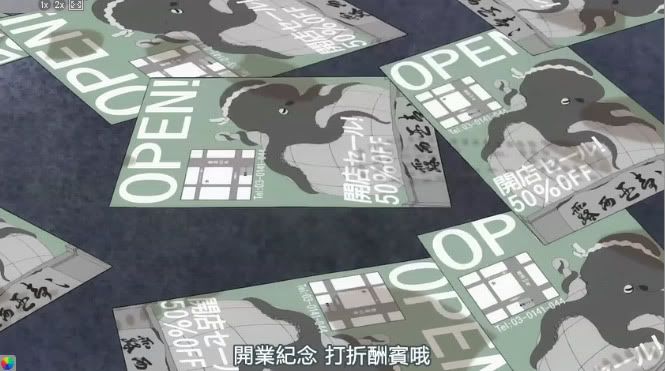 Shizuo: Ikebukuro was a different place back then. Simon had just opened his shop.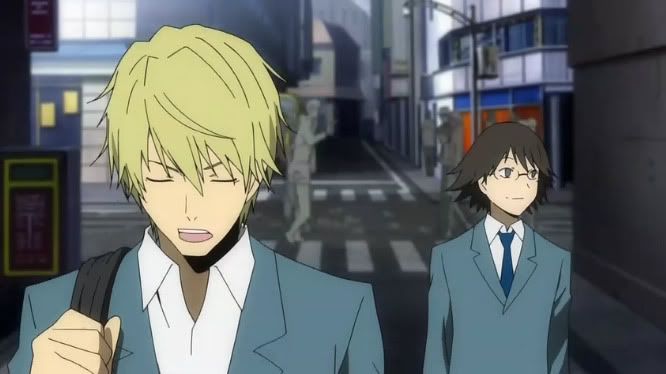 Shizuo: I was entering high school. Shinra and I were still in the same school.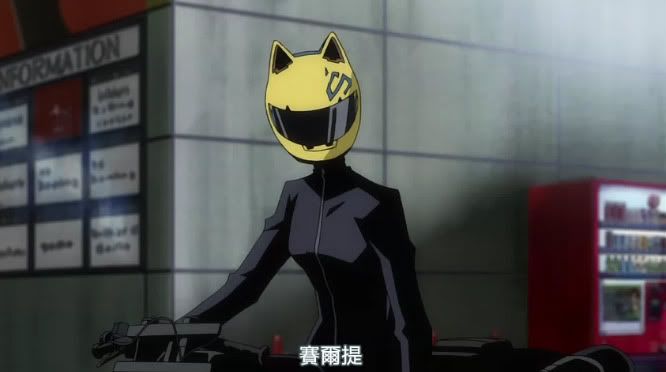 Shinra: Celty!!!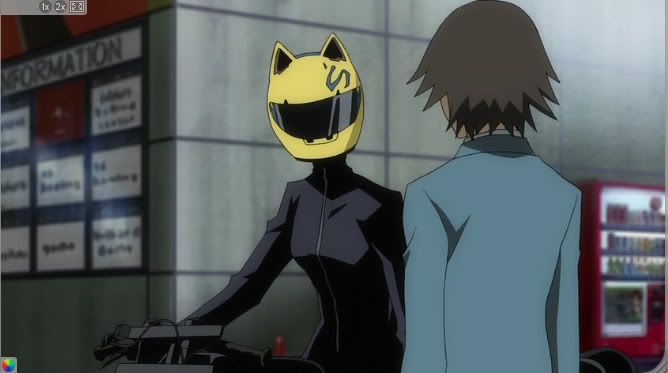 Shinra: What's up? Still looking for your head? Any leads?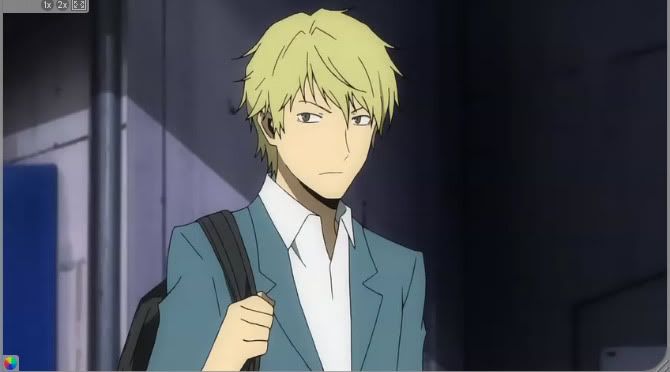 Shizuo: Shinra's going to get beat up again.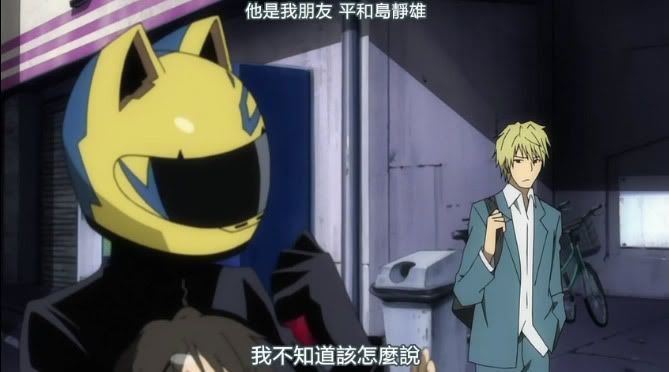 KITTY BIKER: Oh, hi Shizuo.
Shizuo: Hi Celty.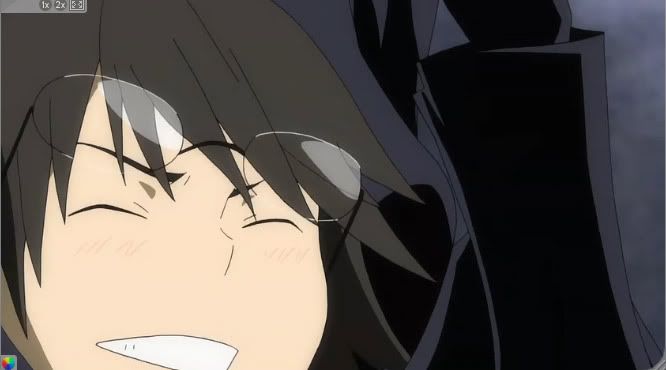 Shinra: Ahahahaha, I love you, Celty!
KITTY BIKER: DIE IN A FIRE *Squeeze*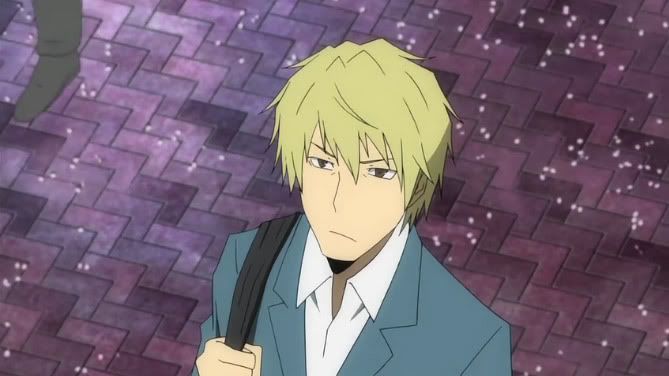 Shizuo: High school. I suspect this place will be just li— Wait. My injustice senses are tingling!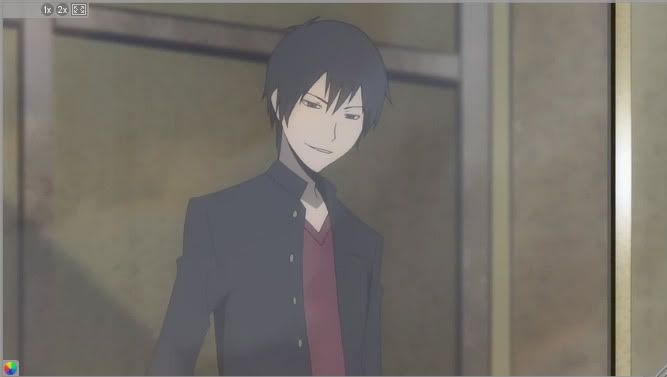 Izaya: Kukuku~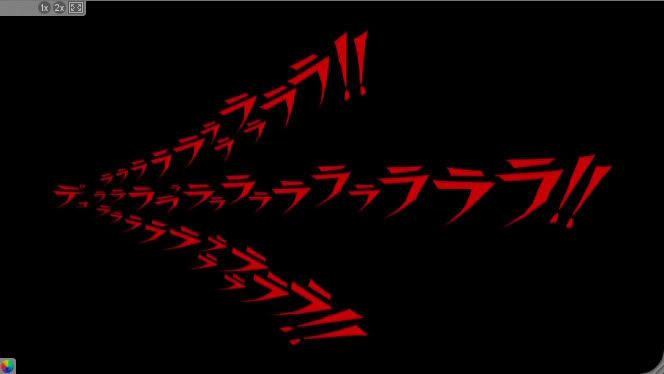 DU RARARARARARARARARARARA!!
RARARARARARARARARARARARARARA!!
RARARARARARARARARARARA!!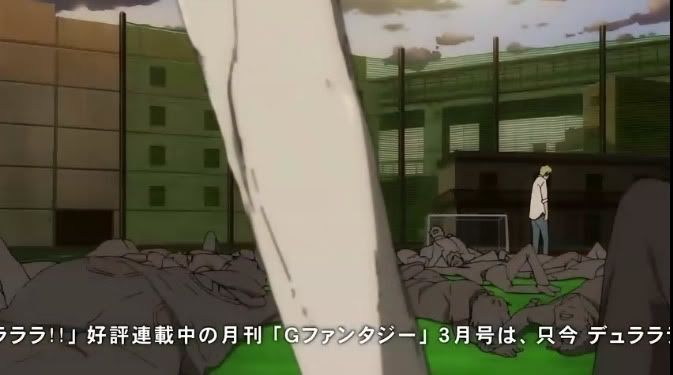 Shizuo: AHAHAHA! No one can stand up to me! I will rule this school with an iron fist! And iron fist... OF JUSTICE! I wonder if Batman would be proud...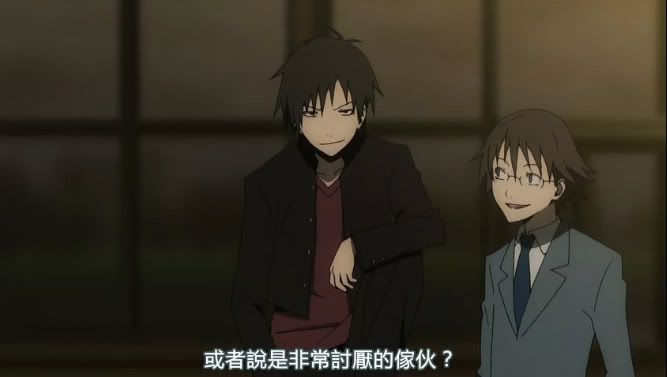 Shinra: Hey Shizuo!! I want you meet someone! This is Izaya!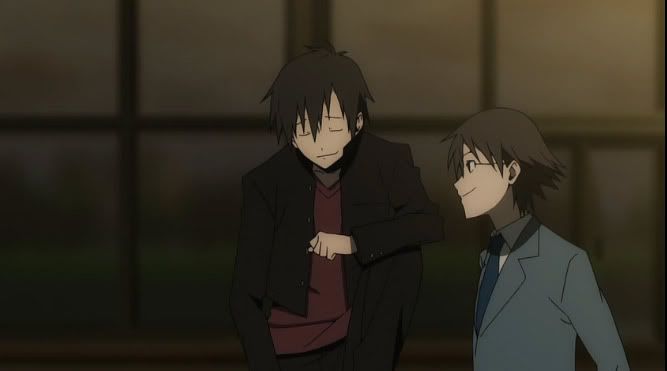 Shira: He's pretty strong. And pretty cool
Izaya: Oh, stop! ....No, I didn't really mean that. Go on, say more about me. =3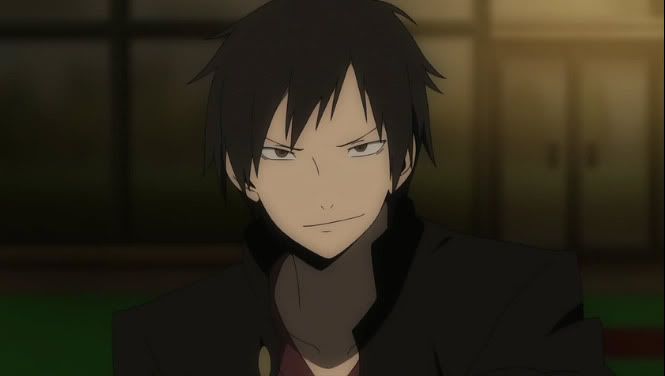 Izaya: I hear you're strong. Let's battle.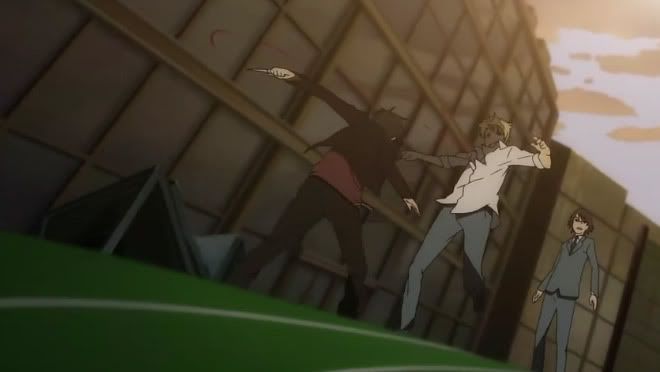 Shizuo: What the—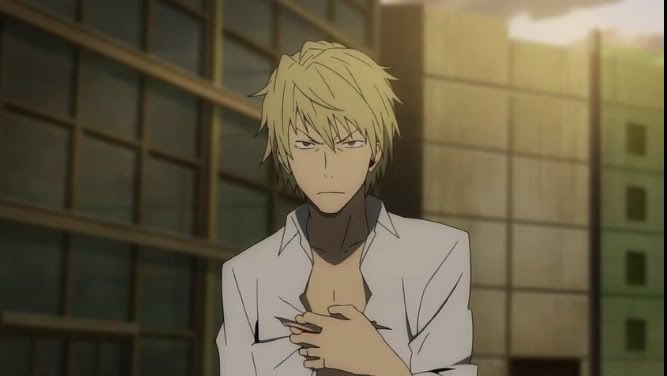 Shizuo: You goddamn perv! This is my favorite freaking shirt!
Izaya: WHOOPS MY BAD.
Shizuo: Oh that's it, you little bitch, I'm so going to get you.
Izaya: You can't get me if you can't catch me! *flee*
Shizuo: ARRRGHHHHH!!!!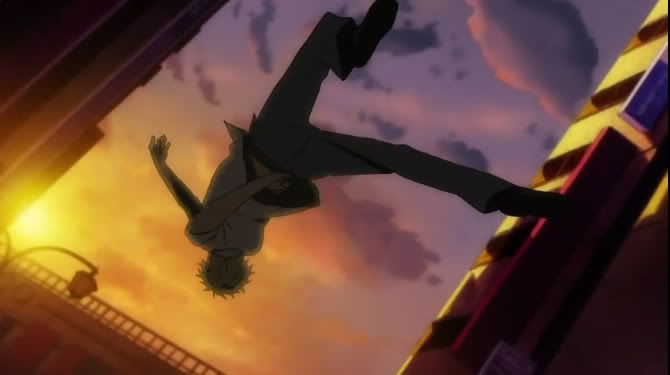 *THUMP!!!*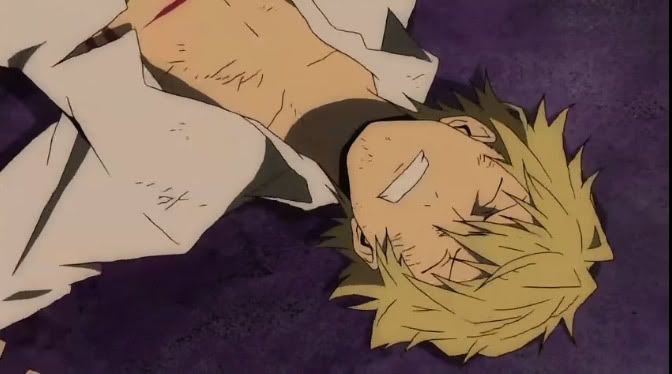 Shizuo: ARRGHHHHHHHHHH!!!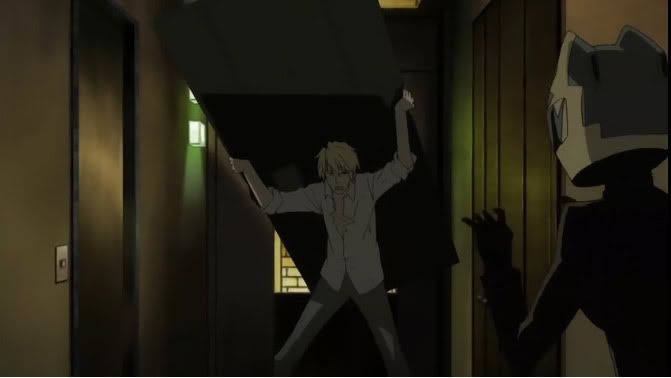 Shizuo: SHINRA. I KNOW HE'S HERE. I'M GOING TO KILL HIM. GET OUT OF THE WAY.
KITTY BIKER: P-put down the door, Shizuo!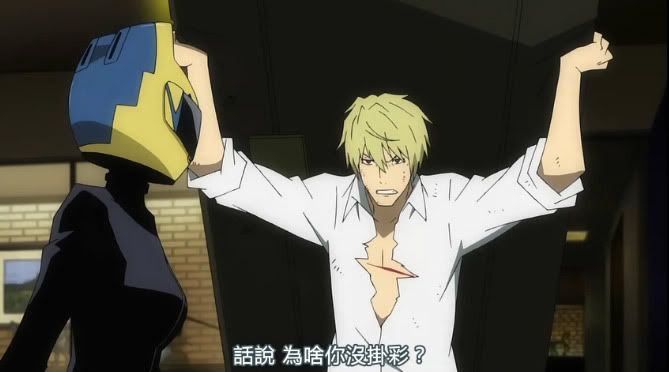 Shizuo: I'm going to use this to pound in his head! He led me in front of a car! THEN LEFT ME BLEEDING IN THE STREET.
KITTY BIKER: That IS pretty bad...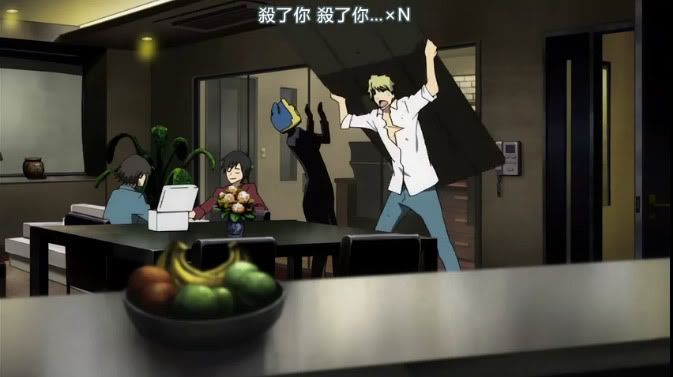 Shizuo: I'M GONNA KILL HIM!
KITTY BIKER: Shizuo! Please! Calm down!
Izaya: Wait until Doctor Shinra finishes dressing my wounds, okay?
Shizuo: ARRRGHHHH!!!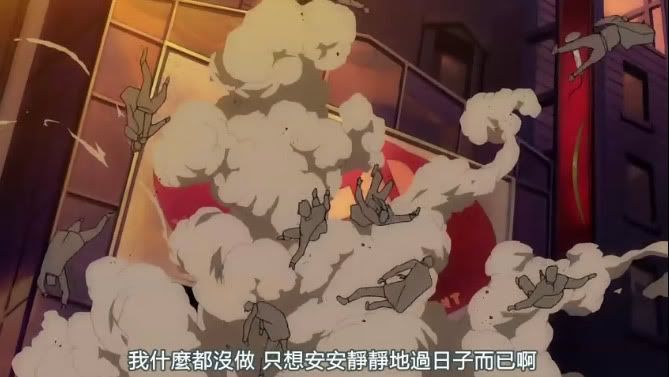 Shizuo: From there on out, I was on a warpath.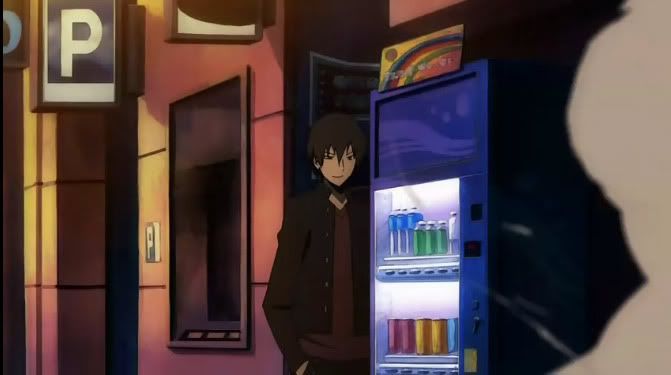 Shizuo: I always knew he was there, just around the corner, but I was never fast enough to catch him.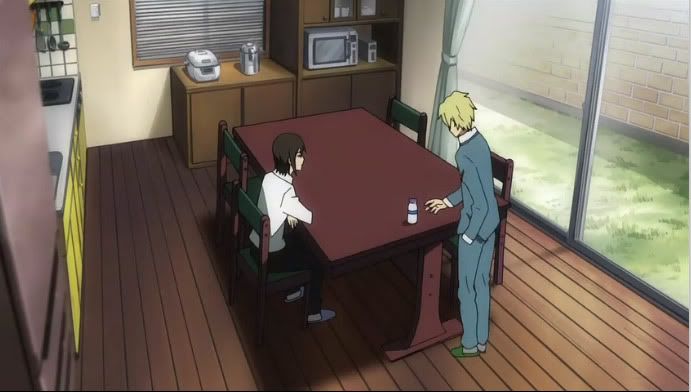 Shizuo: What's this? Milk? For me? Thanks Little Bro.
Huey: .........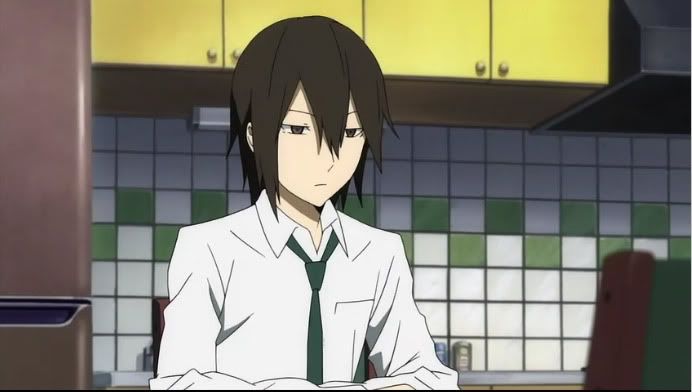 Shizuo: You're always so kind to me.
Huey: ..........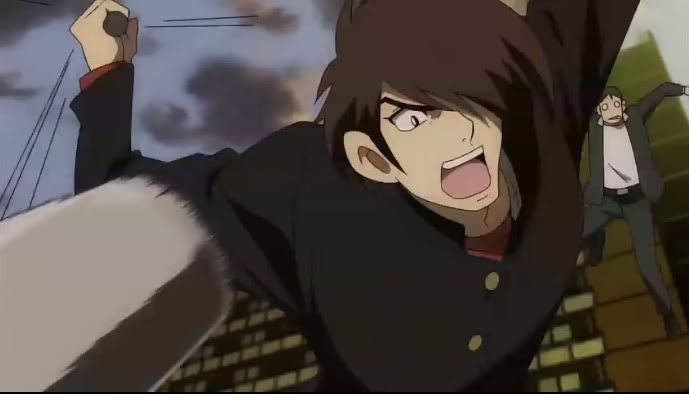 Shizuo: The rest of high school was spend cleaning up riff-raff around town. No one could beat me. Not even old school gang members.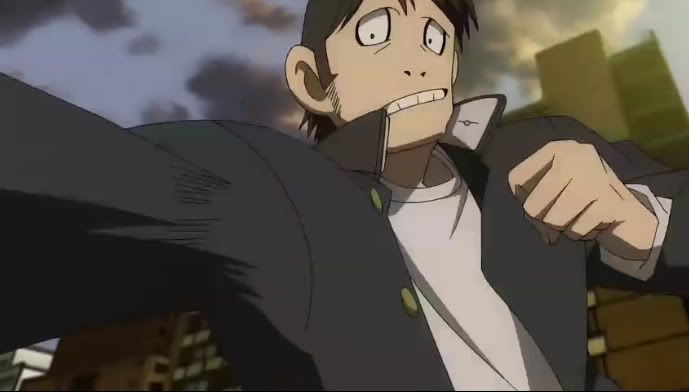 Shizuo: But they did try.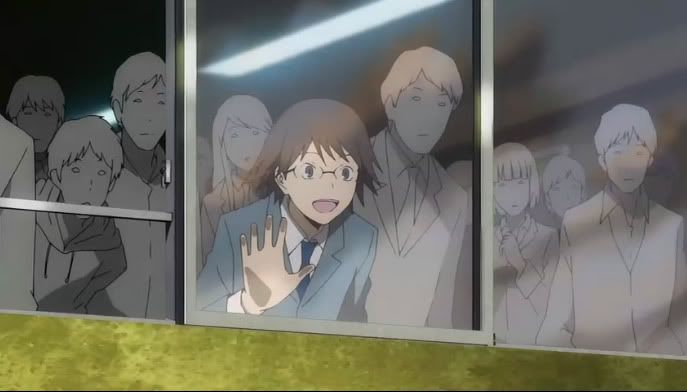 Shinra: Uwaaaah, Shizuo!!! You're the best!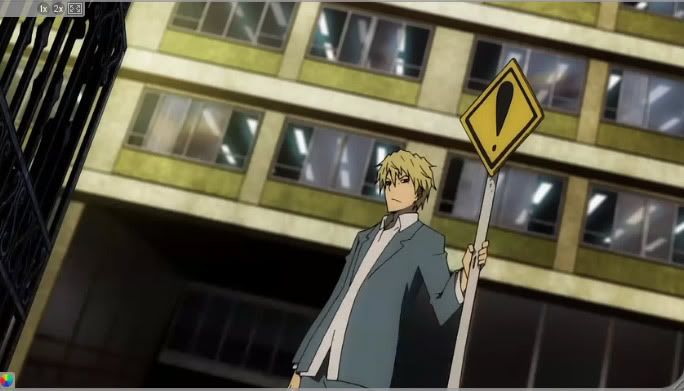 Shizuo: This is my territory now. Never come back to spread your evil here!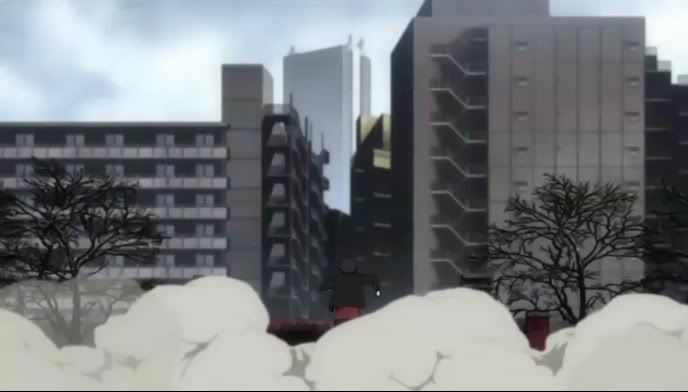 Shizuo: At some point, Izaya left. Good riddance.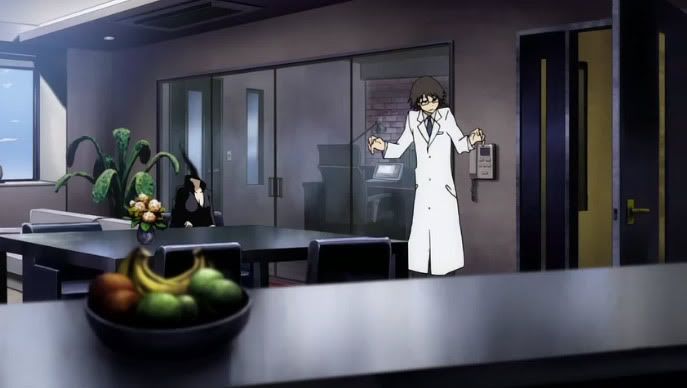 Shizuo: We graduated high school and started down our life paths. Shinra, of course, became a doctor.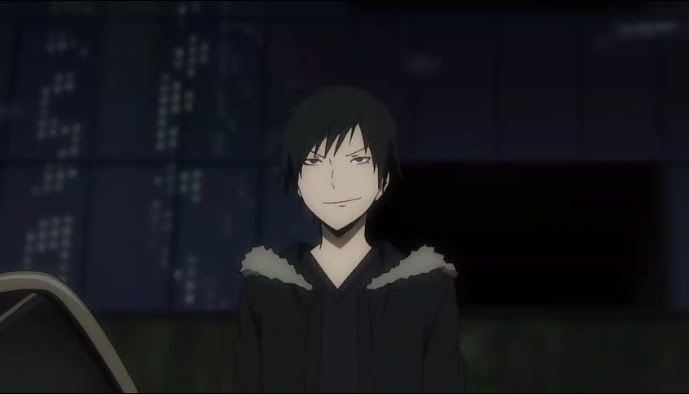 Shizuo: Izaya seemed to have some sort of dealings outside the law. I... well I...



Shizuo: I wasn't so lucky.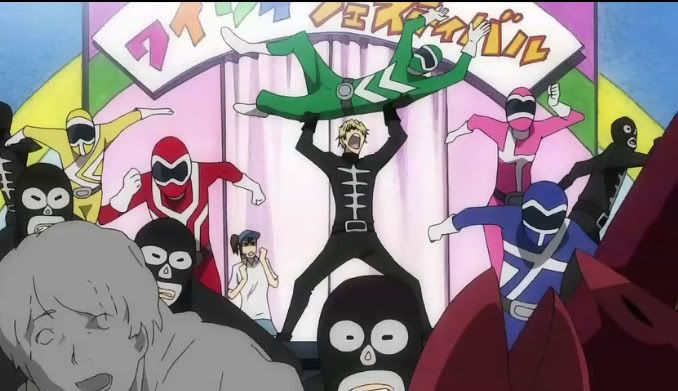 Shizuo: My rage and urge to right wrongs landed me in all sorts of trouble.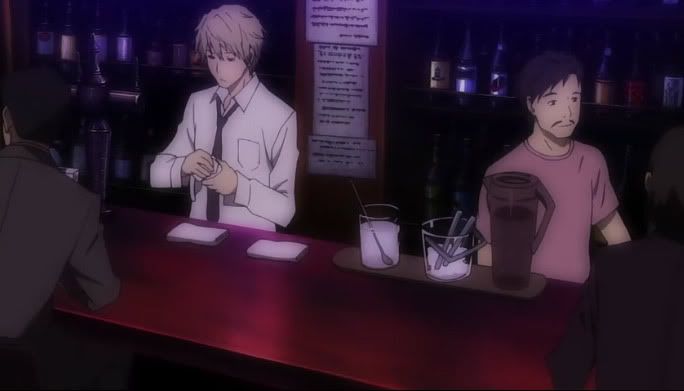 Shizuo: I finally became a bartender. It was a calming job and I enjoyed it. There was little to upset me there.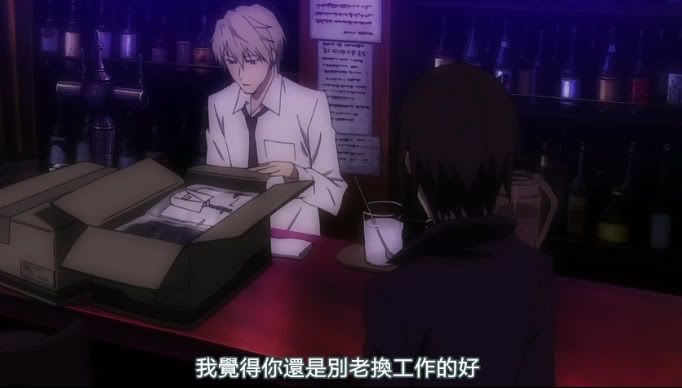 Shizuo: Hey Little Bro. What are these? Bartending outfits?
Huey: ............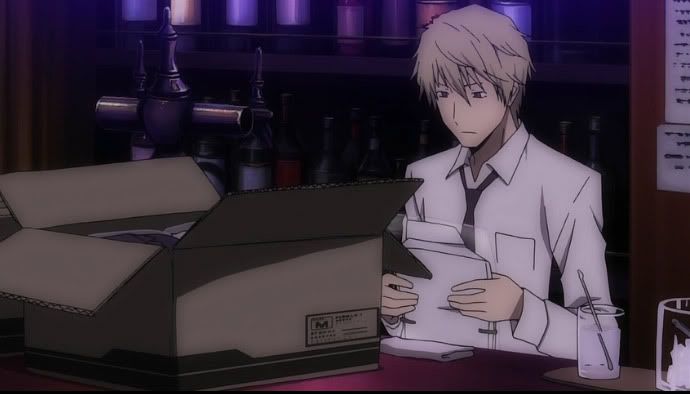 Shizuo: Thanks, you're always thinking of me.
Huey: ...........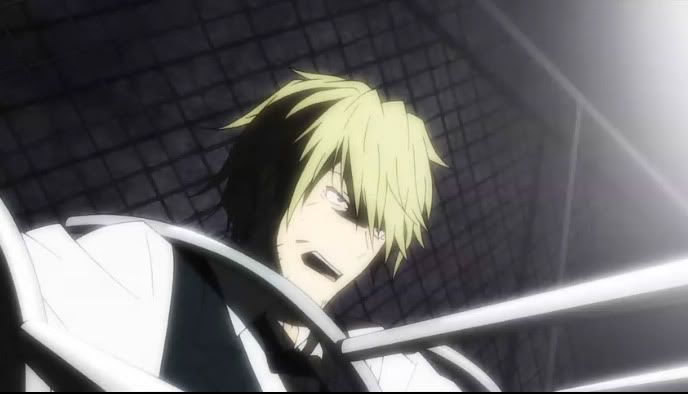 Shizuo: Eventually, I lost my job. But for once, it wasn't my fault.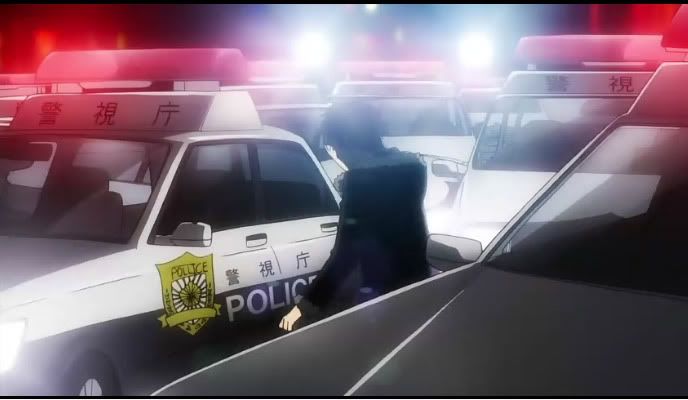 Shizuo: Goddammed Izaya set me up!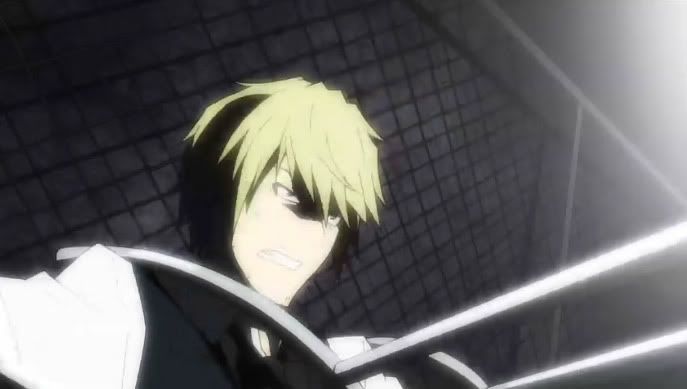 Shizuo: That little prick... I was arrested and taken in for questioning.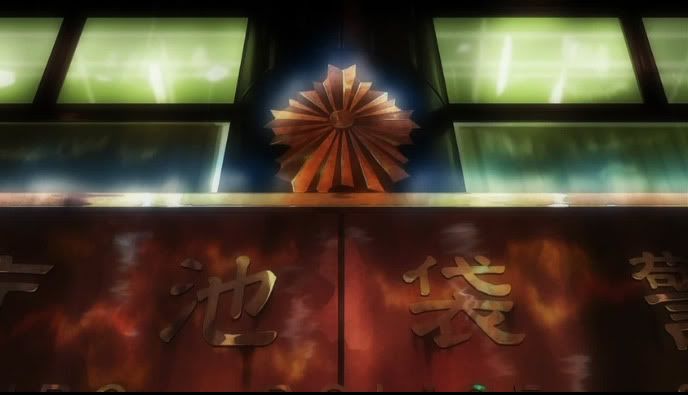 Shizuo: It became obvious pretty quickly that I wasn't a real suspect, so they let me go.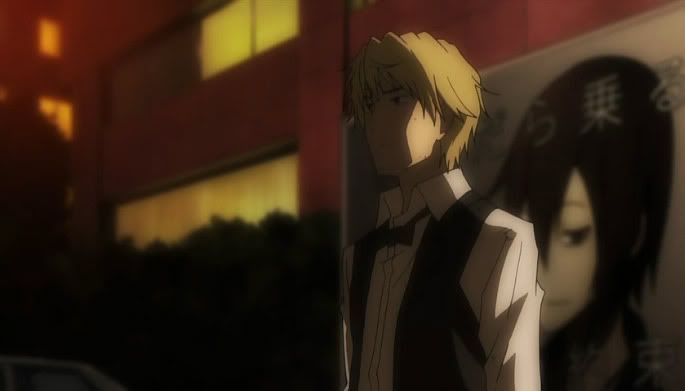 Shizuo: I yearn to be an ally of justice... someone who would clean up these streets... the Batman of Ikebukuro... but look at me now...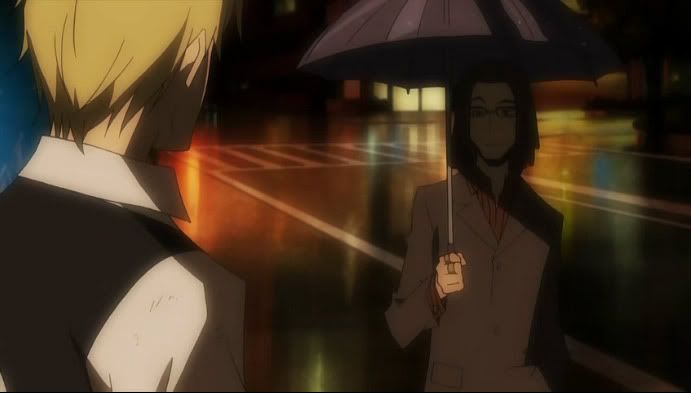 Tom: Shizuo?



Shizuo: Tom hired me as a bodyguard. It's a good job.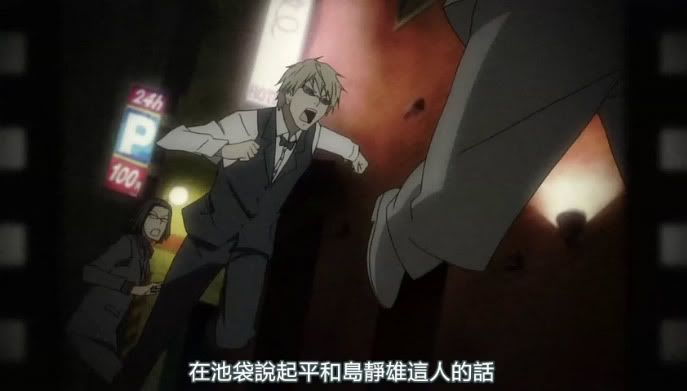 Shizuo: Chasing down bad guys and beating the crap out of people really helps me get my frustrations out.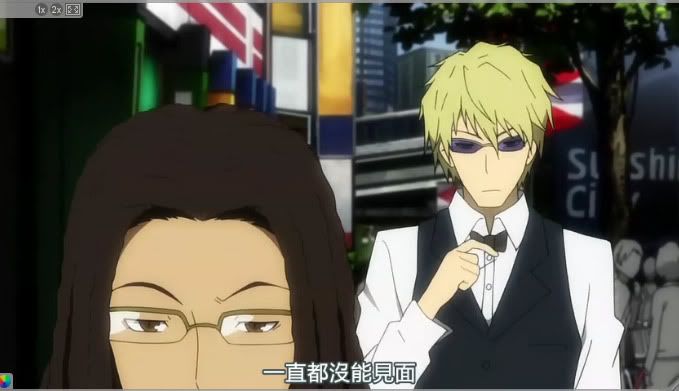 Shizuo: But I feel there must be more I can do... on this path of justice.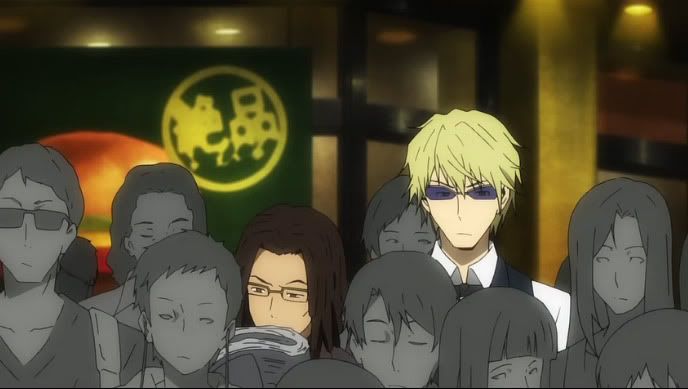 Shizuo: My road is long, but I'm sure I'll be able to achieve my goal someday.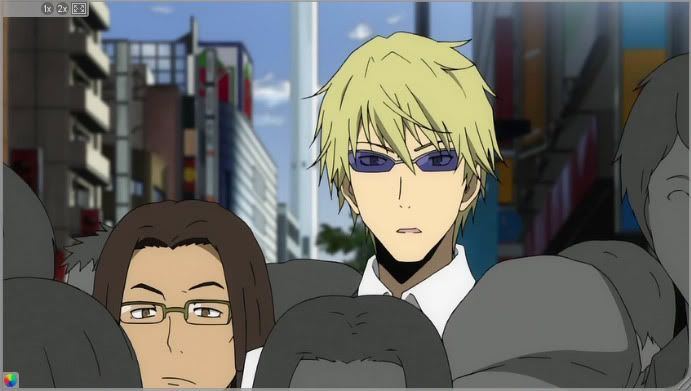 Tom: What's going on here?
Crowd: Oh, it's the guy playing Bruce Wayne in the new Batman movie!
Shizuo: Batman??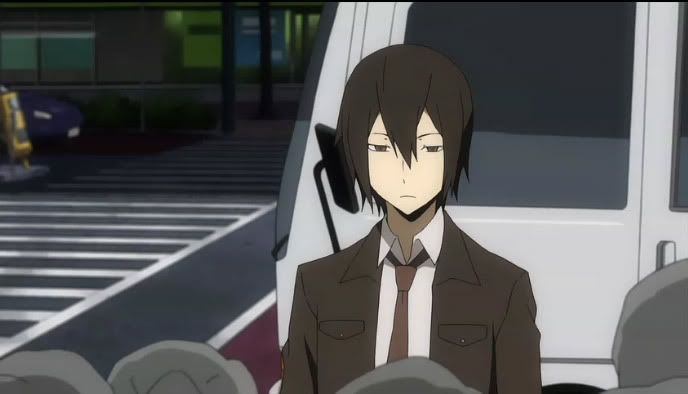 Huey: ............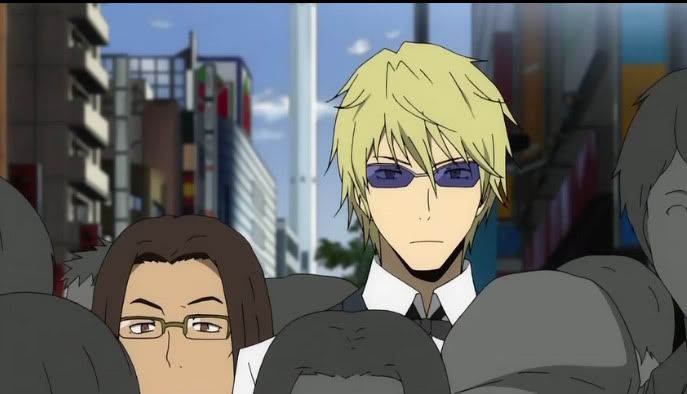 Shizuo: My brother's going to be Batman...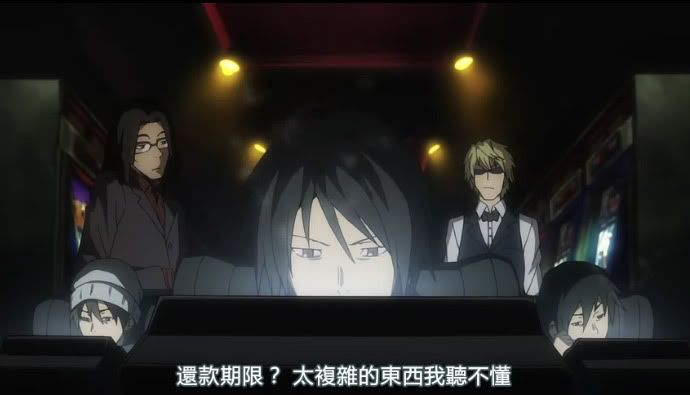 Tom: So yeah, if you could pay what you owe, that would be cool.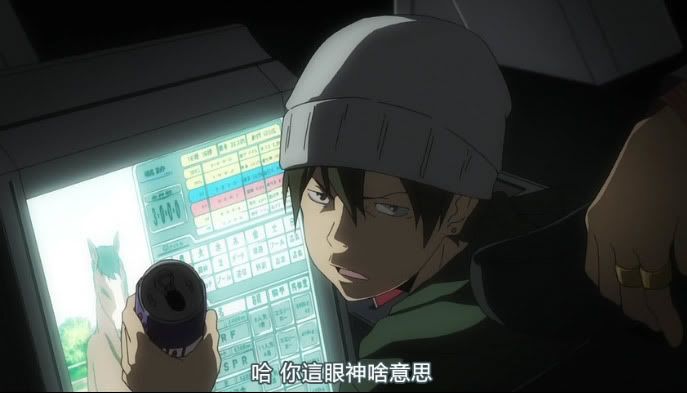 *Splash*
Punk: How about not, you losers?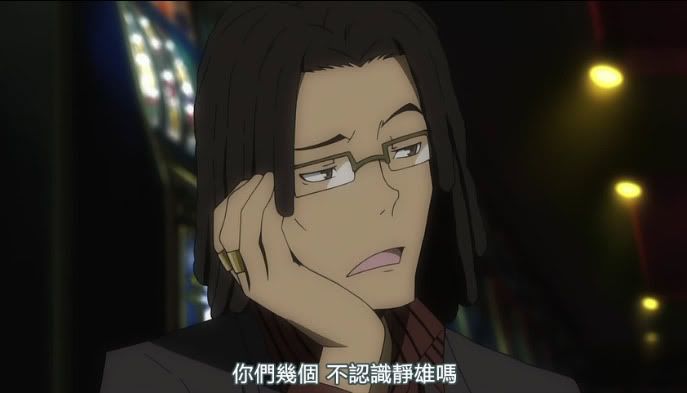 Tom: You should not have done that.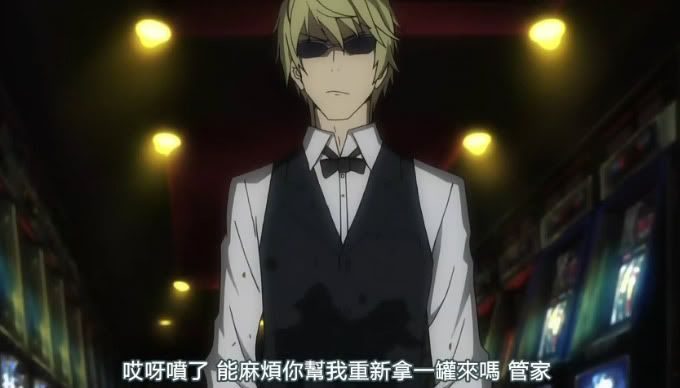 Shizuo: Did you... just splash me with your drink?
Punk: What are you going to do about it?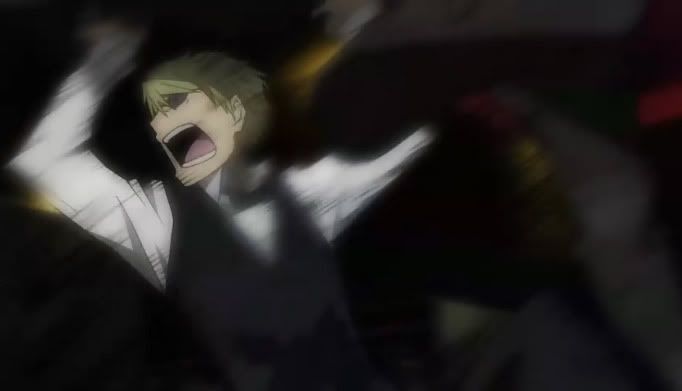 Shizuo: NNNGGGHHHHAARRRGHHHH!!!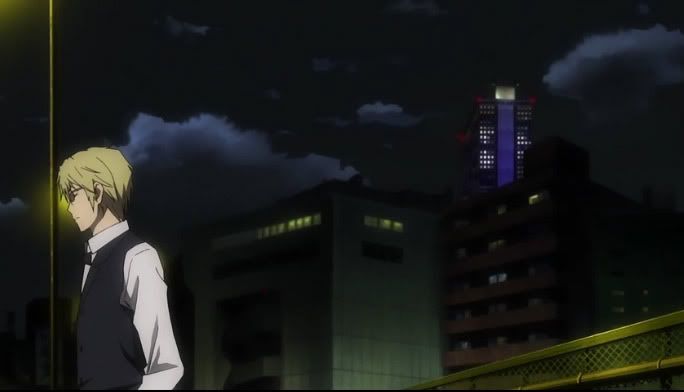 Shizuo: My therapist says I need to get a hobby. And according to him, kicking the crap out of stuff isn't a real hobby.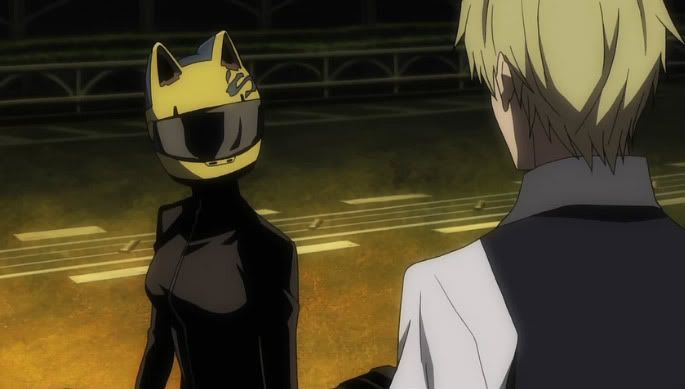 KITTY BIKER: I think you should take up knitting.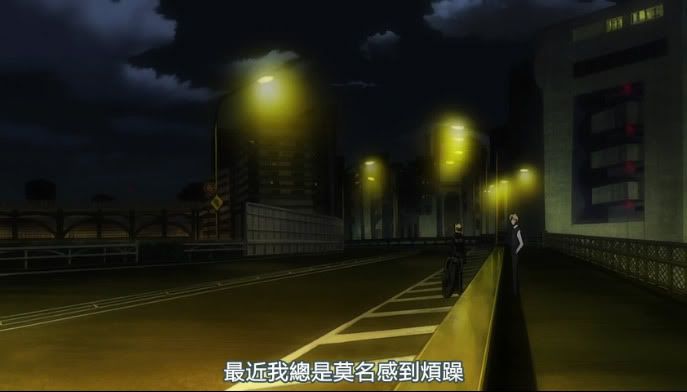 Shizuo: What, seriously?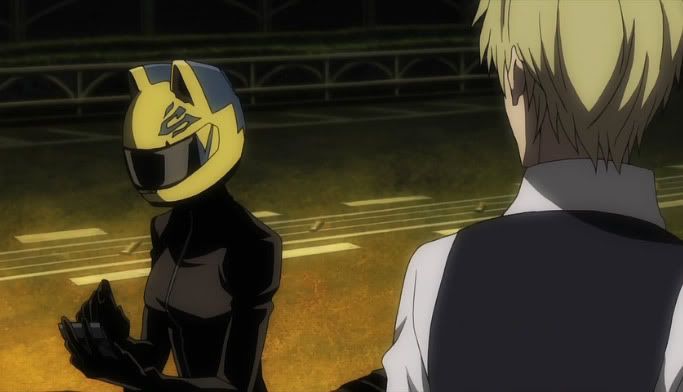 KITTY BIKER: Yeah. That or maybe just sewing. I know this great place to get supplies, give me a sec to get the address.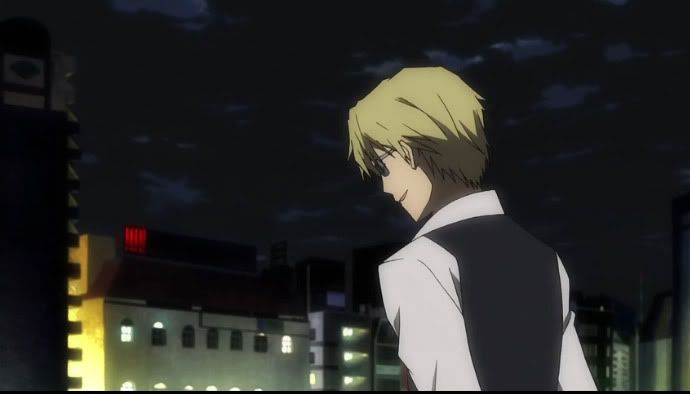 Shizuo: Sewing, eh? I could make some sort of public defender costume if I did learn...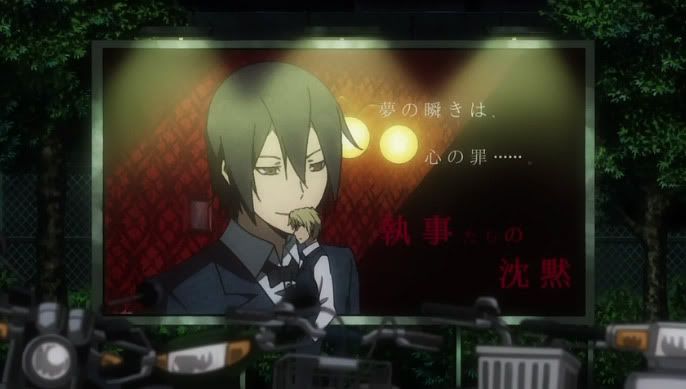 Shizuo: I wonder if I could really pull off a hero costume...
Billboard: Defeating the shadows! Shining in the spotlight! BATMAN: FEARMONGER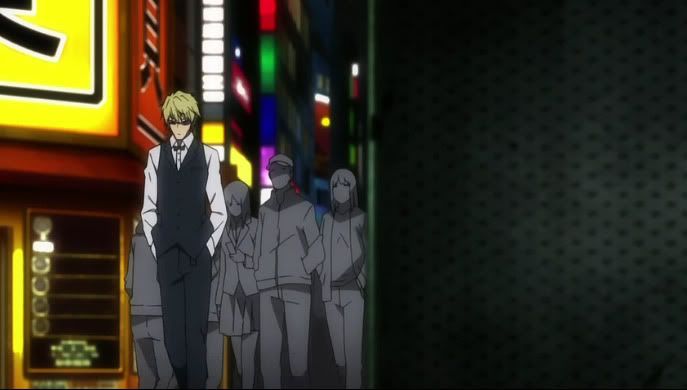 Shizuo: But what would my super hero name be?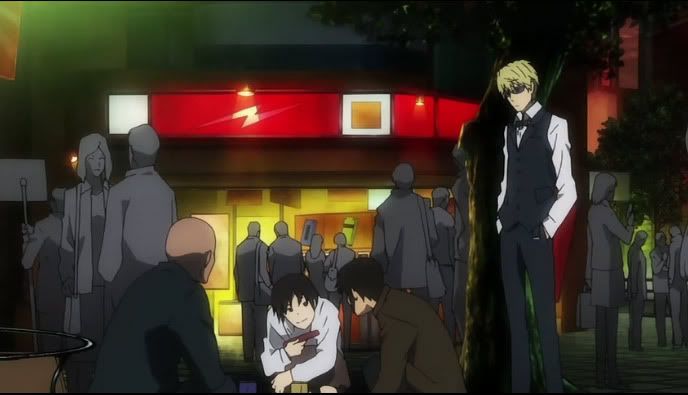 Shizuo: It probably should incorporate something about the city... Lord Owlor III perhaps?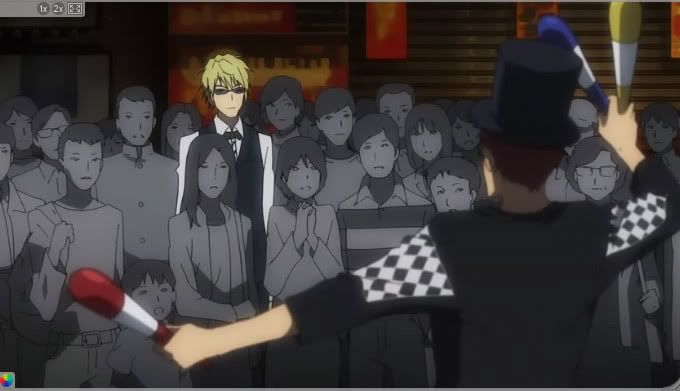 Shizuo: And it should be flashy... but not too flashy.. maybe a slightly shiny black material?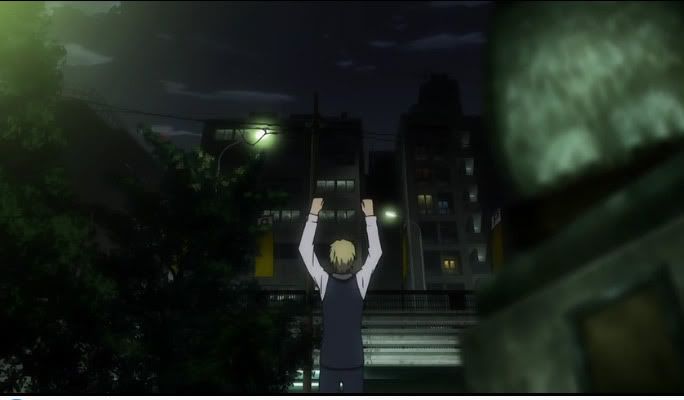 Shizuo: OKAY! I'M GOING TO DO THIS!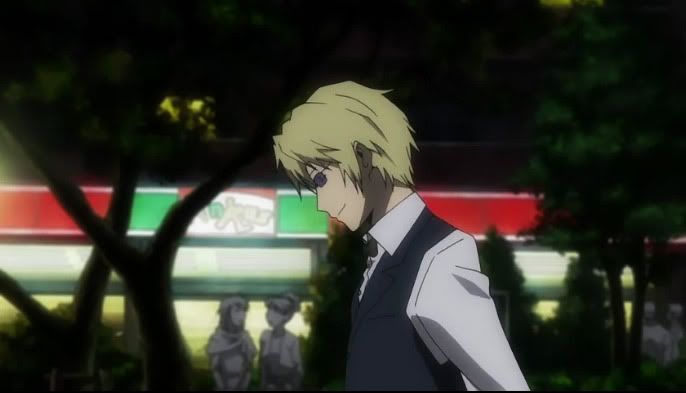 Shizuo: Ahhh, life is great. Nothing could ruin my mood right now.



Izaya: HEY THERE. =D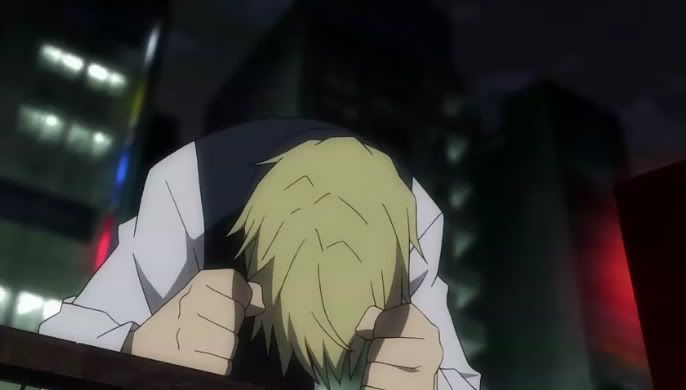 OTL
NEXT TIME, ON DURARARA!!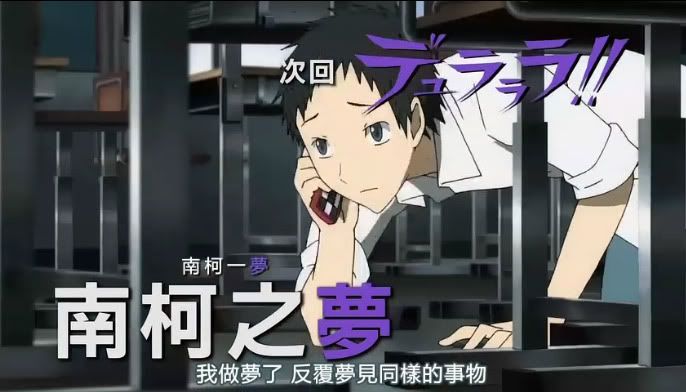 Lost Items!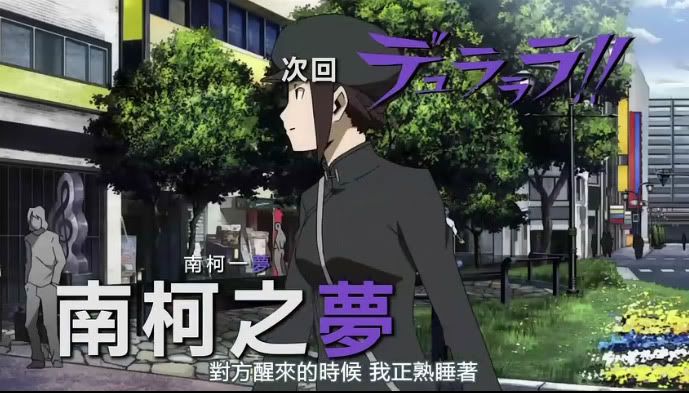 Public outings!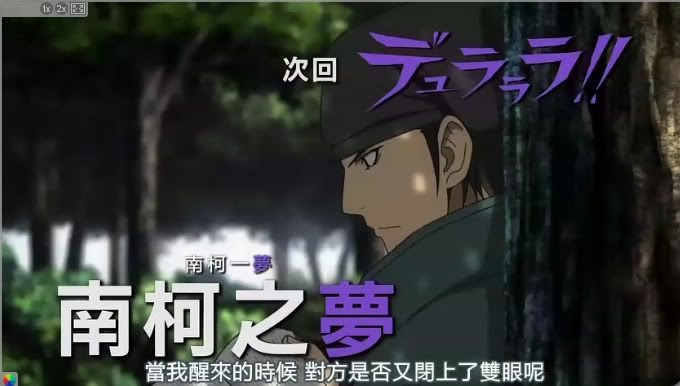 Lovely spots to read!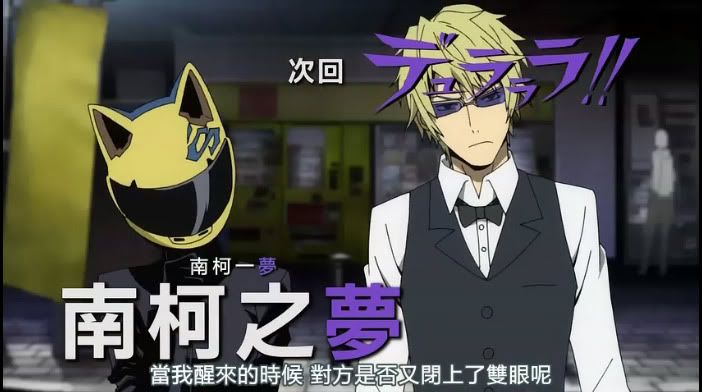 Choreographed reactions!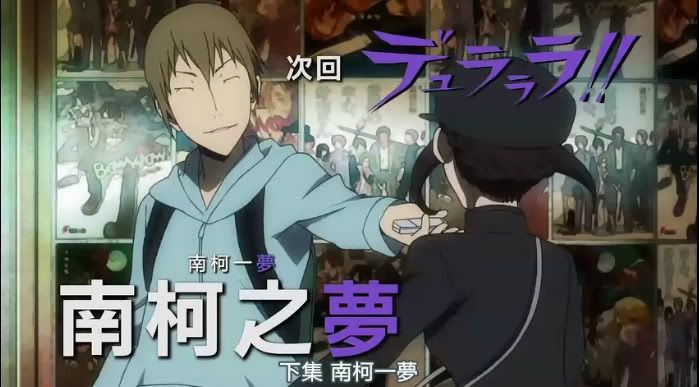 And awesome Baccano! posters!

All this and more, next time on Durarara!!

So. This episode. Shizuo was pretty great and the backstory was fun! I really like his relationships with Celty KITTY BIKER and Shinra. Good stuff. Next week looks to have some good Erika and Walker love! FINGERS ARE CROSSED. =D


Thanks for all the entires to the clothes-ish design contest! I'll put up a poll either later tonight or tomorrow!!